World Road Championships - CM
Salzburg, Austria, September 20-24, 2006
Main Page Results Race Details Live report Previous Race Next Race
Race 3 - September 21: Elite men's individual time trial, 50.83 km
Fabian, the superman
World's TT turns out a CSC festival
By Hedwig Kröner in Salzburg
The new world champion
Photo ©: Luc Claessen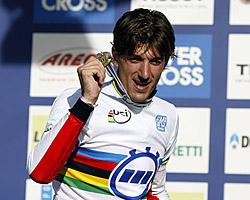 There was a little tear in the corner of Fabian Cancellara's eye as he listened to his national anthem on the podium in Salzburg's Mirabellplatz. The tall Swiss rider from Team CSC had certainly pulled off one of the best performances of his still young career, taking the gold medal at the 2006 World Championships ahead of David Zabriskie (USA) and Alexandre Vinokourov (Kazakhstan).
"It was a perfect day for me, everything turned out just as I had imagined it," the 25 year-old said. "I just felt so strong today, and I've never raced like this before. Everything clicked."
After his victory in Paris-Roubaix this year, where he burst into tears in the oval of the velodrome, the Swiss champion now added the rainbow stripes jersey to his palmarès and managed to contain his emotion. With an outstanding performance, leading both riders from the start until the very finish of the time trial of over 50 kilometres, the Swiss champion was unbeatable today.
"I woke up two times last night, as I was already in the race emotionally," he continued. "This morning, I trained a little and when I warmed up on the rollers, I felt already that it would be a good day."
The elite men's podium
Photo ©: Luc Claessen

American Dave Zabriskie powered to a well-deserved second place. "I'm happy about the result - Silver is nice. The World Championships are special to me - it was the first race I did in Europe in 1997, in San Sebastian, and it inspired me a lot. Now, it took nine years to get a medal, but I'm still motivated in trying to win some day."
Asked about his usual teammate in CSC, Cancellara, Zabriskie said, "I knew he would be good, but didn't think he would be a superman today. Congratulations to him." Dave 'Z' was hoping for a victory in Salzburg, and explained that his team let him prepare for these events accordingly. "Bjarne gave me time to concentrate on this race, and that's what I did - went back to America, recovered from the Tour and got focused," he explained. "Before the race this morning, I was nervous, but then I saw some members of the team, and it got better."
Brian Bach Vandborg (Denmark)
Photo ©: Luc Claessen

Indeed, with three riders in the top five of the event (Dane Brian Vandborg placed fourth only four seconds off the podium), CSC team manager Bjarne Riis can be happy: his team once again showed that it dominated the peloton in this particular discipline, even if the World's is run with national teams. "We don't have to prove once again that we are specialised in the time trial," said Cancellara. "It's also because of the great bikes and material that we have at our disposal that it's even more fun to race hard against the clock."
Vinokurov
Photo ©: Roberto Bettini

Alexandre Vinokourov (Kazakhstan), the winner of the Vuelta a España, wasn't as lucky today as his chain came off in the middle of the 15 percent climb, but he said this didn't interfere with his chances for the victory. "I had a hard time putting it back on, but the time I lost only counted for second or third place, so it wasn't that important," he said in his typical laconic manner. "Now, I'll concentrate on the road race, for which I'm really motivated."
Three-times World champion Michael Rogers of the Australian team finally ended up eighth, after already feeling out on the parcours that he wouldn't be able to ride a winning time. "I went as hard as I could, but I just couldn't get it going," he said, disappointed of course.
But as David Millar also pointed out, "at this time of year, you're either good or bad, but it's very unpredictable." The Brit finished 15th, also because he punctured after the first climb. "I actually didn't lose that much time there, but it kind of symbolised my day," he said. "I had a headwind all the way out, too. But it could have been either way (good or bad)."
The weather conditions in Salzburg were once again perfect for the elite men's event, and an official figure of 50.000 spectators came out to see the riders inside the town and on the circuit through the "Seenland", the Salzburg lake district.
Photography
For a thumbnail gallery of these images, click here
Images by Luc Claessen/www.ctm-images.com
Images by Roberto Bettini/www.bettiniphoto.net
Images by Fotoreporter Sirotti
Images by Andrea Hübner/www.velo-photos.com
Images by Hedwig Kröner
Images by Kathy Watt/www.kathywatt.com
Results
1 Fabian Cancellara (Switzerland)                 1.00.11.75 (50.664 km/h)
2 David Zabriskie (United States Of America)         1.29.97
3 Alexandr Vinokurov (Kazakhstan)                    1.49.72
4 Brian Bach Vandborg (Denmark)                      1.53.10
5 Sebastian Lang (Germany)                           2.08.85
6 Vasili Kiryienka (Belarus)                         2.13.65
7 Leif Hoste (Belgium)                               2.31.28
8 Michael Rogers (Australia)                         2.31.86
9 Andriy Grivko (Ukraine)                            2.45.03
10 Vladimir Gusev (Russian Federation)               2.53.71
11 Andrey Kashechkin (Kazakhstan)                    2.54.05
12 Raivis Belohvosciks (Latvia)                      2.57.36
13 Stijn Devolder (Belgium)                          2.57.87
14 José Ivan Gutierrez Palacios (Spain)              3.07.46
15 David Millar (Great Britain)                      3.21.99
16 Vincenzo Nibali (Italy)                           3.27.01
17 David George (South Africa)                       3.34.13
18 Robert Hunter (South Africa)                      3.39.83
19 Laszlo Bodrogi (Hungary)                          3.51.02
20 Marco Pinotti (Italy)                             3.52.81
21 Ben Day (Australia)                               3.53.42
22 Ryder Hesjedal (Canada)                           4.12.29
23 Peter Luttenberger (Austria)                      4.12.82
24 Stef Clement (Netherlands)                        4.16.13
25 Gustav Larsson (Sweden)                           4.23.46
26 Christopher Baldwin (United States Of America)    4.41.82
27 Andreas Klöden (Germany)                          4.42.21
28 Svein Tuft (Canada)                               4.45.57
29 Thomas Lövkvist (Sweden)                          4.59.26
30 David O'loughlin (Ireland)                        5.02.61
31 Alexander Bespalov (Russian Federation)           5.05.62
32 Ondrej Sosenka (Czech Republic)                   5.15.38
33 Yuriy Krivtsov (Ukraine)                          5.16.21
34 Marlon Alirio Perez Arango (Colombia)             5.27.37
35 Ruslan Ivanov (Republic of Moldova)               5.30.08
36 Adrian Bonilla (Costa Rica)                       5.32.69
37 Denis Shkarpeta (Uzbekistan)                      5.45.81
38 Matti Helminen (Finland)                          5.55.23
39 David Mccann (Ireland)                            6.01.39
40 Frantisek Rabon (Czech Republic)                  6.17.06
41 Christophe Kern (France)                          6.25.95
42 Joost Posthuma (Netherlands)                      6.37.14
43 Knut Anders Fostervold (Norway)                   6.40.17
44 Benoît Vaugrenard (France)                        6.42.55
45 Michael Schär (Switzerland)                       6.44.76
46 Gregor Gazvoda (Slovenia)                         7.00.93
47 Thomas Rohregger (Austria)                        7.34.86
48 Pedro Nicacio (Brazil)                            8.38.05
49 Erik Hoffmann (Namibia)                           8.42.32
50 Zoltan Remak (Slovakia)                           9.05.05
51 Csaba Szekeres (Hungary)                          9.05.90
52 Vitaly Kornilov (Latvia)                         12.13.37
DNS Peter Mazur (Poland)
Intermediate Check 1 - 10.1 km
1 Fabian Cancellara (Switzerland)                   13.58.92
2 David Zabriskie (United States Of America)         0.18.01
3 Vasili Kiryienka (Belarus)                         0.22.30
4 Sebastian Lang (Germany)                           0.25.07
5 Raivis Belohvosciks (Latvia)                       0.25.48
6 Leif Hoste (Belgium)                               0.25.62
7 Michael Rogers (Australia)                         0.26.48
8 Vincenzo Nibali (Italy)                            0.27.74
9 José Ivan Gutierrez Palacios (Spain)               0.32.74
10 Brian Bach Vandborg (Denmark)                     0.35.43
11 Andriy Grivko (Ukraine)                           0.35.90
12 Vladimir Gusev (Russian Federation)               0.39.68
13 Alexandr Vinokurov (Kazakhstan)                   0.39.86
14 Stijn Devolder (Belgium)                          0.41.16
15 Ryder Hesjedal (Canada)                           0.41.32
16 Marco Pinotti (Italy)                             0.43.49
17 Gustav Larsson (Sweden)                           0.43.72
18 Christopher Baldwin (United States Of America)    0.46.35
19 Andreas Klöden (Germany)                          0.49.40
20 Stef Clement (Netherlands)                        0.49.59
21 Peter Luttenberger (Austria)                      0.49.67
22 Thomas Lövkvist (Sweden)                          0.52.84
23 David Millar (Great Britain)                      0.53.78
24 David George (South Africa)                       0.56.26
25 Denis Shkarpeta (Uzbekistan)                      0.58.12
26 Andrey Kashechkin (Kazakhstan)                    0.58.70
27 Alexander Bespalov (Russian Federation)           0.58.74
28 Laszlo Bodrogi (Hungary)                          0.59.73
29 Robert Hunter (South Africa)                      0.59.82
30 Ruslan Ivanov (Republic of Moldova)               1.00.02
31 Benoît Vaugrenard (France)                        1.02.01
32 Ben Day (Australia)                               1.03.11
33 Marlon Alirio Perez Arango (Colombia)             1.03.86
34 Ondrej Sosenka (Czech Republic)                   1.04.22
35 Yuriy Krivtsov (Ukraine)                          1.06.96
36 Matti Helminen (Finland)                          1.07.42
37 Adrian Bonilla (Costa Rica)                       1.11.32
38 Svein Tuft (Canada)                               1.13.43
39 David O'loughlin (Ireland)                        1.14.42
40 Frantisek Rabon (Czech Republic)                  1.15.59
41 Knut Anders Fostervold (Norway)                   1.16.38
42 Michael Schär (Switzerland)                       1.19.48
43 Gregor Gazvoda (Slovenia)                         1.20.00
44 Joost Posthuma (Netherlands)                      1.25.58
45 Christophe Kern (France)                          1.26.36
46 Thomas Rohregger (Austria)                        1.30.68
47 Csaba Szekeres (Hungary)                          1.48.40
48 David Mccann (Ireland)                            1.49.75
49 Zoltan Remak (Slovakia)                           1.51.44
50 Erik Hoffmann (Namibia)                           1.55.41
51 Pedro Nicacio (Brazil)                            2.04.61
52 Vitaly Kornilov (Latvia)                          3.05.85

Intermediate Check 2 - 35 km
1 Fabian Cancellara (Switzerland)                   44.13.71
2 David Zabriskie (United States Of America)         0.56.20
3 Alexandr Vinokurov (Kazakhstan)                    1.25.95
4 Brian Bach Vandborg (Denmark)                      1.34.59
5 Vasili Kiryienka (Belarus)                                
6 Michael Rogers (Australia)                         1.37.42
7 Sebastian Lang (Germany)                           1.43.60
8 Andriy Grivko (Ukraine)                            1.48.81
9 Raivis Belohvosciks (Latvia)                       1.52.54
10 Leif Hoste (Belgium)                              1.53.51
11 Vladimir Gusev (Russian Federation)               1.59.94
12 Andrey Kashechkin (Kazakhstan)                    2.08.26
13 José Ivan Gutierrez Palacios (Spain)              2.12.62
14 Vincenzo Nibali (Italy)                           2.17.25
15 Stijn Devolder (Belgium)                          2.19.30
16 David George (South Africa)                       2.26.72
17 David Millar (Great Britain)                      2.32.88
18 Ben Day (Australia)                               2.45.87
19 Marco Pinotti (Italy)                             2.46.53
20 Robert Hunter (South Africa)                      2.51.96
21 Laszlo Bodrogi (Hungary)                          2.52.40
22 Peter Luttenberger (Austria)                      3.01.33
23 Ryder Hesjedal (Canada)                           3.03.30
24 Stef Clement (Netherlands)                        3.06.44
25 Gustav Larsson (Sweden)                           3.09.32
26 Andreas Klöden (Germany)                          3.19.74
27 Thomas Lövkvist (Sweden)                          3.23.53
28 Christopher Baldwin (United States Of America)    3.36.97
29 Yuriy Krivtsov (Ukraine)                          3.40.87
30 Denis Shkarpeta (Uzbekistan)                      3.41.41
31 Svein Tuft (Canada)                               3.42.78
32 Alexander Bespalov (Russian Federation)           3.48.76
33 Ondrej Sosenka (Czech Republic)                   3.57.79
34 David O'loughlin (Ireland)                        3.58.40
35 Ruslan Ivanov (Republic of Moldova)               4.02.48
36 Adrian Bonilla (Costa Rica)                       4.04.10
37 Marlon Alirio Perez Arango (Colombia)             4.04.24
38 Matti Helminen (Finland)                          4.13.59
39 Frantisek Rabon (Czech Republic)                  4.18.71
40 Benoît Vaugrenard (France)                        4.35.43
41 Knut Anders Fostervold (Norway)                   4.40.80
42 Christophe Kern (France)                          4.58.29
43 David Mccann (Ireland)                            4.59.40
44 Joost Posthuma (Netherlands)                      5.01.44
45 Michael Schär (Switzerland)                       5.04.76
46 Gregor Gazvoda (Slovenia)                         5.08.38
47 Thomas Rohregger (Austria)                        5.25.18
48 Erik Hoffmann (Namibia)                           6.35.89
49 Pedro Nicacio (Brazil)                            6.43.64
50 Zoltan Remak (Slovakia)                           6.45.35
51 Csaba Szekeres (Hungary)                          6.45.52
52 Vitaly Kornilov (Latvia)                          9.14.54