World championships - CM
Madrid, Spain, September 21-25, 2005
Madrid: capital of cycling
By Hernan Alvarez Macias in Madrid
The peloton
Photo ©: AFP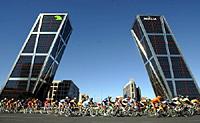 The 2005 Road World Championships are being held in the very cosmopolitan Madrid. Unlike Verona in 2004, this metropolis is the capital of a country: Spain. This city that lost the 2012 Olympic Games to London is very used to these kinds of big events.
The big absentee for this year World's will certainly be Spain's Oscar Freire. He won last year in Verona and he wanted to achieve his fourth win in his own country, something never done before by anybody. This year's big candidate is Italy's Alessandro Petacchi, as he has proven to be almost unbeatable in bunch sprints. His main rivals will be Australia's Robbie McEwen, Belgium's Tom Boonen and Germany's Erik Zabel. But there is a chance that a breakaway can smash the sprinters' possibilities.
Sunday's men's road race will be 273 km long and the riders will do 13 laps around the 21 km circuit. At 6.6 km in Dehesa de la Villa, there is a small climb that will certainly be the place where the attacks will go. There are other climbs and descents, but not as big as this one. The women's time trial is the first race on the program on Wednesday at 10:00am local time. It's a 21.9 km one-lap race against the clock through Madrid's Casa de Campo. The route has some ups and downs and it ends with a steady descent after km 17.7 and a flat finale. The highest point is 680 metes above sea level. While, the men's under 23 time trial is done on a slightly shorter course where the riders should do two laps (the first one 18.8 km long and the second 19.1 km). It has an uphill that starts at km 11.3. On the other hand, it has a long descent that begins at km 14.5.
The men's time trial will be raced on Thursday. It is 44.1 km long as the riders do two laps to the same 21.9 km course that the women do on Wednesday.
The women's road race will be on Saturday and the cyclists will ride the same course the men will do on Sunday, but the ladies will ride six laps of the 21 km circuit, totaling 126 km. On Saturday there is also the men's under 23 road race on the same parcours that the women's race uses. They will race eight laps over 168 km.
Cyclingnews will be covering each World Championship race live from start to finish.