World Road Championships - CM
Salzburg, Austria, September 20-24, 2006
Main Page Results Race Details Live report Previous Stage Next Stage
Race 2 - September 20: Under 23 men's individual time trial, 39.54km
A dream comes true for Cornu
By Hedwig Kr÷ner in Salzburg
Dominique Cornu (Belgium)
Photo ©: Sirotti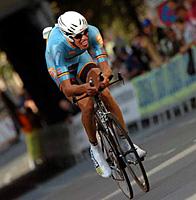 It was a beautiful day for Belgian Dominique Cornu, who realised an outstanding performance under the sunny sky in Salzburg, winning the World Championships time trial in the Espoir category. Beating last year's champion Mikhail Ignatiev (Russian Federation) by 37 seconds, the 20 year-old had to wait a bit on the hot seat for all riders to come through until his gold medal was confirmed. Jerome Coppel of France settled for the bronze medal.
Accompanied by a small but loud group of supporters, Cornu was overwhelmed with emotion as the result became official. "This is absolutely amazing," he said. "The beginning was hard and painful, but after two hills it got better."
The new world champion, who is a very talented rouleur with good results in the pursuit on the track, will become a professional next year with Davitamon-Lotto. He had been fourth in the time trial in 2004, but completely lost out last year, so this gold medal is a big relief and confirmation of what he's able to do. But besides his possibilities on the road, the Flemish rider is looking forward to the Beijing Olympics, where the Belgian pursuit team will be built around him.
Russia's Mikhail Ignatiev explained his second placing today by a change of training style. The Tinkoff rider wants to leave the track behind and fully concentrate on the road instead. Next season, his current sponsor will merge with what is now Italian team LPR, and 21 year-old Ignatiev is looking forward to improving his skills in road racing further.
The podium
Photo ©: Sirotti

Frenchman Jerome Coppel, who finished second at the European time trial championships last year, was also happy with his bronze medal today. "I don't consider myself a very good rouleur," he said, surprisingly enough. "I only prepare for the big events: the World's and the European championships. These will be my targets next year, too." Asked how he got into cycling, the 20 year-old explained that he had actually started out with cross country skiing, but then opted for cycling instead as his body didn't put on enough muscle for the winter sports discipline. "My father, who was a cyclist, never wanted me to become one, but finally he let me do it," Coppel added. That was four years ago.
Dmytro Grabovskyy from Ukraine, who had been rated as a big-time favourite for today, meanwhile failed to perform well enough for the Top 10.
A better ride came from Edvald Boasson Hagen (Norway), who finally made it into the top five although he had not expected to go so well. "I'm surprised," he told Cylingnews, waiting for the final result. "My legs are okay, but not extraordinary either - but apparently I'm fast, so that's what counts!" Boasson Hagen is now looking forward to the Espoir road race on Saturday.
Throughout much of the race, it was Alexander Filippov (Russia) who led the field, followed by Stefan Schaefer (Germany). But as the afternoon continued, still under the same sunny skies with very little wind, Cornu showed he was the strongest rider by far today, placing first at every intermediate timing.
Chris Froome (Kenya)
Photo ©: Roberto Bettini

No major race incidents occurred, except for the crash caused by the only Kenyan starter, Chris Froome. In a right hand side bend, Froome left the line to the left and hit an official on the right shoulder, with both men going down. At the finish, the Kenyan felt deeply sorry for his mistake - which luckily didn't leave anyone seriously hurt. "It was my own fault, completely," Froome told Cyclingnews. "I thought the road was going to the left, and as the man stepped to the left and raised his arm I thought he was showing me the way!"
Photography
For a thumbnail gallery of these images, click here
Images by Luc Claessen/www.ctm-images.com
Images by Fotoreporter Sirotti
Images by Roberto Bettini/www.bettiniphoto.net
Images by Hedwig Kr÷ner/Cyclingnews.com
Images by Jean-Francois Quenet
Results
1 Dominique Cornu (Belgium)                      49.28.42 (47.904 km/h)
2 Mikhail Ignatiev (Russian Federation)           0.37.10
3 Jerome Coppel (France)                          0.44.66
4 Alexander Filippov (Russian Federation)         0.51.52
5 Edvald Boasson Hagen (Norway)                   1.12.69
6 Stefan Schaefer (Germany)                       1.21.28
7 Logan Den. Hutchings (New Zealand)              1.25.06
8 Simon Spilak (Slovenia)                         1.26.60
9 Peter Latham (New Zealand)                      1.29.03
10 Kristjan Koren (Slovenia)                      1.36.32
11 Alex Rasmussen (Denmark)                       1.38.90
12 Ignatas Konovalovas (Lithuania)                1.41.11
13 Maxim Belkov (Russian Federation)              1.43.21
14 Martin Mortensen (Denmark)                     1.46.17
15 Dmytro Grabovskyy (Ukraine)                    1.49.32
16 Andrei Kunitski (Belarus)                      1.53.21
17 Branislau Samoilau (Belarus)                   1.54.04
18 Tony Martin (Germany)                          1.56.27
19 Rein Taaramae (Estonia)                        1.59.09
20 Sylvain Georges (France)                       2.03.66
21 Alan Marangoni (Italy)                         2.06.32
22 Jos Van Emden (Netherlands)                    2.06.87
23 Ian Stannard (Great Britain)                   2.08.57
24 Mateusz Taciak (Poland)                        2.14.83
25 Rigoberto Uran Uran (Colombia)                 2.22.06
26 Lars Boom (Netherlands)                        2.32.11
27 Gatis Smukulis (Latvia)                        2.38.40
28 Thomas Frei (Switzerland)                      2.41.97
29 Shaun Higgerson (Australia)                    2.47.08
30 Steven Cozza (United States Of America)        2.47.45
31 Martin Velits (Slovakia)                       2.51.03
32 Luca Barla (Italy)                             2.56.54
33 Mark Jamieson (Australia)                      3.13.66
34 Alexandr Pliuschkin (Republic of Moldova)      3.14.69
35 Andrey Zeits (Kazakhstan)                      3.27.74
36 Chris Froome (Kenya)                           3.32.28
37 Ruslan Sambris (Republic of Moldova)           3.37.66
38 Peter Velits (Slovakia)                        3.50.71
39 Hyun Wook Joo (Korea)                          3.52.90
40 Brent Bookwalter (United States Of America)    3.53.79
41 Berik Kupeshov (Kazakhstan)                    3.58.15
42 Oleksan. Surutkovych (Ukraine)                 4.00.54
43 Bradley Fairall (Canada)                       4.07.77
44 Ryan Connor (Ireland)                          4.08.13
45 Maciej Bodnar (Poland)                         4.08.40
46 Stefan Denifl (Austria)                        4.32.57
47 Federico Pagani (Argentina)                    4.38.69
48 Fabio Duarte Arevalo (Colombia)                4.40.51
49 Abdelkad. Belmokhtar (Algeria)                 4.51.40
50 David Veilleux (Canada)                        5.00.40
51 Stefan Kushlev (Bulgaria)                      5.13.48
52 Gert Joeaar (Estonia)                          5.22.27
53 Adrian Hegyvari (Hungary)                      5.38.64
54 Javier Chacon Quesada (Spain)                  5.40.91
55 Jorge Soto (Uruguay)                           5.47.19
56 Juan. Fernandez Mora (Spain)                   5.51.63
57 Lukas Sablik (Czech Republic)                  6.07.18
58 Akos Haiszer (Hungary)                         6.15.02
59 Mohamed. Aoun Seghir (Algeria)                10.13.51
DNS Abund. Guerrero Mata (Mexico)                        
DNS Magno Nazaret (Brazil)                               


Intermediate timing

Time check 1 - km 10.1 
 
1 Dominique Cornu (Belgium)                      14.15.99
2 Kristjan Koren (Slovenia)                       0.01.23
3 Jerome Coppel (France)                          0.15.42
4 Mikhail Ignatiev (Russian Federation)           0.19.07
5 Dmytro Grabovskyy (Ukraine)                     0.22.98
6 Edvald Boasson Hagen (Norway)                   0.23.01
7 Alexander Filippov (Russian Federation)         0.27.17
8 Simon Spilak (Slovenia)                         0.31.20
9 Jos Van Emden (Netherlands)                     0.32.79
10 Rigoberto Uran Uran (Colombia)                 0.33.00
11 Lars Boom (Netherlands)                        0.33.04
12 Andrei Kunitski (Belarus)                      0.34.70
13 Branislau Samoilau (Belarus)                   0.34.93
14 Stefan Schaefer (Germany)                      0.38.60
15 Luca Barla (Italy)                             0.38.97
16 Alex Rasmussen (Denmark)                       0.42.42
17 Thomas Frei (Switzerland)                      0.44.93
18 Peter Latham (New Zealand)                     0.45.08
19 Sylvain Georges (France)                       0.46.72
20 Ignatas Konovalovas (Lithuania)                0.47.10
21 Maxim Belkov (Russian Federation)              0.47.91
22 Mark Jamieson (Australia)                      0.48.19
23 Tony Martin (Germany)                          0.48.36
24 Rein Taaramae (Estonia)                        0.48.52
25 Martin Mortensen (Denmark)                     0.48.56
26 Alan Marangoni (Italy)                         0.49.20
27 Mateusz Taciak (Poland)                        0.53.44
28 Logan Den. Hutchings (New Zealand)             0.53.95
29 Steven Cozza (United States Of America)        0.54.49
30 Gatis Smukulis (Latvia)                        0.59.88
31 David Veilleux (Canada)                        1.00.21
32 Peter Velits (Slovakia)                        1.03.35
33 Maciej Bodnar (Poland)                         1.03.62
34 Shaun Higgerson (Australia)                    1.04.44
35 Ruslan Sambris (Republic of Moldova)           1.07.34
36 Andrey Zeits (Kazakhstan)                      1.12.64
37 Martin Velits (Slovakia)                       1.13.46
38 Oleksan. Surutkovych (Ukraine)                 1.15.31
39 Fabio Duarte Arevalo (Colombia)                1.16.48
40 Alexandr Pliuschkin (Republic of Moldova)      1.16.65
41 Ian Stannard (Great Britain)                   1.24.97
42 Hyun Wook Joo (Korea)                          1.24.98
43 Brent Bookwalter (United States Of America)    1.25.65
44 Stefan Denifl (Austria)                        1.28.69
45 Ryan Connor (Ireland)                          1.32.00
46 Bradley Fairall (Canada)                       1.32.02
47 Jorge Soto (Uruguay)                           1.38.78
48 Javier Chacon Quesada (Spain)                  1.39.35
49 Lukas Sablik (Czech Republic)                  1.39.67
50 Stefan Kushlev (Bulgaria)                      1.45.79
51 Berik Kupeshov (Kazakhstan)                    1.47.15
52 Chris Froome (Kenya)                           1.48.52
53 Federico Pagani (Argentina)                    1.50.01
54 Gert Joeaar (Estonia)                          1.55.93
55 Akos Haiszer (Hungary)                         1.56.40
56 Abdelkad. Belmokhtar (Algeria)                 2.00.69
57 Adrian Hegyvari (Hungary)                      2.08.91
58 Juan. Fernandez Mora (Spain)                   2.10.08
59 Mohamed. Aoun Seghir (Algeria)                 3.04.36

 
Time check 2 - 23.7 km 
 
1 Dominique Cornu (Belgium)                      32.18.64
2 Jerome Coppel (France)                          0.34.44
3 Mikhail Ignatiev (Russian Federation)           0.39.19
4 Alexander Filippov (Russian Federation)         0.53.91
5 Edvald Boasson Hagen (Norway)                   0.57.22
6 Simon Spilak (Slovenia)                         0.58.87
7 Stefan Schaefer (Germany)                       1.00.23
8 Kristjan Koren (Slovenia)                       1.03.64
9 Peter Latham (New Zealand)                      1.08.74
10 Branislau Samoilau (Belarus)                   1.10.73
11 Andrei Kunitski (Belarus)                      1.16.81
12 Ignatas Konovalovas (Lithuania)                1.22.42
13 Logan Den. Hutchings (New Zealand)             1.22.45
14 Rein Taaramae (Estonia)                        1.25.01
15 Rigoberto Uran Uran (Colombia)                 1.26.33
16 Tony Martin (Germany)                          1.27.67
17 Dmytro Grabovskyy (Ukraine)                    1.28.01
18 Alex Rasmussen (Denmark)                       1.31.73
19 Maxim Belkov (Russian Federation)              1.32.47
20 Jos Van Emden (Netherlands)                    1.33.46
21 Alan Marangoni (Italy)                         1.39.98
22 Martin Mortensen (Denmark)                     1.41.09
23 Lars Boom (Netherlands)                        1.43.02
24 Mateusz Taciak (Poland)                        1.44.22
25 Sylvain Georges (France)                       1.47.06
26 Thomas Frei (Switzerland)                      1.53.61
27 Steven Cozza (United States Of America)        2.01.68
28 Mark Jamieson (Australia)                      2.02.05
29 Gatis Smukulis (Latvia)                        2.03.57
30 Luca Barla (Italy)                             2.05.92
31 Ian Stannard (Great Britain)                   2.08.12
32 Martin Velits (Slovakia)                       2.10.30
33 Shaun Higgerson (Australia)                    2.13.92
34 Ruslan Sambris (Republic of Moldova)           2.34.10
35 Andrey Zeits (Kazakhstan)                      2.42.32
36 Oleksan. Surutkovych (Ukraine)                 2.42.48
37 Alexandr Pliuschkin (Republic of Moldova)      2.48.39
38 Peter Velits (Slovakia)                        2.49.35
39 Maciej Bodnar (Poland)                         2.56.34
40 Chris Froome (Kenya)                           2.56.63
41 Berik Kupeshov (Kazakhstan)                    3.06.09
42 David Veilleux (Canada)                        3.09.05
43 Hyun Wook Joo (Korea)                          3.09.55
44 Brent Bookwalter (United States Of America)    3.10.38
45 Ryan Connor (Ireland)                          3.11.45
46 Bradley Fairall (Canada)                       3.13.76
47 Stefan Denifl (Austria)                        3.20.62
48 Fabio Duarte Arevalo (Colombia)                3.28.77
49 Federico Pagani (Argentina)                    3.44.57
50 Abdelkad. Belmokhtar (Algeria)                 3.47.92
51 Stefan Kushlev (Bulgaria)                      3.59.12
52 Juan. Fernandez Mora (Spain)                   3.59.41
53 Jorge Soto (Uruguay)                           4.04.85
54 Adrian Hegyvari (Hungary)                      4.05.79
55 Gert Joeaar (Estonia)                          4.15.30
56 Javier Chacon Quesada (Spain)                  4.17.56
57 Lukas Sablik (Czech Republic)                  4.29.72
58 Akos Haiszer (Hungary)                         4.33.86
59 Mohamed. Aoun Seghir (Algeria)                 7.24.69