2006 UCI World Road Championships
CM Salzburg, Austria, September 20-24, 2006
Bettini king of Italian offensive
Ever since Mario Cipollini sprinted into the rainbow jersey in Zolder in 2002, Italy has been searching for a new world champion coming out of its ranks. But in the last two editions of the event, hosted in Madrid and Verona, the squadra azzurra failed to click thanks to a lack of coherent teamwork. Can they do it in Salzburg? Hedwig Kröner reports.
Gli azzurri
Photo ©: Sirotti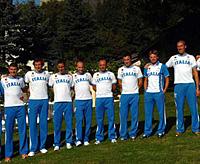 This time in sunny Austria, team coach Franco Ballerini promised it would be different. "We have the perfect team for this kind of parcours, with one leader (Bettini), one possible second leader (Di Luca) and three other strong men (Pozzato, Rebellin and Paolini), as well as the rest of the team, doing everything in their power to make it work." Sounds familiar?
But actually, the strategy of the Italian squad is understandable: After having assessed the parcours, which was first rated very difficult, Ballerini has now adopted a slightly different approach: to make life as hard as possible for the sprinters in order to eliminate the fast men before the finishing straight. "This type of parcours will only be really selective if it is truly raced hard," said Ballerini, implying that there is a possibility of the likes of Boonen, Zabel and McEwen surviving until the finish.
Paolo Bettini, the selection's leader, agreed with him. "The parcours is not really difficult for the sprinters," he said. "At least, not the ones that we have nowadays, who also get over little hills okay - like Zabel and Boonen. Our work will be to make the race as hard as possible, so that they will find it difficult."
And to make the bunch explode, his team director would like to see two of his men in each breakaway.
"We have great potential; we have to join every opportunity like we did at the Olympic Games," he added. "The squadra is at top level, and I am confident that they will do a great job. We will have to be very attentive right from the start."
The team members know that there are many aspirants to the rainbow jersey, but that first and foremost, it's the defending champion that will have to be beaten. "The Belgians have a great squad," said Paolo Bettini. "I mean, the World Champion is Boonen, and we all know that he is very strong on this kind of parcours, too. But we are motivated to make him crack before the finish."
Paolo Bettini
Photo ©: Sirotti

The Olympic champion, meanwhile, is not too nervous about the race on Sunday - not only for this reason. "I feel serene and calm," he commented. "The most important thing will be the work that we do throughout the race - and then, if somebody is faster than me in the finish, so be it. The World's are certainly important to me, but I'm not obsessed with this race. I've won other great events."
Coming back on his Quick Step teammate Boonen and his chances of beating the sprinter, 'Il Grillo' didn't weigh his words: "The only photo I don't have yet on my wall is me beating him - I've beaten all the other sprinters already! I know I can do it, but it will depend on the how much I have left over and power to the line. If I beat him, it will be because he will have paid for the difficult parcours."
Other rivals of Bettini of course include Alejandro Valverde and Alexandre Vinokourov. The Italian left the Vuelta a Espańa a few days before the finish in Madrid, whereas the two others fought out the overall victory. "They are both great riders and I will have to watch out for them a lot on Sunday," he admitted. "But I'm confident in my team. They are all great riders, and also friends." But asked if he thought that they would all be willing to work solely for him, he backpedaled - surely also to take a bit of pressure off his shoulders.
"Work for me? Yes, but they will also try to go for the win! It's normal; there are many possibilities in a race like this. But if I'm up there and feeling well in the finale, they will all ride for me, I'm sure."
Photography
For a thumbnail gallery of these images, click here
Images by Luc Claessen/www.ctm-images.com
Images by Roberto Bettini/www.bettiniphoto.net
Images by Fotoreporter Sirotti
Images by Hedwig Kröner/Cyclingnews.com