World Road Championships - CM
Salzburg, Austria, September 20-24, 2006
Main Page Results Race Details Live report Next Stage
Race 1 - September 20: Women's individual time trial, 26.12km
Gold and Bronze for USA
First World Championship Gold for Armstrong
By Kristy Scrymgeour in Salzburg
Kristin Armstrong (USA)
Photo ©: Roberto Bettini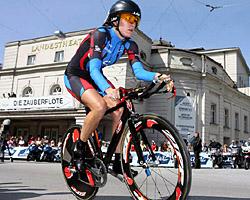 Improving on her third place from last year behind Karin Thürig (Switzerland) and Spain's Joane Somarriba Arrola, USA's Kristin Armstrong flew around this year's time trial course in Salzburg to realize her "perfect day" and take home her first ever World Championship Jersey. In the final minutes of the event, her teammate Christine Thorburn, waited on the hotseat in first place waiting for the final riders to come through. She was pushed out by Armstrong and the defending champion and finally took third place, giving the American's two podium places for the day.
The course was definitely one for those riders who can both climb and push a strong pace on the flat. The first half of the 26km course was primarily uphill. The climb to the midway point being a tough steep section that made it very difficult to keep a rhythm. From there, it was downhill and then flat to the finish, with a couple of sharp turns to navigate on the way. Salzburg, recovering from the wet weather in the days leading up to the race, put on a perfect sunny day and the riders very happy to see dry roads when they woke this morning.
Taking an early lead ,which kept her on the hotseat for the majority of the day was Lada Kozlikova (Czech Republic). Overtaking two riders on her way, her time of 36'10.59 set the pace for the day with only seven riders eventually bettering her time.
Finally Priska Doppmann sat in third place when her teammate Karin Thürig came in to take second place, pushing Doppmann in to fourth, whilst the two American's celebrated their success.
Karin Thürig (Switzerland)
Photo ©: Sirotti

"I knew we could do it," said Thorburn immediately after. "Just before the start I said, 'C'mon girls, let's go and sweep the podium.'" As it was, they came close, with the third American, Amber Neben also finishing with a good time taking tenth place.
"It's unbelievable," said Armstrong whilst trying to recover from the shock of it all. "To walk away with two podium positions and the jersey is a great day for America."
Armstrong said he had the perfect day today. "That's what you need to win a World Championship," she said. "I knew we had a strong team and to have two Americans have a perfect day is wonderful. It is my perfect day. This is my dream."
Armstrong's coach Jim Miller, also couldn't keep the huge smile off his face. "It's been a long time coming," he told Cyclingnews. "I have coached a lot of riders to the podium over the years in both road and mountain bike, but this is the first World Championship win."
The women's elite podium
Photo ©: Sirotti

Miller explained that he saw the time trial course in April and realised that general fitness was what Armstrong needed rather than specific time trial efforts. Tour of Holland was her special time trial training. "Holland is fast,"explained Armstrong. "It is like sitting behind a motorbike." After Holland, Armstrong raced the Euregio Tour, also in Holland, before heading to Salzburg. "I arrived on Sunday and then rode the course every day to learn it," she added. "I knew the first half of the course was the key for me. I had to made as much time as I could on the climbs.
"I had picked Thürig and Christiane Soeder to do well here and I knew both of them would favour the second half of the race, so I had to concentrate on the first half."
Thorburn was also happy to finally be on the podium. "I finally got my medal" she told Cyclingnews. Working 40 hours a week is not exactly conducive to training for a World Championship, but Thorburn manages to pull it off. "I knew I had to train specifically for the time trial and then I could help in the road race," she explained.
Sitting in the hotseat in the latter stages of the race today, Thorburn looked nervous. "I've done this three times," she said. "It's hard." In 2004, at the Athens Olympics, Thorburn finished fourth, with Thürig taking the win. "I'm really happy to be on the podium this time."
With the pressure of two consecutive World Championship time trial wins behind her, Thürig was "very happy with the race" today. "The course was hard and very interesting which is how I like them."
Almost deciding not to race in Salzburg this year, Thürig's second place was an added bonus. "My main focus this year is the Hawaii Ironman this year," she explained, so with 100km of running per week and 4-5 sessions in the pool, she hasn't specifically trained for this. "I knew my preparation wasn't 100 percent," she said, "so I'm proud that I kept my focus. My radio also didn't work, so I had no idea where I stood but I knew the second half of the course was my strength so I went down as fast as I could but Kristin was faster."
Photography
For a thumbnail gallery of these images, click here
Images by Roberto Bettini/www.bettiniphoto.net
Images by Fotoreporter Sirotti
Images by Luc Claessen/www.ctm-images.com
Images by CJ Farquharson/WomensCycling.net
Results
1 Kristin Armstrong (United States Of America)    35.04.89 (44.638 km/h)
2 Karin Thürig (Switzerland)                       0.25.57
3 Christine Thorburn (United States Of America)    0.29.36
4 Priska Doppmann (Switzerland)                    0.55.09
5 Nicole Cooke (Great Britain)                     0.55.68
6 Zulfiya Zabirova (Kazakhstan)                    0.58.82
7 Judith Arndt (Germany)                           1.04.34
8 Lada Kozlikova (Czech Republic)                  1.05.70
9 Trixi Worrack (Germany)                          1.18.76
10 Amber Neben (United States Of America)          1.26.81
11 Natalia Boyarskaya (Russian Federation)         1.35.03
12 Tereza Hurikova (Czech Republic)                1.35.58
13 Nicole Braendli (Switzerland)                   1.41.59
14 Linda Villumsen (Denmark)                       1.47.45
15 Susanne Ljungskog (Sweden)                      1.52.35
16 Christiane Soeder (Austria)                     1.55.37
17 Svetlana Bubnenkova (Russian Federation)        2.05.37
18 Edwige Pitel (France)                           2.09.81
19 Jeannie Longo-Ciprelli (France)                 2.18.49
20 Anne Samplonius (Canada)                        2.21.70
21 Loes Gunnewijk (Netherlands)                    2.25.64
22 Tatiana Guderzo (Italy)                         2.35.15
23 Edita Pucinskaite (Lithuania)                   2.42.21
24 Meifang Li (People's Republic of China)         2.44.27
25 Maribel Moreno Allue (Spain)                    2.49.63
26 An Van Rie (Belgium)                            2.55.58
27 Oenone Wood (Australia)                         3.01.88
28 Kathryn Watt (Australia)                        3.15.68
29 Eneritz Iturriaga Echevarria (Spain)            3.20.68
30 Trine Hansen (Denmark)                          3.21.56
31 Silvia Valsecchi (Italy)                        3.32.97
32 Paulina Brzezna (Poland)                        3.57.30
33 Blaza Klemencic (Slovenia)                      4.04.71
34 Baerbel Jungmeier (Austria)                     4.24.50
35 Urte Juodvalkyte (Lithuania)                    4.31.28
36 Iryna Shpylevaya (Ukraine)                      5.05.00
37 Magdalena Zamolska (Poland)                     6.04.48
DNF Alex Wrubleski (Canada)
DNS Alessandra G. Grassi Herrera (Mexico)
 

Intermediate timing

km 10.1

1 Lada Kozlikova (Czech Republic)                 15.27.57
2 Kristin Armstrong (United States Of America)     0.07.33
3 Karin Thürig (Switzerland)                       0.13.59
4 Priska Doppmann (Switzerland)                    0.17.91
5 Christine Thorburn (United States Of America)    0.18.73
6 Nicole Cooke (Great Britain)                     0.22.00
7 Christiane Soeder (Austria)                      0.26.36
8 Zulfiya Zabirova (Kazakhstan)                    0.29.96
9 Amber Neben (United States Of America)           0.34.87
10 Trixi Worrack (Germany)                         0.38.25
11 Linda Villumsen (Denmark)                       0.40.25
12 Judith Arndt (Germany)                          0.43.38
13 Tereza Hurikova (Czech Republic)                0.44.02
14 Natalia Boyarskaya (Russian Federation)         0.44.68
15 Nicole Braendli (Switzerland)                   0.44.81
16 Edwige Pitel (France)                           0.51.54
17 Edita Pucinskaite (Lithuania)                   0.55.04
18 Svetlana Bubnenkova (Russian Federation)        0.55.78
19 Jeannie Longo-Ciprelli (France)                 0.57.31
20 Susanne Ljungskog (Sweden)                      1.00.30
21 Loes Gunnewijk (Netherlands)                    1.00.33
22 Oenone Wood (Australia)                         1.01.29
23 Anne Samplonius (Canada)                        1.01.51
24 Maribel Moreno Allue (Spain)                    1.02.51
25 Tatiana Guderzo (Italy)                         1.04.09
26 Meifang Li (People's Republic of China)         1.11.22
27 Trine Hansen (Denmark)                          1.17.55
28 Alex Wrubleski (Canada)                         1.18.92
29 An Van Rie (Belgium)                            1.24.83
30 Blaza Klemencic (Slovenia)                      1.27.43
31 Kathryn Watt (Australia)                        1.30.34
32 Silvia Valsecchi (Italy)                        1.35.91
33 Paulina Brzezna (Poland)                        1.40.91
34 Eneritz Iturriaga Echevarria (Spain)            1.53.38
35 Baerbel Jungmeier (Austria)                     1.53.47
36 Urte Juodvalkyte (Lithuania)                    2.18.53
37 Magdalena Zamolska (Poland)                     2.28.37
38 Iryna Shpylevaya (Ukraine)                      2.35.17