Vuelta a Espana Cycling News for September 10, 2006
Coming up on
Cyclingnews will cover the 60th edition of the Dauphiné Libéré live as of stage 4 on Wednesday, June 10, at approximately 15:00 local Europe time (CEST)/ 23:00 Australian time (CDT)/ 9:00 (USA East).

WAP-enabled mobile devices: http://live.cyclingnews.com/wap/

Reporting by Shane Stokes, edited by John Stevenson
Millar: It's possible to win clean
David Millar enjoys the moment
Photo ©: AFP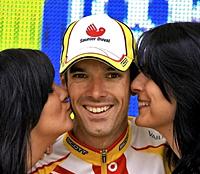 Stage 14 winner David Millar began his press conference with a clear statement that his return to pro cycling following a ban for admitted EPO use is a new, cleaner beginning. "This victory is a renaissance, a new beginning, a new start. I have been very nervous, like a junior. But this is like a new start for me.
"I want everybody to understand, even my fellow professional cyclists and the fans who love cycling, that I am doing this on nothing, solely on bread and water. I do not believe in any injections of any sort for recuperation. We can perform at the highest level in cycling without any medical help.
"Today was a purely physical test, I won, and I am 100% clean. Some people may not believe me, but if you know me you will believe me after what I am have been through. I love my sport and I want everyone to know that you can win the biggest races on bread and water."
Millar was asked the extent of the tough time he had been through, but he declined to elaborate. Suffice to say it was a black period in his life. "I don't want to talk about it in a press conference.it is too much," he said.
The Scot then thanked the Saunier Duval team and British Cycling for giving him a fresh chance. He also singled out BC's Dave Brailsford and Simon Jones, who "risked a lot in helping me, who believed in me 100% and taught me how to do cycling without drugs."
"I am very happy," he added in a team release. "I've been feeling better and better over the past two weeks, and I'm much more confident now. Today's course was quite taxing and in the last part it was all extremely tight; that is where I could make the difference".
Team manager Mauro Gianetti applauded the result. "Every triumph is great, but this one has been particularly good. We've believed in David all along, and when he came back we worked very hard together, so that we can now share this moment of happiness. He deserves it so much".
Team directeur Josean Fernandez Matxin echoed that. "I am happy for David Millar and his win because of all he suffered, all he went through," he told Onda Cero radio. "He is one of the riders that appreciates this reward so much and it makes him so happy. What he did has value; he quit racing, he was almost alone, he was practically ruined and now look. It is a nice story with a very happy ending.
Millar's team-mate José Ángel Gómez Marchante had a solid ride, finishing 13th. However he dropped a place in the general classification to fifth. Maxtin said he was relatively satisfied. "His performance wasn't so bad. I hoped that he would lose a bit less time. He conceded too much in the first part, actually the part where I thought he would do better. Then he had a problem with a gust of wind, he was scared and was very careful on the descent after that."
Maxtin had praise for the race leader. "Valverde did it very well. I thought he would have been near [Gomez] Marchante's time. I thought maybe he would gain 10, 15, 20 seconds on Marchante but the truth is that he did a phenomenal time trial."
Caisse d'Epargne happy
Alejandro Valverde
Photo ©: Sirotti

Race leader Alejandro Valverde successfully defended his maillot oro in the stage 14 time trial in Cuenca, conceding just eight seconds to Alexandre Vinokourov and taking time out of all his other GC rivals. His team manager Eusebio Unzue was very pleased with the showing. "This result delights me, because Alejandro confirmed its progression in this difficult discipline by conceding only eight seconds to Vinokourov, and barely any more to true specialists [David Millar and Fabian Cancellara]. The Vuelta remains nevertheless very open, with very small gaps considering the difficulty of the stages which are still to come. However today's result is very important for Alejandro's confidence and that of his team-mates in the fight to keep the yellow jersey in the team."
Valverde was very upbeat. "It is not a surprise for me", he stated. "This year, I had already shown that I had improved considerably in the time-trials, although I still had to prove it in a really important one.
"I started very quickly but it was in the Castillo, on the climb as well as in the descent, that I really gave it all. At the beginning of the downhill, I had a small mechanical problem, but nothing important. I wanted to change the gear-ratio and the chain jumped. I had to put it back with the hand before going again.
"I then descended as quickly as possible, taking some risks, yet all of them were controlled ones. The objective was to gain as much time as possible but, after being informed of the gaps at the top of the Castillo, I understood that I could perhaps even fight for the stage victory. So I decided to go for that too, even if it was not the principal objective.
"I am conscious that my good result of today is another step towards the final victory," he continued. "Yesterday, I was the one who gained 8 seconds on Vinokourov thanks to the time bonuses and today the Kazakh gained those seconds back. On the whole, I believe that the balance is in my favour because many people, Vinokourov included, thought that I was going to concede much more time in the time-trial. I believe I have achieved an excellent result and all that I hope for now is to continue in the same way until the end of Vuelta."
Brajkovic disappointed
Janez Brajkovic
Photo ©: Sirotti
Prodigious 22 year old Slovenian Janez Brajkovic has already shown what he can do in this Vuelta, taking second on the first day in the mountains and wearing the leader's yellow jersey, but he wasn't happy after today's performance in the time trial.
"The time trial was terrible. The course isn't a problem - if you were good, you were good, but I just couldn't suffer enough. I obviously lost a lot of time and after two weeks of racing, it is clear that my form is going down a bit. I will just try to dig in and lose as little time as is possible from this point on."
Brajkovic finished 18th in the test, 1'49 behind the day's winner David Millar. The Discovery Channel rider said he never settled into his rhythm. "The hill is terrible, especially with those cobbles. I was just really suffering throughout the course. Obviously it was not a very good day.
"It is my first grand tour and for me, what I have done is incredible. But of course it is a little bit disappointing too to feel worse and worse, day by day. But it is not a problem - life goes on. Life is great," he concluded.
Horner's rest day up in smoke
Prior to the time trial Chris Horner said that he was going to hold back, using the chance to recover somewhat while deliberately losing more time. This, he said, would make it more likely for him to be given a bit of leeway to chase a stage win in the coming days.
However once he got rolling, the competitive instinct took over. "I went for it in the end. I always do," he told Cyclingnews with a somewhat resigned tone. "I always say I will hold back and then I get on my bike, see guys in front of me and then start going hard. Maybe I could have gone thirty seconds harder, but I don't think that would have been too smart. I did push it, though."
"It is a typical TT course, very hard. The hill is exactly the same as yesterday. It was about 500 meters too long for me. I was good through all the hard cobbles and then when you come out on the softer cobbles, I just blew.
The Davitamon Lotto rider placed 31st, 2'27 back, and moved from up one place to 27th overall. "I am pretty happy with my time trial. It is not a bad time. It will move me up on GC or keep me up there where I am. I am a bit frustrated, though, because I think the break I was in the other day [stage 12] was the best chance to make up good time. Caisse d'Epargne have four guys in or near the top ten now so if you get clear, you are going to be in a break with one of those guys and they won't get much leeway.
"I don't know if Valverde will have the lead after today or not, but I assume he will have it by some seconds. All the breaks are going to end up with an Illes Balears guy there. Vinokourov's team is going to have to chase hard; it is not going to be like the Tour where you have guys who are 20 minutes down going up the road. We are going to have guys who are just five minutes back and you just can't afford to give those guys that kind of time."
He did see one possible advantage, though. "The plus side is that I think that the Caisse d'Epargne guys are going to have to drive really hard to put Vinokourov into the position where he is isolated, so maybe that could help me out a little bit there. But I don't see anyone gaining massive amounts of time on these coming stages."
Sörensen: tough course
CSC's Nicki Sörensen was 27th on the stage, 2'17 back. He said after his finish that the route for the time trial made it a tough test. "The course is very difficult, it is hard to get a rhythm. There are sticky roads, a hard climb, but after that a pretty good descent. The descent itself wasn't that tricky.
"Maybe the altitude has a bit of an effect, playing a small role in making this harder. In the first half I felt like I had no rhythm but the last half I felt better."
(All rights reserved/Copyright Knapp Communications Pty Limited 2006)