Vuelta a Espana Cycling News for September 8, 2006
Coming up on
Cyclingnews will cover the 60th edition of the Dauphiné Libéré live as of stage 4 on Wednesday, June 10, at approximately 15:00 local Europe time (CEST)/ 23:00 Australian time (CDT)/ 9:00 (USA East).

WAP-enabled mobile devices: http://live.cyclingnews.com/wap/

Reporting by Shane Stokes with Hernan Alvarez; edited by John Stevenson
Sargeant hopes for change of fortune
Brandt to leave hospital this weekend
Davitamon-Lotto
Photo ©: Unipublic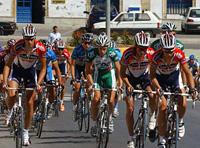 The Davitamon Lotto squad came to the Vuelta with high hopes of a stage win by super-sprinter Robbie McEwen. However the Australian was a little off his Tour de France form and was unable to top the podium before withdrawing early on. They went close to a victory on stage 12, though, with Bart Dockx taking second behind Luca Paolini. Directeur sportif Mark Sargeant told Cyclingnews afterwards that he was pleased with the team's efforts towards the end of what has been an injury-prone season.
"The team did well today - Chris [Horner] was in the first breakaway. The guys couldn't get into a good break recently but they did it today and rode well. Bjorn [Leukemans] is not 100 percent…this finish would have been good for him. Bart was good, but he was unlucky to have been caught between two friends [Paolini and Bettini].
The team is now missing three riders. One of those was highly placed overall but had to withdraw due to a bad accident. "It was sad for us that Jufre crashed earlier in the race because he was a guy for a top ten place. He was twelfth at the time. We have bad luck at the moment - Brandt in Belgium, Jufre here..it is a hard end of season for us."
Christophe Brandt crashed hard in the Schaal Sels at the end of August and suffered four broken ribs, a broken arm and a perforated lung. He lost a kidney as a result of the accident, and was initially in an induced coma until his condition stabilized.
Sargeant said that Brandt's recovery has been quick, but that he has a long way to go. "He is going to leave the hospital this weekend, but he has a long way back to be a rider. Firstly he has to recover from his injuries, then think again about being a competitive cyclist.
"It is difficult for us because we have only 26 riders. Most of the teams have 29 or 30. So crashes hit us harder. Tom Steels broke his shoulder, Leukemans broke his shoulder in the beginning, we lost De Vocht in the Tour of Flanders. So we have had a lot of riders without a lot of racing and that makes things hard for the end of the season. But we will keep trying, the guys rode very well today."
Sargeant is hopeful that this weekend will bring some success. "McEwen was second in Belgium yesterday [Memorial Rik Van Steenbergen], and then this weekend we have Paris-Brussels and the GP de Fourmies. We will try to win one of those with Robbie, and keep on going from there.
"As regards next year, Lief Hoste is coming to the team and there are a few others going. Van Petegem is going and Steegmans is unfortunately going to the Quick.Step team. We have five young guys coming to the team because we have several under 23 teams in Belgium. It is important to work with the young guys and give them opportunities with pro cycling."
Cancellara: aiming big
Fabian Cancellara (CSC)
Photo ©: Unipublic
CSC rider Fabian Cancellara is one of the riders tipped for success in the stage 14 time trial this Saturday. Although the 33.2 kilometre test has a third category climb, the powerful Paris-Roubaix winner is recognised as one of those who will be in the final shakeup. He sounded upbeat about both his chances and CSC's general Vuelta campaign when Cyclingnews spoke to him before the start of Thursday's twelfth stage.
"I am feeling okay coming up to the time trial. Yesterday was the worst day I had until now in this Vuelta, but I think that is because we pulled a lot the other day. I think that I have recovered, I feel better today than yesterday and I think that with Carlos in the team, you have got the right atmosphere to go well.
"We have a good team, everything is going strongly, we are happy and there is an all for one, one for all mentality. Everybody is happy because of this and I think the results are coming. When we go to the front everybody is saying 'oh no, it is CSC, what is going to happen?' (laughs)"
Cancellara won the prologue in the 2004 Tour de France and is hoping for another Grand Tour success here. "I will try to get a result in the time trial, but it depends on what happens today and tomorrow. But I am really confident about my chances, I feel well. I think David Millar will also go well, and then of course Vinokorouv. He is also dangerous. You never know in a time trial."
Whatever the result, he has his eye on the bigger picture. "I think for me it is a good test but it is not the most important thing for me before the worlds. My biggest priority is to go better each day and this is the best preparation. I am not going to kill myself - I do a lot of work, but after the stages I am happy, I feel good. I see other teams, other riders, and maybe they are not the same. It is a different type of tiredness….I am tired, but I am happy-tired! We do work, there is a good atmosphere with the team and when you go over the limit one time, it doesn't matter."
Mood good in Discovery camp
Janez Brajkovic (Discovery)
Photo ©: Sirotti

Another rider talking about a positive mood this morning was Discovery Channel's Michael Barry. The squad currently have Janez Brajkovic, Manuel Beltran, Tom Danielson and Stijn Devolder in sixth, seventh, 16th and 17th place overall and are, unsurprisingly, leading the team classification. Discovery also took a stage win on Wednesday, courtesy of Egoi Martinez.
Barry said that they are looking forward to a good showing in the second half of the race. "The mood on the team is good," he stated. "The plan for now is to have guys in the breakaways and keep the guys who are up there in the general classification protected, in a good position and out of the wind. The idea is that they will get to the time trial and climbs as fresh as is possible.
"Tom, Stijn, Triki [Manuel Beltran] and Janez are all up there in the overall. We have three really hard days of climbing plus the time trial. Things will sort themselves out on those stages but they are all climbing extremely well and obviously they can help each other out in the mountains."
Twenty-two-year-old Brajkovic has been the revelation of this year's race, although having the hunger knock on stage nine to Alto de la Cobertoria meant that he slipped out of the race lead. Barry said it is an easy thing to happen.
"He actually felt really good that day but ended up losing time because he didn't eat enough. That happens sometimes when you are feeling fantastic - you forget to eat! But he will be fine, I think all of those guys will have really good time trials and are all looking forward to that test."
Sastre happy with time trial
Carlos Sastre (CSC)
Photo ©: Unipublic

Presuming there are no major changes to the general classification tomorrow, Carlos Sastre will start Saturday's time trial third overall, 44 seconds behind race leader Alejandro Valverde. He said before stage 12 that he was happy enough with the profile of the race against the clock.
"For me, I think the time trial is not so bad. There is a third category climb halfway through the stage and in that way, it is much, much better."
For the past two days riders have been exposed to very changeable weather, with rain making an appearance. Sastre said that this can be welcome at times. "It is a calm day at the moment, good weather and I feel recovered after yesterday. That is the most important thing. Yesterday [Wednesday] was hot and the humidity was high, then we had a bit of rain to cool things down. It was dry again towards the finish, when things can be dangerous, so in that way it was really nice for us."
Marchante aiming higher
Jose Angel Gomez Marchante (Saunier Duval)
Photo ©: Unipublic

Saunier Duval's Jose Gomez Marchante is currently just 56 seconds off the race lead and said that he will do what he can to improve in the general classification. "I am fourth and less than a minute slower than the race leader, so I will fight to get in the podium," he said to Onda Cero radio after the twelfth stage.
"Things will get a little clearer after the time trial. But the key stages will be the last three mountainous days."
For now, he is trying to stay out of trouble. "There is no rest here. These days that seemed to be relatively calm were the contrary. They were very fast and we also must be careful not to catch a cold with these sudden changes of temperature.
Mission accomplished for Arroyo
Stage 12 was yet another day when the Caisse d'Epargne team sent a rider up the road in order to force others to chase, and today it was the turn of David Arroyo, who had started the stage 14'09 back. Once the gap went out to 11'30, the Astana team of Alexandre Vinokourov and Andrey Kashechkin had to ride in order to protect their positions. In this way, race leader Alejandro Valverde and the rest of the squad had an easy ride.
Arroyo ended up gaining 8'46 and moved up 14 places to 13th overall. He said after the stage that he was pleased with how things went. "The stage was a very fast one from the very first kilometres. I had some difficulty to join the breakaway when it went but the most important thing is that I finally succeeded in making it.
"My intention was, of course, not to go for the stage win. My mission was to work for our team, for our leader. We have tried every day to put one of us in the attacks, more particularly if a large group goes, so that behind our tram-mates have nothing to do but control the race.
"Yesterday it was Joaquín's turn, today it was mine. I am satisfied because after a good Tour de France, I am doing pretty well on the Spanish roads too. I think this is principally a consequence of the fighting spirit we have in the team. And the good mood, too!"
He also spoke about the Vuelta to Onda Cero radio, telling them he was happy with how his condition is. "I can't complain; I'm happy. I don't have injuries or diseases and I think I am very fit.
"One has to save energies day by day; it's an everyday job. The Vuelta lasts three weeks; they are three hard weeks as we can see. So, one has to save energy in order to feel well in the mornings. Next week there are three tough days and I must be there [to help Alejandro Valverde]."
Although Arroyo is 13th overall, he appears resigned to slipping back on Saturday. "I still fail a lot in the time trials. But on the team we have got [Alejandro] Valverde and [Vladimir] Karpets - they are the ones who can demonstrate that they go fast in the time trials. They are the strong guys in the team."
(All rights reserved/Copyright Knapp Communications Pty Limited 2006)