Vuelta a España Cycling News for September 4, 2006
Coming up on
Cyclingnews will cover the 60th edition of the Dauphiné Libéré live as of stage 4 on Wednesday, June 10, at approximately 15:00 local Europe time (CEST)/ 23:00 Australian time (CDT)/ 9:00 (USA East).

WAP-enabled mobile devices: http://live.cyclingnews.com/wap/

Edited by Hedwig Kröner
Vuelta stage 9 wrap-up:
Double-teamwork pays off for Vino as Valverde moves into lead
Alexandre Vinokourov (Astana)
Photo ©: AFP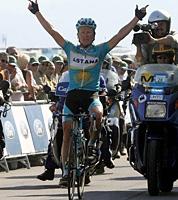 A two man attack by Astana teammates Alexandre Vinokourov and Andrey Kashechkin with 6 km to go in today's difficult ninth stage ended in another victory for Vino, who beat Alejandro Valverde by 16 seconds on top of the Alto de La Cobertoria. But Valverde took over the overall lead in the Vuelta as Janez Brajkovic (Discovery) had to let go on the final climb and lost 2'14. Kashechkin held on for third in the stage at 21 seconds, moving himself into third overall.
The 207 stage, which featured six categorised climbs, four of which were category one or higher, got off to a very attacking start. After the first sprint at km 29, a group of 15 got clear with Igor Anton and Iñigo Landaluze (Euskaltel-Euskadi), David Arroyo, Joan Horrach and Xabier Zandio (Caisse d'Epargne-Illes Balears), Carlos Barredo (Astana Team), Mauricio Ardila and Pieter Weening (Rabobank), José Miguel Elias and and Ángel Vallejo (Relax-Gam), Pietro Caucchioli (Credit Agricole), Lars Ytting Bak (Team CSC), Egoi Martinez (Discovery Channel), Dario David Cioni (Liquigas), and Ángel Gómez Gómez (Saunier Duval). They got no more than 3'40 as Anton was relatively well placed on the general classification, and it was more or less all together by the start of the last climb.
Caisse d'Epargne set the early tempo before Vinokourov accelerated with Kashechkin on his wheel with 6 km to go. The pair opened up a maximum gap of 23 seconds as the group behind reduced to just Valverde, Di Luca, Sastre and Gomez Marchante. Eventually Valverde tried to close the gap on his own, but ran out of legs and Vino stayed away to win his second consecutive stage.
Click here for the full results, report & photos and live report from stage 9.
Vino thinks of the Gold jersey
By Shane Stokes in Alto de La Cobertoria
Smilin' Vino
Photo ©: AFP

Following stage victories on two successive days, Alexandre Vinokourov is now up to 5th overall in the Vuelta, 1'38 back. He has appeared to be growing in strength as this race has progressed, something he agreed could be related to his lack competition in the Tour de France.
"It is true, I haven't done much racing," he said at the post-race press conference. "Before the Vuelta I had just 30 days of racing in my legs so I am fresh and my form is building."
By coincidence or otherwise, his main threat is also in a similar situation due to the broken collarbone injury he received in the Tour. "Valverde is someone I regard as perhaps my biggest rival. He missed out on the Tour so he is fresh and motivated. I think he is a big favourite."
Vinokourov is a strong time trialist and was asked if he thought that he can take the maillot oro in the race against the clock on stage 14. "The time trial is not really long enough to get much time back," he replied, "but there are two weeks to go. We will see what happens in the time trial, I will give my maximum there.
"Andrey (Kashechkin) is also riding well and is strong in the time trials. It is better to have two leaders for now, we will see how things work out a little later in the race."
Vinokourov was also asked if he had changed his mind, having stated earlier in the race that his main goal here was to prepare for the world championships. "To win either the Vuelta or the worlds will be difficult. First I will do my best here and then afterwards I will think about the world championships."
Stephens happy with Astana race
By Shane Stokes in Alto de La Cobertoria
Astana directeur sportif Neil Stephens said after stage nine that he was delighted with Alexandre Vinokourov's race. "Things are really good. The most positive thing is how Alexandre worked today. He tried to do his best for Kashechkin before he went. He didn't just think of himself. He thought about his teammate and the general classification and when there was no alternative, it was only then that he turned on the gas.
"I haven't spoken to him about it yet, but I think that if the two of them had reached the line together, he would perhaps have let Kashechkin win. With the bonus he would have taken the jersey. Now we will wait until the time trial. We have two riders up there so we are really happy."
Valverde treasures maillot oro
By Shane Stokes in Alto de La Cobertoria
Alejandro Valverde (Caisse d'Epargne)
Photo ©: AFP

Alejandro Valverde has been easy to spot in this Vuelta due to his distinctive, all-white ProTour leader's kit. However he'll stand out even more when the race resumes on Tuesday due to the maillot oro he now wears. It's a magic moment for him.
"To win the stage in La Covatilla gave me a great emotion, but to put on the yellow jersey is something really special, something different and we will fight to keep it in our team. It will not be easy but my team-mates are fantastic. Today, one more time, they realized such a great job that I think we will be able to do that.
"I want to thank them once more for helping me throughout the whole day. We gave a strong proof here that we are really a big team.
Valverde has several rivals to watch, including Sastre and Marchante, but the dual leadership of the Astana squad makes them a big threat. "It will be dangerous with both Vinokourov and Kashechkin there, even if I think I have to fear Kashechkin more if we consider the fact that he is closer in the general classification. He is just 27 seconds back.
"The rest day will be welcome to recover strength and also to, together with our team director Eusebio Unzue, study the strategy for the next stages. I really believe in my chances, most of all because I have improved my performances in the time trials. I think that I can equal the Kazak riders there," he added.
Caisse d'Epargne DS pleased
By Shane Stokes in Alto de La Cobertoria
Speaking of Unzue, he told Cyclingnews after stage 9 that things had worked out perfectly to plan. "When any team takes the gold jersey, they are very happy. It is especially rewarding because it comes at the end of a very difficult week. We had to contend with mountains, flat roads, sprints; we are happy.
"At this moment, I think that Vinokourov is the strongest. But there is a lot left in this Vuelta. We must be tranquil, take it day by day, as there are still two weeks to go," he said.
"Alejandro will have an important test in the time trial. It will be interesting. We know that Vinokourov is a good time trialist but Alejandro is improving all the time. We are happy with where we are."
Millar waiting for his moment
By Shane Stokes in Alto de La Cobertoria
David Millar (Saunier Duval) performed strongly on the first day in the mountains but has since backed down, choosing to save his strengths to go for stage wins. He feels that his form is good, even if the stage 9 course didn't suit him.
"I felt really good but those climbs are too steep for me, I am too big for that. I just couldn't stay with the front group, no way... that is the problem with being a big, heavy bloke. But the rest of the stage I felt really good, to be honest, although it was a really hard day.
"Confidence is a funny thing - it is up and down. Some days it is good and then if you get a bad day, it drops. But I am playing the long game. I will go for the time trial and also see what the other stages are like."
Tom Danielson's Vuelta: Feeling stronger, but playing the team role
Hi there Cyclingnews readers,
Janez Brajkovic (Discovery)
Photo ©: AFP

Well, I was stronger today than in the other mountain stages, that is for sure. I was with the first guys, but Johan asked me to wait for Janez. That is what I had to do. I lost time the other day…I still don't know why that happened, but my legs are better now. Today I was easy on the back of Marchante when Sastre attacked. Those guys were going across to Vino and Kashechkin and I was there. But when your teammate is in the gold jersey, I guess that is what you have to do…
I hope I can do something later in the race. It seems I am back to where I should have been. I can't explain why I was so bad in the first few days, but today I felt good.
It is very disappointing the way things turned out earlier on in the race. I am happy for Janez, the way things turned out for him [taking gold] but I am disappointed that I had that bad day, and also lost a bit of time on the first mountain stage. I would like to make a good Vuelta so we will see.
Click here to read the rest of Tom's diary from Stage 8.
Previous News Next News
(All rights reserved/Copyright Knapp Communications Pty Limited 2006)