61st Vuelta a España - GT
Spain, August 26-September 17, 2006
Caisse d'Epargne - Illes Balears feature, August 30, 2006
Two-headed Hydra to devour rivals
One is the current ProTour leader. The other is the likely winner of this year's Tour de France. Together, they make up the double act that the Caisse d'Epargne - Illes Balears team hopes will lead to victory in the 2006 Vuelta a Espana. Shane Stokes found out what Alejandro Valverde, Oscar Pereiro and directeur sportif Eusebio Unzue had to say about their plans for the race.
"We trust each other. I'm sure he will help me if I am the best."
-Alejandro Valverde on the support he expects to get from Oscar Pereiro if required.
Valverde, Eusebio Unzue and Pereiro
Photo ©: Shane Stokes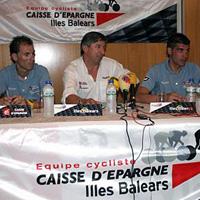 When Valverde broke his collar-bone in the Tour, Pereiro stepped up to lead the team. Now that Valverde is back, the Caisse d'Epargne-IB Hydra has two heads. Looking at recent history in the three Grand Tours, it is clear that having two leaders in one squad is potentially dynamite. Not in the sense of blowing the opposition to smithereens, but more the sort of explosiveness that is directed inwards and can wrench teams apart.
In 1998 there was a simmering tension between the swashbuckling José Maria Jiminez, who dominated in the Vuelta's high mountains, and Banesto team-mate Abraham Olano. Olano went on to win overall but Jiminez' relentless uphill accelerations put him under serious pressure along the way.
Things were much uglier between Lampre team-mates Gilberto Simoni and Damiano Cunego in the 2004 Giro d'Italia, their clash echoing that which took place between Carrera's Stephen Roche and Roberto Visentini 17 years earlier. Cunego went on to win that Giro but things have never been the same between the two Italians. Bernard Hinault and Greg LeMond famously fell out in the 1986 Tour, while more recently, T-Mobile's muddled tactics and chasing of Alexandre Vinokourov, one of the team leaders, made Lance Armstrong's victory in the 2004 Tour de France a little easier than it would otherwise have been. Somewhat logically, it also led to the Kazakhstani's move from the German squad.
Oscar Pereiro
Photo ©: Shane Stokes

This rivalry is not all that surprising. After all, one of the things which makes a champion is an unrelenting will to win. That's the fuel which sustains the motivation in long, lonely training sessions and also what helps a rider dig even deeper when the pressure is really on in the race. So when you put two big guns from the same team in the same physical condition on the same start line, you are asking for trouble. Yet, listening to Alejandro Valverde and Oscar Pereiro in their pre-race press conference prior to the start of this Vuelta, it seemed that the two winners were genuine about their intentions to help each other when necessary in this Tour of Spain.
Oscar Pereiro (Caisse d'Epargne)
Photo ©: Unipublic

Pereiro responded to a journalist's comment that dual leadership in Grand Tours can be a recipe for disaster, pointing out the reason why he felt things would prove otherwise for the Caisse d'Epargne duo. "It is very different because here we are not like two leaders, we are two team-mates and also very good friends," he stated, with believable conviction. "For that reason, we know that if one of us needs the help of the other then he will get it. That will be no problem at all. We will start with the same possibilities and ambitions but it is the race that will decide who is the strongest one."
A relaxed Valverde echoed those sentiments. "We are friends also, and that is very important. We trust each other. I'm sure he will help me if I am the best, and vice versa, too. He knows that he can trust me."
Valverde has already taken big wins this year in races such as Fleche Wallonne and Liège-Bastogne-Liège, while Pereiro is in line for a surprise win in the Tour de France. That result is dependant on Floyd Landis' disqualification but even if the American manages to successfully plead his case, Pereiro has already said that he is overjoyed to take second.
Pereiro, Sastre, Menchov and Valverde
Photo ©: Shane Stokes

Unzue feels that these successes are another reason why this dual captaincy can work. "We have these two leaders. However there is no pressure on us because if we look at beginning of the year, the objectives were to do well in the Classics and the Tour. I think we did better than we were expecting in both of those objectives and so we are here with a lot of tranquillity, even if we are aware that we have some responsibility, too."
"Oscar is a good team-mate and I think that it is very good for us in terms of our rivals [having two leaders here]," continued Valverde. "If they mark him, it would be easier for me to go, and vice versa. We'll see how things happen."
Pereiro similarly feels this dual approach has benefits, but he tips Valverde as being the final victor. "I think that everybody knows Alejandro's qualities," he said. "After what has happened in the Tour, after his operation, he trained a lot and we could already see in San Sebastian that he was back. Knowing his motivation and what I could see from his first few days in the Tour [de France], I can tell you that Alejandro is my number one favourite for the final victory in Madrid."
Spanish hero Oscar Pereiro
Photo ©: Ed Tarwinski

"I am here full of hope that I will do well," responded Valverde. "At the same time, I haven't got a lot of pressure because of what I did in the Classics. That gives me some tranquillity. Of course, I am a favourite in this race but it will not be easy, even though everybody seems to say that it will be so easy for me to come out on top. But of course, I have a great team behind me and with Oscar here, I think that it is a good thing."
Birth Of A Champion?
Although Pereiro finished tenth in the 2004 and 2005 Tours de France, it is fair to say that his final finishing position this year was a surprise. He is normally a solid rider in the mountains but lost 26'26 on stage 11 of this year's Tour, slumping to 47th overall. That should have been that, but Phonak's deliberate handover of the yellow jersey two days later gave him a lifeline that he was determined not to let go of. He rode very strongly in the Alps and defied all predictions to remain in the fight for the final maillot jaune, climbing as well as the big GC riders and then finishing a very strong fourth in the penultimate day's time trial.
Alejandro Valverde (Caisse d'Epargne)
Photo ©: Sirotti

Caisse d'Epargne's other directeur sportif at the Vuelta, Alfonso Galilea, said that he wasn't that surprised at Pereiro's ride. "First of all, I think that Oscar was a very good rider in the last two years. He was 10th twice, and he won a stage last year. He is not a new rider, he's already been in the top 10 so he has a lot experience. The problem was that he had a very bad day on the stage to Pla-de-Beret, and that is where he lost all of that early time.
"The reason was perhaps the heat - most of the stage was run off at a very, very hot temperature. We don't know for sure, but maybe there was a bit of dehydration at work. Anyway, without this stage, the rest of the Tour was a very good one for him. It was the same as last year. What's more, his head got stronger as the race went on. Every day he thought a little more that he could win the Tour de France, and he kept believing that until after the time trial on the second last day."
Oscar Pereiro (Caisse d'Epargne)
Photo ©: AFP

Finishing second in the Tour de France was the best Spanish performance since Joseba Beloki's runner-up slot in 2002, and that guaranteed Pereiro some big media exposure. However, things really snowballed when the news came through of Floyd Landis' positive result for testosterone; that caused media requests to go through the roof. Everybody wanted to know what Pereiro's reaction was, and also to do detailed profiles of the rider who could end up being the first Spanish winner in 11 years.
That made things complicated for Pereiro, as regards his Vuelta preparation. "What I can say about that time is that I had no rest at all," he stated. "But I trained very well and when I started racing in the Clasica los Puertos [on August 20 ed.] my sensations were not bad at all. Of course I am a little afraid of what can happen due to the stress of the past month, but I have learned one thing - in the future, I have to be able to say no. I gave all the interviews but I know that to concentrate on an objective like the Tour or the Vuelta, you have to be able to say no sometimes. I think the journalists will understand that."
Unzue was hopeful
Photo ©: Shane Stokes

Unzue was asked about the parallels with the Menchov situation, the Russian being awarded the gold jersey for the 2005 race at the start of this year's Vuelta. If Floyd Landis is overturned as Tour champion, when did he think they might get the maillot jaune?
"We don't know when that will happen with us, but we will never have back what we lost in Paris," he stated. "We lost out on winning there and being on the Champs Elysées with the yellow jersey. Now we also have to wait for things to go on, and so we don't know when we will receive the yellow jersey. What I can say is that we have received no messages at all from the UCI, from ASO or from the teams' association."
Alejandro Valverde and the rest of the team
Photo ©: Shane Stokes

Pereiro gave his thoughts. "It is a very strange feeling, because at the end of the Tour I and the whole team were very happy with second place. But after that it has become a strange situation, because I am not yet first but I am not second, either."
The net result of the stress, the interview requests and the distractions mean that he is unsure how his condition really is. "I think I would take two or three more days to rediscover my racing rhythm and then we will see how the first mountain goes. I am not really afraid, but I don't know what to expect. I don't know what will happen there."
Transformation to Grand Tour winner
His team-mate Alejandro Valverde is already an accomplished winner, taking many victories in his professional career. He's currently leading the ProTour and his third and fourth places in previous Vueltas coupled with his mountain stage win in last year's Tour de France mark him out as a rider who can top the podium in a Grand Tour. But can he do so this month?
Alejandro Valverde was in good condition
Photo ©: Shane Stokes

Pereiro suggests that he can, but Valverde is being a little more guarded. "I would certainly like to improve on what I have done here before, yet I don't know if I will do better, he said. "But, of course, I would like to win and I will try to do so. We will have to wait and see how things go."
The talented 26-year-old was in very good shape at the start of the Tour but lost out on his chances there due to a broken collarbone. He has worked hard since then and despite the enforced time off the bike in early July, he says that he thinks he is in similar condition now. "My sensations here are very good. It is almost the same as it was before the start of the Tour. I don't know if missing that race will be of a help to me - I may be fresher than some of the others, but if you look at last year, Menchov was in the Tour and he did very well in the Vuelta. Sastre also did well here. I don't know how things will go, but it is sure that I am feeling very fresh and in good condition.
Valverde in a relaxed mood
Photo ©: Shane Stokes
"One thing that will help is having Oscar here, I think. To share the pressure with a team-mate is certainly a good thing. This was already the case last year with Mancebo and before with Sevilla. For me, that is an advantage."
Although Valverde would love to take the maillot oro, he is starting the race in another distinctive jersey, namely the white of the ProTour leader. He said that particular competition is not on his mind for now.
Oscar Pereiro (Caisse d'Epargne)
Photo ©: Unipublic

"When you start the Vuelta you just think about the Vuelta. Of course, if you do well here then the rest follows. The same applies to the world championships. That is certainly already in my head but I will think about it later. I am fully focussed on the Vuelta for now."
The Rivals
And so what about those they will be up against? Of course, there is far more to the Vuelta than these two riders. Many other strong contenders are here and these also have a real chance of carrying the maillot oro into Madrid on September 17.
Eusebio Unzue lists some of those they will have to overcome. "Yes, of course we are the favourites for the race as we have both Alejandro and Oscar. But we are not the only ones. I think there are between six and ten riders and all of them are more or less of the same qualities. They can all do well. For instance, there is Menchov, Danielson, Mayo, Sastre, Zubeldia, Kashechkin, Vinokourov and so everybody is more or less on the same level.
"I feel the Vuelta will be nice because apart from the Tour de France, for Spanish teams it is the main objective. I think the best Spanish riders are here in their best shape and that will make for a really great race."