Recently on Cyclingnews.com
97th Milan - San Remo - PT
Italy, March 18, 2006
La Classicissima: The most beautiful of Classics
By Anthony Tan
Alessandro Petacchi wins on the Via Roma in 2005
Photo ©: Sirotti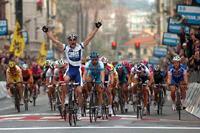 La Classicissima or Milano-Sanremo, the first major classic on the spring calendar, is considered by many cycling fans - and without doubt, the Italian tifosi - as the most beautiful of the race on the entire cycling calendar. Remember, for Italians, it is about beauty first, and the challenge second - although no-one ever said racing 294 kilometres is easy...
Far removed from the cobblestones of Flanders or Roubaix, the 2006 race is unchanged from last year, and begins from the traditional starting point in the heart of Milan, on the Via della Chiesa Rossa in Piazza Sant'Ambrogio.
With a seven-plus hour journey in front of them, the peloton take on a mostly flat, sou'-sou'-west journey in the opening 130 kilometres, direction Genova, with the first major obstacle being the Turchino Pass that hits a modest 532 metres' altitude at km 143.
Coming so early on, the Passo del Turchino rarely breaks the bunch, and if so, only momentarily; what one often witnesses is the obligatory early break with their largest advantage at this point. From there, instead of going down into Genova, we make a right-turn to Savona, and begin the bellissima coast-hugging route that has made Milano-Sanremo famosa.
Invariably, the fastest part of the race is from km 150 to km 260, where the riders are whisked along at speeds exceeding 60 kilometres an hour, and the three 'Capi' - Mele (km 242,1), Cervo (km 247,4) and Berta (km 254,9) - are hardly even felt. But it's in the final 30 kilometres where the Campione di Sanremo is decided.
Beginning with the Cipressa that reaches its crest after 272,4 kilometres, this climb just short of six kilometres long usually sees the first of the serious attacks, particularly from the non-sprinters or those other than pure sprinters, riders such as Paolo Bettini or Davide Rebellin.
However, at this point last year, despite Il Grillo's best efforts, the surnames of Petacchi, Freire, Cipollini, Boonen, Hondo, Hushovd and O'Grady were all still there, 15 seconds behind Bettini and recent Paris-Nice stage winner Andrey Kashechkin. And with the Poggio to go, the pace of the plotone saw them swamped one-third of their way up this steep, stepped climb just 3.3 kilometres long.
A series of counters followed from the likes of Pellizotti, Vinokourov and Rebellin, but as history now tells, Petacchi's silver train set him up pefectly on the Via Roma for what turned out to be just one of twenty-four victories for Ale-Jet last season, though it was by far and away his sweetest.
Now backed up by once arch rival Erik Zabel on Team Milram and the final stage of Tirreno-Adriatico going to the 32 year-old from La Spezia, can Petacchi do it again?
With a number of favourites licking their wounds from Tirreno and no-one looking unbeatable, one must look across to current world champion Tom Boonen and winner of three stages in Paris-Nice as Petacchi's fiercest rival - and a man who has openly declared his ambitions to win La Primvera once and for all.
Cyclingnews will be providing live coverage of the 97th Milan - San Remo, commencing 9:30 CET (Central European Time) March 18, as well as a detailed report, results and photos shortly after the conclusion of the race.
Prizemoney

note: all amounts in Euro
 
1st                     20.000,00
2nd                     10.000,00
3rd                      5.000,00
4th                      2.500,00
5th                      2.000,00
6th                      1.500,00
7th                      1.500,00
8th                      1.000,00
9th                      1.000,00
10th                       500,00
11th                       500,00
12th                       500,00
13th                       500,00
14th                       500,00
15th                       500,00
16th-20th                  500,00
 
Total                   50.000,00