Nature Valley Grand Prix - NE
USA, June 14-18, 2006
Main Page Results Overall standings Stage Details Previous Stage Next Stage
Stage 2 - June 15: Cannon Falls Road Race, 60 miles
Henderson & Miller battle the wind to win
Health Net's perennial sprint speedster Greg Henderson and new face Brooke Miller (Palo Alto Bicycle Works/TIBCO) took the victories in a windy, tough second stage of the Nature Valley Grand Prix. Henderson pipped Oleg Grichkine (Navigators Insurance) at the line after a lead-out from his team-mate Karl Menzies, who finished third, while Miller just edged out New Zealand track pursuit legend Sarah Ulmer and Flanders/MBRC's Teresa Moriarty.
Men: Health Net's birthday present to director: A win, a jersey and more
By James Lockwood
And the winner
Photo ©: Matthew Moses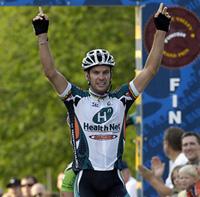 Health Net/Maxxis' directeur sportif, Jeff Corbett, was in good spirits Thursday evening.
His New Zealand sprinter had just won his fourth road race in as many races. His Tasmanian rider gave Health Net a second podium with a third place finish. And his Aussie national time trial champion held onto the leader's jersey after the second stage of Great River Energy's Nature Valley Grand Prix.
Oh, yeah, and it was his birthday, as Menzies proudly announced after delivering his teammate Greg Henderson to the line and holding for the podium spot in the 58.5-mile Cannon Falls Road Race.
"That was gold," Menzies said of the day's finish.
Henderson, who just nipped Navigators Insurance's Oleg Grichkine for his fourth straight road race victory, was a bit more subdued, although not less modest.
"It just shows how strong we are," he said after finishing with four of his teammates in the final selection of 16.
Corbett, who wasn't announcing his age, was still all smiles knowing that his riders had blown the race wide open with good tactics, good survival skills, and phenomenally strong riding.
"These guys just salivate for days like today. They don't get to ride in such open, windy conditions often in United States," he said. "They relish this."
Navigators Insurance's Bernard Van Ulden
Photo ©: Matthew Moses

In what turned out to be almost a carbon copy of 2005's stage four of the Nature Valley Grand Prix, Health Net and Navigator's put on a clinic of team strength and smart riding to whittle down the final contenders to only a handful of the more than 160 riders. Racing on some of the same roads from last year, the two juggernauts put their riders up front for survival first, and then used the strong crosswinds across the open farm fields to blow the peloton to pieces after only 10 miles.
At first, about 30 riders made the initial selection.
"We didn't try to drill it," Corbett said. "In fact, we said, 'Don't drill it, just put it on stun.'"
But when O'Neill led the group onto a gravel dirt road three miles later, his instincts and form took over, and the group of 30 started to split even further.
"Nathan was going crazy in the gravel," Henderson said. "I was pushing 650 watts just trying to keep up."
At first, not everyone did keep up, and by the time O'Neill led the other riders back onto pavement two miles later, there were only five still on his wheel. He said that was not his intention to split the group.
"I was really riding up front to stay safe," he said. 'I figured, if I was to crash, I was going down myself and not because of anyone else."
The men's breakaway
Photo ©: Matthew Moses

It left others straggling just to hold on, and O'Neill said he could hear the complaints behind him.
A chase of 10 finally formed, and before the second King of the Hills line, the chase caught the front six to form the final selection: Health Net's O'Neill, Menzies, Henderson, Tim Johnson and Gord Fraser; Navigator's Grichkine, Hilton Clarke (who took the Jelly Belly Kind of the Hills Jersey), Shawn Milne, and Bernard Van Ulden; Jelly Belly-Aramark's Caleb Manion and Matt Rice; Kodakgallery.com/Sierra Nevada's Martin Gilbert (winner of the day's SportsPro Most Aggressive Rider Jersey) and Jackson Stewart; ABD Cycling's Reid Mumford; TargeTraining's Frank Pipp; and Colavita Olive Oil-Sutter Home's Jonathan Page.
"It was 16 guys that should have been there," said Navigator's director sportif Ray Cipollini.
With the selection made, including contenders for general classification for most of the big teams except Toyota-United, the riders began working together smoothly, each rotating through for a share of the workload and slowing just enough when others looked to be having trouble, such as when Stewart developed rear mechanical issues 36 miles in. When O'Neill flatted about four miles later, Stewart was able to resolve his issues, and the 16 continued to work to increase their lead.
By the time the group entered the 1.8-mile finishing circuit, they had more than a 4-minute lead on the rest of the peloton and were able to finish their first lap before the first chase group entered the circuit.
The men's breakaway
Photo ©: Matthew Moses

It was a waiting game from there, as others in the pack knew that Health Net was too numerous and too powerful to attack anywhere short of the finish.
"If you tried to do some move, you knew that they would be able to cover," Grichkine said of Health Net's number's.
The Russian sprinter also was left without one of his teammates, as Clarke flatted in the middle of the second lap and was not able to catch back on.
With about 500 meters left, Page put in an attack that he hoped would catch the sprinters off guard. "I went early hoping to get a jump on the sprinters' teams."
Grichkine knew better, though. "That was not a serious move."
Gord Fraser (Healthnet pb Maxxis)
Photo ©: Matthew Moses

It left the Russian battling the Health Net train, originally led out by the yellow jersey of O'Neill and finally brought home by Menzies and Henderson.
The win moved Henderson into second place with the time bonus of 15 seconds, and moved Van Ulden back into third on GC. However, neither Van Ulden nor Cipollini were discouraged by the result.
"This is a race that suits my abilities," Van Ulden said. "This is one that I targeted for my season."
"We have some speed, too," Cipollini said. "We will play our cards when the time comes."
Health Net's riders, though, don't think many will get a chance to deal in with the way the team is riding.
"[Today's ride] was awesome," Menzies said. "It bodes well for the next few days."
Women: Rookie Miller screams to win
By Steve Kay
Brooke Miller (PABW Powered by TIBCO)
Photo ©: Matthew Moses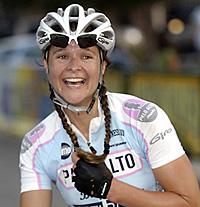 The second stage of Great River Energy's Nature Valley Grand Prix ended as expected, with some of the most talented and most experienced female riders in the world in a mad sprint for the finish.
In the end, though, it was a rookie and a local amateur who stood atop two of the tree podium places.
Palo Alto Bicycle Works/TIBCO's Brooke Miller seized the moment to capture the 58.6-mile Cannon Falls Road Race, ahead of Jazz Apple Cycling's Sarah Ulmer and local women's legend and Flanders/MBRC racer Teresa Moriarty.
An overjoyed Miller was at a loss after the race. She screamed after crossing the finish line and came back to the line to hug her coach and teammates.
"I'm speechless, this is amazing. To be a first year rider and to win a race of this magnitude is amazing," Miller said. "Especially going against women like Tina Pic, who showed me that it is never too old to get started in the sport."
The 29 year-old Miller, was also quick to praise her teammates and mentor.
"Linda Jackson and the whole TIBCO team are amazing, I couldn't have won this without them," she said.
The first Sport Beans Queen of the Hill
Photo ©: Matthew Moses

Moriarty, a dominating force on the local women's racing scene and also known to race and beat the men in some of their races, was a bit more subdued with her third place finish.
"It truly is a pleasure to race in world class event like this, right in here in Minnesota," said the 5th grade school teacher from Plymouth.
While Pic's name was mentioned at the end, it was the only presence she had at the finish with the leader's group as she and other sprinters and GC hopefuls were left behind because of crashes and strong crosswinds. A major crash less than 10 miles into the event cut off several strong racers, including Alison Powers who entered the day third overall.
Among 17 riders in the lead group were race leader TEAm Lipton's Kristin Armstrong and teammate Kori Seehafer, and defending Nature Valley Grand Prix Champion Christine Thorburn of Webcor/Platinum Builders. The lead group's advantage over the rest of the field eventually ballooned from 20 seconds to well over 3 minutes.
Thursday's action earned Seehofer the SportsPro Most Aggressive Rider Jersey, while Webcor/Platinum's Erinne Willock retained her BMC Best Young Rider Jersey and moved into third overall, behind Armstrong and Thorburn.
Brooke Miller and her team director
Photo ©: Matthew Moses

The Great River Energy Bike Festival's Nature Valley Grand Prix continues Friday with the Minneapolis Downtown Classic.
Photography
For a thumbnail gallery of these images, click here
Images by Matthew Moses/www.moses-images.com
Images by Jim Wellbrock
Results (provisional)
Men
 
1 Greg Henderson (Health Net pb Maxxis)              2.11.46
2 Oleg Grichkine (Navigators Insurance)                     
3 Karl Menzies (Health Net pb Maxxis)                       
4 Frank Pipp (Targetraining)                                
5 Martin Gilbert (Kodakgallery.com/Sierra Nevada)           
6 Shawn Milne (Navigators Insurance)                        
7 Jonathon Page (Colavita Olive Oil - Sutter)               
8 Caleb Manion (Jelly Belly)                                
9 Bernard Van Ulden (Navigators Insurance)                  
10 Nathan O'Neill (Health Net pb Maxxis)                    
11 Matt Rice (Jelly Belly)                                  
12 Gordon Fraser (Health Net pb Maxxis)                     
13 Reid Mumford (ABD)                                       
14 Jackson Stewart (Kodakgallery.com/Sierra Nevada)         
15 Tim Johnson (Health Net pb Maxxis)                       
16 Hilton Clarke (Navigators Insurance)                 0.45
17 Jacob Rosenbarger (Rio Grande/Sports Garage)         5.19
18 Michael Grabinger (Grandstay/Out N About Gear)           
19 Brian Jensen (Jelly Belly)                           5.22
20 Andrew Crater (Wheel & Sprocket)                         
21 Steve Tilford (Trek/Shimano)                             
22 Chad Nikolz (Broadmark / Hagens-Berman)                  
23 Alexander Boyd (VMG Racing)                              
24 Paul Esposti (Rio Grande/Sports Garage)                  
25 Scottie Weiss (Hincapie Sports/Bianchi/ Dasani)          
26 Ben Raby (Bianchi/Grand Performance)                     
27 Jason Klikna (BMC Racing Team)                           
28 Hayden Brooks (Subaru)                                   
29 Jonathan Parrish (Landis/Trek/VW)                        
30 Doug Swanson (Nature Valley Racing Team)                 
31 Rudy Robaina (VMG Racing)                                
32 Andrew Guptill (Targetraining)                           
33 Adam Froemming (Flanders/MBRC)                           
34 Mike Olheiser (MMW/Carve)                                
35 Stefan Rothe (Mercy Cycling)                             
36 Stefano Barberi (Toyota-United)                          
37 Jason Donald (Team Einstein's Cycling)                   
38 Johnny Hayes (CRCA/Sakonnet Technology U25)              
39 David Guttenplan (Subaru)                                
40 Jed Schneider (Subaru)                                   
 
Women
 
1 Brooke Miller (PABW Powered by Tibco)              2.38.03
2 Sarah Ulmer (Jazz Apple)                                  
3 Teresa Moriarty (Flanders/MBRC)                           
4 Kristin Armstrong (TEAm Lipton)                       0.01
5 Rebecca Larsen (Aaron's)                                  
6 Sue Palmer-Komar (Colavita/ Cooking Light)                
7 Christine Thorburn (Webcor-Platinum)                      
8 Anne Samplonius (Team Biovail)                        0.02
9 Alex Wrubleski (Team Biovail)                             
10 Carmen Small (TRIA)                                  0.03
11 Catherine Powers (Aaron's)                               
12 Michelle Hyland (Jazz Apple)                             
13 Erinne Willock (Webcor-Platinum)                         
14 Felicia Gomez (Webcor-Platinum)                      0.04
15 Kori Seehafer (TEAm Lipton)                              
16 Mara Abbott (Rio Grande/Sports Garage)                   
17 Laura Vangilder (TEAm Lipton)                        0.15
18 Alison Testroete (Team Biovail)                      3.38
19 Nicky Wangsgard (Colorado Premier Training - Colnago)    
20 Katie Mactier (Argon 18/Champion Systems)                
21 Lara Kroepsch (TEAm Lipton)                              
22 Leigh Hobson (Victory Brewing Team)                      
23 Lisa Sweeney (Colorado Premier Training - Colnago)       
24 Betina Hold (Webcor-Platinum)                        3.39
25 Kate Sherwin (Victory Brewing Team)                      
26 Kathleen Billington (Conneticut Coast Cycling)           
27 Charm Breon (Cheerwine)                                  
28 Brei Gudsell (Jazz Apple)                                
29 Melodie Metzger (McGuire)                            3.40
30 Katheryn Curi (Webcor-Platinum)                          
31 Kristin Sanders (Cheerwine)                              
32 Taitt Sato (McGuire)                                     
33 Marisa Asplund (Colorado Premier Training - Colnago)     
34 Katharine Carroll (Victory Brewing Team)             3.41
35 Amanda Shaw (Team Biovail)                               
36 Jenn Reither (TRIA)                                      
37 Alison Powers (Rio Grande/Sports Garage)                 
38 Jessica Phillips (Argon 18/Champion System)              
39 Candice Blickem (Aaron's)                                
40 Emilie Roy (Equipe du Quebec)