Recently on Cyclingnews.com
Nature Valley Grand Prix - NE/NRC
Minnesota, USA, June 8-12, 2005
Strong fields for 2005 NVGP
2005 men's winner Ben Jacques-Maynes
Photo ©: Jason Elhardt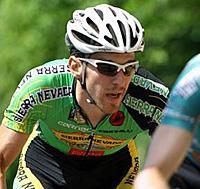 2005 women's winner Lyne Bessette
Photo ©: Jason Elhardt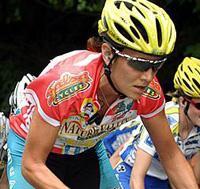 The Nature Valley Grand Prix, considered to be one of the top US domestic stage races, kicks off this Wednesday, June 8, in Minnesota. The men's field includes strong squads from Health Net, fresh from a sweep of the Wachovia Week races, Jelly Belly-PoolGel, Webcor Builders, Navigators Insurance, Advantage Benefits-Endeavor and McGuire-Langdale. The women's fields is equally strong, with squads from teams like Quark, T-Mobile, Webcor Builders, Victory Brewing and Ford Basis.
This year's edition of the Nature Valley GP includes a new time trial in downtown Saint Paul, a new road race in Mankato and a redesigned road race in Red Wing. Both road races include hilly finishing circuits that should prove to be more selective than past courses. Rounding out the schedule are criteriums in downtown Minneapolis and Stillwater.
Organisers believe the 2005 pro/elite fields are the strongest yet for this race. The men's field will include Health Net riders Greg Henderson and Gord Fraser, winners of last week's Wachovia races in Lancaster and Trenton, along with past under 23 world champion Danny Pate (Jelly Belly PoolGel), national champion Frank Pipp (Advantage Benefits Endeavour), Erik Saunders (McGuire), Ciaran Power (Navigators Insurance) and David Clinger (Webcor Builders). The women's field is even stronger, including track world champion Katie Mactier (T-Mobile), national champions Christine Thorburn (Webcor Builders) and Tina Pic (Quark) and Pro Cycling Tour champion Gina Grain (Victory Brewing).