Nature Valley Grand Prix - NE
USA, June 14-18, 2006
Main Page Results Overall standings Stage Details Next Stage
Stage 1 - June 14: Saint Paul Riverfront Time Trial, 4.5 miles
National TT champions prove their mettle in opening time trial
Health Net/Maxxis' Nathan O'Neill and TEAm Lipton's Kristin Armstrong demonstrated why they are the national champions in Australia and the USA respectively as they stormed to victory in the 4.5-mile opening time trial of the Nature valley Grand Prix this evening.
Men: O'Neill, Health Net smoke field
By James Lockwood
Nathan O'Neill (Health Net) won
Photo ©: Caroline Yang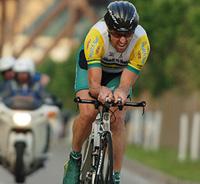 Waiting for an hour after posting the fastest time, Navigator Insurance's Bernard Van Ulden just shook his head as Health Net/Maxxis' Nathan O'Neill blazed through the finishing chute to post the winning time.
"I knew he would go fast," Van Ulden said. "If I had beaten him, you would have seen me doing back flips down the street here."
Still, the second year pro was good enough for second place at 8 minutes, 42 seconds, and he was the only rider who would spoil a Health Net sweep of both the podium and top five in the first stage of Great River Energy's Nature Valley Grand Prix.
"It makes a statement," O'Neill said of both his win and the team's performance in the St. Paul Riverfront Time Trial along the Mississippi River. The Australian national time trial champion beat Van Ulden by 13 seconds, coming in at 8:29, and stayed ahead of Greg Henderson, Karl Menzies, and Gord Fraser enough that he may be able to hold onto the leader's jersey for a bit.
That trio came in separated by about a half second, with Henderson clocking 8:48.52 and Fraser coming in at 8:49.07.
Whether the intermediate and finishing time bonuses are enough to pass the jersey around the team or he keeps the jersey, O'Neill said it is nice to have the options.
Lancaster winner Jackson Stewart
Photo ©: Matthew Moses

"The other three guys [on the team] behind me are all sprinters. It gives us a lot of options," O'Neill said.
"It puts us in a pretty good position," Fraser said.
Health Net's director sportif Jeff Corbett was pleased with O'Neill's and the team's performance, but he wasn't surprised.
"Whether we are riding on good spirits or on the form from racing the past couple of weeks, it doesn't matter. It is finally good to be building some momentum," he said. With Henderson's wins at Mt. Hood, Reading and Philadelphia, O'Neill continues Health Net's success in the past couple of weeks.
However, Corbett said given competition at this year's Nature Valley Grand Prix in the men's field - with several of North America's top teams fielding full squads - he was not as assured as his riders that the team would keep the jersey.
"The big dynamic here are the time bonuses," he said.
Van Ulden, who raced Nature Valley last year with only three other teammates, said this year having a full team will change the nature of the tactics for the team, as well as not having to defend the jersey going into stage two.
"I am not here to sit on some wheels,' he said. "I'm here to make something happen."
National criterium champion Tina Pic
Photo ©: Matthew Moses
Whether that means taking the jersey in stage two is another story. Navigator's director sportif Ray Cippolini said on paper the 58.6-mile road race in stage two looks like a sprint fest, but he noted in the country, elements can play a big role.
"There's a lot of racing to be done yet this week," Cippolini said, not tipping his hat to any strategy the team may have to disrupt the Health Net momentum.
Frankie Andreau, directing Toyota-United in its first appearance at the Minnesota stage race, was a bit more direct about tactics heading into the week. "You focus more on a stage win," he said while sitting with his rider, Stefano Barberi, who walked away with the BMC Best Young Rider's jersey as well as the sixth fastest time at 8:58.
The Nature Valley Grand Prix heads to the Cannon Falls, Minn., on Thursday for a 58.6-mile road race for the second stage before returning to the Twin Cities for the Minneapolis Downtown Classic criterium on Friday. It finishes on Sunday in Stillwater, Minn.
Women: Armstrong edges Thorburn
By Steve Kay
Kristin Armstrong (TEAm Lipton)
Photo ©: Caroline Yang

TEAm Lipton's Kristin Armstrong continued dominating the time trial discipline by taking the first stage of the Great River Energy Bicycle Festival's Nature Valley Grand Prix.
The current U.S. National Women's Time Trial Champion finished the Saint Paul Riverfront Time Trial in 9 minutes, 25 seconds, six seconds ahead of the defending Nature Valley Grand Prix champion Christine Thorburn, who finished in second at 9:31.
"The field is really deep this year. We have riders coming from places as far away as Australia and New Zealand," Webcor/Platinum Builder's Thorburn said before the time trial.
Armstrong seemed to sense the importance of the day's event. "I think it is important to go out and put up a strong time today. There are several tough stages ahead," she said prior to taking the starting ramp.
Armstrong added that the short 4.5-mile stage made posting a good time even more important. This is her first time at the Minnesota five-day stage race, but other TEAm Lipton riders told her the race is won with time bonuses.
Christine Thorburn (Webcor-Platinum)
Photo ©: Caroline Yang

Thorburn, who wore the leader's jersey for five straight days last year, is all too aware of that.
"I actually finished four seconds faster this year than last," Thorburn said after the race. Even though she was disappointed with the second place finish, Thorburn found something to smile about. "My teammates are happy, it means they don't have to protect the yellow jersey."
Thorburn was very excited for several of her Webcor/Platinum teammates who posted solid times, including Erinne Willock, who finished just outside of the podium with a 9:49. It was enough to capture the white BMC Best Young Rider Jersey, though.
In third place was Alison Powers of Rio Grand/Sports Garage at 9:45.
Stage winner Armstrong also was quick to praise her teammates. "There is no room for error out there, so I give a lot of credit to my teammates who went out before me. They offered tips on how the wind was blowing and in an event like this, every second matters."
Armstrong now will don the yellow leader jersey as the Nature Valley Grand Prix heads to the Cannon Falls road race for the second stage. The Nature Valley Grand Prix, the first of three races in the Women's Prestige Cycling Series, runs through Sunday.
Photography
For a thumbnail gallery of these images, click here
Images by Caroline Yang/www.carolineyang.com
Images by Matthew Moses/www.moses-images.com
Images by Bruce Adelsman/www.skinnyski.com
Images by Frank Rowe
Results

Pro/1/2 Men
 
1 Nathan O'Neill (Health Net pb Maxxis)                        8.29.79
2 Bernard Van Ulden (Navigators Insurance)                     0.12.88
3 Greg Henderson (Health Net pb Maxxis)                        0.18.73
4 Karl Menzies (Health Net pb Maxxis)                          0.18.81
5 Gordon Fraser (Health Net pb Maxxis)                         0.19.91
6 Scott Nydam (Rio Grande/Sports Garage)                       0.22.58
7 Doug Swanson (Nature Valley Racing Team)                     0.24.55
8 Reid Mumford (ABD)                                           0.27.07
9 Kirk O'Bee (Health Net pb Maxxis)                            0.27.78
10 Stefano Barberi (Toyota-United)                             0.28.58
11 Bryce Mead (ABD)                                            0.30.19
12 Matt Rice (Jelly Belly)                                     0.30.51
13 Hilton Clarke (Navigators Insurance)                        0.31.58
14 Chris Harkey (Hincapie Sports/Bianchi/ Dasani)              0.32.00
15 Scottie Weiss (Hincapie Sports/Bianchi/ Dasani)             0.34.78
16 Frank Pipp (Targetraining)                                  0.36.91
17 Oleg Grichkine (Navigators Insurance)                       0.37.34
18 Justin Morgan (Broadmark / Hagens-Berman)                   0.37.37
19 Nick Reistad (Jelly Belly)                                  0.37.53
20 Mike Olheiser (MMW/Carve)                                   0.37.83
21 Ian Stanford (Nature Valley Racing Team)                    0.37.87
22 Tim Johnson (Health Net pb Maxxis)                          0.38.05
23 Scott Zuizanski (Kodakgallery.com/Sierra Nevada)            0.38.21
24 Sharon Allpress (TRIA)                                      0.38.33
25 Jackson Stewart (Kodakgallery.com/Sierra Nevada)            0.38.37
26 Mike Jones (Health Net pb Maxxis)                           0.38.64
27 Sterling Magnell (Toyota-United)                            0.39.41
28 Aric Hareland (Hollywood Cycles/Silver Cycling)             0.39.78
29 Jose Garcia (Toyota-United)                                 0.40.32
30 Mark Hekman (Abercrombie & Fitch p/b Inferno)               0.40.49
31 Andrew Bajadali (Jelly Belly)                               0.40.81
32 Caleb Manion (Jelly Belly)                                  0.41.57
33 Jason Allen (Kodakgallery.com/Sierra Nevada)                0.42.93
34 Ivan Stevic (Toyota-United)                                 0.44.01
35 Jason Klikna (BMC Racing Team)                              0.43.32
36 T. Burke Swindlehurst (Navigators Insurance)                0.43.48
37 David Sachs (Vision Quest)                                  0.44.73
38 Brian Jensen (Jelly Belly)                                  0.44.96
39 Dale Sedgwick (Bianchi/Grand Performance)                   0.46.33
40 Shawn Milne (Navigators Insurance)                          0.48.18
41 Michael Grabinger (Grandstay/Out N About Gear)              0.48.19
42 Jacob Rosenbarger (Rio Grande/Sports Garage)                0.48.37
43 Chad Nikolz (Broadmark / Hagens-Berman)                     0.48.94
44 Ryan Nenninger (Mercy-Specialized)                          0.50.17
45 Alexander Boyd (VMG Racing)                                 0.50.48
46 Brice Jones (Jelly Belly)                                   0.50.87
47 Pete Hanna (Bianchi/Grand Performance)                      0.51.04
48 Guy East (CRCA/Sakonnet Technology U25)                     0.51.19
49 Osvaldo Olmos (BMC Racing Team)                             0.51.54
50 Daniel Casper (Grandstay/Out N About Gear)                  0.52.37
51 Peter Fairbanks (Bianchi/Grand Performance)                 0.52.72
52 Paul Deninger (Mercy-Specialized)                           0.52.85
53 Johnny Hayes (CRCA/Sakonnet Technology U25)                 0.53.40
54 David Robinson (Kodakgallery.com/Sierra Nevada)             0.53.46
55 Eric Marcotte (Bianchi/Grand Performance)                   0.53.64
56 Jonathan Garcia (Team Einstein's Cycling)                   0.53.71
57 Michael Dietrich (Kodakgallery.com/Sierra Nevada)           0.53.89
58 Spencer Beamer (VMG Racing)                                 0.53.98
59 Duane Dickey (Bianchi/Grand Performance)                    0.54.37
60 Siro Camponogara (Navigators Insurance)                     0.54.88
61 Phillip Gaimon (VMG Racing)                                 0.55.63
62 Steve Tilford (Trek/Shimano)                                0.57.01
63 Josh Thornton (Toyota-United)                               0.57.16
64 Jared Faciszewski (VMG Racing)                              0.57.65
65 Shane Weaver (Hincapie Sports/Bianchi/ Dasani)              0.58.45
66 Ken Hanson (BMC Racing Team)                                0.59.01
67 Brian Dziewa (Mercy Cycling)                                0.59.08
68 Brian Eppen (Mercy-Specialized)                             1.00.13
69 Matt Shriver (Targetraining)                                1.00.18
70 Chris Kuhl (CRCA/Sakonnet Technology U25)                   1.00.64
71 Philip Wikoff (Team Hotel San Jose)                         1.00.88
72 Jarred (Grandstay/Out N About Gear)                         1.01.35
73 Chase Fullerton (VMG Racing)                                1.01.86
74 Owen Laine (BMC Racing Team)                                1.02.13
75 Stefan Rothe (Mercy Cycling)                                1.02.82
76 Lee Rosenthal (CRCA/Sakonnet Technology U25)                1.02.92
77 Barkley Robinson (Rio Grande/Sports Garage)                 1.03.72
78 Tim Mulrooney (Hollywood Cycles/Silver Cycling)             1.04.20
79 Andrew Fischer (Broadmark / Hagens-Berman)                  1.04.51
80 Corey Steinbrecher (Jelly Belly)                            1.06.15
81 Thomas Luke (HRRC/CollegePoint/Specialized/BikeSource)      1.06.62
82 John Meehan (Mercy-Specialized)                             1.07.54
83 David Rodriguez (BMC Racing Team)                           1.07.91
84 Bill Stolte (HRRC/CollegePoint/Specialized/BikeSource)      1.08.02
85 Jed Schneider (Subaru)                                      1.08.51
86 Andrew Guptill (Targetraining)                              1.08.33
87 Tone Coughlin (Hollywood Cycles/Silver Cycling)             1.08.47
88 Erik Dahl (Flanders/MBRC)                                   1.10.21
89 Andy Minier (Nature Valley Racing Team)                     1.11.50
90 Jon Randall (All9yards.com)                                 1.13.82
91 Abraham Mcnutt (Abercrombie & Fitch p/b Inferno)            1.14.10
92 Lane Anderson (All9yards.com)                               1.14.20
93 Pat Lemieux (Bianchi/Grand Performance)                     1.14.44
94 Martin Gilbert (Kodakgallery.com/Sierra Nevada)             1.14.62
95 Thomas Soladay (LSV/Kelly Benefit Strategies)               1.14.98
96 Jonathan Parrish (Landis/Trek/VW)                           1.15.49
97 Rudy Robaina (VMG Racing)                                   1.15.59
98 Brandon Gavic (Wheel & Sprocket)                            1.16.16
99 Josh Bezecny (Targetraining)                                1.16.36
100 Jason Knight (HRRC/CollegePoint/Specialized/BikeSource)    1.16.78
101 Jonathon Page (Colavita Olive Oil - Sutter)                1.17.13
102 Brian Bibens (Subaru)                                      1.17.96
103 David Zimmerman (Flanders/MBRC)                            1.19.65
104 Jack Seehafer (Team Einstein's Cycling)                           
105 Frank Dierking (ABD)                                       1.21.69
106 Jay Henderson (Hollywood Cycles/Silver Cycling)            1.22.61
107 John Olney (Mercy-Specialized)                             1.23.11
108 Ralph Henderson (All9yards.com Cycling TEAM)               1.24.21
109 Matt Williams (Grandstay/Out N About Gear)                 1.24.70
110 Andrew Crater (Wheel & Sprocket)                           1.26.32
111 Jered Gruber (Abercrombie & Fitch p/b Inferno)             1.26.40
112 Dan Schmatz (Kodakgallery.com/Sierra Nevada)               1.27.74
113 Hayden Brooks (Subaru)                                     1.28.15
114 Adam Curry (Broadmark / Hagens-Berman)                     1.28.54
115 Chad Vandelune (All9yards.com)                             1.28.73
116 Chris Doig (Flanders/MBRC)                                 1.29.77
117 Dan Swanson (Nature Valley Racing Team)                    1.29.88
118 Ben Brooks (Navigators Insurance)                          1.30.61
119 Matt Cooke (LSV/Kelly Benefit Strategies)                  1.30.41
120 Justin Hale (BMC Racing Team)                              1.33.40
121 David Guttenplan (Subaru)                                  1.34.09
122 Derek Goerke (HRRC/CollegePoint/Specialized/BikeSource)    1.34.57
123 Owen Gue (Broadmark / Hagens-Berman)                       1.34.63
124 Jason Donald (Team Einstein's Cycling)                     1.34.75
125 Mat Stephens (Mercy Cycling)                               1.34.97
126 Mike Ebert (ABD)                                           1.36.03
127 Morgan Wiswall (Wheel & Sprocket)                          1.36.76
128 Pleasure Jackson (Broadmark / Hagens-Berman)               1.37.33
129 John Acker (Wheel & Sprocket)                              1.38.81
130 Andrew Wulfkuhle (LSV/Kelly Benefit Strategies)            1.43.58
131 Ryan Gamm (Abercrombie & Fitch p/b Inferno)                1.44.67
132 Michael Anderson (Endeavour)                               1.45.81
133 Kyle Colavito (Team Einstein's Cycling)                    1.45.70
134 Terry Beenken (Bianchi/Grand Performance)                  1.46.70
135 Chris Ruhl (CRCA/Sakonnet Technology U25)                  1.48.17
136 John Puffer (ABD)                                          1.48.48
137 Evan Lawrence (Broadmark / Hagens-Berman)                  1.48.87
138 Shawn Willard (Wheel & Sprocket)                           1.51.42
139 Andy Kruse (Nature Valley Racing Team)                     1.52.31
140 Troy Scherer (Grandstay/Out N About Gear)                  1.53.14
141 Brian Fouche (LSV/Kelly Benefit Strategies)                1.53.41
142 David (Shawn) Adams (Abercrombie & Fitch p/b Inferno)      1.53.62
143 Jason Snider (Hollywood Cycles/Silver Cycling)             1.53.70
144 Banning Ostrow (Hollywood Cycles/Silver Cycling)           1.53.97
145 Cole House (Endeavour)                                     1.54.53
146 Adam Froemming (Flanders/MBRC)                             1.59.56
147 Kurt Refsnider (All9yards.com)                             2.02.71
148 Matt Henry (Nature Valley Racing Team)                     2.05.17
149 Dylan Lewis (ABD)                                          2.16.05
150 Shawn Brick (Birchwood\GIS)                                2.19.72
151 Chia Kung (Grandstay/Out N About Gear)                     2.34.04
152 Dave Mccook (Jelly Belly)                                  2.40.60
153 Jake Defresne (Nature Valley Racing Team)                  2.50.16
154 Ben Raby (Bianchi/Grand Performance)                       2.51.97
155 Matt Muyres (Nature Valley Racing Team)                    3.09.34
156 Jonathon Swain (CRCA/Sakonnet Technology U25)              3.11.10
157 Paul Esposti (Rio Grande/Sports Garage)                    4.18.78
158 Ivan Dominguez (Toyota-United)                             4.27.90
159 Ryan Hamity (Team Einstein's Cycling)                      9.06.21
DNF Ben Jacques-Maynes (Kodakgallery.com/Sierra Nevada)               
DNF Alberto Tiberio (Health Net pb Maxxis)                            
DNF Phil Zajicek (Navigators Insurance)                               
DNF Kevin Attkisson (Texas Roadhouse Cycling)                         
 
General classification after stage 1
 
1 Nathan O'Neill (Health Net pb Maxxis)                        8.29
2 Bernard Van Ulden (Navigators Insurance)                     0.13
3 Greg Henderson (Health Net pb Maxxis)                        0.19
4 Karl Menzies (Health Net pb Maxxis)                              
5 Gordon Fraser (Health Net pb Maxxis)                         0.20
6 Scott Nydam (Rio Grande/Sports Garage)                       0.23
7 Doug Swanson (Nature Valley Racing Team)                     0.25
8 Reid Mumford (ABD)                                           0.27
9 Kirk O'Bee (Health Net pb Maxxis)                            0.28
10 Stefano Barberi (Toyota-United)                             0.29
11 Bryce Mead (ABD)                                            0.30
12 Matt Rice (Jelly Belly)                                     0.31
13 Hilton Clarke (Navigators Insurance)                        0.32
14 Chris Harkey (Hincapie Sports/Bianchi/ Dasani)                  
15 Scottie Weiss (Hincapie Sports/Bianchi/ Dasani)             0.35
16 Frank Pipp (Targetraining)                                  0.37
17 Oleg Grichkine (Navigators Insurance)                       0.38
18 Justin Morgan (Broadmark / Hagens-Berman)                       
19 Nick Reistad (Jelly Belly)                                      
20 Mike Olheiser (MMW/Carve)                                       
21 Ian Stanford (Nature Valley Racing Team)                        
22 Tim Johnson (Health Net pb Maxxis)                              
23 Scott Zuizanski (Kodakgallery.com/Sierra Nevada)            0.39
24 Sharon Allpress (TRIA)                                          
25 Jackson Stewart (Kodakgallery.com/Sierra Nevada)                
26 Mike Jones (Health Net pb Maxxis)                               
27 Sterling Magnell (Toyota-United)                            0.40
28 Aric Hareland (Hollywood Cycles/Silver Cycling)                 
29 Jose Garcia (Toyota-United)                                 0.41
30 Mark Hekman (Abercrombie & Fitch p/b Inferno)                   
31 Andrew Bajadali (Jelly Belly)                                   
32 Caleb Manion (Jelly Belly)                                  0.42
33 Jason Allen (Kodakgallery.com/Sierra Nevada)                0.43
34 Ivan Stevic (Toyota-United)                                 0.44
35 Jason Klikna (BMC Racing Team)                                  
36 T. Burke Swindlehurst (Navigators Insurance)                    
37 David Sachs (Vision Quest)                                  0.45
38 Brian Jensen (Jelly Belly)                                      
39 Dale Sedgwick (Bianchi/Grand Performance)                   0.47
40 Shawn Milne (Navigators Insurance)                          0.48
41 Michael Grabinger (Grandstay/Out N About Gear)                  
42 Jacob Rosenbarger (Rio Grande/Sports Garage)                0.49
43 Chad Nikolz (Broadmark / Hagens-Berman)                         
44 Ryan Nenninger (Mercy-Specialized)                          0.50
45 Alexander Boyd (VMG Racing)                                 0.51
46 Brice Jones (Jelly Belly)                                       
47 Pete Hanna (Bianchi/Grand Performance)                          
48 Guy East (CRCA/Sakonnet Technology U25)                         
49 Osvaldo Olmos (BMC Racing Team)                             0.52
50 Daniel Casper (Grandstay/Out N About Gear)                  0.53
51 Peter Fairbanks (Bianchi/Grand Performance)                     
52 Paul Deninger (Mercy-Specialized)                               
53 Johnny Hayes (CRCA/Sakonnet Technology U25)                 0.54
54 David Robinson (Kodakgallery.com/Sierra Nevada)                 
55 Eric Marcotte (Bianchi/Grand Performance)                       
56 Jonathan Garcia (Team Einstein's Cycling)                       
57 Michael Dietrich (Kodakgallery.com/Sierra Nevada)               
58 Spencer Beamer (VMG Racing)                                     
59 Duane Dickey (Bianchi/Grand Performance)                    0.55
60 Siro Camponogara (Navigators Insurance)                         
61 Phillip Gaimon (VMG Racing)                                 0.56
62 Steve Tilford (Trek/Shimano)                                0.57
63 Josh Thornton (Toyota-United)                                   
64 Jared Faciszewski (VMG Racing)                              0.58
65 Shane Weaver (Hincapie Sports/Bianchi/ Dasani)              0.59
66 Ken Hanson (BMC Racing Team)                                    
67 Brian Dziewa (Mercy Cycling)                                    
68 Brian Eppen (Mercy-Specialized)                             1.00
69 Matt Shriver (Targetraining)                                    
70 Chris Kuhl (CRCA/Sakonnet Technology U25)                   1.01
71 Philip Wikoff (Team Hotel San Jose)                             
72 Jarred (Grandstay/Out N About Gear)                         1.02
73 Chase Fullerton (VMG Racing)                                    
74 Owen Laine (BMC Racing Team)                                    
75 Stefan Rothe (Mercy Cycling)                                1.03
76 Lee Rosenthal (CRCA/Sakonnet Technology U25)                    
77 Barkley Robinson (Rio Grande/Sports Garage)                 1.04
78 Tim Mulrooney (Hollywood Cycles/Silver Cycling)                 
79 Andrew Fischer (Broadmark / Hagens-Berman)                  1.05
80 Corey Steinbrecher (Jelly Belly)                            1.06
81 Thomas Luke (HRRC/CollegePoint/Specialized/BikeSource)      1.07
82 John Meehan (Mercy-Specialized)                             1.08
83 David Rodriguez (BMC Racing Team)                               
84 Bill Stolte (HRRC/CollegePoint/Specialized/BikeSource)          
85 Jed Schneider (Subaru)                                      1.09
86 Andrew Guptill (Targetraining)                                  
87 Tone Coughlin (Hollywood Cycles/Silver Cycling)                 
88 Erik Dahl (Flanders/MBRC)                                   1.11
89 Andy Minier (Nature Valley Racing Team)                     1.12
90 Jon Randall (All9yards.com)                                 1.14
91 Abraham Mcnutt (Abercrombie & Fitch p/b Inferno)                
92 Lane Anderson (All9yards.com)                                   
93 Pat Lemieux (Bianchi/Grand Performance)                     1.15
94 Martin Gilbert (Kodakgallery.com/Sierra Nevada)                 
95 Thomas Soladay (LSV/Kelly Benefit Strategies)                   
96 Jonathan Parrish (Landis/Trek/VW)                           1.16
97 Rudy Robaina (VMG Racing)                                       
98 Brandon Gavic (Wheel & Sprocket)                                
99 Josh Bezecny (Targetraining)                                1.17
100 Jason Knight (HRRC/CollegePoint/Specialized/BikeSource)        
101 Jonathon Page (Colavita Olive Oil - Sutter)                    
102 David Zimmerman (Flanders/MBRC)                            1.20
103 Jack Seehafer (Team Einstein's Cycling)                        
104 Frank Dierking (ABD)                                       1.22
105 Jay Henderson (Hollywood Cycles/Silver Cycling)            1.23
106 John Olney (Mercy-Specialized)                                 
107 Ralph Henderson (All9yards.com Cycling TEAM)               1.25
108 Matt Williams (Grandstay/Out N About Gear)                     
109 Andrew Crater (Wheel & Sprocket)                           1.27
110 Jered Gruber (Abercrombie & Fitch p/b Inferno)                 
111 Dan Schmatz (Kodakgallery.com/Sierra Nevada)               1.28
112 Hayden Brooks (Subaru)                                         
113 Adam Curry (Broadmark / Hagens-Berman)                     1.29
114 Chad Vandelune (All9yards.com)                                 
115 Chris Doig (Flanders/MBRC)                                 1.30
116 Dan Swanson (Nature Valley Racing Team)                        
117 Ben Brooks (Navigators Insurance)                          1.31
118 Matt Cooke (LSV/Kelly Benefit Strategies)                      
119 Justin Hale (BMC Racing Team)                              1.34
120 David Guttenplan (Subaru)                                      
121 Derek Goerke (HRRC/CollegePoint/Specialized/BikeSource)    1.35
122 Owen Gue (Broadmark / Hagens-Berman)                           
123 Jason Donald (Team Einstein's Cycling)                         
124 Mat Stephens (Mercy Cycling)                                   
125 Mike Ebert (ABD)                                           1.36
126 Morgan Wiswall (Wheel & Sprocket)                          1.37
127 Pleasure Jackson (Broadmark / Hagens-Berman)               1.38
128 John Acker (Wheel & Sprocket)                              1.39
129 Andrew Wulfkuhle (LSV/Kelly Benefit Strategies)            1.44
130 Ryan Gamm (Abercrombie & Fitch p/b Inferno)                1.45
131 Michael Anderson (Endeavour)                               1.46
132 Kyle Colavito (Team Einstein's Cycling)                        
133 Terry Beenken (Bianchi/Grand Performance)                  1.47
134 Chris Ruhl (CRCA/Sakonnet Technology U25)                  1.48
135 John Puffer (ABD)                                          1.49
136 Evan Lawrence (Broadmark / Hagens-Berman)                      
137 Shawn Willard (Wheel & Sprocket)                           1.52
138 Andy Kruse (Nature Valley Racing Team)                     1.53
139 Troy Scherer (Grandstay/Out N About Gear)                      
140 Brian Fouche (LSV/Kelly Benefit Strategies)                1.54
141 David (Shawn) Adams (Abercrombie & Fitch p/b Inferno)          
142 Jason Snider (Hollywood Cycles/Silver Cycling)                 
143 Banning Ostrow (Hollywood Cycles/Silver Cycling)               
144 Cole House (Endeavour)                                     1.55
145 Adam Froemming (Flanders/MBRC)                             2.00
146 Kurt Refsnider (All9yards.com)                             2.03
147 Matt Henry (Nature Valley Racing Team)                     2.05
148 Dylan Lewis (ABD)                                          2.16
149 Brian Bibens (Subaru)                                      2.18
150 Shawn Brick (Birchwood\GIS)                                2.20
151 Chia Kung (Grandstay/Out N About Gear)                     2.34
152 Dave Mccook (Jelly Belly)                                  2.41
153 Jake Defresne (Nature Valley Racing Team)                  2.50
154 Ben Raby (Bianchi/Grand Performance)                       2.52
155 Matt Muyres (Nature Valley Racing Team)                    3.10
156 Jonathon Swain (CRCA/Sakonnet Technology U25)              3.11
157 Paul Esposti (Rio Grande/Sports Garage)                    4.19
158 Ivan Dominguez (Toyota-United)                             4.28
159 Ryan Hamity (Team Einstein's Cycling)                      9.07
 
Teams
 
1 Health Net presented by Maxxis                              26.05
2 Navigators Insurance Cycling Team                            0.45
3 Jelly Belly Cycling Team                                     1.12
4 Toyota-United Pro Cycling team                                   
5 Kodakgallery.com/Sierra Nevada Pro Cycling Team              1.23
6 Hincapie Sports/Bianchi/ Dasani                              1.28
7 Nature Valley Racing Team                                    1.37
8 Rio Grande/Sports Garage                                     1.38
9 ABD Cycling Team                                             1.41
10 Bianchi/Grand Performance                                   1.53
11 Broadmark / Hagens-Berman                                   1.54
12 BMC Racing Team                                             1.57
13 VMG Racing                                                  2.03
14 Grandstay/Out N About Gear                                  2.05
15 Mercy-Specialized                                               
16 Targetraining                                               2.08
17 CRCA/Sakonnet Technology U25                                    
18 Hollywood Cycles/Silver Cycling                             2.15
19 Abercrombie & Fitch p/b Inferno                             2.44
20 HRRC/CollegePoint/Specialized/BikeSource                    2.54
21 Mercy Cycling                                               2.59
22 Team Einstein's Cycling                                     3.11
23 All9yards.com Cycling Team                                  3.15
24 Subaru Cycling Team                                         3.17
25 FLANDERS/MBRC                                               3.23
26 Wheel & Sprocket                                            3.42
27 LSV/Kelly Benefit Strategies                                3.52
 
Best young rider
 
1 Stefano Barberi (Toyota-United)                              8.58
2 Justin Morgan (Broadmark / Hagens-Berman)                    0.09
3 Alexander Boyd (VMG Racing)                                  0.22
4 Guy East (CRCA/Sakonnet Technology U25)                          
5 Spencer Beamer (VMG Racing)                                  0.25
6 Phillip Gaimon (VMG Racing)                                  0.27
7 Jared Faciszewski (VMG Racing)                               0.29
8 Chris Kuhl (CRCA/Sakonnet Technology U25)                    0.32
9 Chase Fullerton (VMG Racing)                                 0.33
10 Owen Laine (BMC Racing Team)                                    
11 Pat Lemieux (Bianchi/Grand Performance)                     0.46
12 Jonathan Parrish (Landis/Trek/VW)                           0.47
13 Brandon Gavic (Wheel & Sprocket)                                
14 David Zimmerman (Flanders/MBRC)                             0.51
15 Hayden Brooks (Subaru)                                      0.59
16 Adam Curry (Broadmark / Hagens-Berman)                      1.00
17 Justin Hale (BMC Racing Team)                               1.05
18 David Guttenplan (Subaru)                                       
19 Owen Gue (Broadmark / Hagens-Berman)                        1.06
20 Michael Anderson (Endeavour)                                1.17
21 Chris Ruhl (CRCA/Sakonnet Technology U25)                   1.19
22 Cole House (Endeavour)                                      1.26
23 Jonathon Swain (CRCA/Sakonnet Technology U25)               2.42
 
Team classification
 
1 Health Net presented by Maxxis                              26.05
2 Navigators Insurance Cycling Team                            0.45
3 Jelly Belly Cycling Team                                     1.12
4 Toyota-United Pro Cycling team                                   
5 Kodakgallery.com/Sierra Nevada Pro Cycling Team              1.23
6 Hincapie Sports/Bianchi/ Dasani                              1.28
7 Nature Valley Racing Team                                    1.37
8 Rio Grande/Sports Garage                                     1.38
9 ABD Cycling Team                                             1.41
10 Bianchi/Grand Performance                                   1.53
11 Broadmark / Hagens-Berman                                   1.54
12 BMC Racing Team                                             1.57
13 VMG Racing                                                  2.03
14 Grandstay/Out N About Gear                                  2.05
15 Mercy-Specialized                                               
16 Targetraining                                               2.08
17 CRCA/Sakonnet Technology U25                                    
18 Hollywood Cycles/Silver Cycling                             2.15
19 Abercrombie & Fitch p/b Inferno                             2.44
20 HRRC/CollegePoint/Specialized/BikeSource                    2.54
21 Mercy Cycling                                               2.59
22 Team Einstein's Cycling                                     3.11
23 All9yards.com Cycling Team                                  3.15
24 Subaru Cycling Team                                         3.17
25 FLANDERS/MBRC                                               3.23
26 Wheel & Sprocket                                            3.42
27 LSV/Kelly Benefit Strategies                                3.52
 
Women Pro/1/2/3
 
1 Kristin Armstrong (TEAm Lipton)                              9.25.39
2 Christine Thorburn (Webcor-Platinum)                         0.06.57
3 Alison Powers (Rio Grande/Sports Garage)                     0.19.89
4 Rachel Heal (Victory Brewing Team)                           0.21.24
5 Kori Seehafer (TEAm Lipton)                                  0.22.75
6 Erinne Willock (Webcor-Platinum)                             0.23.99
7 Katie Mactier (Argon 18/Champion Systems)                    0.25.51
8 Sue Palmer-Komar (Colavita/ Cooking Light)                   0.30.09
9 Tina Pic (Colavita/ Cooking Light)                           0.31.26
10 Charm Breon (Cheerwine)                                     0.32.57
11 Jessica Phillips (Argon 18/Champion System)                 0.34.21
12 Felicia Gomez (Webcor-Platinum)                             0.35.51
13 Kristin Sanders (Cheerwine)                                 0.35.11
14 Katharine Carroll (Victory Brewing Team)                    0.35.21
15 Katheryn Curi (Webcor-Platinum)                             0.36.30
16 Iona Wynter (Colavita/ Cooking Light)                       0.37.94
17 Meshy Holt (Colavita/ Cooking Light)                        0.38.41
18 Alex Wrubleski (Team Biovail)                               0.40.44
19 Betina Hold (Webcor-Platinum)                               0.40.50
20 Laura Vangilder (TEAm Lipton)                               0.44.13
21 Kele Murdin (Velo Bella-Kona)                               0.45.54
22 Amanda Shaw (Team Biovail)                                  0.46.93
23 Anne Samplonius (Team Biovail)                              0.47.18
24 Lauren Franges (Victory Brewing Team)                       0.47.90
25 Leigh Hobson (Victory Brewing Team)                         0.48.71
26 Marisa Asplund (Colorado Premier Training - Colnago)        0.50.30
27 Heather Labance (Advil-ChapStick)                           0.50.53
28 Candice Blickem (Aaron's)                                   0.51.07
29 Brooke Ourada (Colorado Premier Training - Colnago)         0.51.30
30 Meredith Miller (TEAm Lipton)                               0.51.82
31 Michelle Beltran (Cheerwine)                                0.52.56
32 Sara Tillotson (Colavita/ Cooking Light)                    0.53.21
33 Carmen Small (TRIA)                                         0.52.85
34 Sarah Ulmer (Jazz Apple)                                    0.52.99
35 Rebecca Larsen (Aaron's)                                    0.54.59
36 Joelle Numainville (Team Biovail)                           0.56.86
37 Mara Abbott (Rio Grande/Sports Garage)                      0.57.32
38 Lisa Sweeney (Colorado Premier Training - Colnago)          0.57.51
39 Moriah Macgregor (TRIA)                                     0.57.73
40 Karol-Ann Canuel (Equipe du Quebec)                         0.59.80
41 Joanie Caron (Equipe du Quebec)                             0.59.93
42 Sima Trapp (Colavita/ Cooking Light)                        1.02.91
43 Gina Grain (Colavita/ Cooking Light)                        1.05.09
44 Betsy Galenti (America's Dairyland)                         1.05.30
45 Jenn Reither (TRIA)                                         1.06.22
46 Katherine Lambden (TEAm Lipton)                             1.07.46
47 Allison Beall (TRIA)                                        1.08.22
48 Natalie Klemko (America's Dairyland)                        1.08.84
49 Teresa Moriarty (Flanders/MBRC)                             1.08.95
50 Megan Monroe (Colorado Premier Training - Colnago)          1.09.81
51 Tamyra Barnard (Team Kenda Tire)                            1.10.60
52 Taitt Sato (McGuire)                                        1.11.42
53 Alison Testroete (Team Biovail)                             1.11.91
54 Martina Patella (McGuire)                                   1.13.01
55 Emilie Roy (Equipe du Quebec)                               1.13.79
56 Liza Rachetto (TEAm Lipton)                                 1.14.00
57 Kate Sherwin (Victory Brewing Team)                         1.15.16
58 Stephanie Bourbeau (Team Biovail)                           1.15.50
59 Courtenay Brown (McGuire)                                   1.15.82
60 Shannon Hutchison-Krupa (Aaron's)                           1.17.13
61 Trish Heisdorffer (Rio Grande/Sports Garage)                1.19.21
62 Beth Allen (Team Joy Rides/Austin Flyers)                   1.18.98
63 Megan Hottman (MRRC/Trek-VW Midwest)                               
64 Emma Nelson (Advil-ChapStick)                               1.19.05
65 Brooke Miller (PABW Powered by Tibco)                       1.19.94
66 Melodie Metzger (McGuire)                                   1.19.99
67 Julia Bradley (Team R.A.C.E.)                               1.20.00
68 Nicky Wangsgard (Colorado Premier Training - Colnago)       1.22.30
69 Robin Farina (Team Kenda Tire)                              1.22.40
70 Kristin Wentworth (America's Dairyland)                     1.22.88
71 Rosara Joseph (Jazz Apple)                                  1.23.21
72 Kathleen Billington (Conneticut Coast Cycling)              1.24.23
73 Amy Mackey (PABW Powered by Tibco)                          1.24.56
74 Jennifer Trew (Team Kenda Tire)                             1.24.93
75 Kirsten Robbins (Victory Brewing Team)                      1.25.04
76 Beth Fisk (Rio Grande/Sports Garage)                        1.26.28
77 Patricia Palmer (America's Dairyland)                       1.26.50
78 Jane Ziegler (Velo Bella-Kona)                              1.26.57
79 Pamela Hinton (TRIA)                                        1.27.32
80 Ann Hansgate (Flanders/MBRC)                                1.27.95
81 Caitlyn Mccullough (Advil-ChapStick)                        1.29.72
82 Johanne Cyr (Equipe du Quebec)                              1.29.77
83 Catherine Powers (Aaron's)                                  1.31.51
84 Sharon Allpress (TRIA)                                      1.32.32
85 Kelly Benjamin (Cheerwine)                                  1.32.43
86 Abby Cooper (Team Kenda Tire)                               1.32.99
87 Linda Sone (Hollywood Racing/Silver Cycling)                1.33.29
88 Victoria Vallstrom (PABW Powered by TIbco)                  1.33.43
89 Syrae Weikle (Rio Grande/Sports Garage)                     1.33.50
90 Michelle Hyland (Jazz Apple)                                1.34.14
91 Catherine Walberg (Team Kenda Tire)                         1.36.11
92 Molly Vetter-Smith (Mesa Cycles Racing Team)                       
93 Julie Adams (PABW Powered by Tibco)                         1.35.86
94 Sarah Bambeger (Cheerwine)                                  1.36.91
95 Brei Gudsell (Jazz Apple)                                   1.36.80
96 Flavia Oliveira (PABW Powered by Tibco)                     1.37.45
97 Margot Herman (Velo Bella-Kona)                             1.38.16
98 Andrea Myers (Team Blue Cycles/Uvex)                        1.39.42
99 Eryn Hanna (PABW Powered by Tibco)                          1.39.81
100 Marie-Pier Bédard (Equipe du Quebec)                       1.40.07
101 Jennifer Manefield (Cheerwine)                             1.41.35
102 Sarah Caravella (TEAm Lipton)                              1.41.78
103 Debbie Dust (Team Kenda Tire)                              1.42.98
104 Paula Plant (Birchwood/GIS)                                1.46.73
105 Anna Drakulich (Advil-ChapStick)                           1.47.03
106 Sheryl Golin (Hollywood Racing/Silver Cycling)             1.49.39
107 Elizabeth Frye (Cheerwine)                                 1.49.49
108 Betsy Cordes (Giant/BHillsDomestiques)                     1.51.21
109 Molly Muste (Tri City Cyclists)                            1.52.40
110 Lara Kroepsch (TEAm Lipton)                                1.52.55
111 Jennifer Joynt (Velo Bella-Kona)                           1.54.18
112 Reem Jishi (Advil-ChapStick)                               1.54.80
113 Kendra Keeley (Rio Grande/Sports Garage)                   1.55.03
114 Tara Ross (Victory Brewing Team)                           1.55.23
115 Mackenzie Dickey (Aaron's)                                 1.56.32
116 Elisa Gagnon (Advil-ChapStick)                             1.56.79
117 Carissa Wilkes (Jazz Apple)                                1.57.60
118 Cathryn Watson (Birchwood/GIS)                             1.58.99
119 Krystal Lacy (Team Blue Cycles/Uvex)                       2.02.86
120 Stacy Marple (PABW Powered by Tibco)                       2.04.40
121 Francine Haas (Team Blue Cycles/Uvex)                      2.05.48
122 Rochelle Gilmore (Advil-ChapStick)                         2.07.44
123 June Upshaw (Team Kenda Tire)                              2.10.90
124 Laura Danley (Rio Grande/Sports Garage)                    2.13.97
125 Shana Sturla (Flanders/MBRC)                                      
126 Katy Ligler (Team Kenda Tire)                              2.14.26
127 Emilie Duchow (Team Blue Cycles/Uvex)                      2.20.73
128 Lauren Koedyk (Jazz Apple)                                 2.21.53
129 Alicia Seltz (Team Blue Cycles/Uvex)                       2.22.10
130 Laurel Sundberg (Velo Bella Kona)                          2.24.09
131 Jennifer Tilley (Team Blue Cycles/Uvex)                    2.36.26
132 Kristen Over (Team Blue Cycles/Uvex)                       2.50.85
133 Megan Elliot (Argon 18/Champion System)                    3.01.61
DNF Erica Lanser (Colavita/ Cooking Light)                            
DNF Hiroko Shimada (Velo Bella-Kona)                                  
 
Best Young Rider
 
1 Erinne Willock (Webcor-Platinum)                             9.49
2 Katharine Carroll (Victory Brewing Team)                     0.11
3 Alex Wrubleski (Team Biovail)                                0.16
4 Lauren Franges (Victory Brewing Team)                        0.24
5 Carmen Small (TRIA)                                          0.29
6 Rebecca Larsen (Aaron's)                                     0.30
7 Joelle Numainville (Team Biovail)                            0.33
8 Mara Abbott (Rio Grande/Sports Garage)                           
9 Lisa Sweeney (Colorado Premier Training - Colnago)               
10 Karol-Ann Canuel (Equipe du Quebec)                         0.36
11 Joanie Caron (Equipe du Quebec)                                 
12 Natalie Klemko (America's Dairyland)                        0.45
13 Alison Testroete (Team Biovail)                             0.48
14 Emilie Roy (Equipe du Quebec)                               0.50
15 Kathleen Billington (Conneticut Coast Cycling)              1.00
16 Amy Mackey (PABW Powered by Tibco)                              
17 Jennifer Trew (Team Kenda Tire)                             1.01
18 Ann Hansgate (Flanders/MBRC)                                1.04
19 Caitlyn Mccullough (Advil-ChapStick)                        1.06
20 Abby Cooper (Team Kenda Tire)                               1.09
21 Flavia Oliveira (PABW Powered by Tibco)                     1.13
22 Andrea Myers (Team Blue Cycles/Uvex)                        1.15
23 Marie-Pier Bédard (Equipe du Quebec)                        1.16
24 Anna Drakulich (Advil-ChapStick)                            1.23
25 Mackenzie Dickey (Aaron's)                                  1.32
26 Rochelle Gilmore (Advil-ChapStick)                          1.43
27 Laura Danley (Rio Grande/Sports Garage)                     1.50
28 Katy Ligler (Team Kenda Tire)                                   
29 Emilie Duchow (Team Blue Cycles/Uvex)                       1.57
30 Megan Elliot (Argon 18/Champion System)                     2.38
 
General classification after stage 1
 
1 Kristin Armstrong (TEAm Lipton)                              9.25
2 Christine Thorburn (Webcor-Platinum)                         0.06
3 Alison Powers (Rio Grande/Sports Garage)                     0.20
4 Rachel Heal (Victory Brewing Team)                           0.21
5 Kori Seehafer (TEAm Lipton)                                  0.23
6 Erinne Willock (Webcor-Platinum)                             0.24
7 Katie Mactier (Argon 18/Champion Systems)                    0.25
8 Sue Palmer-Komar (Colavita/ Cooking Light)                   0.30
9 Tina Pic (Colavita/ Cooking Light)                           0.31
10 Charm Breon (Cheerwine)                                     0.32
11 Jessica Phillips (Argon 18/Champion System)                 0.34
12 Felicia Gomez (Webcor-Platinum)                             0.35
13 Kristin Sanders (Cheerwine)                                     
14 Katharine Carroll (Victory Brewing Team)                        
15 Katheryn Curi (Webcor-Platinum)                             0.36
16 Iona Wynter (Colavita/ Cooking Light)                       0.38
17 Meshy Holt (Colavita/ Cooking Light)                            
18 Alex Wrubleski (Team Biovail)                               0.40
19 Betina Hold (Webcor-Platinum)                                   
20 Laura Vangilder (TEAm Lipton)                               0.44
21 Kele Murdin (Velo Bella-Kona)                               0.45
22 Amanda Shaw (Team Biovail)                                  0.47
23 Anne Samplonius (Team Biovail)                                  
24 Lauren Franges (Victory Brewing Team)                       0.48
25 Leigh Hobson (Victory Brewing Team)                         0.49
26 Marisa Asplund (Colorado Premier Training - Colnago)        0.50
27 Heather Labance (Advil-ChapStick)                               
28 Candice Blickem (Aaron's)                                   0.51
29 Brooke Ourada (Colorado Premier Training - Colnago)             
30 Meredith Miller (TEAm Lipton)                               0.52
31 Michelle Beltran (Cheerwine)                                    
32 Sara Tillotson (Colavita/ Cooking Light)                    0.53
33 Carmen Small (TRIA)                                             
34 Sarah Ulmer (Jazz Apple)                                        
35 Rebecca Larsen (Aaron's)                                    0.54
36 Joelle Numainville (Team Biovail)                           0.57
37 Mara Abbott (Rio Grande/Sports Garage)                          
38 Lisa Sweeney (Colorado Premier Training - Colnago)              
39 Moriah Macgregor (TRIA)                                     0.58
40 Karol-Ann Canuel (Equipe du Quebec)                         1.00
41 Joanie Caron (Equipe du Quebec)                                 
42 Sima Trapp (Colavita/ Cooking Light)                        1.03
43 Gina Grain (Colavita/ Cooking Light)                        1.05
44 Betsy Galenti (America's Dairyland)                             
45 Jenn Reither (TRIA)                                         1.06
46 Katherine Lambden (TEAm Lipton)                             1.07
47 Allison Beall (TRIA)                                        1.08
48 Natalie Klemko (America's Dairyland)                        1.09
49 Teresa Moriarty (Flanders/MBRC)                                 
50 Megan Monroe (Colorado Premier Training - Colnago)          1.10
51 Tamyra Barnard (Team Kenda Tire)                                
52 Taitt Sato (McGuire)                                        1.11
53 Alison Testroete (Team Biovail)                             1.12
54 Martina Patella (McGuire)                                   1.13
55 Emilie Roy (Equipe du Quebec)                               1.14
56 Liza Rachetto (TEAm Lipton)                                     
57 Kate Sherwin (Victory Brewing Team)                         1.15
58 Stephanie Bourbeau (Team Biovail)                               
59 Courtenay Brown (McGuire)                                   1.16
60 Shannon Hutchison-Krupa (Aaron's)                           1.17
61 Trish Heisdorffer (Rio Grande/Sports Garage)                1.19
62 Beth Allen (Team Joy Rides/Austin Flyers)                       
63 Megan Hottman (MRRC/Trek-VW Midwest)                            
64 Emma Nelson (Advil-ChapStick)                                   
65 Brooke Miller (PABW Powered by Tibco)                       1.20
66 Melodie Metzger (McGuire)                                       
67 Julia Bradley (Team R.A.C.E.)                                   
68 Nicky Wangsgard (Colorado Premier Training - Colnago)       1.22
69 Robin Farina (Team Kenda Tire)                                  
70 Kristin Wentworth (America's Dairyland)                     1.23
71 Rosara Joseph (Jazz Apple)                                      
72 Kathleen Billington (Conneticut Coast Cycling)              1.24
73 Amy Mackey (PABW Powered by Tibco)                              
74 Jennifer Trew (Team Kenda Tire)                             1.25
75 Kirsten Robbins (Victory Brewing Team)                          
76 Beth Fisk (Rio Grande/Sports Garage)                        1.26
77 Patricia Palmer (America's Dairyland)                           
78 Jane Ziegler (Velo Bella-Kona)                                  
79 Pamela Hinton (TRIA)                                        1.27
80 Ann Hansgate (Flanders/MBRC)                                1.28
81 Caitlyn Mccullough (Advil-ChapStick)                        1.30
82 Johanne Cyr (Equipe du Quebec)                                  
83 Catherine Powers (Aaron's)                                  1.31
84 Sharon Allpress (TRIA)                                      1.32
85 Kelly Benjamin (Cheerwine)                                      
86 Abby Cooper (Team Kenda Tire)                               1.33
87 Linda Sone (Hollywood Racing/Silver Cycling)                    
88 Victoria Vallstrom (PABW Powered by TIbco)                      
89 Syrae Weikle (Rio Grande/Sports Garage)                         
90 Michelle Hyland (Jazz Apple)                                1.34
91 Catherine Walberg (Team Kenda Tire)                         1.36
92 Molly Vetter-Smith (Mesa Cycles Racing Team)                    
93 Julie Adams (PABW Powered by Tibco)                             
94 Sarah Bambeger (Cheerwine)                                  1.37
95 Brei Gudsell (Jazz Apple)                                       
96 Flavia Oliveira (PABW Powered by Tibco)                         
97 Margot Herman (Velo Bella-Kona)                             1.38
98 Andrea Myers (Team Blue Cycles/Uvex)                        1.39
99 Eryn Hanna (PABW Powered by Tibco)                          1.40
100 Marie-Pier Bédard (Equipe du Quebec)                           
101 Jennifer Manefield (Cheerwine)                             1.41
102 Sarah Caravella (TEAm Lipton)                              1.42
103 Debbie Dust (Team Kenda Tire)                              1.43
104 Paula Plant (Birchwood/GIS)                                1.47
105 Anna Drakulich (Advil-ChapStick)                               
106 Sheryl Golin (Hollywood Racing/Silver Cycling)             1.49
107 Elizabeth Frye (Cheerwine)                                     
108 Betsy Cordes (Giant/BHillsDomestiques)                     1.51
109 Molly Muste (Tri City Cyclists)                            1.52
110 Lara Kroepsch (TEAm Lipton)                                    
111 Jennifer Joynt (Velo Bella-Kona)                           1.54
112 Reem Jishi (Advil-ChapStick)                               1.55
113 Kendra Keeley (Rio Grande/Sports Garage)                       
114 Tara Ross (Victory Brewing Team)                               
115 Mackenzie Dickey (Aaron's)                                 1.56
116 Elisa Gagnon (Advil-ChapStick)                             1.57
117 Carissa Wilkes (Jazz Apple)                                    
118 Cathryn Watson (Birchwood/GIS)                             1.59
119 Krystal Lacy (Team Blue Cycles/Uvex)                       2.03
120 Stacy Marple (PABW Powered by Tibco)                       2.04
121 Francine Haas (Team Blue Cycles/Uvex)                      2.05
122 Rochelle Gilmore (Advil-ChapStick)                         2.07
123 June Upshaw (Team Kenda Tire)                              2.11
124 Laura Danley (Rio Grande/Sports Garage)                    2.14
125 Shana Sturla (Flanders/MBRC)                                   
126 Katy Ligler (Team Kenda Tire)                                  
127 Emilie Duchow (Team Blue Cycles/Uvex)                      2.21
128 Lauren Koedyk (Jazz Apple)                                     
129 Alicia Seltz (Team Blue Cycles/Uvex)                       2.22
130 Laurel Sundberg (Velo Bella Kona)                          2.24
131 Jennifer Tilley (Team Blue Cycles/Uvex)                    2.36
132 Kristen Over (Team Blue Cycles/Uvex)                       2.51
133 Megan Elliot (Argon 18/Champion System)                    3.02
 
Teams
 
1 Webcor-Platinum Women's Cycling Team                        29.20
2 TEAm Lipton                                                  0.02
3 Colavita/ Cooking Light Cycling Team                         0.34
4 Victory Brewing Team                                         0.39
5 Cheerwine                                                    0.54
6 Team Biovail Pro Cycling                                     1.09
7 Rio Grande/Sports Garage                                     1.31
8 Colorado Premier Training - Colnago                          1.33
9 TRIA                                                         1.52
10 Aaron's Pro Women's Cycling                                 1.57
11 Equipe du Quebec                                            2.09
12 America's Dairyland                                         2.32
13 Advil-ChapStick Cycling Team                                2.34
14 McGuire Cycling Team                                        2.35
15 Velo Bella-Kona                                             2.44
16 Jazz Apple Cycling Team                                     2.45
17 Team Kenda Tire                                             2.52
18 PABW Powered by TIBCO                                       3.12
19 Flanders/MBRC                                               3.46
20 Team Blue Cycles/Uvex                                       4.42
 
Team classification
 
1 Webcor-Platinum Women's Cycling Team                        29.20
2 TEAm Lipton                                                  0.02
3 Colavita/ Cooking Light Cycling Team                         0.34
4 Victory Brewing Team                                         0.39
5 Cheerwine                                                    0.54
6 Team Biovail Pro Cycling                                     1.09
7 Rio Grande/Sports Garage                                     1.31
8 Colorado Premier Training - Colnago                          1.33
9 TRIA                                                         1.52
10 Aaron's Pro Women's Cycling                                 1.57
11 Equipe du Quebec                                            2.09
12 America's Dairyland                                         2.32
13 Advil-ChapStick Cycling Team                                2.34
14 McGuire Cycling Team                                        2.35
15 Velo Bella-Kona                                             2.44
16 Jazz Apple Cycling Team                                     2.45
17 Team Kenda Tire                                             2.52
18 PABW Powered by TIBCO                                       3.12
19 Flanders/MBRC                                               3.46
20 Team Blue Cycles/Uvex                                       4.42