Nature Valley Grand Prix - NE
USA, June 14-18, 2006
Main Page Results Overall standings Stage Details Previous Stage Next Stage
Stage 4 - June 17: Mankato Road Race
More Health Net birthday presents; Armstrong domination echoes namesake
Health Net's Australian sprinter "Big" Karl Menzies and TEAm Lipton's Kristin Armstrong were the powers to be reckoned with in the fourth stage of the Nature Valley Grand Prix. Birthday boy Menzies accepted a stage win that was practically a gift from team-mate Greg Henderson, while Armstrong rode like her male namesake to reel in Sarah Ulmer (Jazz Apple) after Ulmer had escaped to what looked like a sure victory. But there are no certainties in bike racing and for both winners their victories came after a long, hard day in the saddle.
Men: Menzies gets own birthday present at Nature Valley
By James Lockwood
The birthday boy Karl Menzies
Photo ©: Matthew Moses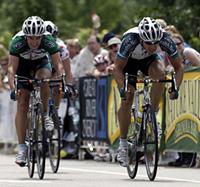 On Thursday, Karl Menzies said Health Net's win was a present to the team's director, who was celebrating his birthday.
On Saturday, it was his turn to receive.
The birthday boy fought through four 1-kilometer climbs pitching at 14 percent to roll through the finish of the fourth stage of Great River Energy's Nature Valley Grand Prix. Menzies gave all the credit to his teammate and new overall leader, Greg Henderson.
"I think Hendie wrapped [the victory] up, put a bow on it and delivered it to me," the Tasmanian said after the 86-mile road race in Mankato, Minn.
Henderson, who for the first time in five tries did not win a road race, said he was all too pleased to see Menzies take the win. "I looked over my shoulder and saw no one coming around," he said.
"This is just as sweet," Henderson continued. "He takes the stage, and I take the yellow jersey. It's perfect."
With a 15-second time bonus for first, and a 10-second time bonus for second, Henderson moved into first on GC, followed by Menzies four seconds later. Their teammate, Nathan O'Neill, dropped to third overall, finishing in the lead group.
O'Neill, who was one of the main protagonists on the finishing circuits, said it was no loss to have the win go to Menzies and the jersey go to Henderson. "That was perfect," he said.
Brandon Gavic (Wheel & Sprocket)
Photo ©: Matthew Moses

As easy as the win looked for Health Net, with Menzies and Henderson just rolling through the finish, the day proved to be much harder. While a lead pack featuring both Health Net and Navigator's Insurance formed early, it was a chess match to see who would be willing to do the work. Winds played their part to split the peloton, but tactics played a bigger part, and that kept the peloton intact longer than anticipated.
"Today was a lot about tactics," Navigator's Bernard Van Ulden said. "Health Net wanted us to go into autopilot and start working, and that was not going to happen."
Navigator's reluctance to play the game - along with teams in the break missing some key riders - shut down a break of about 24 riders that had formed 18 miles into the race and built an advantage of 40 seconds. With the crosswinds in the farm country, the break would have stuck, but lack of teamwork among the various riders led to the chase catching back on nine miles later.
While Wheel & Sprocket's Brandon Gavic tried a solo attack immediately after, the next real attack did not occur until just before the feed at mile 33. Coming out of a corner into the crosswinds just before the feed zone, Health Net moved to the front and accelerated. It proved to be the break of the day, with Navigators, Toyota-United, Jelly Belly, and two others making the cut.
The break featured some of the strongest riders in the peloton: Health Net's O'Neill, Henderson, Menzies, Tim Johnson, Gord Fraser and Kirk O'Bee; Navigator's Van Ulden, Hilton Clarke, Oleg Grichkine, and Siro Camponogara; Toyota-United's Ivan Stevic, Sterling Magnell and Josh Thornton; Jelly Belly's Brice Jones and Matt Rice; TargeTraining's Frank Pipp; and Colavita Olive Oil-Sutter Home's Jonathan Page.
Missing from the break was Kodakgallery.com/Sierra Nevada, and that kept the gap steady at around 90 seconds and the pressure on the break.
"That's why everyone had to ride," Menzies said the work in the break. "People were just burying themselves."
No time for feeding
Photo ©: Matthew Moses

A couple of times, the gap started to drop, but each time riders would find some food, energy, and a little push from others in the break and managed to hold the gap.
Entering the circuit, the lead pack came through all together except for one - Grichkine, who flatted just a few blocks from the circuit. It was the second road race in a row Navigators lost a member of the break to a flat.
"Losing Oleg was huge," said Navigator's director sportif Ray Cipollini. "He's such a motor."
With Grichkine out, that left Health Net in the driver's seat with six men in the break. Navigator's only had four. "There's only so much you can do," Cipollini said.
Most of the group stayed together the first lap, with Clarke taking the King of the Hills points. As the group entered the climb the second time, things shattered. Pipp - who took the sprinter's jersey with the day's ride - accelerated with Menzies, and riders started falling out the back.
"I have to give credit to TargeTraining and Pipp," Menzies said. "He was one of the strongest guys out there."
Behind them, Henderson, O'Neill, Van Ulden, Milne, Clarke, Thornton, and Page started to settle into a rhythm. While Menzies and Pipp's lead never grew large, it was enough for them hold starting up the third time. Up the climb, Milne and Henderson joined.
Sports Beans King of the Hill Leader
Photo ©: Matthew Moses

Then O'Neill attacked. In his big ring, he sped away from the pack, taking only Thornton with him. Van Ulden was suffering and losing his grip on third place GC. Going through the start/finish line, it was Milne, Henderson, Menzies, O'Neill, Pipp, and Thornton.
Pipp and Milne were in no position to hurt Health Net, and a game of cat-and-mouse began to see who would work. That allowed Van Ulden, Clarke, Stevic, and Page to catch back on.
"It was like a track ride out there," Van Ulden said. "Today was a lot of tactics."
On the last time up the climb, O'Neill accelerated again, taking Pipp, Milne, Henderson, and Stevic with. Van Ulden and Menzies looked to be popped as the leaders rolled over the summit.
O'Neill said with Van Ulden back, he did not think Menzies would be in too much trouble for the finish. "I figured Van Ulden would try to get back on and pull Menzies with him.
Van Ulden said that was pretty much what happened. "I was the convenient guy in the right spot."
It also helped Menzies that no one up front was challenging for the win before the finishing straight.
"No one in the group had any acceleration at all," O'Neill said. "It made my job easy."
As Menzies and Van Ulden sped down the hill, Menzies saw his chance to get back on and assume his duties pulling Henderson to the line. Only Pipp gave any shot of breaking Health Net.
"I just thought I didn't want to wait around and let it come down to a sprint," he said. "Health Net was just going to take it to the line. So I gave it a little shot about 1.5 kilometers from the finish."
The new men's GC leader
Photo ©: Matthew Moses

But O'Neill, Menzies, and Henderson proved too strong and the course too tight.
"It was just so short through the last two corners," said Clarke, who nipped Stevic at the line for third place. "I don't think any of us were expecting that."
Despite having three Health Net riders in the top three, Cipollini said the race is not done, with Van Ulden sitting fourth 19 seconds back. "We'll do what we can [in the last stage]," he said. "The game is not over."
The Nature Valley Grand Prix concludes Sunday with a fifth stage criterium in Stillwater, Minn., featuring a finishing climb pitching at 18 percent.
Women: Armstrong flexes muscles, puts stamp on Nature Valley
By Steve Kay
Kristin Armstrong (Team Lipton)
Photo ©: Matthew Moses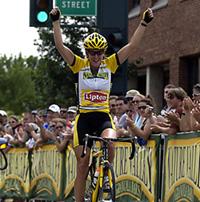 For more than 80 miles, dozens of world class female riders tested their resolve in the wind and heat surrounding Mankato, Minn., in the fourth stage of Great River Energy's Nature Valley Grand Prix.
But the most exciting action of the day came with the final few laps in the city. With Olympic pursuit champion Sarah Ulmer of Jazz Apple opening a 20-second gap more than a lap into the finishing circuit, a win seemed assured.
That was until the overall leader, TEAm Lipton's Kristin Armstrong, decided to put her stamp of approval on a victory. Attacking on the third time up the Main Street hill that pitched at 14 percent, she pulled away from the competition to take the stage and increase her lead over Webcor/Platinum Builder's Christine Thorburn.
Armstrong, one of the strongest riders in the women's peloton, said it was both sensing the time and a bit of luck that gave her the win.
"As we started up that hill a third time, I could sense some of the other girls getting tired," she said. "I mean, I was tired too, but I find that when the competition is waning, you have to find that something extra and that is what I did today.
"With Sarah going the way she was at the end, I just got lucky to be in the right situation and push out in front."
And, as usual, she brought the win back to her team-mates' efforts.
"Being here with these eight girls makes all the difference." Armstrong said of her TEAm Lipton team-mates.
Heading to the first sprint
Photo ©: Matthew Moses

The race began extremely close, with no riders seeming to want to break away early. Just after the 37-mile mark, a group of about seven finally pulled away from the main group. Among this group were Colavita/ Cooking Light's Gina Grain and the powerful TEAm Lipton's Katherine Lambden. The break was short-lived, with the field catching them at the 42-mile mark.
A final group of about 64 riders remained until the 77-mile mark and the start of the circuit race through Mankato, which included the treacherous Main Street Hill. Ulmer broke out ahead and built a 20-second lead over the field. It was during the third lap that TEAm Lipton once again flexed its muscle and catapulted Armstrong to the front.
Armstrong then put on a clinic as she upped her lead and cruised to a comfortable victory over second place finisher and TEAm Lipton teammate Kori Seehafer. Alex Wrubleski of Team Biovail took third.
Webcor-Platinum Women's Cycling's Erinne Willock had another strong showing, maintaining her BMC Best Young Rider Jersey. Ulmer was awarded the SportsPro Most Aggressive Rider Jersey for her work in the final laps around Mankato. That climb also earned her the Jelly Belly Sports Beans Queen of the Hill Jersey.
With today's stage win Armstrong adds to her lead going into Sunday's Stillwater Criterium. Armstrong knows that the Nature Valley Grand Prix is far from over.
Stage 4's Mankato Road Race Podium
Photo ©: Matthew Moses

"Tomorrow is going to be tough," she said of Sunday's crit, which includes the infamous Chilkoot Hill that pitches at 24 percent and is the finish for the circuit.
Photography
For a thumbnail gallery of these images, click here
Images by Matthew Moses/www.moses-images.com
Results
Men
 
1 Karl Menzies (Health Net pb Maxxis)                          3.15.57
2 Greg Henderson (Health Net pb Maxxis)                               
3 Hilton Clarke (Navigators Insurance)                                
4 Ivan Stevic (Toyota-United)                                         
5 Jonathon Page (Colavita Olive Oil - Sutter)                         
6 Frank Pipp (Targetraining)                                          
7 Shawn Milne (Navigators Insurance)                                  
8 Bernard Van Ulden (Navigators Insurance)                            
9 Nathan O'Neill (Health Net pb Maxxis)                               
10 Gordon Fraser (Health Net pb Maxxis)                               
11 Josh Thornton (Toyota-United)                                      
12 Matt Rice (Jelly Belly)                                        1.01
13 Stefano Barberi (Toyota-United)                                1.54
14 Caleb Manion (Jelly Belly)                                         
15 Hayden Brooks (Subaru)                                         2.00
16 Scottie Weiss (Hincapie Sports/Bianchi/ Dasani)                    
17 Steve Tilford (Trek/Shimano)                                       
18 Paul Esposti (Rio Grande/Sports Garage)                            
19 Alexander Boyd (VMG Racing)                                        
20 Michael Grabinger (Grandstay/Out N About Gear)                     
21 Mike Olheiser (MMW/Carve)                                          
22 Jed Schneider (Subaru)                                             
23 Jason Donald (Team Einstein's Cycling)                         2.11
24 Johnny Hayes (CRCA/Sakonnet Technology U25)                    3.04
25 Stefan Rothe (Mercy Cycling)                                       
26 Martin Gilbert (Kodakgallery.com/Sierra Nevada)                    
27 Tim Johnson (Health Net pb Maxxis)                                 
28 Siro Camponogara (Navigators Insurance)                            
29 Jason Klikna (BMC Racing Team)                                 3.52
30 Reid Mumford (ABD)                                             3.58
31 Adam Froemming (Flanders/MBRC)                                     
32 Scott Zuizanski (Kodakgallery.com/Sierra Nevada)                   
33 Sterling Magnell (Toyota-United)                               4.13
34 Aric Hareland (Hollywood Cycles/Silver Cycling)                4.30
35 Brandon Gavic (Wheel & Sprocket)                               4.41
36 Erik Dahl (Flanders/MBRC)                                      4.56
37 Frank Dierking (ABD)                                           5.05
38 Jackson Stewart (Kodakgallery.com/Sierra Nevada)               5.15
39 David Zimmerman (Flanders/MBRC)                                5.22
40 Pete Hanna (Bianchi/Grand Performance)                         6.18
41 Brian Bibens (Subaru)                                          6.38
42 Kirk O'Bee (Health Net pb Maxxis)                              6.42
43 Brice Jones (Jelly Belly)                                      6.56
44 Terry Beenken (Bianchi/Grand Performance)                     10.43
45 Ryan Nenninger (Mercy-Specialized)                                 
46 Jonathan Parrish (Landis/Trek/VW)                             11.11
47 Spencer Beamer (VMG Racing)                                   11.53
48 Rudy Robaina (VMG Racing)                                     12.23
49 Oleg Grichkine (Navigators Insurance)                         12.33
50 Chris Ruhl (CRCA/Sakonnet Technology U25)                     20.08
51 Chad Nikolz (Broadmark / Hagens-Berman)                       20.33
52 Duane Dickey (Bianchi/Grand Performance)                      21.31
53 Ben Raby (Bianchi/Grand Performance)                               
54 Cole House (Endeavour)                                             
55 Josh Bezecny (Targetraining)                                       
56 David Guttenplan (Subaru)                                          
57 Owen Gue (Broadmark / Hagens-Berman)                               
58 Andrew Guptill (Targetraining)                                     
59 Osvaldo Olmos (BMC Racing Team)                                    
60 Bill Stolte (HRRC/CollegePoint/Specialized/BikeSource)             
61 Ken Hanson (BMC Racing Team)                                  22.32
62 Dave Mccook (Jelly Belly)                                     25.35
63 Dale Sedgwick (Bianchi/Grand Performance)                          
64 Shane Weaver (Hincapie Sports/Bianchi/ Dasani)                     
65 Jonathan Garcia (Team Einstein's Cycling)                          
66 Eric Marcotte (Bianchi/Grand Performance)                          
67 Nick Reistad (Jelly Belly)                                         
68 Jason Snider (Hollywood Cycles/Silver Cycling)                     
69 Ian Stanford (Nature Valley Racing Team)                           
70 Owen Laine (BMC Racing Team)                                       
71 Thomas Luke (HRRC/CollegePoint/Specialized/BikeSource)             
72 David Robinson (Kodakgallery.com/Sierra Nevada)                    
73 Jon Randall (ALL9Yards.COM)                                        
74 Dan Swanson (Nature Valley Racing Team)                            
75 Matt Williams (Grandstay/Out N About Gear)                         
76 Jarred (Grandstay/Out N About Gear)                                
77 Andy Minier (Nature Valley Racing Team)                            
78 Chris Kuhl (CRCA/Sakonnet Technology U25)                          
79 Michael Dietrich (Kodakgallery.com/Sierra Nevada)                  
80 Brian Dziewa (Mercy Cycling)                                       
81 David Sachs (Vision Quest)                                         
82 Chris Harkey (Hincapie Sports/Bianchi/ Dasani)                     
83 T. Burke Swindlehurst (Navigators Insurance)                       
84 Philip Wikoff (Team Hotel San Jose)                                
85 Jack Seehafer (Team Einstein's Cycling)                            
86 Bryce Mead (ABD)                                                   
87 Jacob Rosenbarger (Rio Grande/Sports Garage)                       
88 Peter Fairbanks (Bianchi/Grand Performance)                        
89 Scott Nydam (Rio Grande/Sports Garage)                             
OTL Barkley Robinson (Rio Grande/Sports Garage)                  41.44
OTL Thomas Soladay (LSV/Kelly Benefit Strategies)                43.25
OTL Andrew Bajadali (Jelly Belly)                                54.03
OTL Brian Jensen (Jelly Belly)                                        
DNF Dan Schmatz (Kodakgallery.com/Sierra Nevada)                      
DNF Mike Jones (Health Net pb Maxxis)                                 
DNF Corey Steinbrecher (Jelly Belly)                                  
DNF Matt Shriver (Targetraining)                                      
DNF Mat Stephens (Mercy Cycling)                                      
DNF Guy East (CRCA/Sakonnet Technology U25)                           
DNF Mike Ebert (ABD)                                                  
DNF John Puffer (ABD)                                                 
DNF Sharon Allpress (TRIA)                                            
DNF David Rodriguez (BMC Racing Team)                                 
DNF Andrew Crater (Wheel & Sprocket)                                  
DNF Morgan Wiswall (Wheel & Sprocket)                                 
DNF Ralph Henderson (ALL9Yards.COM Cycling TEAM)                      
DNF Daniel Casper (Grandstay/Out N About Gear)                        
DNF Jay Henderson (Hollywood Cycles/Silver Cycling)                   
DNS Ivan Dominguez (Toyota-United Pro Cycling team)                   
DNS Jose Garcia (Toyota-United Pro Cycling team)                      
DNS Ryan Gamm (Abercrombie & Fitch p/b Inferno)                       
DNS Abraham McNutt (Abercrombie & Fitch p/b Inferno)                  
DNS Tim Mulrooney (Hollywood Cycles/Silver Cycling)                   
DNS John Olney (Mercy-Specialized)                                    
DNS Doug Swanson (Nature Valley Racing Team)                          
 
Mountains
 
KOM 1
 
1 Hilton Clarke (Navigators Insurance)                               5 pts
2 Frank Pipp (Targetraining)                                         3
3 Shawn Milne (Navigators Insurance)                                 2
 
KOM 2
 
1 Hilton Clarke (Navigators Insurance)                               5 pts
2 Nathan O'Neill (Health Net pb Maxxis)                              3
3 Greg Henderson (Health Net pb Maxxis)                              2
4 Karl Menzies (Health Net pb Maxxis)                                1
 
KOM 3
 
1 Karl Menzies (Health Net pb Maxxis)                                5 pts
2 Greg Henderson (Health Net pb Maxxis)                              3
3 Shawn Milne (Navigators Insurance)                                 2
4 Frank Pipp (Targetraining)                                         1
 
Sprints
 
Sprint 1
 
1 Karl Menzies (Health Net pb Maxxis)                                5 pts
2 Martin Gilbert (Kodakgallery.com/Sierra Nevada)                    3
3 Frank Pipp (Targetraining)                                         2
4 Stefan Rothe (Mercy Cycling)                                       1
 
Sprint 2
 
1 Frank Pipp (Targetraining)                                         5 pts
2 Reid Mumford (ABD)                                                 3
3 Karl Menzies (Health Net pb Maxxis)                                2
4 Ivan Stevic (Toyota-United)                                        1
 
Sprint 3
 
1 Frank Pipp (Targetraining)                                         5 pts
2 Greg Henderson (Health Net pb Maxxis)                              3
3 Nathan O'Neill (Health Net pb Maxxis)                              2
4 Oleg Grichkine (Navigators Insurance)                              1
 
Sprint 4
 
1 Frank Pipp (Targetraining)                                         5 pts
2 Greg Henderson (Health Net pb Maxxis)                              3
3 Josh Thornton (Toyota-United)                                      2
4 Gordon Fraser (Health Net pb Maxxis)                               1
 
Teams
 
1 Health Net presented by Maxxis                               9.47.51
2 Navigators Insurance Cycling Team                                   
3 Toyota-United Pro Cycling team                                  1.54
4 Jelly Belly Cycling Team                                        9.51
5 Subaru Cycling Team                                            10.38
6 Kodakgallery.com/Sierra Nevada Pro Cycling Team                12.17
7 FLANDERS/MBRC                                                  14.16
8 VMG Racing                                                     26.16
9 ABD Cycling Team                                               34.38
10 Bianchi/Grand Performance                                     38.32
11 TARGETRAINING                                                 43.02
12 BMC Racing Team                                               47.55
13 CRCA/Sakonnet Technology U25                                  48.47
14 Hincapie Sports/Bianchi/ Dasani                               53.10
15 Grandstay/Out N About Gear                                         
16 Rio Grande/Sports Garage                                           
17 Team Einstein's Cycling                                       53.21
18 Nature Valley Racing Team                                   1.16.45
 
General classification after stage 5
 
1 Greg Henderson (Health Net pb Maxxis)                        5.36.06
2 Karl Menzies (Health Net pb Maxxis)                             0.04
3 Nathan O'Neill (Health Net pb Maxxis)                           0.06
4 Bernard Van Ulden (Navigators Insurance)                        0.19
5 Gordon Fraser (Health Net pb Maxxis)                            0.26
6 Frank Pipp (Targetraining)                                      0.43
7 Shawn Milne (Navigators Insurance)                              0.54
8 Hilton Clarke (Navigators Insurance)                            1.17
9 Jonathon Page (Colavita Olive Oil - Sutter)                     1.23
10 Matt Rice (Jelly Belly)                                        1.38
11 Caleb Manion (Jelly Belly)                                     2.42
12 Tim Johnson (Health Net pb Maxxis)                             3.48
13 Martin Gilbert (Kodakgallery.com/Sierra Nevada)                4.25
14 Reid Mumford (ABD)                                             4.31
15 Jackson Stewart (Kodakgallery.com/Sierra Nevada)               6.00
16 Ivan Stevic (Toyota-United)                                    6.12
17 Josh Thornton (Toyota-United)                                  6.25
18 Stefano Barberi (Toyota-United)                                7.51
19 Scottie Weiss (Hincapie Sports/Bianchi/ Dasani)                8.03
20 Mike Olheiser (MMW/Carve)                                      8.06
21 Michael Grabinger (Grandstay/Out N About Gear)                 8.13
22 Alexander Boyd (VMG Racing)                                    8.19
23 Steve Tilford (Trek/Shimano)                                   8.25
24 Jed Schneider (Subaru)                                         8.37
25 Paul Esposti (Rio Grande/Sports Garage)                        8.47
26 Hayden Brooks (Subaru)                                         8.56
27 Jason Donald (Team Einstein's Cycling)                         9.14
28 Johnny Hayes (CRCA/Sakonnet Technology U25)                    9.26
29 Siro Camponogara (Navigators Insurance)                        9.27
30 Stefan Rothe (Mercy Cycling)                                   9.35
31 Jason Klikna (BMC Racing Team)                                10.04
32 Scott Zuizanski (Kodakgallery.com/Sierra Nevada)              10.05
33 Aric Hareland (Hollywood Cycles/Silver Cycling)               10.38
34 Brandon Gavic (Wheel & Sprocket)                              11.25
35 Adam Froemming (Flanders/MBRC)                                11.26
36 David Zimmerman (Flanders/MBRC)                               12.10
37 Pete Hanna (Bianchi/Grand Performance)                        12.37
38 Oleg Grichkine (Navigators Insurance)                         13.07
39 Brice Jones (Jelly Belly)                                     13.15
40 Sterling Magnell (Toyota-United)                              13.33
41 Erik Dahl (Flanders/MBRC)                                     14.36
42 Ryan Nenninger (Mercy-Specialized)                            17.01
43 Jonathan Parrish (Landis/Trek/VW)                             17.55
44 Rudy Robaina (VMG Racing)                                     19.07
45 Frank Dierking (ABD)                                          23.04
46 Kirk O'Bee (Health Net pb Maxxis)                             23.47
47 Brian Bibens (Subaru)                                         24.33
48 Chad Nikolz (Broadmark / Hagens-Berman)                       26.50
49 Duane Dickey (Bianchi/Grand Performance)                      27.54
50 Bill Stolte (HRRC/CollegePoint/Specialized/BikeSource)        28.07
51 Andrew Guptill (Targetraining)                                28.08
52 Ben Raby (Bianchi/Grand Performance)                          28.09
53 David Guttenplan (Subaru)                                     28.33
54 Terry Beenken (Bianchi/Grand Performance)                     29.07
55 Spencer Beamer (VMG Racing)                                   29.24
56 Scott Nydam (Rio Grande/Sports Garage)                        31.26
57 Bryce Mead (ABD)                                              31.33
58 Nick Reistad (Jelly Belly)                                    31.41
59 Ian Stanford (Nature Valley Racing Team)                           
60 T. Burke Swindlehurst (Navigators Insurance)                  31.47
61 David Sachs (Vision Quest)                                    31.48
62 Peter Fairbanks (Bianchi/Grand Performance)                   31.56
63 Eric Marcotte (Bianchi/Grand Performance)                     31.57
64 Jonathan Garcia (Team Einstein's Cycling)                          
65 Michael Dietrich (Kodakgallery.com/Sierra Nevada)                  
66 Brian Dziewa (Mercy Cycling)                                  32.02
67 Andy Minier (Nature Valley Racing Team)                       32.15
68 Jon Randall (ALL9Yards.COM)                                   32.17
69 Dale Sedgwick (Bianchi/Grand Performance)                     34.51
70 Jacob Rosenbarger (Rio Grande/Sports Garage)                  36.49
71 Chris Ruhl (CRCA/Sakonnet Technology U25)                     38.33
72 Osvaldo Olmos (BMC Racing Team)                               39.00
73 Josh Bezecny (Targetraining)                                  39.25
74 Owen Gue (Broadmark / Hagens-Berman)                          39.43
75 Cole House (Endeavour)                                        40.03
76 Ken Hanson (BMC Racing Team)                                  40.08
77 Chris Harkey (Hincapie Sports/Bianchi/ Dasani)                42.44
78 David Robinson (Kodakgallery.com/Sierra Nevada)               43.06
79 Shane Weaver (Hincapie Sports/Bianchi/ Dasani)                43.11
80 Chris Kuhl (CRCA/Sakonnet Technology U25)                     43.13
81 Philip Wikoff (Team Hotel San Jose)                                
82 Jarred (Grandstay/Out N About Gear)                           43.14
83 Owen Laine (BMC Racing Team)                                       
84 Thomas Luke (HRRC/CollegePoint/Specialized/BikeSource)        43.19
85 Jack Seehafer (Team Einstein's Cycling)                       43.32
86 Matt Williams (Grandstay/Out N About Gear)                    43.37
87 Dan Swanson (Nature Valley Racing Team)                       43.42
88 Jason Snider (Hollywood Cycles/Silver Cycling)                44.06
89 Dave Mccook (Jelly Belly)                                     44.53
 
Mountains classification
 
1 Hilton Clarke (Navigators Insurance)                              20 pts
2 Greg Henderson (Health Net pb Maxxis)                              8
3 Frank Pipp (Targetraining)                                         7
4 Karl Menzies (Health Net pb Maxxis)                                6
5 Shawn Milne (Navigators Insurance)                                 4
6 Nathan O'Neill (Health Net pb Maxxis)                              3
7 Steve Tilford (Trek/Shimano)                                       3
8 Tim Johnson (Health Net pb Maxxis)                                 3
9 Reid Mumford (ABD)                                                 2
10 Cole House (Endeavour)                                            2
11 Brian Dziewa (Mercy Cycling)                                      1
 
Sprint classification
 
1 Frank Pipp (Targetraining)                                        29 pts
2 Karl Menzies (Health Net pb Maxxis)                               27
3 Greg Henderson (Health Net pb Maxxis)                             23
4 Martin Gilbert (Kodakgallery.com/Sierra Nevada)                   11
5 Oleg Grichkine (Navigators Insurance)                             10
6 Hilton Clarke (Navigators Insurance)                               5
7 Ivan Stevic (Toyota-United)                                        5
8 Jonathon Page (Colavita Olive Oil - Sutter)                        4
9 Reid Mumford (ABD)                                                 4
10 Gordon Fraser (Health Net pb Maxxis)                              3
11 Shawn Milne (Navigators Insurance)                                3
12 Nathan O'Neill (Health Net pb Maxxis)                             2
13 Josh Thornton (Toyota-United)                                     2
14 Caleb Manion (Jelly Belly)                                        1
15 Stefan Rothe (Mercy Cycling)                                      1
 
Best young rider classification
 
1 Stefano Barberi (Toyota-United)                              5.43.57
2 Alexander Boyd (VMG Racing)                                     0.28
3 Hayden Brooks (Subaru)                                          1.05
4 Brandon Gavic (Wheel & Sprocket)                                3.34
5 David Zimmerman (Flanders/MBRC)                                 4.19
6 Jonathan Parrish (Landis/Trek/VW)                              10.04
7 David Guttenplan (Subaru)                                      20.42
8 Spencer Beamer (VMG Racing)                                    21.33
9 Chris Ruhl (CRCA/Sakonnet Technology U25)                      30.42
10 Owen Gue (Broadmark / Hagens-Berman)                          31.52
11 Cole House (Endeavour)                                        32.12
12 Chris Kuhl (CRCA/Sakonnet Technology U25)                     35.22
13 Owen Laine (BMC Racing Team)                                  35.23
 
Team classification
 
1 Health Net presented by Maxxis                              16.49.14
2 Navigators Insurance Cycling Team                               0.45
3 Jelly Belly Cycling Team                                       16.25
4 Kodakgallery.com/Sierra Nevada Pro Cycling Team                19.02
5 Toyota-United Pro Cycling team                                 19.12
6 Subaru Cycling Team                                            30.01
7 FLANDERS/MBRC                                                  36.46
8 VMG Racing                                                     55.34
9 Bianchi/Grand Performance                                      56.31
10 ABD Cycling Team                                              58.12
11 TARGETRAINING                                               1.07.03
12 Rio Grande/Sports Garage                                    1.10.51
13 Team Einstein's Cycling                                     1.23.47
14 BMC Racing Team                                             1.27.56
15 CRCA/Sakonnet Technology U25                                1.29.19
16 Hincapie Sports/Bianchi/ Dasani                             1.33.02
17 Grandstay/Out N About Gear                                  1.33.36
18 Nature Valley Racing Team                                   1.34.28
 
Women
 
1 Kristin Armstrong (TEAm Lipton)                              3.53.45
2 Kori Seehafer (TEAm Lipton)                                     0.34
3 Alex Wrubleski (Team Biovail)                                       
4 Erinne Willock (Webcor-Platinum)                                    
5 Sue Palmer-Komar (Colavita/ Cooking Light)                          
6 Mara Abbott (Rio Grande/Sports Garage)                              
7 Christine Thorburn (Webcor-Platinum)                                
8 Sarah Ulmer (Jazz Apple)                                        1.03
9 Anne Samplonius (Team Biovail)                                  1.23
10 Tina Pic (Colavita/ Cooking Light)                                 
11 Kristin Sanders (Cheerwine)                                    1.37
12 Charm Breon (Cheerwine)                                        2.13
13 Katharine Carroll (Victory Brewing Team)                       2.24
14 Katie Mactier (Argon 18/Champion Systems)                      2.27
15 Felicia Gomez (Webcor-Platinum)                                    
16 Laura Vangilder (TEAm Lipton)                                      
17 Betina Hold (Webcor-Platinum)                                      
18 Iona Wynter (Colavita/ Cooking Light)                              
19 Leigh Hobson (Victory Brewing Team)                                
20 Kathleen Billington (Conneticut Coast Cycling)                     
21 Amanda Shaw (Team Biovail)                                         
22 Melodie Metzger (McGuire)                                          
23 Carmen Small (TRIA)                                                
24 Michelle Hyland (Jazz Apple)                                       
25 Victoria Vallstrom (PABW Powered by TIbco)                         
26 Emilie Roy (Equipe du Quebec)                                      
27 Marisa Asplund (Colorado Premier Training - Colnago)               
28 Katheryn Curi (Webcor-Platinum)                                    
29 Karol-Ann Canuel (Equipe du Quebec)                                
30 Teresa Moriarty (Flanders/MBRC)                                    
31 Kendra Keeley (Rio Grande/Sports Garage)                       3.02
32 Heather Labance (Advil-ChapStick)                                  
33 Sharon Allpress (TRIA)                                             
34 Sima Trapp (Colavita/ Cooking Light)                               
35 Megan Monroe (Colorado Premier Training - Colnago)                 
36 Flavia Oliveira (PABW Powered by Tibco)                        3.54
37 Lara Kroepsch (TEAm Lipton)                                    3.58
38 Andrea Myers (Team Blue Cycles/Uvex)                           4.11
39 Joelle Numainville (Team Biovail)                              4.14
40 Taitt Sato (McGuire)                                               
41 Catherine Powers (Aaron's)                                         
42 Michelle Beltran (Cheerwine)                                       
43 Liza Rachetto (TEAm Lipton)                                        
44 Gina Grain (Colavita/ Cooking Light)                               
45 Sarah Caravella (TEAm Lipton)                                      
46 Brooke Ourada (Colorado Premier Training - Colnago)                
47 Beth Allen (Team Joy Rides/Austin Flyers)                      4.32
48 Brei Gudsell (Jazz Apple)                                      4.36
49 Brooke Miller (PABW Powered by Tibco)                          4.42
50 Catherine Walberg (Team Kenda Tire)                            4.46
51 Kristin Wentworth (America's Dairyland)                        4.49
52 Pamela Hinton (TRIA)                                               
53 Moriah Macgregor (TRIA)                                        4.53
54 Jenn Reither (TRIA)                                            5.33
55 Kele Murdin (Velo Bella-Kona)                                  5.35
56 Shana Sturla (Flanders/MBRC)                                   6.19
57 Rosara Joseph (Jazz Apple)                                     6.21
58 Alison Powers (Rio Grande/Sports Garage)                       6.52
59 Mackenzie Dickey (Aaron's)                                         
60 Ann Hansgate (Flanders/MBRC)                                   7.48
61 Tara Ross (Victory Brewing Team)                               9.32
62 Lisa Sweeney (Colorado Premier Training - Colnago)                 
63 Kirsten Robbins (Victory Brewing Team)                        11.52
64 Jennifer Trew (Team Kenda Tire)                                    
65 Rochelle Gilmore (Advil-ChapStick)                                 
66 Sara Tillotson (Colavita/ Cooking Light)                           
67 Molly Vetter-Smith (Mesa Cycles Racing Team)                       
68 Meredith Miller (TEAm Lipton)                                      
69 Jane Ziegler (Velo Bella-Kona)                                     
70 Paula Plant (Birchwood/GIS)                                        
71 Nicky Wangsgard (Colorado Premier Training - Colnago)              
72 Syrae Weikle (Rio Grande/Sports Garage)                       12.08
73 Rebecca Larsen (Aaron's)                                      12.48
74 Tamyra Barnard (Team Kenda Tire)                              13.28
75 Stephanie Bourbeau (Team Biovail)                             13.58
76 Candice Blickem (Aaron's)                                     14.18
77 Kate Sherwin (Victory Brewing Team)                           14.30
78 Caitlyn Mccullough (Advil-ChapStick)                          16.40
79 Julia Bradley (Team R.A.C.E.)                                 16.59
80 Amy Mackey (PABW Powered by Tibco)                                 
81 Emma Nelson (Advil-ChapStick)                                      
82 Abby Cooper (Team Kenda Tire)                                      
83 Joanie Caron (Equipe du Quebec)                                    
84 Julie Adams (PABW Powered by Tibco)                                
85 Marie-Pier Bédard (Equipe du Quebec)                               
86 Jennifer Joynt (Velo Bella-Kona)                                   
87 Alison Testroete (Team Biovail)                                    
88 Natalie Klemko (America's Dairyland)                               
89 Shannon Hutchison-Krupa (Aaron's)                                  
90 Katherine Lambden (TEAm Lipton)                                    
91 Elizabeth Frye (Cheerwine)                                    22.43
92 Sarah Bambeger (Cheerwine)                                    26.48
93 Martina Patella (McGuire)                                     26.53
DNF Meshy Holt (Colavita/ Cooking Light)                              
DNF Kelly Benjamin (Cheerwine)                                        
DNF Beth Fisk (Rio Grande/Sports Garage)                              
DNF Courtenay Brown (McGuire)                                         
DNF Allison Beall (TRIA)                                              
DNF Megan Elliot (Argon 18/Champion System)                           
DNF Johanne Cyr (Equipe du Quebec)                                    
DNF Emilie Duchow (Team Blue Cycles/Uvex)                             
DNF Megan Hottman (MRRC/Trek-VW Midwest)                              
 
Mountains
 
QOM 1
 
1 Sarah Ulmer (Jazz Apple)                                           5 pts
2 Felicia Gomez (Webcor-Platinum)                                    3
3 Laura Vangilder (TEAm Lipton)                                      2
4 Mara Abbott (Rio Grande/Sports Garage)                             1
 
QOM 2
 
1 Sarah Ulmer (Jazz Apple)                                           5 pts
2 Christine Thorburn (Webcor-Platinum)                               3
3 Kristin Armstrong (TEAm Lipton)                                    2
4 Erinne Willock (Webcor-Platinum)                                   1
 
QOM 3
 
1 Kristin Armstrong (TEAm Lipton)                                    5 pts
2 Sarah Ulmer (Jazz Apple)                                           3
3 Christine Thorburn (Webcor-Platinum)                               2
4 Alex Wrubleski (Team Biovail)                                      1
 
Sprints
 
Sprint 1
 
1 Brooke Miller (PABW Powered by Tibco)                              5 pts
2 Gina Grain (Colavita/ Cooking Light)                               3
3 Rochelle Gilmore (Advil-ChapStick)                                 2
4 Sarah Ulmer (Jazz Apple)                                           1
 
Sprint 2
 
1 Gina Grain (Colavita/ Cooking Light)                               5 pts
2 Rochelle Gilmore (Advil-ChapStick)                                 3
3 Brooke Miller (PABW Powered by Tibco)                              2
4 Tina Pic (Colavita/ Cooking Light)                                 1
 
Sprint 3
 
1 Gina Grain (Colavita/ Cooking Light)                               5 pts
2 Amanda Shaw (Team Biovail)                                         3
3 Brei Gudsell (Jazz Apple)                                          2
4 Kirsten Robbins (Victory Brewing Team)                             1
 
Sprint 4
 
1 Gina Grain (Colavita/ Cooking Light)                               5 pts
2 Brooke Miller (PABW Powered by Tibco)                              3
3 Katharine Carroll (Victory Brewing Team)                           2
4 Betina Hold (Webcor-Platinum)                                      1
 
Teams
 
1 TEAm Lipton                                                 11.44.16
2 Webcor-Platinum Women's Cycling Team                            0.34
3 Team Biovail Pro Cycling                                        1.23
4 Colavita/ Cooking Light Cycling Team                                
5 Cheerwine                                                       5.03
6 Jazz Apple Cycling Team                                         5.05
7 Colorado Premier Training - Colnago                             6.42
8 TRIA                                                            7.17
9 Rio Grande/Sports Garage                                        7.27
10 PABW Powered by TIBCO                                          8.02
11 Victory Brewing Team                                          11.22
12 Flanders/MBRC                                                 13.33
13 Equipe du Quebec                                              18.52
14 Aaron's Pro Women's Cycling                                   20.53
15 Team Kenda Tire                                               27.05
16 Advil-ChapStick Cycling Team                                  28.33
17 McGuire Cycling Team                                          30.33
18 Velo Bella-Kona                                               31.25
 
General classification after stage 5
 
1 Kristin Armstrong (TEAm Lipton)                              7.14.44
2 Christine Thorburn (Webcor-Platinum)                            1.08
3 Kori Seehafer (TEAm Lipton)                                     1.10
4 Erinne Willock (Webcor-Platinum)                                1.26
5 Alex Wrubleski (Team Biovail)                                   1.28
6 Sue Palmer-Komar (Colavita/ Cooking Light)                      1.32
7 Mara Abbott (Rio Grande/Sports Garage)                          2.08
8 Sarah Ulmer (Jazz Apple)                                        2.14
9 Anne Samplonius (Team Biovail)                                  2.38
10 Felicia Gomez (Webcor-Platinum)                                3.30
11 Laura Vangilder (TEAm Lipton)                                  3.40
12 Carmen Small (TRIA)                                            3.48
13 Teresa Moriarty (Flanders/MBRC)                                3.57
14 Michelle Hyland (Jazz Apple)                                   4.38
15 Brooke Miller (PABW Powered by Tibco)                          6.15
16 Kristin Sanders (Cheerwine)                                    6.17
17 Catherine Powers (Aaron's)                                     6.22
18 Charm Breon (Cheerwine)                                        6.50
19 Katharine Carroll (Victory Brewing Team)                       6.54
20 Katie Mactier (Argon 18/Champion Systems)                      6.57
21 Katheryn Curi (Webcor-Platinum)                                7.08
22 Leigh Hobson (Victory Brewing Team)                            7.21
23 Emilie Roy (Equipe du Quebec)                                  7.46
24 Betina Hold (Webcor-Platinum)                                  7.58
25 Melodie Metzger (McGuire)                                      8.01
26 Amanda Shaw (Team Biovail)                                     8.05
27 Kathleen Billington (Conneticut Coast Cycling)                     
28 Marisa Asplund (Colorado Premier Training - Colnago)           8.08
29 Tina Pic (Colavita/ Cooking Light)                             8.17
30 Lara Kroepsch (TEAm Lipton)                                   10.04
31 Taitt Sato (McGuire)                                          10.16
32 Iona Wynter (Colavita/ Cooking Light)                         10.34
33 Karol-Ann Canuel (Equipe du Quebec)                           10.36
34 Heather Labance (Advil-ChapStick)                             11.01
35 Alison Powers (Rio Grande/Sports Garage)                      11.17
36 Megan Monroe (Colorado Premier Training - Colnago)            11.21
37 Jenn Reither (TRIA)                                           11.30
38 Gina Grain (Colavita/ Cooking Light)                          11.36
39 Sharon Allpress (TRIA)                                        11.43
40 Liza Rachetto (TEAm Lipton)                                   11.51
41 Kendra Keeley (Rio Grande/Sports Garage)                      12.06
42 Michelle Beltran (Cheerwine)                                  12.15
43 Joelle Numainville (Team Biovail)                             12.20
44 Brei Gudsell (Jazz Apple)                                     12.26
45 Flavia Oliveira (PABW Powered by Tibco)                       12.40
46 Catherine Walberg (Team Kenda Tire)                           12.45
47 Andrea Myers (Team Blue Cycles/Uvex)                          12.59
48 Sarah Caravella (TEAm Lipton)                                 13.05
49 Victoria Vallstrom (PABW Powered by TIbco)                    13.14
50 Kristin Wentworth (America's Dairyland)                       13.21
51 Rebecca Larsen (Aaron's)                                      14.10
52 Rosara Joseph (Jazz Apple)                                    14.16
53 Brooke Ourada (Colorado Premier Training - Colnago)           14.19
54 Lisa Sweeney (Colorado Premier Training - Colnago)            14.34
55 Shana Sturla (Flanders/MBRC)                                  15.01
56 Moriah Macgregor (TRIA)                                       15.05
57 Beth Allen (Team Joy Rides/Austin Flyers)                          
58 Pamela Hinton (TRIA)                                          15.30
59 Ann Hansgate (Flanders/MBRC)                                  16.25
60 Mackenzie Dickey (Aaron's)                                    18.02
61 Nicky Wangsgard (Colorado Premier Training - Colnago)         18.05
62 Tara Ross (Victory Brewing Team)                              18.36
63 Kate Sherwin (Victory Brewing Team)                           19.50
64 Kele Murdin (Velo Bella-Kona)                                 19.55
65 Candice Blickem (Aaron's)                                     20.00
66 Kirsten Robbins (Victory Brewing Team)                        20.26
67 Jane Ziegler (Velo Bella-Kona)                                20.27
68 Sima Trapp (Colavita/ Cooking Light)                          20.33
69 Rochelle Gilmore (Advil-ChapStick)                            21.08
70 Meredith Miller (TEAm Lipton)                                 22.24
71 Jennifer Trew (Team Kenda Tire)                               22.31
72 Molly Vetter-Smith (Mesa Cycles Racing Team)                  22.42
73 Paula Plant (Birchwood/GIS)                                   22.53
74 Alison Testroete (Team Biovail)                               23.02
75 Tamyra Barnard (Team Kenda Tire)                              23.42
76 Shannon Hutchison-Krupa (Aaron's)                             24.39
77 Emma Nelson (Advil-ChapStick)                                 24.41
78 Natalie Klemko (America's Dairyland)                          25.17
79 Katherine Lambden (TEAm Lipton)                               25.35
80 Marie-Pier Bédard (Equipe du Quebec)                          25.48
81 Joanie Caron (Equipe du Quebec)                               27.13
82 Sara Tillotson (Colavita/ Cooking Light)                      28.16
83 Caitlyn Mccullough (Advil-ChapStick)                          29.13
84 Syrae Weikle (Rio Grande/Sports Garage)                       29.49
85 Stephanie Bourbeau (Team Biovail)                             31.21
86 Elizabeth Frye (Cheerwine)                                    31.41
87 Jennifer Joynt (Velo Bella-Kona)                              34.04
88 Amy Mackey (PABW Powered by Tibco)                            34.31
89 Julie Adams (PABW Powered by Tibco)                           34.43
90 Sarah Bambeger (Cheerwine)                                    34.48
91 Julia Bradley (Team R.A.C.E.)                                 36.32
92 Abby Cooper (Team Kenda Tire)                                 36.45
93 Martina Patella (McGuire)                                     46.19
 
Mountains classification
 
1 Sarah Ulmer (Jazz Apple)                                          26 pts
2 Alex Wrubleski (Team Biovail)                                     11
3 Felicia Gomez (Webcor-Platinum)                                   10
4 Kristin Armstrong (TEAm Lipton)                                    8
5 Christine Thorburn (Webcor-Platinum)                               5
6 Laura Vangilder (TEAm Lipton)                                      3
7 Erinne Willock (Webcor-Platinum)                                   1
8 Sue Palmer-Komar (Colavita/ Cooking Light)                         1
9 Mara Abbott (Rio Grande/Sports Garage)                             1
 
Best young rider classification
 
1 Erinne Willock (Webcor-Platinum)                             7.16.10
2 Alex Wrubleski (Team Biovail)                                   0.02
3 Mara Abbott (Rio Grande/Sports Garage)                          0.42
4 Michelle Hyland (Jazz Apple)                                    3.12
5 Katharine Carroll (Victory Brewing Team)                        5.28
6 Emilie Roy (Equipe du Quebec)                                   6.20
7 Kathleen Billington (Conneticut Coast Cycling)                  6.39
8 Karol-Ann Canuel (Equipe du Quebec)                             9.10
9 Joelle Numainville (Team Biovail)                              10.54
10 Brei Gudsell (Jazz Apple)                                     11.00
11 Flavia Oliveira (PABW Powered by Tibco)                       11.14
12 Andrea Myers (Team Blue Cycles/Uvex)                          11.33
13 Rebecca Larsen (Aaron's)                                      12.44
14 Rosara Joseph (Jazz Apple)                                    12.50
15 Lisa Sweeney (Colorado Premier Training - Colnago)            13.08
16 Ann Hansgate (Flanders/MBRC)                                  14.59
17 Mackenzie Dickey (Aaron's)                                    16.36
18 Rochelle Gilmore (Advil-ChapStick)                            19.42
19 Jennifer Trew (Team Kenda Tire)                               21.05
20 Alison Testroete (Team Biovail)                               21.36
21 Natalie Klemko (America's Dairyland)                          23.51
22 Marie-Pier Bédard (Equipe du Quebec)                          24.22
23 Joanie Caron (Equipe du Quebec)                               25.47
24 Caitlyn Mccullough (Advil-ChapStick)                          27.47
25 Amy Mackey (PABW Powered by Tibco)                            33.05
26 Abby Cooper (Team Kenda Tire)                                 35.19
27 Martina Patella (McGuire)                                     44.53
 
Sprint classification
 
1 Brooke Miller (PABW Powered by Tibco)                             28 pts
2 Kristin Armstrong (TEAm Lipton)                                   27
3 Gina Grain (Colavita/ Cooking Light)                              23
4 Kori Seehafer (TEAm Lipton)                                       14
5 Alex Wrubleski (Team Biovail)                                     14
6 Sarah Ulmer (Jazz Apple)                                          13
7 Laura Vangilder (TEAm Lipton)                                     11
8 Katharine Carroll (Victory Brewing Team)                           9
9 Teresa Moriarty (Flanders/MBRC)                                    8
10 Tina Pic (Colavita/ Cooking Light)                                5
11 Sue Palmer-Komar (Colavita/ Cooking Light)                        5
12 Anne Samplonius (Team Biovail)                                    5
13 Rochelle Gilmore (Advil-ChapStick)                                5
14 Erinne Willock (Webcor-Platinum)                                  4
15 Rebecca Larsen (Aaron's)                                          3
16 Mara Abbott (Rio Grande/Sports Garage)                            3
17 Catherine Powers (Aaron's)                                        3
18 Amanda Shaw (Team Biovail)                                        3
19 Christine Thorburn (Webcor-Platinum)                              2
20 Shannon Hutchison-Krupa (Aaron's)                                 2
21 Michelle Hyland (Jazz Apple)                                      2
22 Brei Gudsell (Jazz Apple)                                         2
23 Stephanie Bourbeau (Team Biovail)                                 2
24 Betina Hold (Webcor-Platinum)                                     1
25 Kirsten Robbins (Victory Brewing Team)                            1
 
Team classification
 
1 TEAm Lipton                                                 21.50.00
2 Webcor-Platinum Women's Cycling Team                            0.16
3 Team Biovail Pro Cycling                                        6.37
4 Jazz Apple Cycling Team                                        11.27
5 Colavita/ Cooking Light Cycling Team                           13.29
6 Cheerwine                                                      18.48
7 Rio Grande/Sports Garage                                       19.07
8 TRIA                                                           19.55
9 Colorado Premier Training - Colnago                            20.20
10 Victory Brewing Team                                          22.34
11 PABW Powered by TIBCO                                         25.04
12 Aaron's Pro Women's Cycling                                   26.18
13 Flanders/MBRC                                                 29.42
14 Equipe du Quebec                                              37.42
15 McGuire Cycling Team                                          47.40
16 Advil-ChapStick Cycling Team                                  49.20
17 Team Kenda Tire                                               52.36
18 Velo Bella-Kona                                             1.08.22