Australian Open Road Championships - CN
Mt Torrens, Australia, January 11-14, 2006
Main Page Results Race Details Next Race
Race 1 - January 11: Elite Women's Time Trial, 27 km
'Evergreen' Watt takes the women's title
By Les Clarke in Mt Torrens, with additional reporting by Kathie Stove
Kathy Watt (VIC)
Photo ©: Mark Gunter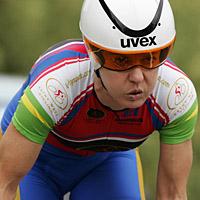 With Commonwealth Games selection at stake, Victorian veteran Kathy Watt took the women's title, beating Sara Carrigan and Natalie Bates home in a time of 40:23.82. It was a clear indication that Watt hasn't slowed down yet, qualifying for the Commonwealth Games, something she did for the first time in 1990. That year she won the women's road race, and may be confident of doing so again this year after a commanding display.
Watt was clearly emotional after securing her 31st national title [on road and track - ed.], and was super motivated to perform well in South Australia - particularly to qualify for the Commonwealth Games. "I was really motivated to make the [Commonwealth Games] time trial because we have a bike shop at Black Rock and that is where the turn-around is on the TT course. Basically it's a time trial everyday. I warm up to St Kilda and time trial down Beach Road."
The evergreen veteran is looking to repeat the success of 1990, saying, "I've had a good series of races coming in here, same as I did in 1990 leading into the Commonwealth Games. I have tried to copy what I did that year because you have to be competing in March." But her preparations have started early, as has her good form. "I've been training fairly hard and had good form. I won the Chrono Champenois race in France and I really haven't let up since then."
She had to ride well to beat Carrigan, who rode an excellent race against the clock on the very challenging Mt Torrens course. Starting her ride one place in front of reigning champion Oenone Wood, Carrigan showed her strength with a high cadence and plenty of speed, enabling her to power past Nobili pro Olivia Gollan after the turnaround point of the 27km course. From there she was able to descend to the finish, clocking a time of 40:56.57, some 33 seconds slower than Watt but enough to take the silver medal.
Sarah Carrigan (QLD)
Photo ©: Mark Gunter

Although she would've preferred the win, having taken her third consecutive second placing in this event, Carrigan was pleased with her form this early in the season, a full two months out from the Commonwealth Games and several weeks away from the start of the women's world cup in Geelong. "They were tough conditions out there - quite hilly on the way back, and everyone knows that whoever wins today is automatically selected for Comm Games, and I guess Kathy was giving it everything she could to make sure she was in team."
Natalie Bates showed her versatility with a strong ride to take the bronze medal in a time of 41:05.11, and was happy with her performance this early in the season. "I think I had about five seconds on Watty at the turnaround but she made a considerable amount of time over me on the way back; it's just such a strength course." Today's race allowed her to gauge her progress because of the strength required to do well, and as she's been doing base strength training, today chrono was all about seeing where things lay going into a European road season.
Photography
For a thumbnail gallery of these images, click here
Images by Mark Gunter/www.pbase.com/gunterphotograph
Results
1 Kathryn Watt (Vic)                                   40.23.82 (40.1 km/h)
2 Sara Carrigan (Qld)                                   0.32.75
3 Natalie Bates (NSW) AA Drink                          0.41.29
4 Olivia Gollan (NSW) Nobili Rubinetterie               1.56.08
5 Oenone Wood (ACT) Equipe Nürnberger Versicherung      2.18.89
6 Amanda Spratt (NSW)                                   2.50.01
7 Anna Sutton (NSW)                                     3.22.53
8 Alexis Rhodes (SA)                                    3.30.29
9 Candice Sullivan (Qld)                                3.43.74
10 Toireasa Gallagher (NSW)                             4.12.93
11 Judith May (ACT)                                     4.19.07
12 Sally Cowman (Qld)                                   4.47.36
13 Emma James (NSW)                                     4.58.39
14 Kate Charge (NSW)                                    5.01.21
15 Vicki Eustace (ACT)                                  5.06.95
16 Helen Kelly (Vic)                                    5.24.03
17 Bridie O'donnell (Vic)                               5.25.50
18 Nikki Egyed (Qld)                                    5.27.73
19 Stephanie Frawley (SA)                               5.31.85
20 Laura Bortolozzi (NSW)                               5.45.22
21 Rachel O'connell (NSW)                               6.02.98
22 Liz Young (Qld)                                      6.20.83
23 Elizabeth Hayman (ACT)                               6.27.74
24 Nicole Whitburn (Vic)                                6.30.66
25 Carly Hibberd (Qld)                                  7.18.47
26 Monique Hanley (Vic)                                 7.37.20
27 Yoko Okuda (Qld)                                     7.42.74
28 Claire Mclean (WA)                                   7.58.01
DNS Katherine Bates (NSW)                                      
DNS Jessie Maclean (ACT)                                       
DNS Briana James (Vic)                                         
DNS Jessica Mccallum (WA)                                      
 
Nikki Egyed penalised 10 seconds for jumping the start
Bridie O'Donnell (Vic) fined $20 for unauthorised clothing
Rachel O'Connell (NSW) fined $20 for unauthorised clothing