Australian Open Road Championships - CN
Australia, January 12-15, 2005
Australian championships move to South Australia
More than 200 of Australia's elite male and female cyclists will turn the picturesque surrounds of Echunga into a bicycle battlefield as they contest to become the nation's top riders and earn the right to wear the coveted white jersey with the green and gold band in all national and international races for 12 months.
Returning to South Australia for the first time in almost a decade, the championships will be staged on a 13km circuit around this charming Adelaide Hills town - just 20 minutes from central Adelaide.
O'Neill and Wood gearing up to defend road time trial crowns
Nathan O'Neill won by nearly two minutes in 2004
Photo ©: Mark Gunter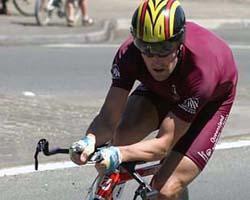 Queensland's Nathan O'Neill says he's aiming for his sixth men's time trial crown when he lines up at the Australian Open Road Championships in the South Australian town of Echunga on Wednesday.
"I went out on the course Monday morning and I was pleasantly surprised," said O'Neill who is contracted to the US based Navigators professional team. "It was blowing pretty hard, the road surface is not the fastest around and it's undulating which makes it a strong man's course and that suits me fine."
Unlike last year, O'Neill comes into the 2005 event in top form. He fought back from a crash that almost claimed his life in 2003 to make a successful return racing with victory in the time trial at the 2004 Australian Open Road Championships but this time has had a solid two and a half month build up to the race.
"Mind you that's only because another injury forced me to end my season in September to recover from a separated shoulder," explained O'Neill. "I also had knee surgery last season in May after crashing in the same race as the one that I nearly died in in 2003 - that was pretty scary."
O'Neill earned the moniker "Bone Crusher" from his team mates in 2004 but despite a horror run of injuries he continues to fight back to winning form. O'Neill expects hometown rider Russell Van Hout, who last year finished eighth in the time trial of the Giro d'Italia will be his major challenger for back to back titles.
Oenone Wood in 2004
Photo ©: Mark Gunter

In the women's event Canberra's Oenone Wood is odds on favourite after her dominance in last week's Bay Series Classic which included a victory in the Australian Criterium Championship. Last year she claimed both the time trial and the road race and with her current form could score the triple Championship crown in 2005.
Wood, 24, comes into 2005 on the back of a 2004 season that saw her win the World Cup, leading from start to finish in the nine race series, and finish fourth in the road race at the Athens Olympic Games.
"I had a whole month off after the World Championships in September," said Wood. "I did a few days of snow boarding on a glacier and then didn't touch the bike until November."
"By then I was keen to get back into training because I was feeling like a bit of a slouch and pretty unfit."
Wood along with Newcastle's Olivia Gollan will this year race with the German registered Team Nürnberger professional outfit and the pair are keen to ensure the green and gold jersey of Australian champion goes with them to the new team.
"But it won't be easy because the likes of Amy Gillett (nee Safe from South Australia) and Sara Carrigan (Olympic road race champion) will be hard to beat," said Wood. "Plus there's a handful of others like Natalie Bates (NSW) who are likely to put in good performances."
The Australian Open Road Championships are being staged in Echunga at the foot of the Adelaide Hills.
Wednesday 12th January 2005 - 10:00am - Time Trials (Men 40km & Women 30km)
Thursday 13th January 2005 - Rest Day
Friday 14th January 2005 - 10:00am - Women's Road Race 104km (8 laps)
Saturday 15th January 2005 - 10:00am - Men's Road Race 182km (14 laps)

Race maps and further details can be found on the Cycling Australia website www.cycling.org.au and the official event website www.tourdownunder.com.au/aorc
Past winners
Men's Road Race
 
2004 Matthew Wilson (Vic)
2003 Stuart O'Grady (SA)
2002 Robbie McEwen (Qld)
2001 Steve Williams (NSW)
2000 Jeremy Hunt (GBr) (Australian champion: Jamie Drew)
 
Women's Road Race

2004 Oenone Wood (ACT)  
2003 Olivia Gollan (NSW)
2002 Margaret Hemsley (NSW)
2001 Katie Mactier (Vic)
2000 Anna Wilson (Vic) Saturn

Men's Time Trial
 
2004 Nathan O'Neill (Qld)       
2003 Ben Day (Qld)
2002 Nathan O'Neill (Qld)

Women's Time Trial
 
2004 Oenone Wood (ACT) 
2003 Sara Carrigan (Qld)
2002 Sara Carrigan (Qld)
2001 Anna Millward (Vic)
2000 Tracey Gaudry (ACT)
1999 Kristy Scrymgeour (NSW)