First Edition Cycling News for May 13, 2006
Edited by Jeff Jones
Stage 6 wrap-up: McEwen adds another to his tally; Pollack in pink
Robbie McEwen (Davitamon-Lotto)
Photo ©: Roberto Bettini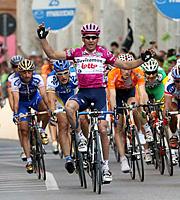 Australian sprinter Robbie McEwen (Davitamon-Lotto) has added yet another Giro d'Italia stage win to his total, making it three for this year's race and 11 overall. After a flat 227 km run between Busseto and Forli, McEwen powered off AG2R's Tomas Vaitkus's wheel in the final 150m to win the stage. Vaitkus finished third, while Olaf Pollack (T-Mobile) was second, taking the maglia rosa off his teammate Serguei Gonchar's shoulders thanks to the 12 second time bonus.
The stage was a fairly uneventful one otherwise. After 6 km, Andoni Aranaga (Euskaltel-Euskadi), Sergiy Matveyev (Ceramica Panaria-Navigare) and Christophe Edalaine (Credit Agricole) attacked, and immediately established themselves as the breakaway of the day. Matveyev was the best placed on GC at 3'43 behind Gonchar, and the break gained as much as 6'16 after 83 km. But from then on, the work of T-Mobile and Davitamon-Lotto made sure they were safely back in the bunch with 18 km to go.
Coming up on
Cyclingnews will cover the 60th edition of the Dauphiné Libéré live as of stage 4 on Wednesday, June 10, at approximately 15:00 local Europe time (CEST)/ 23:00 Australian time (CDT)/ 9:00 (USA East).

WAP-enabled mobile devices: http://live.cyclingnews.com/wap/

The usual battle for position followed, with many teams trying to take control on the fast run into the finish. In the final two kilometres, there was a crash that brought down Kessler and Korff (T-Mobile) and Flickinger (Bouygues), among others, but the sprinters in front weren't disturbed. Alberto Loddo (Selle Italia) went from a long way out, before Tomas Vaitkus took over. But the Lithuanian was too far from home, and McEwen was easily able to pass him and take his third stage win.
See also: Stage 6 full results, report & photos and Live report.
Cipollini explains McEwen
Milram millkmen sour on Aussie's tactics
By Tim Maloney, European Editor
Mario Cipollini explained today after today's Stage 6 the nuances of sprinting against a rider like Robbie McEwen, who appears to be unbeatable in the mass finishes at this year's Giro d'Italia. "To follow McEwen is almost impossible; if you just take his wheel and expect to come around him, you're already beaten. And even to jump him early is hard, because he's very explosive. Today was not that fast of a sprint; McEwen was at 71km/h, while I was at 75 km/h. And he totally works the other teams."
Fabio Sacchi's secret weapon
Photo ©: Tim Maloney

Robbie has been riding Alessandro Petacchi's strong Team Milram train to victory since the get-go at this Giro, saying, "Yes, Milram has the best train at this race", a fact the blue Milram milkmen are fully aware of. Today after Stage 6, after trying unsuccessfully to their launch young sprinter Elia Rigotto, Milram's most experienced riders Fabio Sacchi and Alberto Ongarato exploded with frustration about trying to beat the Magnificent McEwen. "We did a great job today, but maybe we need Ongarato to be our sprinter," declared Sacchi post-stage today. And Ongarato added that, "We can't beat McEwen like this; we have to find a way to beat him...you have to jump him from behind or something. Anyway, we'll try again when we get the chance."
Old pros know: Giro predictions from Bugno, Motta and others
By Tim Maloney, European Editor
Roberto Conti and Gianni Bugno
Photo ©: Tim Maloney

One of the great things about a big race like the Giro d'Italia is it brings out the cycling stars. At the finish of Stage 5 in Cremona, Cyclingnews asked some of the most experienced names in cycling their predictions for the final winner in the 2006 race.
It's always great to see Gianni Bugno, who is one of the rare riders to lead the Giro from start to finish and does public relations for Shimano as well as working as a medivac helicopter pilot. We asked two time world champ Bugno for his prognostic on Giro glory and he said that, "It's difficult at this point...still too early." But when we pressed him, Bugno picked Saunier Duval's Gibo Simoni to win.
Roberto Conti, who was Marco Pantani's faithful lieutenant during his biggest win, has truffle hunting as a winter hobby, so the ex-Mercatone Uno rider has a good nose. Conti has sniffed out a win from "Savoldelli...he looks really good and his pedaling is so easy."
1966 Giro d'Italia winner Gianni Motta is another Savoldelli supporter and forty years after his Giro win, the still youthful Motta told Cyclingnews that, "I like Savoldelli a lot to win this Giro. He is a strong smart rider and very motivated."
Gianni Motta and Mario Scirea
Photo ©: Tim Maloney

Mario Scirea, Liquigas-Bianchi direttore sportivo, was nicknamed "l'Avvocato" during his career as he was known as a smart, decisive rider who was road captain for Mega-Mario Cipollini. Although he was at the Giro in an unofficial capacity ("I'm doing the Tour and the Vuelta, Scirea assured us), the likeable Scirea was non-committal. "There are five guys who can win this race (Basso, Savoldelli, Cunego, Simoni and Di Luca) but I don't know yet...it's too early. But sure, I hope Di Luca is there for the win."
Caisse d'Epargne-Illes Balears disappointed with TTT
While most teams were either happy or at least satisfied with their performances in yesterday's team time trial, Caisse d'Epargne-Illes Balears had hoped for more. Team director Eusebio Unzue commented before the start of stage 6 today that, "It is a fact that we were not up to what we hoped to achieve. We did not expect to finish more than thirty or forty seconds behind teams like CSC or T-Mobile. But it would be stupid to dramatise the situation. Things like that happen in a speciality like the time trial (individual or not). Nobody is sheltered from a bad surprise. I just hope that our substandard performance will be nothing else than an anecdotal one, but at the same time it is a pity because we have not many occasions during the season to take part in such a race and show what we are really able to do."
Little Prince meets big Prince
Lampre-Fondital's "Little Prince" Damiano Cunego got to meet a real member of nobility yesterday. In the evening after the team time trial, Cunego and the team received Prince Diofebo Meli Lupi di Soragna.
Cyclo Cross World Champion in Tour of Japan
By Miwako Sasaki
The 10th Tour of Japan will be held starting next Sunday, May 14, and will finish a week later on May 21. The stages are almost the same as the last edition, except that Stage 5 will be a bit shorter, therefore the total distance also will be shorter (732.55 km for last edition). Only the first stage in Osaka and the final stage in Tokyo are flat, fit for the sprinters, and the remaining four stages are all hilly. The key stage is the climbing time trial that ascends the famous Mount Fuji, which is scheduled for next Friday. The riders must climb 11.4km, from 800m to 2000m.
Last year's Mount Fuji time trial winner Andrey Mizourov (Capec) will come to Japan again. The Kazakh will be the biggest favourite for the race, as he was second overall on general classification in the last edition. He was also the first Asian ToJ champion last year. Mizourov already won a stage in the Tour de Bretagne Cycliste (April 25-May 1) in France this year, and was also 5th overall on general classification.
Italian Universal Caffe-C.B. Immobiliare will come to Japan for the first time, with Latvian Raivis Belohvosciks. The ex-Lampre rider won KBC Driedaagse van De Panne-Koksijde in 2003, thanks to his excellent time trialing skills. The experienced Ukrainian Vladimir Duma will also come with him.
South Australia.com-AIS team will make its first appearance in the race too, after many successes by the Australian national team in the ToJ. All its riders are coming from the national track team, and they will take the initiative in the flat stages, like last year, when the two flat stages were dominated by Australians: Matthew Goss in Osaka and Nicholas Sanderson in Tokyo.
Not only foreign riders will be favourites for the Tour of Japan. Skil-Shimano also will try to win the race. The Japanese team merged with the Dutch team since last year, and four Japanese riders had their second season in Europe until early May. Japanese champion Hidenori Nodera was one of them, and he got a lot of experience there with his teammate, Tomoya Kano, Yukihiro Doi and Masahiro Shinagawa, who was the first Japanese rider in Paris-Roubaix this year. They will try to win the 10th edition of Tour of Japan, as the only Pro Continental Team of the race.
A final note: Belgian cyclo-cross team Fidea will also come to Japan, with world cyclo-cross champion Erwin Vervecken and Bart Wellens. Although there are no muddy roads in the Tour of Japan for them, everybody knows that an excellent cyclo-cross rider is also an excellent road rider. Will they be a dark horse for the Japanese race? Veel succes!
Stages
Stage 1 - May 14: Senboku Circuit, Sakai City (Osaka) , 140.8km
Stage 2 - May 15: Todaiji Temple - Nunome Dam Circuit, Nara, 146.2km
Rest day - May 16
Stage 3 - May 17: Iida Station - Shimohisakata Circuit - Matsuo Stadium, South-Shinshu, 155.3km
Rest day - May 18
Stage 4 - May 19: Mount Fuji ITT, 11.4km
Stage 5 - May 20: Japan Cycle Sports Center - Japan Cycle Sports Center, Izu 110.48km
Stage 6 - May 21: Hibiya city - Ooi Wharf Circuit, Tokyo, 148.9km
Total race distance: 713.08km
Teams
Cycling Team Capec (Mizourov, Dymovskikh, Chernyshov, Dmitriyev, Zaitsev, Medyannikov)
Team Konica Minolta (Augustyn, Kachelhoffer, Potgieter, M.Velits, P.Velits, Rabie)
South Australia.com-AIS (Lloyd, Hutchinson, Ford, Dawson, Finning)
Purapharm (Wong, Wu, Tang, Lam, Chan, Cheung)
Giant Asia Racing Team (McCann, Griffin, Peng, Erler, Lloyd, Lai)
Team Universal Caffe-C.B. Immobiliare (Di Nucci, De Nobile, Belohvosciks, Duma, Gilioli, Nikandrov)
Fidea Cycling Team (Vervecken, Wellens, Stybar, Van Santvliet, Pauwels, Verstraeten)
Skil-Shimano (Kano, Nodera, Hirose, Yamamoto, Shinagawa, Doi)
Team Vang Cycling (S.Fukishima, K.Fukushima, Inoue, Miyazawa, Mizutani, Shimizu)
Aisan Racing Team (Beppu, Tanaka, Shinbo, Hirose, Akita, Ayabe)
Miyata-Subaru (Mifune, Kakinuma, Suzuki, Tsusue, Takano, Nakamura)
Team Matrix-Powertag (Miura, Hashikawa, Nakagawa, Sano, Mukagawa, Nagano)
You Can Specialized Nissyo (K.Suzuki, Hirose, Muroi, Yamane, Y.Suzuki, Tanaka)
Team Bridgestone Anchor (Tashiro, Iijima, Hatanaka, Murayama, Naganuma, Fukuhara)
Narushima Frend (Nito, Obata, Yoshida, Sudou, Takanashi, Kimura)
Sumita Ravanello Pearl Izumi (Yoneyama, Iino, Eshita, Asano, Ayers, Taniguchi)
Liberty Seguros-Würth for Catalunya
Herminio Díaz Zabala will be the sports director of the Liberty Seguros-Würth in the Volta a Catalunya. The team includes Carlos Barredo, who is returning after fracturing his wrist in the Three Days of De Panne five weeks ago, Assan Bazayev (Kaz), Aaron Kemps (Aus), Isidro Nozal (Spa), Sergio Paulinho (Por), Eladio Sanchez (Spa), Luis León Sanchez (Spa) and Iván Santos (Spa).
The race will begin on Monday, May 15, with one 12 km individual time trial in Salou, and will finish on May 21. Barredo, who missed the Tour of Flanders and Paris-Roubaix thanks to his fracture, hopes to return to his best level soon.
Paolini at the Volta a Catalunya
Luca Paolini (Liquigas) will ride his first race since Flèche Wallonne on April 19 in the Volta Ciclista a Catalunya (May 15-21). The rider from Milan will be the captain of a squad featuring Eros Capecchi, Francesco Failli, Roman Kreuziger, Marco Milesi, Matej Mugerli, Manuel Quinziato, and Stefano Zanini. Team managers: Dario Mariuzzo and Mario Scirea.
"Volta Catalunya is a Pro Tour race with a field of top riders," said Paolini. "Many of them are almost in peak form. I regard this race as an opportunity to find the right tempo again. I've many important upcoming appointments, like the Tour de Suisse, the Italian championships and, especially, the Tour de France. Of course, I hope that fortune will smile on me already in Spain."
Hulsmans operated on
Quick.Step's Kevin Hulsmans underwent an operation to his right collarbone on Friday morning, following his training crash in Monaco on Wednesday. The operation, performed by the staff of doctor Toon Claes in Herentals, went well, but Hulsmans will require between two and three weeks of complete rest before resuming training.
(All rights reserved/Copyright Knapp Communications Pty Limited 2006)