Latest Cycling News for May 11, 2006
Edited by Jeff Jones
Stage 5 wrap-up: T-Mobile takes pink while CSC triumphs
Yessss!
Photo ©: Sirotti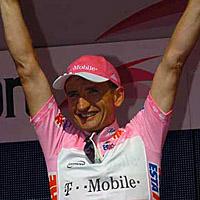 Team CSC has spectacularly won today's team time trial from Piacenza to Cremona, held over 35 kilometres. In a concerted team effort, the Danish squad proved that it was this time superior to Discovery Channel, the other pre-race favourite. Discovery finished third behind a solid Team T-Mobile, who took the leader's jersey off Gerolsteiner's shoulders.
T-Mobile's Serguei Gonchar was the best-placed T-Mobile rider to take the maglia rosa - the German squad powered by time trial specialists such as Michael Rogers and Jan Ullrich - although not in the best of his form yet - as well as the Ukrainian himself would have also shared in the stage victory today, hadn't it been for an unfortunate Matthias Kessler: the fifth man in line had to let go of his teammates with just 300 metres to go and crossed the finish line two seconds behind. But it was his time that counted, so Team CSC snatched the day's victory by just one tiny second.
Looking at the GC now, Ivan Basso gained 39 seconds on Paolo Savoldelli as the two are now only 9 seconds apart. Liquigas, with a very good fourth placing, secured the spot of their leader Danilo Di Luca, who didn't lose much time today - unlike Damiano Cunego (Lampre) and Gilberto Simoni (Saunier Duval), who both had to give in to the leading team's great performances.
Coming up on
Cyclingnews will cover the 60th edition of the Dauphiné Libéré live as of stage 4 on Wednesday, June 10, at approximately 15:00 local Europe time (CEST)/ 23:00 Australian time (CDT)/ 9:00 (USA East).

WAP-enabled mobile devices: http://live.cyclingnews.com/wap/

"It was a victory we have been aiming at for a long time," commented CSC manager Bjarne Riis on team-csc.com. "It's the essence of team work, so of course it's a huge win for us. To ride a great team time trial requires discipline and the ability to communicate, and the riders showed just that today, so I'm obviously very proud. After a less than satisfying prologue, we have now confirmed we have a great team, which will be able to help Ivan all the way to Milan in this Giro."
"It was an important victory for us and it was an awesome feeling standing on the podium as a team," said Ivan Basso. "Everyone contributed with all they had, and it means a lot to me to have such a strong team behind me here in the Giro. Today it was all about taking the victory as a team and show people how we are able to work together and accomplish something big. Just as expected it was a close race, so in the overall standings maybe the results won't mean a lot, but I can assure you it means a lot for us as a team and the assignment we are on as team mates."
Scott Sunderland's Giro diary
When you win, it's very nice
The winning team
Photo ©: Sirotti

Yes, it was close, but we did win the team time trial today! Last year, we lost the team time trial in the Tour: we lost the stage and the yellow jersey by one single second.
So yes, T-Mobile did OK, because they did get the leader's jersey. That's not bad at all. When you lose everything on one day, it's worse.
For the team to win a team time trial like this...it's huge. You only know how big it is when you have lost before. When you don't win, you're pretty well gutted. It guts the whole team, personnel, team direction, fans, everyone. Today we won, and it was a good accomplishment, a very big boost to the morale.
It's been a good couple of days for us since we last touched base. I can assure you we weren't resting. The riders and personnel were working big time. The truck which drove down with the road bikes from the fourth stage drove all night, and arrived at 7:00am. The mechanics had the road bikes ready for riding the next day. The soigneurs came in at 3-4am the next morning. And for us travelling by plane, by the time we got into the hotel it was just after midnight. I got into bed at 1:30 am after making sure everyone and everything arrived OK.
Click here to read the full entry
Rogers over the moon
T-Mobile's Michael Rogers was part of the team that almost won the stage, but still managed to gain the leader's jersey with Serguei Gonchar. In his diary on t-mobile-team.com, Rogers wrote, "What drama! What a day for the team! Serhiy has the maglia rosa. We are all delighted - over the moon. We knew we had a chance to do something special today. Everything was in our favour; we have the riders, the experience and the form. Everybody was super motivated and we went after our goal.
"I said yesterday it would be a very hard ask to put Serhiy in pink. And it was. Team time trialing requires flat-out riding over the whole course. It's tough, there is nowhere to hide, but we really hammered it with everybody taking their turns and pulling hard at the front. Jeez, it was worth it in the end. It is a great feeling to have the maglia rosa in the team fold.
"So far so good for the whole team. Now it is up to us to make the maglia rosa the maglia magenta for as many days as possible. We won't let it out of our sights!"
Liberty Seguros limits losses
Although Manolo Saiz's teams have a history of doing well in team time trials, today's performance in stage 5 by Liberty Seguros-Würth, which finished 17th of 22 teams, probably wasn't one of them. Despite this, the team is maintaining a positive outlook after the flat and fast 35 km leg between Paicenza and Cremona. In the end, the team only lost 1'25 to winners CSC, and with most of the riders being climbers, it wasn't a bad performance according to team director Marino Lejarreta.
"There were no big differences," said Lejarreta. "The team limited its losses well, because the majority of our riders are climbers. I want to point out the good work that Baranowski, Scarponi and also De Kort have done.
"The only ones that achieved a slightly greater advantage were CSC and T-Mobile, but we are inside the norm, because up to two minutes' difference was reasonable to expect in such a fast time trial. We have to be mentally prepared because there will be much bigger differences in the 50 km individual time trial."
Armstrong picks Basso as Tour de France favourite
Confirms presence at 2006 Tour
By Tim Maloney, European Editor, in Tabbiano Terme, Italy
Meet & greet:
Photo ©: Tim Maloney

Back in Europe for a birthday cycling trip with a good friend from Austin, Texas, a relaxed and cheerful Lance Armstrong spent a day with Discovery Channel cycling team at the 2006 Giro d'Italia. On a sunny spring Thursday midday at the Hotel Boomerang at Tabbiano Terme, nestled in the green "Colle Parmense" hills outside of Parma, Italy, all-time Tour de France champ Lance Armstrong spent a few minutes with Cyclingnews before he headed off with his Discovery Channel homeys to the Giro d'Italia's Stage 5 Team Time Trial from Piacenza to Cremona, where he would ride shotgun for Discovery Channel d.s. Sean Yates. Earlier that Thursday, Lance had gone on a 90 minute ride with the Discovery Channel guys. shared a team meal, then had a brief chat with us.
Cyclingnews: Lance, there are seven weeks to go before the Tour de France. How do you see the first Tour since 1999 without Lance Armstrong unfolding? The last time we spoke, you thought that Jan Ullrich would win by three minutes.
LA: Now, times have changed...I can't criticise Jan because apparently he's been injured. I'm detached enough now that I catch up...for example, in the past, I would have read Cyclingnews five times a day for results, or for pictures or the news, etcetera, etcetera. Now, I might check Cyclingnews and look at other news about cycling a couple of times a week and a lot of time I'm playing catch-up. Apparently, Ullrich has been injured and didn't start racing until the (Tour of) Romandie, which is way too late to start racing (for the Tour). And they say he's a little heavy, although I haven't seen him. So it seems like Basso's ahead in his preparation.
Then again, Basso's got a risky program to try to win the Giro and the Tour. There's a lot of pressure there at CSC for Basso. So I've changed my opinion; I think now Basso's the favourite to win the Tour de France now.
CN: Will you be at the Tour de France this year?
LA: Yes, I'll be there the last week.
CN: Will you be there in Paris?
LA: Yeah...I won't be on the Champs-Elysees, but I will be at the Tour and have a presence within the team, but I won't be credentialed, I won't be hanging out in the village depart. I'd rather hang with my guys; positive, progressive people. That's my team, that's my cause, that's my family.
Photography
For a thumbnail gallery of these images, click here
Images by Tim Maloney/Cyclingnews.com
Valverde: "I'm better than ever"
Caisse D'Epargne's Spanish ace, Alejandro Valverde has said at a recent reception in his local area of Murcia that he'll arrive at the Tour de France ready to do well, and that the ProTour leader's jersey he currently holds will be "just one more motivation".
Valverde will return to competition at the Dauphiné Libéré (June 4-11) before taking a crack at the Spanish national championships. According to Valverde, "This will be very good for me and, in this way, I can do the Tour relaxed and thinking about doing the things that count," he said.
On the other hand, Valverde admitted that, "I am one of the favourites and hope to be among the top six or seven riders on general [classification] and to to win a stage."
The 25-year-old said that, "I will need to complete the whole Tour, something that I hope to do this time, because I'm a little better that in 2005." For Valverde, "Ivan Basso is the main candidate to win the Tour, but there are others like Ullrich, Mancebo, Vinokourov, Popovych and myself who are also in the running."
Courtesy of Antonio J. Salmerón
Alisha Lion joins Webcor-Platinum
Alisha Lion has joined the Webcor-Platinum Women's Cycling Team for the remainder of the 2006 season. She recently set a new course record at the May Day Biathlon in her hometown of Morganton, NC and is currently competing at the Joe Martin Stage Race in Fayetteville, AK.
"I believe Alisha is one of the up and coming young talents in women's racing right now", said team director Carmen D'Aluisio. She placed second overall in the best young rider category to Webcor rider Erinne Willock in last year's Women's Prestige Series, and has had some impressive results in both the San Dimas Stage Race and the Redlands Bicycle Classic this season. The team believes she will add depth to the already strong stage racing team lead by former Olympian, Christine Thorburn and current US National Road Racing Champion Katheryn Curi.
"Webcor-Platinum has the perfect environment for my development. It really feels like I have found a home where I can grow and develop into a top cyclist", says Lion, who has a degree in Elementary Education. "I want kids to be inspired and go for their goals and dreams in life."
Hours left to join Fantasy Giro game!
The grand prize
Photo ©: Bianchi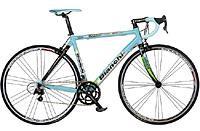 Registration for this year's Fantasy Giro game closes in just a few hours time. You can still join in the fun here at Cyclingnews and win some great prizes .
Create your team today and manage riders like McEwen and Schumacher on your own dream Giro team - win points and prizes everyday whilst following the Giro here at Cyclingnews. The deadline for submitting your teams is Fri 12th May 10:00 CEST (04:00 EDT, 01:00 PDT, 09:00 BST, 18:00 AEST, 08:00 UTC). It's simple to play - pick your dream team of 15 from the riders racing in this year's Giro start list. Then each day pick 9 riders to race for your fantasy team from these 15. There is no disadvantage in joining now that the Giro has already begun.
Yesterday we announced more information about the Grand Prize in this year's Giro d'Italia Fantasy Game: it is a special-edition bicycle from Bianchi, the legendary Italian firm of Treviglio, released just in time for this year's edition of the Grand Tour.
BBB Parts
Photo ©: BBB

HED Stinger wheels
Photo ©: HED

Giro Atmos
Photo ©: Giro

Speedplay Zero pedals
Photo ©: Speedplay

Santini clothing
Photo ©: Santini

fi'zi:k saddles
Photo ©: Cyclingnews

Maxxis Courchevel tyres
Photo ©: Maxxis

Today we are pleased to announce that we are providing a daily stage prize from BBB Parts! A pair of BBB's BSG-23 Winner Team Quick-Step glasses will go to the manager with the highest scoring stage team each day during the Giro. Four managers have already won!
Overall there will be 31 opportunities to win prizes this year and you do not need to take part in the whole Giro to win. Have a look at the grande prize and runner-up details below for more information:
Called the 'Via Nirone 7 Alu Carbon Mirage', it is painted in the same colour-scheme of ProTour and Giro team, Liquigas, which will be looking to support its lead rider Danilo Di Luca as the race hits the mountains this week.
In fact, the Via Nirone is so new it is not even in the Bianchi 2006 catalogue - it is purely "a special version available in some Bianchi shops to celebrate Giro", said a Bianchi spokesperson. The special model has an excellent design and development pedigree, as it comes from the 'Reparto Corse' division of Bianchi (its racing bicycles area) and bristles with many new features.
Of particular interest is the first application of Campagnolo's new 'Ultra Torque' 10-speed Mirage compact crankset (34/50T) with integrated bottom-bracket. The Via Nirone 7 is the only bicycle on the market to feature this new release from Campagnolo.
The frame is made of aeronautic-grade 7000 series aluminium, with double- and triple-butted tubes smoothly TIG-welded and with a carbon monostay rear-end to smooth out the road vibes.
Bianchi describes the frameset as having relaxed geometry to allow for long days in the saddle, while retaining relatively quick steering. It also features a saddle d'Italia. The Via Narone 7 also features Campagnolo's new 'Khamsin' wheelset, as well as a Selle Italia saddle and an ITM stem and handlebar. For full details, including the frame geometry chart, you can download the PDF.
The Bianchi is only one of many great prizes in this year's Giro d'Italia Fantasy Game. Other great prizes include:
From BBB Parts, our daily stage winner will win the official sports glasses of the Quick.Step-Innergetic professional cycling team.
Called "BSG-23 Winner Team Quick-Step" the glasses have a durable, flexible and lightweight Grilamid frame; adjustable metal nose piece for a perfect fit; and interchangeable polycarbonate lenses with 100% protection against harmful UV rays, up to UV 400nm.
The glasses are matte silver with the Quick.Step logo on the band and come with smoke blue revo lenses. They also come with three extra lenses; orange, yellow and clear with a flash mirror coating, and a carrying case so that you have a lens for all types of weather.
A pair of HED's Stinger wheels - the HED Stinger 50 is an all carbon wheel ideal for road racing. With a 50mm rim depth, it is more aerodynamic than a traditional alloy rimmed road wheel. While this rim depth is more aerodynamic, it is not too deep that handling will be compromised in crosswinds or a crowded peloton;
Three Giro Atmos helmets - from Giro. We have three Atmos helmets, the same model worn by some of the best riders and teams in this year's Giro d'Italia;
Three sets of Speedplay's Zero pedals - from Speedplay. We have three sets of its Zero pedals, as used in the Giro d'Italia by teams like CSC and Phonak;
Team replica cycling clothing by Santini - several of the teams in this year's Giro are wearing clothing supplied by Italian company Santini, and Cyclingnews has three complete sets of team clothing on offer as prizes in the Fantasy Game;
Three fi'zi:k saddles - some of the best saddles in Italy come from fi'zi:k, and we have three of them as prizes in the Fantasy Game;
10 sets of Maxxis Courchevel road tyres - the Courchevel road tyre from Maxxis is one of cycling's best road racing tyres. It is a completely new design from Maxxis, from the rubber to the casing. The Courchevel features 'Triple Compound Technology' to provide long wear life, great traction and a better transition from compound to compound.
Play for FREE in the Giro 2006 game
Remember you can play for free for the first 5 stages! Try the game out and see how best to play. It's easy to play the Tour games - aall you need to do is pick your dream team of 15 from the riders racing in this year's Giro start list before registration closes on Fri 12th May at 10:00 CEST (04:00 EDT, 01:00 PDT, 09:00 BST, 18:00 AEST, 08:00 UTC). Then each day pick 9 riders to race for your fantasy team from these 15. You'll need a good combination of climbers, sprinters and general classification riders. For more details go to the rules section of the site for more info. It's a great way to follow the Giro 2006.
To register your teams for the game go to fantasy.cyclingnews.com
Good luck!
The Fantasy Cyclingnews Team
(All rights reserved/Copyright Knapp Communications Pty Limited 2006)