Giro d'Italia Cycling News for May 11, 2006
Edited by Les Clarke
Giro rest day 1 wrap - When you're hot...
Savoldelli on song, McEwen scorching and Petacchi leaves early in Belgium
By Les Clarke
Robbie McEwen is running hot at this year's Giro
Photo ©: Sirotti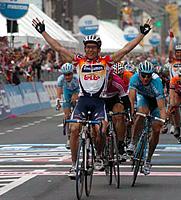 The first four stages of this year's Giro belong to Robbie McEwen, with the Australian, riding on his team's home turf in the second biggest race of the year, notching up two wins on the sprint finishes to stages two and four. All of the four stages were run throughout southern Belgium, and the locals came out in full force to support what could be the year's most intruiging bike race.
Stage 1 - Saturday, May 6: Seraing - Seraing ITT, 6.2 km
Long enough to be called a stage, the first stage in Seraing was essentially a prologue, and at 6.2km it was a test against the clock that favoured a rider such as Francaise des Jeux's Bradley McGee, who won the Giro prologue in 2004.
Coming up on
Cyclingnews will cover the 60th edition of the Dauphiné Libéré live as of stage 4 on Wednesday, June 10, at approximately 15:00 local Europe time (CEST)/ 23:00 Australian time (CDT)/ 9:00 (USA East).

WAP-enabled mobile devices: http://live.cyclingnews.com/wap/

The Australian went close, but it was defending champion Paolo Savoldelli (Discovery Channel) who showed that he's well over the illness he experienced at the Tour de Romandie and in fine form to try and make it back-to-back overall victories with a time of 7'50" that won him the stage and the first maglia rosa of 2006.
It was a performance a la Armstrong, whereby Savoldelli's rivals were sent a very clear message that the defending champion was going to take the battle to the challengers very early in proceedings. It also confirmed what most observers already knew: that this year's Giro was going to be a very tough, competitive three weeks throughout Belgium and Italy.
Click here for the full rest day wrap
Rogers isn't dodging the hard work
By Les Clarke in Wanze
Michael Rogers (T-Mobile)
Photo ©: Anthony Tan

Triple time trial world champion Michael Rogers is riding his first grand tour for new team T-Mobile, and with a new-look management at the helm of the boys in magenta, Rogers is keen to cement his place as one of the team's mainstays during 2006, as he told Cyclingnews before stage four of the Giro in Wanze.
His goals for the Giro aren't too lofty, but the Australian is clearly in good shape and ready to put some tough racing miles into his legs while helping the team. "I not only came here for training and preparation, but I came here to have a good time trial," said Rogers. "Things are going well at the moment; I'm tenth in classification but I have no ambitions for the final classification - the last week is certainly too hard for me," he said, before adding that, "For the first ten days the idea is to do as much as possible."
It's a great opportunity for Rogers to prepare for the Tour de France, and althought there's work to done in Italy, he's definitely got an eye on July. "I haven't had heaps of racing this year up until now - I've come here with about 20 days of racing, so it's not really much," he explained. "I think I need this Giro, and it's a bit of a trial for me too; I've never done two major tours in one year, so maybe it could be a really good thing for me," he said.
That preparation will greatly assist Rogers in his role as a helper for Jan Ullrich in the mountains of France during the Tour, which is one of his main goals for 2006. "I'll be there [at the Tour] to help Jan - that's why I came to T-Mobile, why they hired me. I'm sure Jan will be in really top shape and we've got a strong team," said Rogers. But would Rogers be willing to put his hand up if Ullrich experienced difficulties, which is all part of his role at the team? "Yeah, certainly. We all know the Tour can be wide open and it's certainly going to be a different race without Armstrong there," he said.
With Australian Scott Davis on the team, it's a different situation for Rogers than the one faced by countryman Cadel Evans in his two years at the German squad. How is Rogers enjoying having Davis on the roster? "It's fantastic - Scotty and I pretty much grew up together, so it's great to have him on the team," said Rogers. "It's great to train together and having an Aussie alongside you is always a positive thing."
Rogers explained that he hadn't really spoken to Evans about his experiences at T-Mobile, preferring instead to come with a clear head and a fresh approach to his new team. "Cadel didn't have a very good experience [at T-Mobile], but that doesn't mean it's the same for everyone," said Rogers. "Up till now it's all been very positive for me, and everyone reacts differently to the same team because we all have a different character," he explained.
Jens Voigt: "Everything's according to plan"
By Les Clarke in Wanze
Jens Voigt (CSC)
Photo ©: Luc Claessen

One of the most experienced riders at this year's Giro, Jens Voigt is also on the team of race favourite Ivan Basso, which can come with pressures - although Voigt didn't appear too stressed when Cyclingnews caught up with him at the start of the Giro's fourth stage.
Team CSC come as one of the favourites for the overall crown, and with Ivan Basso and Carlos Sastre on the roster they have the firepower for the mountains. In the early stages of the race the plan is to protect these riders, so is everything going according to plan so far? "I'd say more or less everything is going to plan," said Voigt. "The Discovery Channel team is also pretty strong; they've got half their Tour de France team here, so I guess we have some stiff competition.
"This Giro isn't easy, but I would say that at the moment, everything is going to plan," said Voigt, before he explained that CSC should be more competitive in 2006 than last year with Basso at full fitness and a strong squad attending. "We are optimistic that Ivan will be in great shape and will be able to get amongst the best riders there [at the Giro].
With Carlos Sastre, Basso and Bobby Julich riding in the team, CSC have three grand tour podium placegetters, something not many teams can boast - Voigt explained that Sastre's role goes beyond just climbing well. "Carlos is not only a strong rider but he's a very good climber and also our captain on the road; he brings calm to the team and he's like, 'you do it like this or that, and you are riding or you are waiting', so for sure it's an advantage to have Carlos here on the team," he said.
With so much at stake, a finish such as that of stage 3 in Namur could be dangerous for the team's chances - how did Voigt find the finish? "It would have been a lot nicer and easier without the rain!" he pointed out quickly. "It would have been a little less dangerous and a little more predictable, so on that day it was a case of the most daring guys going first and that climb was a little bit crazy. Like I said, in the sun it would've been a nice spectacular finish."
Stage 3 winner Stefan Schumacher showed he's a bright prospect for German cycling, something Voigt noticed with the 24-year-old's performance on the difficult finish. "After a difficult year last year he's now back on track - it looks like he's a huge talent and during his two years at T-Mobile they were unable to see the potential in him or get the best out of him," said Voigt.
"Now he's found a team where he's happy, he's just doing his thing and it looks like he's one of the future talents we can count on in Germany. He's a powerhouse, and not afraid of attacking; it's good to see the young guys coming through," he added.
Olson enjoying first Grand Tour
By Les Clarke in Wanze
Saunier Duval-Prodir's American Aaron Olson
Photo ©: Anthony Tan

Saunier Duval's Aaron Olson has been enjoying his first grand tour in the wet of Belgium, and as Cyclingnews caught up with the American before the fourth stage of the Giro in Wanze he explained that it's everything he thought it would be - including the weather. "I mean, it was great the couple of days before the race and the day of the prologue was alright," said Olson, "but since then it's been wet and dangerous - but the team's had good luck to stay out of trouble," he added.
As one of five Americans riding this year's Giro, Olson believes the increased interest in the 'Italian version of the Tour de France' from Americans can only benefit the strength of cycling in the States overall. "With Arsmtrong retiring, there's been a lot more Americans stepping up - I think there are five Americans in the Giro this year and quite a few Aussies; so there's quite a few English-speaking riders in the peloton," he said.
And the interest isn't just as a result of the increased numbers of US riders competing, according to the Saunier Duval rider. "I think there's a lot of interest in the Giro, especially with all the top Italians going for it. It makes it an exciting year, and for me it's great to be a part of it and riding for such a great leader [Gilberto Simoni]," he said.
Personally, Olson has achieved one of his big goals for the year just by being at the Giro, something that brings a big smile to his face. So what else for the rest of 2006? "I don't know," he said. "One of my biggest goals was to make one of the grand tour teams, and my number one choice this year was the Giro because of Simoni in his last year," he explained, before adding that, "Normally it would be to try and make the Tour [de France] team, but I'll take everything I can get and go from there."
"In terms of personal goals - it's my first year in the Pro Tour, so I just want to improve throughout the year and for now, make it to Milan," he said.
Speaking of making it to Milan, Olson believes the best way to approach the killer final stretch of the race will be to go into it a little blind, so to speak. "I've just [seen the Giro's big climbs] on the map, but not in person!" he exclaimed. "[Viatcheslav] Ekimov told us before Paris-Roubaix one time that sometimes it's better not to know what's ahead of you because you might actually do better.
"If you know, maybe you'll always have it in the back of your mind. So I'm going in blind, but it's going to be unbelievably challenging. I'm not exactly a climber, but I usually get better as the race goes on, so if I don't die before then hopefully I'll be alright!" he said with a laugh.
And as for another grand tour in 2006, the former Colavita rider is open to all suggestions. "I definitely think it would be possible; at least it would give me time to rest during the Tour and try and build back up for the Vuelta," he said. "It's always a possibly, but with the Spanish team it's a bit difficult - so many Spanish guys [will be] going for it - but we'll see. I wasn't originally planning on doing the Giro, but who knows...I'm just really happy to be here," he said.
(All rights reserved/Copyright Knapp Communications Pty Limited 2006)