First Edition Cycling News for May 11, 2006
Edited by Hedwig Kröner
Petacchi successfully operated on
Coming up on
Cyclingnews will cover the 60th edition of the Dauphiné Libéré live as of stage 4 on Wednesday, June 10, at approximately 15:00 local Europe time (CEST)/ 23:00 Australian time (CDT)/ 9:00 (USA East).

WAP-enabled mobile devices: http://live.cyclingnews.com/wap/

Alessandro Petacchi underwent surgery in the San Rossore Clinic in Pisa on Wednesday. The two-hour operation was successful, the team announced, and healing time has now been estimated at five weeks. In three weeks' time, x-rays will show if the bone is regenerating properly.
"The operation was more complicated than usual, but it seems all went very well," said Petacchi, who received a local anaesthetic. "Being awake while operated on did have a certain effect on me - they talked to me as if they weren't doing something delicate. I didn't feel any pain, but it was strange not to feel my legs anymore. I will have a splint and walk with crutches for five weeks, and I hope that the control in three weeks' time will allow me to anticipate a bit. I have a big desire to return to racing and winning, but I don't want to compromise my recovery. I still have some years ahead of me in my career."
Gutierrez eyes Pontedera TT
Jose Ivan Gutierrez (Caisse d'Epargne)
Photo ©: Luc Claessen

Caisse d'Epargne's Ivan Gutierrez was a little disappointed at his performance in the Giro d'Italia's first stage, the time trial by many falsely interpreted as a 'prologue'. After his two stage wins in the Tour Méditerranéen and the Vuelta a Murcia this spring, the Spaniard came down with 'flu in the first stage of Tirreno Adriatico, which put his level of fitness down. But now, Gutierrez' form is on the rise again, and he intends to make the most of it in the coming weeks.
"I hadn't raced since Critérium International, but I have to say that my form is not bad at all," the 27 year-old said on the Giro's first rest day back in Italy. "It's true that I was disappointed not to have won the first day's time trial, because I had really dreamed of that pink jersey. But I remain optimistic. I feel good and in stage three, the one that ended in Namur, I was in front with those who were fighting for the victory [Gutierrez finished eighth - ed.]. Maybe I should have gone with Rubiera when he attacked, but often just one moment of hesitation is fatal and costs you the victory! Maybe I could have caught them afterwards, but there was Bettini and the others behind me and as nobody wanted to lead, there was nothing much I could do."
Gutierrez hopes that there will be other opportunities for him in the Giro. "That's racing!" he continued. "Sometimes you win, sometimes you lose. The most important thing is to be part of that small circle of riders who can actually go for it. I have no doubt that my time will come. It's still a long time before we get to Milan, and there will be that 50km-individual time trial in Pontedera on May 18 - it's on a circuit that suits my characteristics, and I will totally concentrate on that once the team time trial is over."
Asked which goals he had for the team race against the clock after the rest day, Gutierrez replied, "Maybe we're not the favourites on paper, but I'm still certain that we will be amongst the first." The Spaniard and his whole team reconnoitred the course on Wednesday, and while Gutierrez already had the opportunity to test the team's new TT bikes by Pinarello on stage one, all of his companions will be riding the new equipment on Thursday. "It's great to have the new bikes now - the only inconvenience is that my teammates will use it in the race without having the time to adapt to it."
Looking further ahead into the season, Gutierrez didn't hide his biggest dream as a cyclist: the Time Trial World's. "I know I have the capacity to win it one day, and I will not be satisfied until I do it in the pro category, just as a did 1999 in Treviso as an amateur," he said.
Hulsmans breaks collarbone
After crashing during a training session, Quick.Step's Kevin Hulsmans has fractured his right collarbone. Hulsmans was out training between Nice and Monte Carlo along with World champion Tom Boonen when it happened.
"After two hours of training in the hills surrounding Monte Carlo we were riding the last few kilometres on the road that leads from Nice back to Monte Carlo at a speed of about 40 km/h," Boonen related. "All of a sudden a child on roller-skates shot out and crossed the road in front of us; Kevin fell in order to avoid colliding with the child."
Hulsmans was taken to Nice hospital where they diagnosed the fracture. The team's medical staff have agreed that Hulsmans will be returning to Belgium on Thursday morning to receive further examination at the Herentals Clinic in order to determine whether surgery is required.
Bakker banned for life
Mountain biker Erwin Bakker was given a life-long ban from racing by International Court of Arbitration for Sports in Lausanne. Bakker was tested positive for performance-enhancing products twice last year: once in March in the Vuelta a Valladolid for testosterone, then again in Canada in June for EPO. He is currently sitting out a two-year ban for his offenses, but competed nevertheless in the Vulkan Bike Marathon in Germany last week-end, under the name of his brother Jarno, and won the race. A German journalist recognized Erwin Bakker on the podium picture later, and the game was up.
Moriarty out of FBD Insurance Rás
By Shane Stokes
Irish national criterium champion Eugene Moriarty has been forced to withdraw from this month's FBD Insurance Rás following the diagnosis of a broken collarbone. The MyHome.ie/Cycleways rider crashed on the opening stage of the Ras Mumhan race back in mid-April but despite x-rays taken then, the initial medical assessment was that the problem was a soft-tissue injury rather than a fracture.
He underwent intense physiotherapy in an effort to recover in time for this year's Rás but a lack of progress prompted a new assessment by a specialist last week, when the true extent of the injury was determined.
"I went to a specialist in Limerick last Thursday to get it checked out again," Moriarty said on Wednesday. "I was originally going to get an MRI done as the doctors thought it was my ligaments and tendons which were damaged. However the specialist send me for x-rays just in case; when they did that, they discovered what is called an "undisclosed break". That means the collarbone is broken but still in place - normally with a break, one part of the bone ends up overlapping the other. Normal x-rays didn't show this up but the specialist had asked for this x-ray to be taken at a higher resolution and from a different angle, so that is how we found out what is wrong."
"I am very disappointed to miss the FBD Insurance Rás this year, especially as there are two stages in Kerry and one of them finishes in my home town of Killorglin. Aidan Crowley will now take my place on the team."
The reigning national criterium champion was Ireland's number one ranked rider in 2005 and has been one of the best Irish domestic competitors in the Rás in recent years. He wore the King of the Mountains jersey for four stages in 2005, finishing twelfth overall and placing second in the best county rider classification behind Tim Barry. Moriarty had also taken several top ten stage placings in recent years, winning the Cuchulainn crystal award as best Irish finisher on three stages in 2005 and six other occasions in total. He was also named Kerry Sports Star of the Month on three separate occasions.
His success in the FBD Insurance Rás coupled with his goal of taking a stage prompted Moriarty to prepare strongly for the 2006 season. After competing in Australia and New Zealand at the end of last year he trained hard for the new season, spending time in California as he got ready to return to racing.
"Having two stages in Kerry, including a finish in my home town of Killorglin made me very motivated to do well," he said. "I was training very hard, and when I won my first race of the season I thought I was on track. Unfortunately I'll miss the race now, so I am very disappointed. Hopefully now that I know the full extent of the problem, I can recover soon and get back to racing as quickly as possible."
Bianchi's special release for the Giro - and the Cyclingnews Fantasy Game!
The grand prize
Photo ©: Bianchi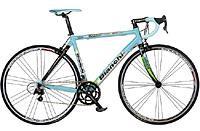 With registration still open until stage 6, today's rest day in the Giro is also an excellent opportunity for budding team managers to assemble their respective dream teams and enter the 2006 Giro d'Italia Fantasy Game.
We have been hinting at it all week, and now we can reveal more about the Grand Prize in this year's Giro d'Italia Fantasy Game: it is a special-edition bicycle from Bianchi, the legendary Italian firm of Treviglio, released just in time for this year's edition of the Grand Tour.
Called the 'Via Nirone 7 Alu Carbon Mirage', it is painted in the same colour-scheme of ProTour and Giro team, Liquigas, which will be looking to support its lead rider Danilo Di Luca as the race hits the mountains this week.
BBB Parts
Photo ©: BBB

HED Stinger wheels
Photo ©: HED

Giro Atmos
Photo ©: Giro

Speedplay Zero pedals
Photo ©: Speedplay

Santini clothing
Photo ©: Santini

fi'zi:k saddles
Photo ©: Cyclingnews

Maxxis Courchevel tyres
Photo ©: Maxxis

In fact, the Via Nirone is so new it is not even in the Bianchi 2006 catalogue - it is purely "a special version available in some Bianchi shops to celebrate Giro", said a Bianchi spokesperson. The special model has an excellent design and development pedigree, as it comes from the 'Reparto Corse' division of Bianchi (its racing bicycles area) and bristles with many new features.
Of particular interest is the first application of Campagnolo's new 'Ultra Torque' 10-speed Mirage compact crankset (34/50T) with integrated bottom-bracket. The Via Nirone 7 is the only bicycle on the market to feature this new release from Campagnolo.
The frame is made of aeronautic-grade 7000 series aluminium, with double- and triple-butted tubes smoothly TIG-welded and with a carbon monostay rear-end to smooth out the road vibes.
Bianchi describes the frameset as having relaxed geometry to allow for long days in the saddle, while retaining relatively quick steering. It also features a saddle d'Italia. The Via Narone 7 also features Campagnolo's new 'Khamsin' wheelset, as well as a Selle Italia saddle and an ITM stem and handlebar. For full details, including the frame geometry chart, you can download the PDF.
The Bianchi is only one of many great prizes in this year's Giro d'Italia Fantasy Game. Other great prizes include:
From BBB Parts, our daily stage winner will win the official sports glasses of the Quick.Step-Innergetic professional cycling team.
Called "BSG-23 Winner Team Quick-Step" the glasses have a durable, flexible and lightweight Grilamid frame; adjustable metal nose piece for a perfect fit; and interchangeable polycarbonate lenses with 100% protection against harmful UV rays, up to UV 400nm.
The glasses are matte silver with the Quick.Step logo on the band and come with smoke blue revo lenses. They also come with three extra lenses; orange, yellow and clear with a flash mirror coating, and a carrying case so that you have a lens for all types of weather.
A pair of HED's Stinger wheels - the HED Stinger 50 is an all carbon wheel ideal for road racing. With a 50mm rim depth, it is more aerodynamic than a traditional alloy rimmed road wheel. While this rim depth is more aerodynamic, it is not too deep that handling will be compromised in crosswinds or a crowded peloton;
Three Giro Atmos helmets - from Giro. We have three Atmos helmets, the same model worn by some of the best riders and teams in this year's Giro d'Italia;
Three sets of Speedplay's Zero pedals - from Speedplay. We have three sets of its Zero pedals, as used in the Giro d'Italia by teams like CSC and Phonak;
Team replica cycling clothing by Santini - several of the teams in this year's Giro are wearing clothing supplied by Italian company Santini, and Cyclingnews has three complete sets of team clothing on offer as prizes in the Fantasy Game;
Three fi'zi:k saddles - some of the best saddles in Italy come from fi'zi:k, and we have three of them as prizes in the Fantasy Game;
10 sets of Maxxis Courchevel road tyres - the Courchevel road tyre from Maxxis is one of cycling's best road racing tyres. It is a completely new design from Maxxis, from the rubber to the casing. The Courchevel features 'Triple Compound Technology' to provide long wear life, great traction and a better transition from compound to compound.
Play for FREE in the Giro 2006 game
Remember you can play for free for the first 5 stages! Try the game out and see how best to play. It's easy to play the Tour games - all you need to do is pick your dream team of 15 from the riders racing in this year's Giro start list. Then each day pick 9 riders to race for your fantasy team from these 15. You'll need a good combination of climbers, sprinters and general classification riders. For more details go to the rules section of the site for more info. It's a great way to follow the Giro 2006.
To register your teams for the game go to fantasy.cyclingnews.com
Good luck!
The Fantasy Cyclingnews Team
(All rights reserved/Copyright Knapp Communications Pty Limited 2006)