Giro d'Italia Cycling News for May 10, 2006
Edited by Jeff Jones & John Stevenson
McEwen makes it two
Robbie McEwen (Davitamon-Lotto)
Photo ©: Sirotti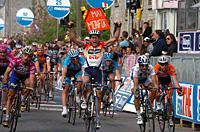 With the departure of Alessandro Petacchi due to a broken kneecap, the Giro is left with one top sprinter: Robbie McEwen. The Davitamon rider proved his worth again in Belgium today, winning the fourth stage in Hotton from Paolo Bettini (Quick.Step) and Alberto Loddo (Selle Italia-Serramenti Diquigiovanni). McEwen made it look easy again as he sat on the Milram train, before bursting clear in the run up to the line. Stefan Schumacher (Gerolsteiner) retained the pink jersey going into tomorrow's rest day and Thursday's team time trial.
The 193 km stage was run in good weather conditions, with temperatures under 20 degrees and - importantly - no rain. The breakaway of the day formed after 10 km when Sandy Casar (Française des Jeux), Patrick Calcagni (Liquigas), Jurgen Van De Walle (Quick Step-Innergetic), Grischa Niermann (Rabobank), and Alessandro Bertolini (Selle Italia) attacked. They gained 6'55 by the 110 Gazzetta sprint point on the Francorchamps racetrack, before Gerolsteiner and Davitamon combined to haul them back with 14 km to go. Then it was a battle among the sprinters' teams on the straight run into the finish, with McEwen choosing Milram, who were leading it out for Mirco Lorenzetto. T-Mobile hit out early on the right hand side for Pollack, but nothing could stop McEwen once he reached top speed.
See also: Full stage report, results & photos; Live report
Coming up on

Cyclingnews will cover the 60th edition of the Dauphiné Libéré live as of stage 4 on Wednesday, June 10, at approximately 15:00 local Europe time (CEST)/ 23:00 Australian time (CDT)/ 9:00 (USA East).

WAP-enabled mobile devices: http://live.cyclingnews.com/wap/

Post-stage comments
"The stage was tough but the win came easy," said stage winner Robbie McEwen after beating Paolo Bettini (Quick Step-Innergetic) and Alberto Loddo (Selle Italia-Serramenti Diquigiovanni) to the line.
"It was a very tough sprint but I think I won it well," added McEwen. "The last five kms were slightly downhill and so all the overall favourites for the Giro tried to stay out of trouble at the front."
McEwen told RAI-TV's Alessandro Fabretti, "I waited for the last 3km to send my team up front. In the final kilometer, I got on the Milram train and then waited for the others to start the sprint." When he heard that Alessandro Petacchi was on the telephone live on TV from Brussels Airport, gentleman Robbie reached out to his rival Petacchi, telling him "get better soon and hope to see you back on the bike soon, mate."
Second-placed Paolo Bettini acknowledged McEwen's talent. "Robbie is very strong in sprints but he could have been beaten today," Bettini said. "I paid for my hesitation."
The CSC team is still looking for a stage win in this Giro, and today it was the turn of escape specialist Jens Voigt to have a go. "Jens attempted an attack but the climb wasn't quite tough enough for him to escape," said CSC directeur sportif Scott Sunderland, "and the peloton was moving fast during the final flat stretch. But he showed great strength, and he definitely proved that he has the form for a big result if he gets the chance."
Nine months later, Lance is still the man
Armstrong visits Discovery Channel at Giro
By Tim Maloney, European Editor
Lance Armstrong
Photo ©: Luc Claessen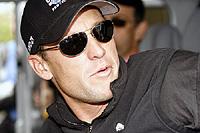 After a nine month absence from cycling's Grand Tours, Lance Armstrong is still the biggest name in the sport of cycling, Today, Armstrong returned to the European cycling scene today for a quick visit to his Discovery Channel team at Giro d'Italia in Belgium. Armstrong is in Europe for a private trip to celebrate some birthdays with friends, and as he arrived at Liege Airport after a long transatlantic flight, a tired but cheerful Armstrong gave a quick interview to RAI-TV's Alessandra Di Stefano.
Clad in his Discovery Channel team cap and warmups, when Armstrong was asked if he missed cycling, he explained, "I miss the training, I miss the team aspect. I don't miss the racing so much. I don't even miss the Tour de France! But I'm happy where I'm at...I'm an old guy and it's not that easy at 34, 35 years old to race in a Grand Tour. I'm almost old." When asked about what he's up to, Armstrong said, "I'm really busy these day, more than I want, but I'm having fun!" When DiStefano asked Armstrong about the Giro, he gave plenty of props to Paolo Savoldelli, saying, "he rode a great prologue and was a big surprise for himself and the team. He's really strong and very motivated this year and he's a really smart rider, he knows the right moment to make his move. Basso is the big favourite, but there is a lot of pressure on him. If I had to say who was going to win the Giro today, I'd say Basso, but things change."
Armstrong and Savoldelli
Photo ©: Luc Claessen

After chatting with the Italians, Armstrong and his entourage, including USA Cycling prexy and Phonak consultant Jim Ochowicz, headed to the start of the Giro's Stage 4 in Wanze, where he spoke with Belgium's VRT TV. "I'm here just for personal reasons", explained Lance. "It's a personal trip with friends to celebrate a few birthdays. We're going to ride Alpe d'Huez. I will join my friends there, yes. I can definitely win that race! This birthday trip was always planned to start from Belgium. We'll start here and we're going to France for a few days."
When Armstrong was asked if he was afraid of going to France with all the L'Equipe allegations, he replied by saying, "Afraid? Walking around France has nothing to do with what anyone says. I was in Texas the whole time so nobody cares...It's no problem. I still like the country, still like the people. I just don't want to have coffee with Jean-Marie Leblanc or any journalist from L'Equipe."
When asked about Grand Tour contenders Ullrich and Basso, Armstrong gave his opinion: "Ullrich...he just started racing. I haven't seen him in person. I don't know if he's big or small. He could still (win the Tour). I don't understand (him being overweight). He has so much to gain...He has plenty of incentive." When the TV interviewer asked Armstrong if Basso seems more focused, the American replied, "But Basso's always been focused. He [raced the Giro and the Tour] last year and did well in both races. Probably he could have won the Giro if he wasn't sick."
The TV interviewer then asked whether Armstrong still followed professional racing, and the somewhat bemused reply came, "I care with regards to the team. If you asked me who won the Four Days of Dunkirk, I don't know and I don't care. I'm a little detached. But I still read the websites for highlights."
Stoic Petacchi confirms Tour absence; aims to return for Vuelta
By Tim Maloney, European Editor
After riding the last 47 kilometers of the Giro's stage 3 Monday in major pain from his left knee to finish 15 minutes behind the winner, a stoic Alessandro Petacchi and his Milram team doctor went to the emergency room at Namur Hospital that evening for an x-ray, which revealed that the super-sprinter had a vertical crack one centimeter from the edge of his left kneecap. Petacchi had a half-cast applied in Namur and then headed back to his team hotel.
Later, the speedster from La Spezia explained, "I won't be able to ride the Tour now. I'm hoping to be back for the Vuelta at this point." Tuesday, Petacchi flew back to Italy and on Wednesday will see reknowned orthopedic surgeon Prof. Spinelli at his clinic in Pisa, where an MRI will reveal if the Milram man will need surgery on his cracked kneecap.
Transfer time for Giro teams & staff
By Tim Maloney, European Editor
After four stages in Belgium, the Giro d'Italia entourage has a transfer back to Italy and a rest day Wednesday before Thursday's Team Time Trial. After the srage finish in Hotton, the teams and key staff transferred to Liege, where riders showered, changed and had dinner at hotels near the Liege airport. Two charter flights were scheduled to depart Liege at 21:30 and 22:30 for the hour and a half flight to Parma Airport in Italy. On board are riders, key team staff, Giro race organization and officials, police and even key journalists. Once the flights arrive in Parma, scheduled for midnight at the latest, a fleet of busses will transport the Giro entourage to their hotels. Meanwhile, a vast caravan of team vehicles were making the 950km, 9 to 10 hour road transfer south from Belgium, through Luxembourg and eastern France, across Switzerland and into Italy.
Liberty escapes unscathed; De Kort wants Tour next
The Liberty Seguros - Würth team had a simple aim for the first four days of the Giro d'Italia: to get out of Belgium in one piece. Michele Scarponi and Koen De Kort have both sustained falls, but neither were injured, so the team is now looking forward to making its mark in Thursday's team time trial. "The team will be able to take the start of the team time trial complete and in perfect physical shape," said Liberty press officer Jacinto Vidarte.
Koen De Kort is riding his first grand tour and enjoying the experience. "The Giro is the best option to ride my first 'big one'," he said, "because both in the Tour and in the Vuelta there is more pressure. Here I will have more chance of finishing the race."
For the 23 year old Dutchman, the Giro's spell in Belgium has almost been a trip home. "For me these few days have been a bit special, because we are near Holland and my home, my parents have come to see me every day and there are many Dutch riders in the race," he said. "It is very nice to start where there are so many people that I know."
Liberty hasn't made any waves in this Giro so far, but De Kort believes that will change with Thursday's team time trial, a discipline where the team has traditionally been strong. "The key," to the team time trial, De Kort said, "is to remain all together and not to lose any riders until the finish. I believe that we can do well because we have several riders that are very good in this speciality."
De Kort was happy to start his grand tour career with the Giro, and isn't phased by the severity of this year's parcours. "It's the same for everybody, so it is necessary to do it, I am not afraid and I think that I can finish it," he said. "I preferred to make my debut in the Giro because everyone says that it is the least hard of three, because here the peloton goes more calmly from the start and you have more chance of finishing. But sure, I prefer the Tour de France, because it is the best. After the Giro I hope will soon be able to make my début in France."
More tips for Fantasy Giro game 2006
Only days left to join
The grand prize
Photo ©: Bianchi

Maxxis Courchevels
Photo ©: Maxxis

HED Stinger wheels
Photo ©: HED

It's not too late to join in the fun at this year's Fantasy game. You can join until stage 6 begins (12th May) and there is no disadvantage in joining after the Giro has begun. The full prize list for this year's Fantasy Giro game here at Cyclingnews has been confirmed. Here's some top tips from team manager "Probert" from Nevada (USA) who won in last year's Giro with team "(OLN 4) Obnoxios Lance Network":
"The key was not to focus on the point value of the riders as my number 1 priority, but rather research how different riders where performing in the early season. My team was very well rounded between GC riders, sprinters, and KOM contenders. Cheers have fun. Probert".
Fantasy Giro Prize list
Grand Prize: Bianchi Via Nirone 7 with new Campagnolo Mirage 10 speed in Liquigas colours. The Fantasy Game grand prize is a special model to celebrate the Giro, not yet available in shops.
Runners-up prizes
Play for FREE in the Giro 2006 game
Remember you can play for free for the first 5 stages! Try the game out and see how best to play. It's easy to play the Tour games - all you need to do is pick your dream team of 15 from the riders racing in this year's Giro start list. Then each day pick 9 riders to race for your fantasy team from these 15. You'll need a good combination of climbers, sprinters and general classification riders. For more details go to the rules section of the site for more info. It's a great way to follow the Giro 2006.
To register your teams for the game go to fantasy.cyclingnews.com
Good luck!
The Fantasy Cyclingnews Team
(All rights reserved/Copyright Knapp Communications Pty Limited 2006)