Giro d'Italia Cycling News for May 9, 2006
Edited by Jeff Jones & John Stevenson
Schumacher breaks through
Stefan Schumacher (Gerolsteiner)
Photo ©: Sirotti
Stage three of this year's Giro d'Italia was very impressively won by Gerolsteiner's Stefan Schumacher, who was clearly the strongest on the day's tough final climb up to the Namur Citadel. Discovery's Chechu Rubiera started the uphill sprint early but Schumacher was able to ride right past him and snatch the victory - and the maglia rosa. Teammate Davide Rebellin was third, and pre-stage favourite Paolo Bettini finished in fourth place.
After an early breakaway of four - Raffaele Illiano (Selle Italia), Amael Moinard (Cofidis), Markel Irizar (Euskaltel) and Moises Aldape Chavez (Panaria) - was caught again some 20 kilometres before the finish line, the finale was held in damp weather conditions which had lasted all day, causing Alessandro Petacchi (Milram) to crash about 50 kilometres off the finish. The Italian sprinter hurt his left knee and, in the company of some teammates, preferred to take things slow, eventually coming into Namur way behind the winners.
Also see: Stage 3 full results, report & photos and Live report.
Coming up on

Cyclingnews will cover the 60th edition of the Dauphiné Libéré live as of stage 4 on Wednesday, June 10, at approximately 15:00 local Europe time (CEST)/ 23:00 Australian time (CDT)/ 9:00 (USA East).

WAP-enabled mobile devices: http://live.cyclingnews.com/wap/

Brandt & Petacchi out
Alessandro Petacchi (Milram) and Christophe Brandt (Davitamon-Lotto) are both going home early from the Giro after being the victims of crashes in Monday's perilous, rain-soaked third stage. Brandt crashed in an incident involving a police motorbike and broke his elbow; according to his team he was in hospital in Herentals Monday evening for an operation.
As previously reported, Petacchi sustained a broken knee in a crash about 50km from the stage finish. Despite the pain, he finished the stage, but withdrew from the race when when later examination revealed the extent of the damage.
Stage 3 post-race comments
Stefan Schumacher (Gerolsteiner, first & maglia rosa)
"This was the race of may life. That's what I always dreamed about, and now the dream has come true. The victory, the pink jersey and this team. It's unbelievable, I'm overwhelmed. It's madness. I can't grasp it at all and it will surely take some time after the interviews and press conferences to sink in." Schumacher had hoped for the maglia rosa before the stage, "but you just can't plan and foresee something like this.
"I can't even predict at all how long I will keep the maglia rosa as I've never done a three week race before. Today both Rebellin and I were keen to do well in the final and our teammate Moletta did a great job for us. So I'm really happy with the results."
Christian Henn, Gerolsteiner directeur sportif
"Andrea Moletta was going to do the work at the foot of the climb. And Stefan or Davide [Rebellin] were to attack," said Henn about the team's tactics. When Rubiera managed to follow Schumacher, "I gave the command to pull through."
Davide Rebellin (Gerolsteiner, third)
"It was a hard stage today with the rain. We rode well and my teammate Schumcher made just the right move and deserved to win today."
Paolo Savoldelli (Discovery Channel, ninth)
"It was a good stage for me despite the rain...we didn't want to crash or lose time and I even gained some time at the finish. So it went well."
Paolo Bettini (Quick Step-Innergetic, fourth)
"I wanted to win today and even checked out the finish before. It's too bad since my teammates worked hard all day on the front in the rain in the wind. When Rubiera went, I hesitated a second and then it was too late because I was blocked by a scooter from the race organzation and that's when Schumacher went."
Alessandro Petacchi (Milram, 195th)
Immediately after the stage, and before he had been examined and found to have broken his knee, Petacchi told reporters how the crash had happened. "When a Euskaltel rider crashed about four or five riders ahead of me, I braked hard but stayed up until Cioni slid into me and hooked my handlebars," he said. "I fell over on my left side and hit my knee hard. It hurt a lot at first, but felt better at the end of the stage. I'll go back to the hotel and have it checked out... I hope it's OK."
Damiano Cunego (Lampre, 16th)
"With all this rain, you have always to pay much attention. At 3 kms left there was a crash ahead and, even if I slowed down, I couldn't avoid the fallen riders. So I began the climb not in the first positions, but I succeeded in closing the gap and I reached the finish line with Di Luca and Basso."
An interview with Robbie McEwen: Where he wants to be
Robbie McEwen speaks
Photo ©: Les Clarke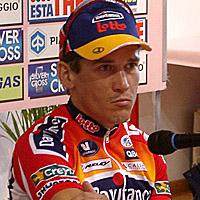 After an injury setback sidelined him throughout March and April, Davitamon-Lotto's Robbie McEwen bounced back with a win at the Tour de Romandie and on Sunday at the Giro, proving that he's well and truly back where he wants to be - on top of the podium. Cyclingnews' Les Clarke was at the post-race press conference in Charleroi where McEwen notched up yet another Giro victory.
"Any sprint you win is perfect," said McEwen following his seventh win of the season. "When Alessandro swung around and saw me on his wheel I think that made him a little uncertain that he wanted to ride a more tactical sprint instead of just blasting off like he often does from 200 [metres]." McEwen knew Petacchi may have problems dealing with the Australian's wily race craft, and the Italian's fears were soon realised - as McEwen explained with a satisfied tone in his voice. "I could just go through between him Ongarato and Brown because Ongarato went from the front, away to the right and I was able to get through a very small gap and open my sprint for real."
It was vintage McEwen, and Davitamon-Lotto's fast man put the win in his book of experience, something he told the gathered press is his biggest asset when it comes to notching up wins. "Having always been a sprinter and sprinting in that way, all that experience keeps building; when I'm in a position like I was today, eight times out of ten I can make the right decision," he said. "But to be a good decision maker you also have to have good legs."
Click here for the full interview.
What's in a name?
By Les Clarke in Namur
Giro stage 3 winner Stefan Schumacher shares a famous name; at today's post-race press conference journalists more accustomed to discussing the exploits of a Schumi in Ferrari red couldn't focus on the Schumi in Gerolsteiner blue.
After his storming win up the difficult pave pass, Schumacher was asked questions about his car, his drivers' license and whether he'd ever received any speeding tickets, all of which were received and answered with a smile.
Schumacher seemed bemused by all the attention on Herr Michael Schumacher when the former Formula 1 world champion has little to do with cycling besides some pre-season training on a mountain bike, which the Ferrari rider and many of the F1 paddock say they enjoy.
He was also asked about the incident during last year's Rheinland Pfalz stage race that resulted in false accusations of doping when in fact the 24-year-old had used an asthma treatment with elements on the Dutch national anti-doping agency's banned list.
Regardless of the ambiguity surrounding the new maglia rosa's name, Schumacher proved with victory in today's stage that his name may no longer be so confusing in cycling circles in the near future, with the young German displaying a level of professionalism worthy of the maglia rosa.
Asked about how it felt to be wearing the leader's jersey, 'the other Schumacher' replied, "It's crazy - I think I need some time to realise it," and just like a young Michael Schumacher, big success has come in good time for this man from Stuttgart.
Top tips for Fantasy Giro game 2006
Maxxis Courchevels
Photo ©: Maxxis

HED Stinger wheels
Photo ©: HED

The full prize list for this year's Fantasy Giro game here at Cyclingnews has been confirmed. It's not too late to join in the fun at this year's Fantasy game. You can join until stage 6 begins (12th May) and there is no disadvantage in joining after the Giro has begun. Here's some top tips from team manager "Kleppers" from Amsterdam who won in last year's Giro Fantasy Game with team "Basso basta!"
"After the first five stages a few must haves emerged: Lancaster, McEwen and Di Luca. Although he failed in the first stages I also picked Petacchi. Because of the relatively low weighting of the general classification as compared to other cycling games, I chose more stage hunters (mainly sprinters of course) than I usually do. For me the most difficult decision was what to do with Bettini. He took a lot of points in the beginning of the Giro, indicated that he was aiming at the points jersey but was also one of the most expensive riders. I ended up playing with 3 teams to spread my chances and it paid off. Good luck to everyone, Kleppers."
Fantasy Giro Prize list
Grande Prize: Bianchi bicycle with Campagnolo groupset painted in Liquigas colours
Runners-up prizes
Play for FREE in the Giro 2006 game
Remember you can play for free for the first 5 stages! Try the game out and see how best to play. It's easy to play the Tour games - all you need to do is pick your dream team of 15 from the riders racing in this year's Giro start list. Then each day pick 9 riders to race for your fantasy team from these 15. You'll need a good combination of climbers, sprinters and general classification riders. For more details go to the rules section of the site for more info. It's a great way to follow the Giro 2006.
To register your teams for the game go to fantasy.cyclingnews.com/
Good luck!
The Fantasy Cyclingnews Team
(All rights reserved/Copyright Knapp Communications Pty Limited 2006)