Giro d'Italia Cycling News for May 8, 2006
Edited by Hedwig Kröner
Stage two wrap-up: McEwen wins first round of the sprinters
Robbie McEwen (Davitamon-Lotto)
Photo ©: Sirotti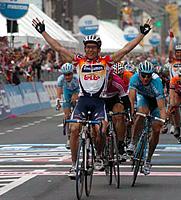 Davitamon-Lotto's Robbie McEwen has triumphed in the first sprinters' stage of the Giro d'Italia, which finished in Marcinelle, on the outskirts of Charleroi. After what looked to be a perfect leadout by his Milram boys, Alessandro Petacchi just didn't have the legs to prevent Olaf Pollack from pre-empting the sprint with 200m to go. But McEwen wasted no time and grabbed Pollack's wheel, before powering past on the inside to win by over a bike length. Third place went to Paolo Bettini, with Petacchi a disappointed fourth.
The 197 km stage through the provinces of Hainut and Namur was relatively unremarkable, being held on a grey, damp day. A breakaway of four riders got away after 23 km: Gabriele Missaglia (Selle Italia), Mickael Delage (Française des Jeux), Beńat Albizuri (Euskaltel-Euskadi), and Arnaud Labbe (Bouygues Telecom). The four gained 7'00 shortly before the 100 km mark, before Discovery, Milram and Davitamon combined to chase them down with 19 km to go. No-one was able to break the grip of the sprinters' teams after that, and it was a showdown on Marcinelle's Avenue Eugčne Mascaux. Petacchi had five men to lead him out, but the slight uphill finish was enough to take the sting out of his legs when Ongarato pulled off at 250m to go. Pollack tried the early move, but McEwen was far too strong for the German and took the second stage.
The overall lead did not change, and Paolo Savoldelli goes into tomorrow's third stage with his 11 second advantage over Brad McGee intact.
Also see: Stage two full results, report & photos and Live report.
McEwen's 'a real team leader'
Coming up on
Cyclingnews will cover the 60th edition of the Dauphiné Libéré live as of stage 4 on Wednesday, June 10, at approximately 15:00 local Europe time (CEST)/ 23:00 Australian time (CDT)/ 9:00 (USA East).

WAP-enabled mobile devices: http://live.cyclingnews.com/wap/

By Brecht Decaluwé in Marcinelle
Davitamon-Lotto's Preben Van Hecke was happy to hear that Robbie McEwen could clinch the win in Marcinelle: "I didn't see Robbie take the win because at that time, my job was done," he told Cyclingnews. "My goal was to work in the peloton so that we could get a sprint; with ten km to go, the Milram guys took over and I let the peloton go."
Van Hecke said McEwen knew this was one of the few opportunities he had to grab a win: "He asked us to work out a sprint for him, so he must have been very confident; to me, he's a real team leader. I don't know if he can do it again tomorrow, but you never know since he'll be in a winning mood."
All for Il Falco
By Les Clarke in Marcinelle
With a strong team in attendance and greater focus on this year's Giro d'Italia, Discovery Channel boasts two names who can shake up the overall classification - Paolo Savoldelli and Tom Danielson. While Savoldelli is the defending champion, one of America's great stage race hopes, Danielson, must surely have some aspirations for the third Grand Tour of his pro career.
Cyclingnews caught up with Discovery Channel DS Sean Yates and discussed who is top dog within the Disco camp, and the experienced Brit was quick to point out that it's all for Paolo. "It's clear from the start that Paolo is number one; there's no question about that," said Yates.
With an eighth place in last year's Vuelta a Espańa, Danielson is certainly no slouch when it comes to racing big stage races, and Yates is aware that the former Fassa Bortolo rider will have his day at the top of Discovery's tree. But for now it's a case of 'Tom the worker bee' and that will only change if something drastic happens. "Tom is obviously up and coming and his objective is to be in the mountains when Paolo needs him. OK, if Paolo suddenly falls off and breaks his leg, then Tom's going to be our hope... but until something like that happens, it's clear that Paolo's number one," said Yates.
"Obviously he [Danielson] has aspirations," added Yates, pointing out that Danielson may in fact finish high on GC if the formula is right at the crucial times. "It's possible to make it that we can place him [on GC]. If he can stay with Paolo in the mountains and does reasonable time trials, that won't be a problem."
While this year's Giro finish is a long way away, the formula for Discovery Channel overall is simple - get il Falco to the finish first. "It's a long way to Milan, and the idea is that Paolo wins the race; that means he is kept safe and doesn't use up too much energy," said Yates. Finally, when asked about rumours that Savoldelli may not start the Giro due to intestinal upsets suffered during the recent Tour de Romandie, Yates was very quick to reply with a chuckle, "That's news to me."
Bruyneel: "Tour even better for Savoldelli than Giro"
Paolo Savoldelli (Discovery Channel)
Photo ©: Sirotti

After Paolo Savoldelli's impressive comeback to the Giro d'Italia on Saturday, where he earned the maglia rosa rather than taking it for granted from his last year's win, Discover Channel's team director Johan Bruyneel was rather pleased with the Italian's performance. "It's a very important win," Bruyneel told Sportwereld. "Especially mentally for him. And it's also important for our main sponsor - since Lance Armstrong left, there has been a lot of talk about this Giro which we won already last year. On the first day of a Grand Tour since the Tour de France 2005, there's one of us in the leader's jersey again."
The Belgian team director even compared Savoldelli to the seven-times Tour de France winner. "The time that Paolo made (over his rivals) in those 6.2 kilometres made me think of the way in which Lance used to ride," he continued. "But even a victory such as this one doesn't mean anything for the evolution of a tour. It is only the beginning now."
Bruyneel signed Savoldelli in 2004, after he'd spent two rather unsuccessful seasons at Team Telekom/T-Mobile. "I wanted to take him to US Postal already in 2001, but the deal didn't work out," the Belgian added. "Paolo is a top rider whose lifetime objective is the Giro d'Italia. I think that the Tour de France would suit him even better than the Giro, but he is Italian wholeheartedly..."
Basso not worried
Ivan Basso (CSC) and Paolo Savoldelli in stage 2
Photo ©: Roberto Bettini

Ivan Basso was not exactly off to a flying start in the 6.2-kilometer first stage of this year's Giro d'Italia. The time trial with start and finish in the Belgian city of Seraing resulted in a 13th place for the Team CSC captain as well as a time loss of 23 seconds to last year's winner, Paolo Savoldelli (Discovery Channel). Nevertheless, Basso plays it cool.
"I had hoped for more, but I wouldn't exactly say I'm disappointed," the CSC team captain said. "Realistically, I expected to be about four or five seconds faster, but I guess today wasn't my day. But there are a lot of tough stages ahead, and I'm not worried about the time I lost to Savoldelli today. It's plain to see that he's in great shape, but at the same time he is a specialist in this particular discipline. The Giro is rolling now and there's still a very very long way to Milan."
Team manager Bjarne Riis also thought that the result was not a catastrophe, and even pointed at the bright side of the current situation. "I have to take my hat off to Savoldelli, who was truly in a class of his own," Riis said. "Like Ivan I'd also hoped for more from him, but there's no reason to panic. I know how hard he has worked to get ready for the Giro, and on the positive side of things at least we can spare the team a bit in the beginning, which will definitely prove an advantage later on."
Sergeant: "We can race without pressure"
By Brecht Decaluwé in Marcinelle
After a disappointing Spring Classics campaign, Davitamon-Lotto's team manager Marc Sergeant looked very happy when Cyclingnews spoke with him at the finish line after stage two at the Giro d'Italia: "After Ličge-Bastogne-Ličge, I said we needed to turn that dark, empty looking page... it just wasn't good enough for us.
"This is a new page, and it's already written full; now, we can race without pressure," said Sergeant, the Belgian referring to a hat-trick of wins the team scored at the Tour de Romandie and the stage victory of Gert Steegmans at the Four Days of Dunkirk.
"Of course, we were unhappy and I think that's logical; the sponsor and everybody that was involved with the team complained. Now that we've taken all these recent victories, there will be calm. You know, recently a guy from L'Equipe said that a French team would've been happy with our results - but since we're in Belgium and rivalling Quick.Step, the situation is completely different."
So what did Marc Sergeant think about today's victory of McEwen? "It was really nice what Robbie did today - I think the others weren't even in the photo finish!
"Tomorrow will be slightly more difficult since the finish is uphill on the Citadel of Namur; but you never know with Robbie... once he's in the winning mood, he's hard to stop. I expect that Quick.Step and Liquigas will do the work to get Bettini and Di Luca into a good position for an uphill sprint."
Merckx's quiet day in the office
Phonak's Axel Merckx had a quiet day at the office but wanted to give his view on the race to Cyclingnews: "It was a classic development of a stage race with an early breakaway and some teams that chase them [down] late in the finale to lead out a sprint. The last 50 kilometres of the race wasn't that quick like in the Tour de France, but that wasn't necessary as the break wasn't going very fast."
With tomorrow's uphill finish is uphill, it might suit the Belgian a little more. "I'm not super-super, so my fitness will not be any better in one day. Maybe we can work something out for Fabrizio Guidi; he's fast, strong and he's feeling alright, but today he got elbowed in the fight towards the sprint [finish]."
Another fast German Schumacher?
Stefan Schumacher (Gerolsteiner)
Photo ©: Brecht Decaluwé

Formula One's Michael Schumacher is the fastest German on four wheels, and apparently Stefan Schumacher is trying to be the fastest German on two wheels. The Gerolsteiner rider, who has no family ties to Michael and Ralf whatsoever, finished 14th in Saturday's Giro time trial, only 13 seconds behind the leader. "A super beginning," said the 24-year-old. "It was worthwhile to have studied the course so meticulously. I had hoped for a place in top ten, but it surprised me a little that it worked out so well. I am totally satisfied." And that's not the end of his plans for the Giro. Would he like to go after the pink jersey? "Why not? I am in good shape and will certainly try for it," Schumacher said.
Schumacher's performance didn't surprise teammate Robert Förster. Writing on Radsportnews, "Frösi" noted that he, Schumacher and three other teammates checked out the route on Saturday morning. "Schumi blasted up the hill five times. I thought then, the guy is going to do something today..." And Förster expects more from his teammate in the coming days: "Schumi is already very strong. And he is an allrounder, he can time-trial, does well in the mountains and can even sprint. He's like Valverde. He'll show something in the next days, just wait!"
In Sunday's stage two of the Giro d'Italia, Schumacher sprinted to 11th place behind winner Robbie McEwen.
Courtesy of Susan Westemeyer
Ullrich earring-less
Is Jan Ullrich doing everything possible to lose weight? Last week before the start of the Giro he sacrificed his long hair. Now it seems he is also doing without his trademark silver earring. It turns out that his little daughter Sarah took it off him one day while they were playing and he just never got around to putting it back on. Now, Ullrich said, he's gotten used to not wearing it any more.
Courtesy of Susan Westemeyer
Fantasy Giro game prize list confirmed!
We are pleased to confirm a full prize list for this year's Fantasy Giro game here at Cyclingnews. Thanks to the continued support from the industry, we have some great prizes lined for this season and we hope you'll enjoy this year's Giro competition. It's not too late to join in the fun at this year's Fantasy Giro game at Cyclingnews. You can join until stage 6 begins (12th May) and there is no disadvantage in joining after the Tour has begun. You have until May 12th to fine tune your teams for the Giro.
Grand Prize - Bianchi bike in Liquigas colours with Campagnolo groupset: The Grand Prize in the 2006 Giro d'Italia Fantasy Game will be a brand-new Bianchi bicycle from the legendary Italian firm of Treviglio. The bike is fitted with a Campagnolo Mirage groupset and painted in the same colours as Liquigas, the ProTour team of Danilo Di Luca. A complete description and specifications on the Bianchi will be announced soon.
Runners-up prizes
Maxxis Courchevels
Photo ©: Maxxis

HED Stinger wheels
Photo ©: HED

Hed Stinger wheels: Hed are offering a pair of Stinger wheels! The Stinger 50 is pure breed all carbon road racing wheelset that retails for USD $1090 and weighs in at 1400 grams.
10 pairs of Maxxis Courchevel tyres: Maxxis are providing 10 sets of their Courchevel Tyres for this year's Giro. The Courchevel were reinvented this year, from the rubber to the casing. Triple Compound Technology offers long wear life, great traction, and better transition from compound to compound. KevlarR belt technology provides puncture resistance.
3x complete sets of Santini wear: Santini are offering three complete sets of Santini ProTour replica team kit - the lucky winners can choose from any of the four ProTour teams using Santini clothing.
3x Giro Atmos Helmets: Win the helmet that graces the heads of some of the best riders and teams in this year's Tour. You can win the same Giro Atmos Discovery Team Issue helmet as worn by Lance Armstrong. We are pleased to confirm Giro's continued support of our Fantasy games. They are providing three helmets in total in team Discovery, Rabobank, and Fassa Bortolo colours. Worn by the best they make a great addition to the line up.
3x Speedplay's Zero pedals: Speedplay are continuing to support the Fantasy games with three more sets of their Zero pedals - the same style of pedal used by ProTour teams such as Team CSC and Phonak. The stainless steel model is on offer and it will provide years of faithful service. It allows you to choose either a fixed position or up to 15 degrees of float. Zero pedals maintain the traditional feel of a fixed system while incorporating all the well-known advantages of Speedplay X Pedal Systems.
3x fi'zi:k limited edition saddles: fi'zi:k are also continuing their support of this year's games with three of high-erformance road racing saddles. You'll have the choice from the fi'zi:k range, such as the Arione, Aliante or (appropriately) the Pave model. Or, you could choose from its limited edition, team replica saddles, including the new 'Di Luca Killer' and 'Cunego Piccolo Principe' models.
Play for FREE in the Giro 2006 game
Remember you can play for free for the first 5 stages! Try the game out and see how best to play. It's easy to play the Tour games - all you need to do is pick your dream team of 15 from the riders racing in this year's Giro start list. Then each day pick 9 riders to race for your fantasy team from these 15. You'll need a good combination of climbers, sprinters and general classification riders. For more details go to rules section of the site for more info. It's a great way to follow the Giro 2006.
To register your teams for the game go to http://fantasy.cyclingnews.com/
Good luck!
The Fantasy Cyclingnews Team
(All rights reserved/Copyright Knapp Communications Pty Limited 2006)