11th Telekom Malaysia Tour de Langkawi - 2.HC
Malaysia, February 3-12, 2006
A change of pace, and perhaps a new face
By Anthony Tan in Kuala Lumpur
2005 winner Ryan Cox is back in Malaysia as part of the South African national team, hoping to defend his title
Photo ©: Cyclingnews/Mark Gunter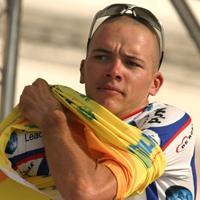 In managing director Imran Abdullah's (a.k.a. Simon Donnellan) opening address to all involved with the 2006 edition of the Le Tour de Langkawi (LTdL), he begins by saying: "2005 saw much changed in the global structure of professional cycling and presented a number of key challenges to us as race organisers. In response, we have adapted our operations and taken many positive steps to improve our efficiency and ensure a long term future for the TM Le Tour de Langkawi."
The first statement is certainly true; the advent of the ProTour appears to have raised the level of events such as the Deutschland Tour (Tour of Germany), Criterium du Dauphiné Libéré and Giro d'Italia to another level. But equally, the creation of five Continental circuits and the introduction of Pro Continental and Continental teams resulted in a few negative repercussions.
With no ProTour points up for grabs at races like the LTdL, a number of race organisers have begun to refocus their objectives. "This race previously has put great emphasis on the European contingent; I personally want to maintain that, but also give some balance to the Asian teams as well," Abdullah told Cyclingnews in December last year. It was also during this time the race was having a few problems of its own, which thankfully have now been dealt with.
"Around the region at the moment, there's certainly more Continental teams coming out," he continued. "China are very active, Indonesia are becoming more active now... we're an Asian event.
"I feel there is an emergence within Asian cycling that will start to come through and we want to be a part of it - nothing would give me more satisfaction than to have an Asian winner in this event. We've got to play our part, we're not just organisers of an event; we want to develop the sport [in Asia] as well because it's in our interests."
Abdullah says the 2006 Le Tour de Langkawi was marketed to interested teams as "world-class preparation event". "We're early in the season, we have a nice climate - maybe a little hot - we've adjusted our route to suit the early part of the year but still maintains competitiveness - and that's what we're selling ourselves as," he said.
Asked about a similarly-ranked event, the Tour of California, taking place just a week later (Feb. 19 - 26) and forcing a number of teams to make a choice, he said: "I welcome the Tour of California; we've requested to the UCI to put us in between Down Under and California. I'm delighted that globalisation of cycling is taking place."
Consequently, the route has undergone arguably its most significant change since the race's inception eleven years ago. Just three ProTour teams - AG2R-Prévoyance, Bougyues Telecom and Crédit Agricole - comprise the twenty team line-up, along with seven Pro Continental and four Continental teams, the rest national or composite national squads.
In years past, overall race honours were invariably decided right at the back end of the race, the famed 17 kilometre, 1,716 metre ascent to Genting Highlands billed as the queen stage. This year, it's a different style of race, and on paper, much more exciting.
Held entirely on the western side of the Malaysian Peninsula, the race kicks off on Friday, February 3 in the capital of Kuala Lumpur with a short, flat stage to Rawang. A longer, equally flat stage from Tanjung Malim to Sitiawan follows, although it's no easy weekend, as Sunday's finish is nestled high above with the gorillas in the Cameron Highlands.
We then head back in the direction of KL for Stage 4, which should play right into the hands of the finish-line speedsters. However, there's just one day's respite from the mountains before the peloton's greeted with its second mountain-top finish, this time at the land of fantasy and fortune in Genting.
Wednesday's Stage 6 begins at the mosque with the most, none other than the imposing beauty that is Shah Alam, before heading south and inland to Tampin on a relatively bumpy parcours; if a break hasn't happened yet, it could well happen today. After the longest stage of the tour at 188.2 kilometres, Stage 7 finishes near the country's southern tip in Kota Tinggi.
On Friday, it's a stage less than half that distance as the race doubles back to Segamat before the next day's all-important Melaka time trial. Only 16.2 kilometres long, but this TT will provide the final platform for any last-ditch efforts to change the overall classification. And in keeping with tradition, the criterium in downtown Kuala Lumpur hosts a two-wheeled parade of sorts, wrapping up the race for another year.
"We've sort of mixed it up next year, a different style of race that we're quite excited about," said Abdullah.
"We've had to realign ourselves and sell ourselves a little differently. This race has always projected itself as being among the top five in the world, and we had to be honest with ourselves and say, 'Now come on, what are we?'
"Organisers need to swallow their pride a little bit, and rather than complain and grumble, let's just adapt to the current situation. I personally think that we've been status-crazy and sort of overlooked the development of Asian cycling, and how can we act as a catalyst. It's nice to know the other organisers look to our event to learn the ropes, certainly within Asia," he said.
Photography from the teams presentation
For a thumbnail gallery of these images, click here
Images by Shane Goss/www.licoricegallery.com