Geelong Women's Tour - 2.2
Australia, February 21-23, 2006
Main Page Results Overall standings Stage Details Previous Stage
Stage 4 - January 23: Lara - Lara road race, 115km
Wood wins tour; final stage to Teutenberg
By John Flynn in Lara
Ina Teutenberg (T-Mobile)
Photo ©: John Flynn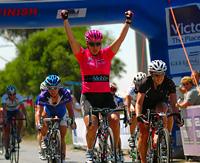 World Cup Champion Oenone Wood and her Nürnberger Team will head into Sunday's Geelong World Cup race brimming with confidence after the Australian claimed overall victory in the Geelong Women's Tour.
Wood crossed the line in third place at the end of today's 112 kilometre road stage, behind T-Mobile's Ina Teutenberg and New Zealander Melissa Holt. It's the third year in succession the two-time World Cup champion has won the Geelong Tour. On each occasion Wood has claimed both the general classification and sprint points jerseys.
Today's fourth stage, which included a punishing climb mid-race was eventful from the outset, with several crashes, including one which has left Canadian Commonwealth Games hope Lyne Bessette with a suspected broken collar bone.
Oenone Wood (Nürnberger)
Photo ©: John Flynn

"Our team really had to work hard to chase everything today," Wood told Cyclingnews after dousing her T-Mobile rival Teutenberg in champagne. "Towards the finish I just to hang on to make sure Melissa Holt didn't get too many points on me."
Teutenberg was also ecstatic with her stage win, having survived the suffering on the punishing climb earlier in the day.
"That was hard today, but I'm happy that I've got it done now," Teutenberg said. "It was steep, I've only heard stories before. I made it up without walking so that was at least one thing.
How it unfolded
Stage four of the Geelong Tour took the elite of women's cycling on a 112 kilometre journey, starting and finishing in the village of Lara, near Geelong. There were two notable omissions from the field, with two previous stage winners, Rochelle Gilmore (Safi Pasta Zara Manhattan) and Univega's Christiane Soeder withdrawing after being caught up in yesterday's crash at the finish. To her credit a very sore Russian Svetlana Bubninkova managed to climb back into the saddle, with her cuts and bruises from yesterday's crash patched up.
Running out of gears
Photo ©: John Flynn

The parcours for the final stage of the Geelong Tour is well known and well feared among the women's peloton, mostly thanks to a short but brutal two kilometre pinch climb at the 50 kilometre mark. Directeur Sportifs 'in the know' fitted team bikes with 27 tooth rear clusters, in order to avoid the prospect of riders being forced to get off and walk.
There was trouble early for the Equipe Nürnberger Versicherung team, when race leader and World Cup Champion Oenone Wood missed the jump on a breakaway containing twelve riders, several of them threats in the overall classification.
"I missed a couple of the early breaks," Wood admitted. "More so just because I had poor position at the back of the bunch, on the smaller roads, you just can't get through."
Wood's team-mates, including Australian Road Champion Kate Bates were forced to work over-time to keep the defending Geelong Tour Champion in contention. "We had a pretty hard day actually as a team," Bates told Cyclingnews at race end. "A few breaks went early and we spent about 70 percent of the time on the front as a team. Leading into the hill we didn't expect many of us to be left."
The hellish climb took its toll on many of the riders, but to their credit, the majority of cyclists in the peloton managed to stay clipped into the pedals until the summit. At the front, Oenone Wood showed once again why she should be considered a favourite, both for Sunday's World Cup race and to defend her overall World Cup Championship.
Wood showed yet again that her climbing skills are easily the match of her sprint skills. The Nürnberger team leader led the strung out group over the climb, with team U.S.A.'s Kristin Armstrong, New Zealand's Rosara Joseph, Elk Haus rider Annette Beutler, and Nobili Rubineterie's Olivia Gollan among the leaders.
The 'usual suspects' of the pro women's peloton were also up there, with T-Mobile's Judith Arndt and Lyne Bessette making it over the top in the first group of riders, along with Wood's team-mates Kate Bates and Trixi Worrack.
Lyne Bessette
Photo ©: John Flynn

Stage win soured by crash for T-Mobile
For T-Mobile the hill would be the least of the team's worries. The second half of the 112 kilometre stage was littered with crashes, the worst of them taking out team members Judith Arndt and Lyne Bessette, along with Australia's Natalie Bates(N.S.W.I.S.).
Bessette was left on the bitumen screaming in pain, her Geelong World Cup campaign over and her Commonwealth Games aspirations for Canada seriously in doubt.
"We lost Lyne in the crash, and it didn't really look that good," team-mate and stage winner Ina Teutenberg said.
For Bates, it was her second crash in as many days and her third in two weeks. Yesterday the New South Wales Institute of Sport cyclist was caught up in the pre finish line incident at Barwon Heads. Today it was more of the same.
"I've had a shocker actually," Bates said of her Geelong Tour for 2006. "I had a crash in training a couple of weeks ago and I did make the comment at the time that I haven't probably fallen off in years, it's probably jinxed me for sure."
Kiwis attack - U.S.A. Team misfires in sprint
A Team New Zealand rider
Photo ©: John Veage

After managing to avoid the on-road incidents, both the New Zealand and U.S.A. national teams looked to be firmly in contention in the final kilometres of today's final stage.
The New Zealanders managed to annoy their Australian rivals as only kiwis can, by sending riders up the road in the final kilometres. With almost enough cyclists in black jerseys to field a rugby team, an attack by New Zealand's Michelle Hyland with four kilometres to go spelt danger for Oenone Wood.
"I don't know how many New Zealanders were in this race but they seemed to be everywhere," Wood said
The jerseys of the stars and stripes were also prominent at the front end of the peloton, but a miss-timed sprint by yesterday's stage winner Tina Mayolo-Pic proved costly.
"We kind of started the lead-out early and we got a bit swarmed around the last corner," the U.S. criterium champion told Cyclingnews. "We were down to one person and Kristin (Armstrong) was going awesome, but it was just too far by the time she blew and people started to come around."
Ina Teutenberg took full advantage of the situation. T-Mobile's champion sprinter continuing her impressive Geelong Tour. A stage win today completing the full-set of podium positions, following yesterday's third placing and second in Tuesday's criterium.
"The U.S. team did a perfect lead-out for Tina but then Sarah Ulmer came by with 400 to go and then Tina got a little nervous," Ina recalled of the final seconds in the race. "She started sprinting already and I was on her wheel and then she perfectly led me out and I could just go to the front with 150 to go and hold it up."
Esteemed company
Photo ©: John Flynn

Best ever performance for Nichols - Rhodes also ready for Geelong World Cup
Perhaps the most inspiring story to emerge from the three day Geelong Tour was the performance of New South Wales Institute of Sport cyclist Kate Nichols.
A member of the A.I.S. team involved in last July's tragedy in Germany, Nichols return to racing continues to build momentum and there was no wiping the smile from her face after claiming one of the intermediate sprints during today's stage.
"I've been really pleased with the tour I think it's my best ever," a beaming Nichols told Cyclingnews. "I'm stoked with how I went in the prologue and I was up there in the crit. In a few road stages I picked up a few sprint points just to try and move up a few places on G.C. and finish in that top ten."
It's been a huge week for the young Australian who is still getting used to competing with Olympic and World Championships and more to the point being up there with them on the road.
"Obviously it's their off season but it's amazing to be amongst them," Nichols said. "I had a go in all areas of the racing, I'm in amongst it and I'm looking forward to the World Cup. Hopefully it'll be tough because that's how I like it."
Alexis Rhodes
Photo ©: John Flynn
Fellow A.I.S. cyclist Alexis Rhodes will also compete in Sunday's Geelong World Cup after enjoying a mixed bag in the three day Geelong Tour.
Today's final stage turned out to be a hard day at the office for the South Australian, whose comeback to the sport has already brought a national criterium championship and medals at the recent national track championships.
"Yesterday was not a bad day for me, today I had a bit of bad luck," Rhodes said. "Someone ran into my rear wheel and pushed it into my frame and I thought I'd broken a spoke, so I sort of stopped and fixed it up. Got back on, then I punctured at the bottom of the hill."
As one of the senior Australian rider in the peloton sees it, the likes of Alexis Rhodes and Kate Nichols can only benefit from racing the Geelong Tour and Geelong World Cup.
Nobili Rubinetterie's Olivia Gollan, the winner of the first Geelong Tour, might not have climbed onto the podium on this occasion, but the presence of such a high class field has been something to celebrate in itself.
"It's really good actually, this is the strongest field I've ever seen in Australia," Gollan told Cyclingnews. "It's so cool to be racing in my home country with 150 girls, most of whom are international. I feel like I'm racing Milan-San Remo."
Riders toil
Photo ©: John Flynn

The elite of women's cycling will have two days off to recover, dress their wounds and regather strength before contesting the Geelong World Cup on Sunday.
Photography
For a thumbnail gallery of these images, click here
Images by John Veage/Geelong Tour
Images by John Flynn/Cyclingnews.com
Results
1 Ina Teutenberg (Ger) T-Mobile                                        2.59.44
2 Mellisa Holt (NZl) Bike New Zealand                                         
3 Oenone Wood (Aus) Equipe Nürnberger Versicherung                            
4 Hayley Brown (Aus) Chase Sydney - Smart - Mercedes Benz                     
5 Joanne Kiesanowski (NZl) Univega Pro Cycling Team                           
6 Miho Oki (Jpn) Nobili Rubinetterie Menikini Cogeas                          
7 Tina Mayolo-Pic (USA) USA Cycling Team                                      
8 Martina Corazza (Ita) A S Team FRW                                          
9 Jenny Macpherson (Aus) Australian National Team                             
10 Annette Beutler (Swi) ELK Haus NÖ                                          
11 Monia Baccaille (Ita) Italian National Team                                
12 Susanne Ljungskog (Swe) Team Cheerwine/Bicisport                           
13 Emma Rickards (Aus) Univega Pro Cycling Team                               
14 Lang Meng (Chn) Giant PRO Cycling Team                                     
15 Gina Grain (Can) Giant PRO Cycling Team                                    
16 Tamara Boyd (NZl) Bike New Zealand                                         
17 Sally Cowman (Aus) New South Wales Institute of Sport                      
18 Kate Nichols (Aus) New South Wales Institute of Sport                      
19 Yan Xia Jiang (Chn) Giant PRO Cycling Team                                 
20 Charlotte Goldsmith (GBr) SAFI - Pasta Zara Manhattan                      
21 Olga Slyusareva (Rus) Russian National Team                                
22 Helen Kelly (Aus) Team Cheerwine/Bicisport                                 
23 Nikke Egyed (Aus) Queensland Academy of Sport                              
24 Susie Wood (NZl) Bike New Zealand                                          
25 Akemi Morimoto (Jpn) Japanese National Team                                
26 Olivia Gollan (Aus) Nobili Rubinetterie Menikini Cogeas                    
27 Magali Le Floch (Fra) T-Mobile                                             
28 Leonie Aisbett (Aus) Chase Sydney - Smart - Mercedes Benz                  
29 Patricia Schwager (Swi) ELK Haus NÖ                                        
30 Tiffany Cromwell (Aus) SAFI - Pasta Zara Manhattan                         
31 Kori Seehafer (USA) USA Cycling Team                                       
32 Toni Bradshaw (NZl) Bike New Zealand                                       
33 Rachel O'Connor (Aus) Key Building - South Coast Academy of Sport          
34 Michelle Hyland (NZl) Bike New Zealand                                     
35 Youko Okuda (Jpn) Japanese National Team                                   
36 Sarah Duester (Ger) Univega Pro Cycling Team                               
37 Brei Gudsell (NZl) Team New Zealand                                        
38 Candice Sullivan (Aus) Australian National Team                            
39 Masami Mashimo (Jpn) Japanese National Team                                
40 Alicia Evans (Aus) Landlink Cycling                                        
41 Katherine Bates (Aus) Equipe Nürnberger Versicherung                       
42 Kate Mercer (Aus) Queensland Academy of Sport                              
43 Vicki Eustace (Aus) Key Building - South Coast Academy of Sport            
44 Amy Hunt (GBr) SAFI - Pasta Zara Manhattan                                 
45 Edwige Pitel (Fra) Japan Businessman Cycling Federation                    
46 Sigrid Corneo (Ita) Nobili Rubinetterie Menikini Cogeas                    
47 Marta Vilajosana (Spa) Nobili Rubinetterie Menikini Cogeas                 
48 Kimberly Bruckner Baldwin (USA) T-Mobile                                   
49 Svetlana Bubnenkova (Rus) Russian National Team                            
50 Catherine Sell (NZl) Team New Zealand                                      
51 Elodie Tuoffet (Fra) Nobili Rubinetterie Menikini Cogeas                   
52 Trixi Worrack (Ger) Equipe Nürnberger Versicherung                         
53 Dale Tye (NZl) Team New Zealand                                            
54 Lauren Franges (USA) USA Cycling Team                                      
55 Judith Arndt (Ger) T-Mobile                                                
56 Amy Moore (Can) T-Mobile                                                   
57 Rosara Joseph (NZl) Team New Zealand                                       
58 Natalie Bates (Aus) New South Wales Institute of Sport                     
59 Eva Lutz (Ger) Equipe Nürnberger Versicherung                              
60 Rie Katayama (Jpn) Japan Businessman Cycling Federation                    
61 Barbel Jungmeier (Aut) ELK Haus NÖ                                         
62 Vera Carrara (Ita) Italian National Team                                   
63 Meredith Miller (USA) USA Cycling Team                                     
64 Sarah Ulmer (NZl) Bike New Zealand                                         
65 Xiong Ying Ruan (Chn) Giant PRO Cycling Team                               
66 Larissa Kleinmann (Ger) German National Team                               
67 Claire Baxter (Aus) ACR-2XU                                                
68 Emma James (Aus) Chase Sydney - Smart - Mercedes Benz                      
69 Kristen Armstrong (USA) USA Cycling Team                                   
70 Kara Northcott (NZl) Team New Zealand                                      
71 Jemma O'Brien (Aus) Key Building - South Coast Academy of Sport            
72 Toireasa Gallagher (Aus) New South Wales Institute of Sport                
73 Natalia Boyarskaya (Rus) Russian National Team                             
74 Anouska Edwards (Aus) Queensland Academy of Sport                          
75 Yun Mei Wu (Chn) Giant PRO Cycling Team                                    
76 Ryoko Yamaguchi (Jpn) Japan Businessman Cycling Federation                 
77 Sima Trapp (USA) USA Cycling Team                                          
78 Elke Gebhardt (Ger) German National Team                               6.34
79 Kate Charge (Aus) New South Wales Institute of Sport                       
80 Lisa Gatto (Ita) Italian National Team                                     
81 Kerry Cohen (Aus) Team Cheerwine/Bicisport                                 
82 Trudy Van Der Straaten (Aus) Team Cheerwine/Bicisport                      
83 Kelly Benjamin (USA) Team Cheerwine/Bicisport                              
84 Kirsty Bortolin (Aus) ACR-2XU                                              
85 Giorgia Bronzini (Ita) A S Team FRW                                        
86 Marina Duvnjak (NZl) Team New Zealand                                      
87 Tatiana Antoschina (Rus) Russian National Team                        10.37
88 Hannah Banks (Aus) Australian National Team                           11.19
89 Amanda Spratt (Aus) Australian National Team                               
90 Isabella Wieser (Aut) ELK Haus NÖ                                          
91 Claudia Stumpf (Ger) German National Team                                  
92 Silvia Valseccai (Ita) Nobili Rubinetterie Menikini Cogeas                 
93 Louise Kerr (Aus) Queensland Academy of Sport                         13.25
94 Katrina Hair (GBr) Landlink Cycling                                   15.18
95 Masumi Sakai (Jpn) Japan Businessman Cycling Federation                    
96 Laura Pisaneschi (Ita) A S Team FRW                                        
97 Jessie Maclean (Aus) Chase Sydney - Smart - Mercedes Benz                  
98 Alexis Rhodes (Aus) Australian National Team                               
99 Maryam Rogers (Aus) ACR-2XU                                                
100 Marlen Johrend (Ger) German National Team                                 
101 Kate Cullen (GBr) Landlink Cycling                                        
102 Gessica Turato (Ita) Italian National Team                                
103 Ombretta Ugolini (Ita) A S Team FRW                                       
104 Kettj Manfrin (Ita) A S Team FRW                                          
105 Annalisa Cucinotta (Ita) Italian National Team                            
106 Eleonora Soldo (Ita) Italian National Team                                
OTL Belinda Diprose (Aus) Key Building - South Coast Academy of Sport    27.51
DNF Takao Nagayama (Jpn) Japan Businessman Cycling Federation                 
DNF Emi Wachi (Jpn) Japan Businessman Cycling Federation                      
DNF Carla Ryan (Aus) Queensland Academy of Sport                              
DNF Bridie O'Donnell (Aus) ACR-2XU                                            
DNF Jeny Trew (Can) Team Cheerwine/Bicisport                                  
DNF Anna Sutton (Aus) Landlink Cycling                                        
DNF Anke Wichmann (Ger) Equipe Nürnberger Versicherung                        
DNF Lyne Bessette (Can) T-Mobile                                              
DNF Kerryn Charman (Aus) SAFI - Pasta Zara Manhattan                          
DNF Min Gad (Chn) Giant PRO Cycling Team                                      
DNF Emma Mackie (Aus) Australian National Team                                
DNF Irina Zemlyanskaya (Rus) Russian National Team                            
DNF Ayako Toyooka (Jpn) Japanese National Team                                
DNF Nicole Magner (Aus) Queensland Academy of Sport                           
DNF Nicole Whittburn (Aus) ACR-2XU                                            
DNF Laura Bortolozzi (Aus) Key Building - South Coast Academy of Sport        
DNF Erin Chamberlen (Aus) Chase Sydney - Smart - Mercedes Benz                
DNS Priska Doppmann (Swi) Univega Pro Cycling Team                            
DNS Christiane Soeder (Aut) Univega Pro Cycling Team                          
DNS Rochelle Gilmore (Aus) SAFI - Pasta Zara Manhattan                        
DNS Kanako Nishi (Jpn) Japanese National Team                                 
 
Sprints
 
1                                                                             
 
1 Sarah Duester (Ger) Univega Pro Cycling Team                               6 pts
2 Svetlana Bubnenkova (Rus) Russian National Team                            4
3 Olga Slyusareva (Rus) Russian National Team                                2
 
2                                                                             
 
1 Mellisa Holt (NZl) Bike New Zealand                                        6 pts
2 Kate Nichols (Aus) New South Wales Institute of Sport                      4
3 Rachel O'Connor (Aus) Key Building - South Coast Academy of Sport          2
 
Final General classification
 
1 Oenone Wood (Aus) Equipe Nürnberger Versicherung                     6.11.03
2 Mellisa Holt (NZl) Bike New Zealand                                     0.05
3 Svetlana Bubnenkova (Rus) Russian National Team                         0.16
4 Natalie Bates (Aus) New South Wales Institute of Sport                  0.27
5 Ina Teutenberg (Ger) T-Mobile                                               
6 Sarah Ulmer (NZl) Bike New Zealand                                      0.29
7 Katherine Bates (Aus) Equipe Nürnberger Versicherung                    0.34
8 Kristen Armstrong (USA) USA Cycling Team                                0.38
9 Kate Nichols (Aus) New South Wales Institute of Sport                   0.44
10 Judith Arndt (Ger) T-Mobile                                            0.47
11 Annette Beutler (Swi) ELK Haus NÖ                                      0.50
12 Olivia Gollan (Aus) Nobili Rubinetterie Menikini Cogeas                0.53
13 Tamara Boyd (NZl) Bike New Zealand                                     0.54
14 Susanne Ljungskog (Swe) Team Cheerwine/Bicisport                           
15 Trixi Worrack (Ger) Equipe Nürnberger Versicherung                         
16 Jenny Macpherson (Aus) Australian National Team                        0.55
17 Tina Mayolo-Pic (USA) USA Cycling Team                                 0.56
18 Edwige Pitel (Fra) Japan Businessman Cycling Federation                0.58
19 Kori Seehafer (USA) USA Cycling Team                                       
20 Kimberly Bruckner Baldwin (USA) T-Mobile                                   
21 Joanne Kiesanowski (NZl) Univega Pro Cycling Team                          
22 Susie Wood (NZl) Bike New Zealand                                      1.00
23 Sarah Duester (Ger) Univega Pro Cycling Team                           1.01
24 Rosara Joseph (NZl) Team New Zealand                                   1.05
25 Sally Cowman (Aus) New South Wales Institute of Sport                      
26 Michelle Hyland (NZl) Bike New Zealand                                 1.08
27 Toni Bradshaw (NZl) Bike New Zealand                                       
28 Hayley Brown (Aus) Chase Sydney - Smart - Mercedes Benz                1.09
29 Emma Rickards (Aus) Univega Pro Cycling Team                           1.11
30 Emma James (Aus) Chase Sydney - Smart - Mercedes Benz                      
31 Miho Oki (Jpn) Nobili Rubinetterie Menikini Cogeas                     1.14
32 Vicki Eustace (Aus) Key Building - South Coast Academy of Sport            
33 Gina Grain (Can) Giant PRO Cycling Team                                1.15
34 Monia Baccaille (Ita) Italian National Team                            1.23
35 Akemi Morimoto (Jpn) Japanese National Team                            1.31
36 Helen Kelly (Aus) Team Cheerwine/Bicisport                             1.33
37 Tiffany Cromwell (Aus) SAFI - Pasta Zara Manhattan                     1.47
38 Magali Le Floch (Fra) T-Mobile                                         1.48
39 Amy Moore (Can) T-Mobile                                               2.30
40 Dale Tye (NZl) Team New Zealand                                        2.53
41 Vera Carrara (Ita) Italian National Team                               2.54
42 Catherine Sell (NZl) Team New Zealand                                  2.56
43 Olga Slyusareva (Rus) Russian National Team                            3.01
44 Elodie Tuoffet (Fra) Nobili Rubinetterie Menikini Cogeas               3.03
45 Nikke Egyed (Aus) Queensland Academy of Sport                          3.13
46 Lang Meng (Chn) Giant PRO Cycling Team                                 3.20
47 Eva Lutz (Ger) Equipe Nürnberger Versicherung                          3.28
48 Ryoko Yamaguchi (Jpn) Japan Businessman Cycling Federation             3.50
49 Natalia Boyarskaya (Rus) Russian National Team                             
50 Leonie Aisbett (Aus) Chase Sydney - Smart - Mercedes Benz              3.51
51 Sigrid Corneo (Ita) Nobili Rubinetterie Menikini Cogeas                3.57
52 Larissa Kleinmann (Ger) German National Team                           4.16
53 Amy Hunt (GBr) SAFI - Pasta Zara Manhattan                             4.28
54 Martina Corazza (Ita) A S Team FRW                                     4.37
55 Masami Mashimo (Jpn) Japanese National Team                            4.47
56 Claire Baxter (Aus) ACR-2XU                                            5.07
57 Brei Gudsell (NZl) Team New Zealand                                    5.12
58 Anouska Edwards (Aus) Queensland Academy of Sport                      5.15
59 Barbel Jungmeier (Aut) ELK Haus NÖ                                         
60 Meredith Miller (USA) USA Cycling Team                                 5.22
61 Sima Trapp (USA) USA Cycling Team                                      5.23
62 Toireasa Gallagher (Aus) New South Wales Institute of Sport                
63 Kate Mercer (Aus) Queensland Academy of Sport                          5.27
64 Candice Sullivan (Aus) Australian National Team                        5.28
65 Yun Mei Wu (Chn) Giant PRO Cycling Team                                5.32
66 Marta Vilajosana (Spa) Nobili Rubinetterie Menikini Cogeas             5.35
67 Kara Northcott (NZl) Team New Zealand                                  5.37
68 Yan Xia Jiang (Chn) Giant PRO Cycling Team                             5.44
69 Charlotte Goldsmith (GBr) SAFI - Pasta Zara Manhattan                  5.48
70 Rachel O'Connor (Aus) Key Building - South Coast Academy of Sport      5.52
71 Patricia Schwager (Swi) ELK Haus NÖ                                    5.53
72 Youko Okuda (Jpn) Japanese National Team                               5.54
73 Rie Katayama (Jpn) Japan Businessman Cycling Federation                5.55
74 Alicia Evans (Aus) Landlink Cycling                                    6.00
75 Jemma O'Brien (Aus) Key Building - South Coast Academy of Sport        6.10
76 Xiong Ying Ruan (Chn) Giant PRO Cycling Team                           6.22
77 Lauren Franges (USA) USA Cycling Team                                  7.16
78 Giorgia Bronzini (Ita) A S Team FRW                                    8.36
79 Marina Duvnjak (NZl) Team New Zealand                                 11.12
80 Kelly Benjamin (USA) Team Cheerwine/Bicisport                         11.14
81 Kate Charge (Aus) New South Wales Institute of Sport                  11.58
82 Elke Gebhardt (Ger) German National Team                              12.07
83 Trudy Van Der Straaten (Aus) Team Cheerwine/Bicisport                 12.09
84 Kerry Cohen (Aus) Team Cheerwine/Bicisport                            12.15
85 Lisa Gatto (Ita) Italian National Team                                12.27
86 Kirsty Bortolin (Aus) ACR-2XU                                         13.18
87 Amanda Spratt (Aus) Australian National Team                          14.26
88 Hannah Banks (Aus) Australian National Team                           14.48
89 Tatiana Antoschina (Rus) Russian National Team                        15.55
90 Silvia Valseccai (Ita) Nobili Rubinetterie Menikini Cogeas            17.08
91 Claudia Stumpf (Ger) German National Team                             17.12
92 Isabella Wieser (Aut) ELK Haus NÖ                                     17.48
93 Alexis Rhodes (Aus) Australian National Team                          18.15
94 Kate Cullen (GBr) Landlink Cycling                                    18.49
95 Louise Kerr (Aus) Queensland Academy of Sport                         18.54
96 Maryam Rogers (Aus) ACR-2XU                                           20.05
97 Kettj Manfrin (Ita) A S Team FRW                                      20.37
98 Jessie Maclean (Aus) Chase Sydney - Smart - Mercedes Benz             20.41
99 Gessica Turato (Ita) Italian National Team                            20.52
100 Marlen Johrend (Ger) German National Team                            21.12
101 Eleonora Soldo (Ita) Italian National Team                           21.23
102 Annalisa Cucinotta (Ita) Italian National Team                       21.52
103 Masumi Sakai (Jpn) Japan Businessman Cycling Federation              22.01
104 Ombretta Ugolini (Ita) A S Team FRW                                  22.13
105 Laura Pisaneschi (Ita) A S Team FRW                                  23.02
106 Katrina Hair (GBr) Landlink Cycling                                  30.45
 
Sprint classification
 
1 Oenone Wood (Aus) Equipe Nürnberger Versicherung                          34 pts
2 Ina Teutenberg (Ger) T-Mobile                                             24
3 Mellisa Holt (NZl) Bike New Zealand                                       24
4 Kate Nichols (Aus) New South Wales Institute of Sport                     10
5 Svetlana Bubnenkova (Rus) Russian National Team                           10
6 Tina Mayolo-Pic (USA) USA Cycling Team                                     8
7 Rachel O'Connor (Aus) Key Building - South Coast Academy of Sport          8
8 Sarah Duester (Ger) Univega Pro Cycling Team                               6
9 Emma Rickards (Aus) Univega Pro Cycling Team                               6
10 Gina Grain (Can) Giant PRO Cycling Team                                   4
11 Sarah Ulmer (NZl) Bike New Zealand                                        4
12 Joanne Kiesanowski (NZl) Univega Pro Cycling Team                         4
13 Olga Slyusareva (Rus) Russian National Team                               4
 
Best young rider
 
1 Tiffany Cromwell (Aus) SAFI - Pasta Zara Manhattan                   6.12.50
2 Amy Hunt (GBr) SAFI - Pasta Zara Manhattan                              2.41
3 Amanda Spratt (Aus) Australian National Team                           12.39
4 Hannah Banks (Aus) Australian National Team                            13.01
5 Louise Kerr (Aus) Queensland Academy of Sport                          17.07
6 Marlen Johrend (Ger) German National Team                              19.25
7 Annalisa Cucinotta (Ita) Italian National Team                         20.05