Tattersall's Cup Series Tour of Gippsland - NE
Australia, August 2-6, 2006
Tatt's cup gets underway in Gippsland
By Rod Morris & John Kenny
The 2005 podium with overall winner Gordon McCauley, centre
Photo ©: Shane Goss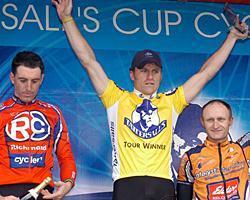 The five-day Tattersall's Tour of Gippsland in Victoria, Australia gets underway today with a criterium in Mallacoota. The 108 entrants will compete over nine stages. The tour marks the start of the Tattersall's cup series with ten points available for each stage winner.
The race has attracted a quality field including world pursuit champion Steve Wooldridge, Commonwealth Games points champion Sean Finning, Ashley Hutchinson, Chris Jongeward and Robert McLachlan. "We're running a legit race with a quality field," said race promoter John Craven.
Athens Olympic Games gold medallist Stephen Wooldridge heads the field.The New South Wales-based Wooldridge, a team pursuit specialist, will line up against 107 opponents in one of the best fields assembled in an Australian domestic cycling tour.
His opponents will include Melbourne Commonwealth Games gold medallist Sean Finning, of Castlemaine, Queenslander Ashley Hutchinson, a dual world teams pursuit champion, and Barcelona Olympian Robert McLachlan, winner of the 2005 Tattersall's Cup series, (field attached).
McLachlan, 35, holds the key to the five-day tour, worth $30,000 prizemoney. (list attached).
The Canberra school teacher represented Australia in Barcelona as a 21-year-old road teams triallist, but shunned his promising career soon after, citing burn-out.
The burly McLachlan returned to the saddle in 2003 and has since won about 50 races in Australia and Asia.
"The Tour of Gippsland can't come quickly enough," said McLachlan whose victories this year include the Tour of Chong Ming in China, four stages of the Tour of Taiwan and two stages in the Tour of Korea.
McLachlan will go into the Tour of Gippsland as a leader of the exceptionally strong Drapac-Porsche professional team.
His team-mates include fellow Canberra resident Stuart Shaw, a former mountain bike champion who won a tough Tour of Gippsland stage from Trafalgar to Walhalla last year.
McLachlan and Shaw are a formidable combination and both are confident that one of them will win the Tour of Gippsland, the opening round of the 2006 Tattersall's Cup series.
Following the Tour of Gippsland, the Tatt's Cup will continue with the Australian Cycling Grand Prix in Ballarat from August 18 - 20, the Tour of the Murray River (August 29-September 3) and the Tour of Tasmania (October 24-29).
Total prizemoney for the four-event series will be $115,000.
Tattersall's Cup director John Craven described the Tour of Gippsland field as outstanding.
"Any one of 30 riders could win without surprising," Craven said.
"The tour course is exceptionally challenging and will take in nine stages for a total distance of 616.5kms.
"Gippsland has some of the most magnificent terrain in Australia for cycling and the riders will certainly know they are competing in a full-on race."
The Tour of Gippsland was held for the first time last year and was won by New Zealander Gordon McCauley who went on to win a time trial bronze medal at the Melbourne Commonwealth Games.
It will embrace three municipalities - East Gippsland Shire, Latrobe City and Baw Baw Shire, (course attached).
Criteriums will be held in Mallacoota, Orbost, Bairnsdale and Traralgon, but brutally-tough stages from Orbost to Lakes Entrance, via Buchan, and in the Warragul region on the final day will probably decide the outcome of the tour.
The final stage, starting and finishing at the Warragul Country Club on Sunday, August 6, will be a 134.8km trek which will take in Rokeby, Neerim South, Neerim, Noojee, Hill End, Willow Grove, Trafalgar, Yarragon and Shady Creek.
The tour is sponsored by Tattersall's, East Gippsland Shire, Latrobe City, Baw Baw Shire, Tourism Victoria, Subaru, Mid Valley Shopping Centre, the Royal Exchange Hotel and Ace Radio.