Sea Otter Classic - NE
USA, April 8, 2006
Tasmania rules, okay
By Rob Jones
Tina Pic (Colavita/Cooking Light) wins
Photo ©: Russ and Nancy Wright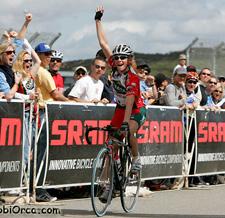 Road racing took centre stage on Day 3 of the 2006 Sea Otter Classic. In the men's race a trio of Tasmanians thwarted the ambitions of Tour de France favourite Levi Leipheimer and the powerful Health Net squad, while top rated Tina Pic of the Colavita team easily outkicked the rest of the women's field in a sprint finish.
In the women's race the goal of the Webcor and Victory Brewing squads was to drop Tina Pic on the 300' climb which the riders had to ascend 22 times in the course of their 50 mile race. Pic's Colavita team had the exact opposite plan: keep the acknowledged strongest sprinter in the race rested and with the front group in the race, so she could do her thing in the final 300 yards.
"We knew we needed to get rid of Tina" confirmed Erinne Willock, leader of the Webcor team, who was just back from racing for Canada at the Commonwealth Games in Melbourne, Australia. "We tried a lot of times, kept attacking and made it aggressive, but couldn't isolate Tina."
Pic, for her part, admitted that the tactic very nearly succeeded. "It was really hard, with Webcor attacking like maniacs. The last six or seven laps were brutal, and we were just killing ourselves to follow wheels. I was almost smoked a couple of times, but just kept saying to myself 'I can hold on two more laps, just two more laps'. "
In the finishing stretch Pic had one final scare, when she was boxed against the barriers. "I was against the barriers, and it looked like there was no where to go. But then I saw one little spot of daylight, and thought 'I've got to get out, I must get out.' I was panicking a little bit, but once I got through that hole, I knew that I had it."
Lauren Franges of Victory Brewing took second, and Pic's teammate Dotsie Bausch third.
Matty Rice (Jelly Belly)
Photo ©: Russ and Nancy Wright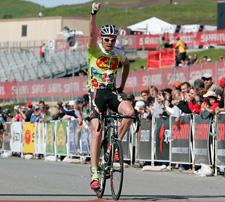 While the women's race may have been a battle, the professional men's 71 mile event was a war. The top ranked team was Health Net, led by sprinters Gord Fraser and Karl Menzies, with Tour de France pro Levi Leipheimer a late addition to the field. Leipheimer, who hails from Santa Rosa, California, is back in California to train for his main goal of the season - the Tour de France. While he may not have had the support of a team, the strength he showed earlier in the season at the Tour of California - where he won a stage and wore the leader's jersey for two days - made him a rider to watch.
Jelly Belly, a locally-based Fairfield, California team, didn't let the presence of this strong opposition overawe them. "We came in with a clear goal," revealed Rice. "We knew that we were outnumbered by Health Net, and that they had the sprinters, so we had to play our cards right and whittle down the numbers advantage that they had. We had six good guys, and this was a race of attrition, so we had to make it hard and drop the sprinters."
Menzies, comes from the same town in Tasmania as Rice and third place finisher Caleb Manion (a teammate of Rice) - Launceston - and agrees that the Jelly Belly team did an excellent job. "We (Health Net) had the numbers, but they attacked on the climb and I was left isolated. Caleb got away on a break, and it was just me, Levi and a Spanish rider. Just as we caught (Manion), a bunch of riders came up and Matty attacked. It was a good move, because everyone was left looking at each other."
For Rice, the win ranks as a career highlight. "This is my best accomplishment, for sure. I've been a pro for three years now, and this is my first win in five years, I guess. Come to think of it, my last win was against Karl in our hometown!"
Photography
For a thumbnail gallery of these images, click here
Images by Russ and Nancy Wright/www.abbiorca.com
Images by Rob O'Dea/www.baldzebra.com
Results
1 Matty Rice (Aus) Jelly Belly                                            2.50.17
2 Karl Menzies (Aus) Health Net presented by Maxxis                          0.03
3 Caleb Manion (Aus) Jelly Belly                                             0.05
4 Jackson Stewart (USA) Kodak Gallery/Sierra Nevada                              
5 Gustavo Dominguez (Spa) ORBEA                                                  
6 Andrew Bajadali (USA) Jelly Belly                                              
7 Xabat Otxotorena (Spa) ORBEA                                               0.06
8 Levi Leipheimer (USA) Gerolsteiner                                         0.12
9 Iker Mezo (Spa) ORBEA                                                      0.39
10 Doug Ollerenshaw (USA) Health Net presented by Maxxis                     0.46
11 Julen Zubero (Spa) ORBEA                                                      
12 Alan Perez (Spa) ORBEA                                                    1.12
13 Roman Kilun (USA) Health Net prsented by Maxxis                           1.32
14 Kirk O'Bee (USA) Health Net presented by Maxxis                           1.33
15 Brian Jensen (Den) Jelly Belly                                                
16 Dominique Perras (Can) Kodakgallery.com/Sierra Nevada Pro Cycling Team    1.34
17 Andy Guptill (USA) CRCA/Sakonnet Technology U25                               
18 Mike Sayers (USA) Health Net presented by Maxxis                              
19 Kyle Gritters (USA) Health Net prsented by Maxxis                             
20 Aaron Tuckerman (USA) Team Rubicon/Gleukos                                1.39
21 Lucas Euser (USA) TIAA-CREF                                               2.33
22 Alex Candelario (USA) Jelly Belly                                         4.36
23 Gordon Fraser (USA) Health Net prsented by Maxxis                             
24 Ben Jacques-Maynes (USA) Kodakgallery.com/Sierra Nevada Pro Cycling Team      
 
Women
 
1 Tina Pic (USA) Colavita/Cooking Light Cycling Team                      2.16.14
2 Lauren Franges (USA) Victory Brewing                                       0.01
3 Dotsie Bausch (USA) Colavita/Cooking Light Cycling Team                        
4 Rachel O'Connell (USA) Bicycle Johns Serious Cycling                       0.02
5 Christine Thorburn (USA) Webcor-Platinum Women's Cycling Team                  
6 Leigh Hobson (Can) Victory Brewing Team                                        
7 Brooke Miller (USA) PABW Powered by TIBCO                                      
8 Anne Samplonius (Can) Team Biovail Pro Cycling                                 
9 Sarah Bambeger (USA) Cheerwine                                                 
10 Kristen Lasasso (USA) Team Lipton                                             
11 Meredith Miller (USA) Team Lipton                                             
12 Christen King (USA) Young's Training Group                                0.03
13 Melodie Metzger (USA) McGuire Cycling Team                                    
14 Sima Trapp (USA) Colavita/Cooking Light Cycling Team                          
15 Kirsten Robbins (Can) Victory Brewing                                         
16 Chrissy Ruiter (USA) Victory Brewing                                          
17 Kate Sherwin (USA) Victory Brewing                                            
18 Kate Maher (USA) Unattached                                                   
19 Jane Despas Klein (USA) KLEIN Real Estate                                     
20 Michelle Beltran (USA) Cheerwine                                              
21 Felicia Gomez (USA) Webcor-Platinum Women's Cycling Team                      
22 Erinne Willock (Can) Webcor-Platinum Women's Cycling Team                 0.04
23 Brooke Ourada (USA) Colavita/Cooking Light Cycling Team                   0.06
24 Betina Hold (USA) Webcor-Platinum Women's Cycling Team                    0.07
25 Sarah Tillotson (USA) Colavita/Cooking Light Cycling Team                 0.08
26 Gabriela Gonzalez-Ferrat (USA) Team Biovail Pro Cycling                   0.13
27 Penny Avril (USA) Touchstone Climbing                                         
28 Jane Ziegler (USA) Velo Bella-Kona                                        0.15
29 Beverley Harper (USA) Touchstone Climbing                                 0.18
30 Cat Malone (USA) Webcor Builders Cycling Team                             0.39
31 Laura Bowles (USA) Victory Brewing Team                                       
32 Stacy Marple (USA) Cal Cycling                                            0.40
33 Katharine Carroll (USA) Victory Brewing Team                              1.05
34 Kele Murdin (USA) Velo Bella-Kona                                         1.53
35 Cindy Carroll (USA) McGuire Cycling Team                                  2.08
36 Kelly Benjamin (USA) Cheerwine                                            4.11