The bikes of Hell: Frank Hoj's Gerolsteiner Specialized Roubaix prototype, April 12, 2006
Proto comfort
Anthony Tan sneaks a look at a 'secret' prototype from Specialized
Frank Hoj's Specialized Roubaix prototype.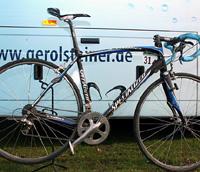 "We'll have something new at Roubaix, but we're not going to tell you anything about it." So said a Specialized executive prior to Paris-Roubaix. It was one of those "we'd have to kill you" lines, but in fact Specialized's people weren't being quite that tight-lipped about the bikes the company supplied to Gerolsteiner riders such as Frank Hoj. Given the Cyclingnews tech crew's enthusiasm for writing about things we're not supposed to, there was probably some reverse psychology going on there.
We fell for it, of course, and after the race, we hot-footed over to the Gerolsteiner pits area to get a close look at the new bikes that Hoj and some other Gerolsteiner riders were using. Specialized's all-new Roubaix was so new in fact that it was - and is - still in prototype stage, but apart from a broken spoke on the rear wheel, Hoj's bike was not in too bad shape.
Speaking with a Specialized representative in Roubaix, Cyclingnews was told that apart from a slightly longer wheelbase this proto Roubaix model had very similar shape to the Tarmac SL road frames Gerolsteiner uses for most other races. The sweeping top tube was derived from the Tarmac but the new Roubaix retained features of the previous model, such at the Zertz elastomer inserts in the rear stays and front fork.
| | |
| --- | --- |
| This Roubaix proto | This Selle Italia |
| Plenty of distance | Most riders stuck |
| Zertz elastomer inserts | Ambrosio Nemesis 2000 |
| Dusty rings | Schwalbe Stelvio tubulars. |
| The front fork | Brake lever extensions |
| The downtube of Hoj's | Ouch - that's a long time |
As well as the reshaped top tube, the proto featured dramatically reshaped seatstays to house the Zertz elastomers. The previous version used straight stays, but as you can see from the pics, this bike had a dog-leg shape in the middle of the stay where the elastomers sit. This might well improve the ability of the stays to absorb shock, and at least one of Hoj's team-mates thinks so.
Gerolsteiner has several of the prototype Roubaix frames at the moment and according to our source, Peter 'Paco' Wrolich liked his proto so much, he planned to use his ride for Roubaix for the rest of the season, preferring the more cushy ride offered over the Tarmac SL.
As well as a comfier frame, Hoj's bike featured a number of Roubaix-specific touches. Over such a long, hard race riders change positions on the handlebars frequently. But the need to brake is ever-present and you can only reach the levers from the tops and drops. Sit up for a moment to stretch your back and move your hands to the tops and you're in trouble if something goes wrong in front of you. Gerolsteiner riders were offered the choice of using Specialized's Road Brake Lever Extensions mounted on the tops - similar lever extensions have been a common feature on cyclo-cross bikes for the last few seasons.
Beyond that nifty addition, Hoj's bike featured most of the 'standard' Roubaix-proofing features. The wheels used box-section tubular rims from Ambrosio and 32 spokes, with Schwalbe Stelvio tubulars (equipment sponsor Specialized is known for its tyres but doesn't make tubulars).
Other features intended to help Hoj and company get the line in reasonable shape included Specialized's Body Geometry handlebar tape, which is available with elastomer inserts that Cyclingnews editor Jeff Jones was very impressed by a couple of years ago, and a carbon-hulled Selle Italia saddle with plenty of padding.
Photography
For a thumbnail gallery of these images, click here
Images by Anthony Tan/Cyclingnews.com