First Edition Cycling News for August 29, 2005
Edited by Anthony Tan & Jeff Jones
Vuelta stage 2 wrap-up
Bertagnolli excellent, McGee in gold
Leonardo Bertagnolli (Cofidis)
Photo ©: Unipublic
Italy's Leonardo Bertagnolli (Cofidis) won the second stage of the Vuelta a España (Granada-Cordoba) in a strange sprint, beating Bradley McGee (La Française des Jeux), who became the new leader. Juan Antonio Flecha (Fassa Bortolo) finished third after almost catching the leading pair at the finish.
The Cat. 2 Alto de San Jeronimo, which had its summit at 12 km to go, broke the race completely. Early breakaway David de la Fuente (Saunier Duval) lost his advantage in double-quick time at start of this climb, the only one of the stage, when another eight riders including Bertagnolli and McGee counter-attacked. McGee was the best placed on GC in the group, and he was able to secure the gold jersey with a second place at the finish.
"This is my first great joy after having many health problems during the season," said Bertagnolli, who won the Trofeo dell'Etna, Coppa Agostoni and Coppa Placci last year, but hasn't been able to get going this season. "I hadn't felt good [during the last few days], even though I saw myself better after achieving a stage victory in the Tour de Limousin. My condition was a real surprise to me".
New race leader Brad McGee made up for his near miss in the opening stage yesterday, where he finished just 3 seconds off the pace of Denis Menchov. "I'm absolutely delighted to get this jersey," said the Australian, who couldn't stand up at the finish. "This completes my collection because I have leaders jerseys from the Giro and the Tour. I now have the leadership of the Tour of Spain and I came to this race to do that." With it, he becomes the first Australian to have worn all three Grand Tour leader's jerseys.
Also see:
Stage 2 Full results, report & photos
Live report
Main
Stages & results
Map
Start List
History
Photos
GP Plouay wrap-up: George king of the jungle in Plouay
Hincapie heckling sours superb victory
George Hincapie (Discovery Channel)
Photo ©: JF Quénet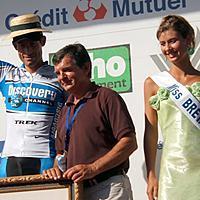 In Sunday's GP Plouay, Discovery Channel's George Hincapie once again found himself king of the cycling jungle, outsprinting Alexandre Usov (Ag2r Prevoyance) and Davide Rebellin (Gerolsteiner) in a 65-man bunch sprint to claim his fifth victory of the season. However, the lack of applause at the presentation ceremony, coupled with a number of unnecessary jeers and whistles - no doubt spurred by the L'Equipe revelations surrounding former team-mate Lance Armstrong - soured the day.
The parochial Breton crowd had come out in force to hopefully see another French victor after Andy Flickinger and Didier Rous' wins in 2003 and 2004, with an estimated 100,000 people lining the 14 kilometre course, some since last Wednesday. However, it wasn't until the final lap that the local riders managed to place themselves in a few moves, with Christophe Moreau (Credit Agricole) going in a three-man break with Alexandre Vinokourov (T-Mobile) and Yoann Le Boulanger (R.A.G.T Semences), and when that was caught, Sylvain Chavanel (Cofidis) and Freddy Bichot (Française des Jeux) joined forces on with around 12 kilometres to go, which was the last breakaway of significance before the inevitable bunch sprint occurred.
The end result was awfully close, with both Hincapie and then Usov allowing themselves half-hearted victory salutes, before the race jury awarded the win to the 32 year-old American. When Usov heard the news, the 28 year-old from Belarus was bitterly disappointed, saying: "I was on Ullrich's wheel and asked him to move to the left because I was afraid of [crashing into] the barriers. I'm really disappointed, because I'm sure I was going at least five kilometres an hour faster than the others [Hincapie and Rebellin] at the line."
"I raised my hands maybe too early," Hincapie admitted. However, the New Yorker also said he amazed himself: "With two laps to go, I was gonna drop out because my legs were finished. Everybody was so tired but I'm very happy to be winning."
Asked about the accusations made about his former team-mate and best friend in L'Equipe, Hincapie answered: "I'm Lance's biggest supporter. He's my best friend. He's a hero to billions of people including myself. It's a shame that some people don't like him but he's a hero to me."
Full results & report
Women's results & report
Photos
Liberty leads Vuelta teams classification
Vicioso assumes provisional leadership
Angel Vicioso (Liberty Seguros)
Photo ©: Unipublic

Ángel Vicioso's fifth place on yesterday's second stage of the Vuelta a España now sees the rider in fourth overall, while a strong team performance has resulted in Liberty Seguros-Würth taking over the teams classification from Team CSC.
"I tried with all my might [to break away], but it wasn't to be because we were cut off when [Pablo] Lastras fell down in the descent," said Vicioso. "Then we worked well only at the end and I could not do any more. I still have the cold that I had since the beginning of the Vuelta, but I feel quite well; I had very good sensations in training since finishing the Tour de France. Today was impossible, but I am going to continue fighting to win a stage."
However, it wasn't all Liberty's way, with Marcus Serrano involved in a crash on the descent of the Alto de San Jeronimo, but thankfully he received only minor cuts. Explained Serrano: "I was caught in the crash on the descent of last climb, but I was lucky; I could not avoid it because I was just ahead, but nothing happened to me at all, I only broke the front wheel. It was a dangerous place, because there was a deep ravine. It was a pity to lose my place in first group, but the important thing is that I came away unharmed."
Nominated team leader Roberto Heras finished safely within the first peloton in 30th place, and lies 12th overall going into today's third stage from Cordoba to Puertollano.
CSC satisfied as favourites finish together
Despite not having a man in the first group of seven riders on Stage 2 of the Vuelta a España, Team CSC was content with the outcome, as all the GC favourites finished in a 62-strong group. In that group, Christian Vandevelde (28th), Carlos Sastre (59th) and Manuel Calvente (61st) were present for CSC, which sports director Kim Andersen was 'pretty satisfied' with.
"We tried to keep Sastre up front ahead of the climb, where it all exploded," said Andersen on team-csc.com. "Of course, it would've been more fun if we'd had a rider in the break, but I'm pretty satisfied with the fact that we had three guys in the second group with all the big favourites."
While Jakob Piil was with these favourites up until the final climb of the Alto de San Jeronimo, he eventually had to let go. However, Andersen said his performance bodes well for future stages. "It was too bad because he sat with the favourites for a really long time. But once again it shows that Jakob is finding the form like Vandevelde, who has now been given the freedom to ride his own race, while the others are going to back up Sastre 100 percent," he said.
Sastre and Vandevelde are 10th and 17th respectively in the overall standings going into Stage 3.
Figueras abandons
Lampre-Cafitta lost one of their key riders in Giuliano Figueras during Stage 2 of the Vuelta a España, with the 29 year-old Italian a victim of gastroenteritis. Said team doctor Andrea Andreazzoli in a team statement: "Giuliano was already sick last night. He took to the start this morning but he was feeling very tired and he had to retire after about 70 kilometres. We are looking after him and he is better now. Tomorrow he will back in Italy."
"Giuliano was an important rider for the team at the Vuelta," added direttore sportivo Maurizio Piovani. "He was feeling good and he could have done great things, particularly in the mountains. The team will really miss him in the coming weeks."
Botero & Landis reflect on prologue performances
By Shane Stokes in Granada
Phonak team-mates Santiago Botero and Floyd Landis had different fortunes in Saturday's opening time trial of the Vuelta a España. Botero went into the test not expecting too much from himself as he is returning to racing following a lay-off from racing after the Tour. Speaking to Cyclingnews on Thursday, he said that he estimated his condition at just 50 percent. "It will be hard to do a good prologue," he stated, "because I don't have the legs."
However, the former world time trial champion fared well, placing 9th on the stage. He was 18 seconds off the winning time of Denis Menchov. "I was happy enough with the time trial," he said before the start of today's stage in Granada. "I didn't start off thinking doing that I would do a good time trial. I was relaxed, too relaxed, maybe... In the end, I did a good time - not super, but good."
Botero is in the Vuelta in order to prepare for the World's in Madrid. He is aiming to repeat his time trial victory of 2002. Initial signs are positive. "I am optimistic that I am building good form for the world championships," he said.
Meanwhile, Floyd Landis finished a little further back than many expected, placing 46th on the stage. He lost 37 seconds to Menchov over the seven kilometre distance, most of this on the uphill section. However, he didn't seem too phased by it this morning. "It is what I expected," he said. "I haven't raced in a while, and it hurt! But that is normal, I guess."
"I am happy enough with the start, I wasn't expecting to win. I just need to sharpen up a bit."
Landis hit the deck while out training on Thursday. He's still feeling the effects of that, but says he should be back to normal soon. "I was a bit stiff after the crash the other day, so that may have had an effect too. Hopefully after today I'll be back to normal," he said.
Verbrugghe to Cofidis
31 year-old Belgian Rik Verbrugghe has been confirmed to ride for French team Cofidis the next two seasons, leaving his current Quick.Step-Innergetic team after just one year. According to Quick.Step team manager Patrick Lefevre, Verbrugghe received an offer from Cofidis that he was not able to equal. "It is a great shame that we are loosing an athlete like Rik," he said. "Rik is at a great moment in his career and has received an offer from the Cofidis team that unfortunately we cannot match."
After an early season win at the GP Lugano in February, Verbrugghe went through a dry patch before returning to form earlier this month at the Eneco Tour of Benelux, where he won the prologue, finished second on Stage 4 and was sixth overall. On Saturday, he finished second to Rabobank's Denis Menchov in the opening time trial of the Vuelta a España.
Continued Lefevre: "I am really pleased however that Rik has once again found a certain continuity with his results whilst riding for the Quick.Step-Innergetic team. Rik, as well as being extremely professional, has also been a person that one can rely on. I am sure both the team and Rik will have good memories of the time spent riding together. I wish him all the best for the future and hope he carries on in reaching all of his important objectives next year."
Two more for Mori
Saunier Duval-Prodir has announced that 25 year-old Italian Manuele Mori has extended his contract with the team for two more years. Mori's results this season include 10th place in Milan-San Remo, 5th in Stage 1 of the Giro d'Italia and 4th place in the Italian road championship.
Three days left to join Fantasy Vuelta game
There's still time to join in this year's Fantasy Vuelta Game at Cyclingnews. There is no tactical disadvantage in joining after stage 1 has begun. You can join until stage 6 begins on Thursday, September 1 at 10:00 GMT (03:59 Eastern time). This year we are pleased to confirm that GIANT will be our main sponsor. Win the same bike as Jan Ullrich and Alexandre Vinokourov! This bike is not for sale to the public, but Giant has been extremely generous to provide a Giant TCR Advanced T-Mobile '05 Tour De France Team Issue bicycle as Grand Prize for the Cyclingnews 2005 Vuelta d'Espana Fantasy Game, with a retail value of $8000 if it were even sold in stores! But you can only get one by entering the Cyclingnews 2005 Vuelta d'Espana Fantasy Game and winning it! To find out more go to the prizes section of the fantasy site.
Be a professional team manager, with many opportunities to win prizes in this year's game. You will take up the challenge of using your knowledge and tactical skill as a race team manager to compete with managers from around the world. For more info go to fantasy.cyclingnews.com
How to play
You can begin creating your team now. You can play the first five stages for FREE! There is no disadvantage in joining after stage 1 has begun. The Tour games are easy to play, all you need to do to manage your own team is select 15 riders from the live start list then select 9 of these riders to race each day throughout the Vuelta. You score points according to how well each of the riders place each day in the Vuelta. So try your team today and see if it's for you. It's a great way to follow the Vuelta. Create your teams now at fantasy.cyclingnews.com.
Good luck!
The Fantasy Cyclingnews Team
(All rights reserved/Copyright Knapp Communications Pty Limited 2005)