Latest Cycling News for June 27, 2005
Edited by Hedwig Kröner & Jeff Jones
Saiz: "Heras better than ever"
By Hedwig Kröner
Roberto Heras (Liberty Seguros)
Photo ©: Sirotti

Despite lacklustre pre-Tour testing at the Critérium du Dauphiné Libéré, Liberty Seguros' directeur sportif Manolo Saiz is optimistic about his Tour de France roster and the outcome of the French Grand Tour. The legendary Spaniard believes that his top man, Roberto Heras, is in better shape and more motivated than he has ever been.
"I think our team is fine, really," he said. "We've made a step last month, although, of course, the fact that the team didn't ride well at the Dauphiné made us all a little nervous. But the reality is that we're on track. The team has been training very well in Cantabria and although we lack reference to our rivals, I think our team is going to the Tour in good shape."
After the training camp in Puente Viesgo, Cantabria, Saiz decided on his Tour de France selection, headed by Roberto Heras. "Roberto knows that it's one of his last chances of riding a good Tour, so I think he will do well," Saiz continued, speaking about his team captain. "He is in better shape and more motivated than he has ever been."
The three time-Vuelta a España winner himself is also feeling confident. "It's true that we were very bad [at the Dauphiné - ed.] but that didn't matter too much because there was still one month to go before the mountain stages of the Tour de France," Heras said. "I think we will arrive at the start [of the Tour de France - ed.] in good condition. This team has the quality to be in front."
There is still some doubt as to the capacities of Joseba Beloki, who hasn't been able to return to his prior class after the bad crash he suffered during the Tour 2003. "But I can see him getting better every day," team director Saiz said about Beloki. "One mustn't forget that he has achieved three Tour-podiums. He will be a very important pillar of our team. I hope he will come back to his old level!"
Heras, meanwhile, is aiming exactly at what Beloki has already done. "I want to play an important part in the race," he continued. "I've been fighting for the podium for five years now, but the luck I had in the Vuelta always went missing at the Tour. I know I'm capable of it." With Joseba Beloki, Alberto Contador, Allan Davis, Igor Gonzalez de Galdeano, Jörg Jaksche, Luis León Sanchez, Marcos Serrano and Ángel Vicioso, Heras can count on a strong team. "It may not be the strongest for the team time trial, but it's well-balanced and still good enough for a good Tour de France," Saiz thinks. In the end, it is upon the team captain to make a difference. "Armstrong, no doubt, is the great favourite. Then comes Ullrich and after him there are riders like Mayo, Basso, Heras and so many other aspirants," Saiz continued.
Heras, who knows Armstrong well, also believes that the American might be on his way to a seventh victory. "At the Dauphiné, he wasn't super but he has enough experience to know that feeling well and riding up front was more than enough at that time. So the cards are his to play now, but the Tour begins July 2 and everything that has been done before doesn't matter anymore."
In less than one week, a first fitness evaluation will have taken place: the first of two time trials at the 'Grande Boucle' on Saturday. Saiz knows that it will very much influence the development of the race. "On one hand, it will make the first week less dangerous, because time gaps will be bigger, but it also means that we could see the same leader from the first to the last day," he said. "For riders like Roberto Heras this parcours is good, because there will no be other time trial until the end and, therefore, the climbers will get to the mountains having lost less time that usually. Riders like Armstrong, on the other hand, will have to manoeuvre differently than in recent years."
Baguet celebrates, but no Tour for him
By Sabine Sunderland
2005 Belgian champion Serge Baguet
Photo ©: Sabine Sunderland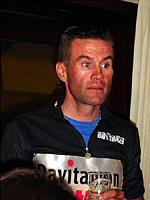 The town of Sint-Lievens-Houtem had reason to put on a party again, only just after the yearly fair was over and done with. Its hero on two wheels, Serge Baguet, was bringing the National Champion's jersey home yesterday evening. A police escort guided the convertible in which Serge, his wife Sandra and son Sam were driven around for a lap of honour safely to its destination, the market square, and more precisely the local tavern "De Gouden Leeuw".
Kevin Van Impe was present amongst the group of friends which had gathered to welcome Serge Baguet. And although Kevin had lost the race to his training partner and friend only hours before, the big smile and shiny eyes showed everyone present that he was happy for Serge to be hailed in that way. Baguet urged Van Impe to take place beside him in the car and join him for the victory salute.
"Serge told me this morning: make sure you're near the finish line, I think I'll be close today," an emotional Sandra Baguet told friends and family. "I still can't quite grasp what Serge accomplished today, I feel a bit numb, don't think it has sunk in with Serge yet either. But this is absolutely fabulous, he has dreamt of that jersey for so long. Sam is so proud of his dad, so am I."
A fantastic atmosphere, still filled with the happy chants rising up from the mass of enthusiastic party-goers was also slightly coloured with mixed feelings. The Belgian National Jersey will be on the shoulders of popular "Baguetje" but a lot of people were wondering how it's possible that the Belgian colours won't be seen in the Tour de France next month. Didn't Serge deserve to gain selection for the race in which he had won a stage before and worked hard and long in service of the team captain? Hadn't he shown his good legs with two nice victories at the start of the season and more recently in the races in which he worked hard for his teammates.
"Well, believe it or not, but apparently my non-selection for the Tour has been based on the rumour that I wasn't interested in going! Bullshit man! I surely never said anything like that to anyone, on the contrary, I expressed my wish to go to the Tour to the management repeatedly since late last season. I really wanted to go," Serge explained.
Kevin Van Impe, Serge and Sandra Baguet
Photo ©: Sabine Sunderland

So will he be going now he has given proof of being in the right shape to join his Davitamon-Lotto team in France? "No, no way," Baguet replies firmly. "Even if the directors change their mind and ask me, I wouldn't want to do that to any of the other guys, to be replaced after gaining final selection, that would be unfair to that rider. It stung for a brief moment that I was unjustly left out of the Tour team, but I'm fine with it now. Winning a stage in the Tour was nice, but this jersey I'm going to enjoy wearing for a full year to come. I assure you, I'm over the 2005 TdF right now. I'll be spending some quality time with my wife and son instead. We'll be in France, but nowhere near the racing; I promised to take Sam to EuroDisney!"
All dreams come true for Roberts
Luke Roberts (CSC) leads
Photo ©: Shane Goss

South Australian Luke Roberts, 28, will join the Australian contingent contesting this year's Tour de France, bringing to ten the total number of Australians confirmed in the starting line-up. A three time team pursuit World Champion and a member of the Athens Olympic Games quartet that won gold in World Record time, Roberts was advised overnight that he will fill the ninth and final place for the Danish registered CSC team in this year's event.
"My first reaction was excitement and then nerves as it began to sink in," said Roberts from his European base in Cologne, Germany. "My team director Bjarne Riis told me a month ago that he wanted me to get ready for the Tour and set my training program accordingly but he wasn't promising me I'd go.
"He basically said 'I want to have you ready in case others don't shape up' so I did everything right and made every effort I could to try and win selection," explained Roberts who realised it would come down to a choice between him and Danish teammate Jakob Piil. "Jakob has been up and down all season with illness and injury, but when we rode the Team Time Trial in Eindhoven on June 19 he put in a really strong ride, so last week I was struggling a bit with morale thinking I might not go."
But Riis told Roberts he would not make his decision until after Sunday's Danish Championships where Piil would be given a final chance to earn selection. "I fought on with my training because I decided I'd rather be 100 percent fit and not go at the last minute and then get a late call up and not have done everything possible to be ready for the race," said Roberts. "Unfortunately for Jakob he didn't have a great race on the weekend and he crashed as well, but that opened the door for me to be selected."
Roberts is understandably chuffed that in his first year with the ProTour team he has earned a start in the world's most famous bike race. "It seems that over the past 12 months all my dreams are coming true," he said. "First the Olympics, I signed with one of biggest teams in the world, I got to race in some of the biggest races on the calendar [Tour of Flanders and Paris Roubaix] and now I get to do the Tour de France!"
One of the first people Roberts called to relay the good news was fellow South Australian Stuart O'Grady, 31, who will line up with Cofidis for his ninth Tour. "He was rapt and congratulated me on the achievement," said Roberts. "He said he didn't know whether to say 'well done' or 'welcome to the pain and you don't know what you're getting yourself into' but I don't expect it to be a holiday."
Roberts main role will be to look after the team's two best hopes for overall honours in Italian Ivan Basso who was third overall in 2004 and Spaniard Carlos Sastre who was eighth overall last year. "Plus the team time trial will be a very important stage and a key one for me," said Roberts. "I have ten years of experience in teams pursuit and training on the road in team time trial so it comes as second nature. But when we hit the mountains I'll be going into survival mode," Roberts laughed.
The full line-up of confirmed Australian starters for the 2005 Tour de France is:
Ag2r:
Simon Gerrans (VIC)

Quick Step:
Michael Rogers, 25 (ACT)

Davitamon-Lotto:
Cadel Evans, 28, (VIC)
Robbie McEwen, 33, (QLD)

Francaise des Jeux:
Brad McGee, 29, (NSW)
Baden Cooke, 26, (VIC)

CSC:
Luke Roberts, 28, (SA)

Cofidis:
Stuart O'Grady, 31, (SA)
Matt White, 31, (NSW)

Liberty Seguros:
Allan Davis, 24, (QLD)

French Tour rosters complete
French teams Française des Jeux and Cofidis have finalised their 'Grande Boucle' rosters after the National Championships on the week-end. FDJ riders Christophe Mengin and Francis Mourey earned the two remaining tickets to the world's biggest cycling race through Sunday's road race. The full Francaise des Jeux line-up is therefore: Bradley McGee, Baden Cooke, Bernhard Eisel, Philippe Gilbert, Thomas Lövkvist, Sandy Casar and Carlos Da Cruz, Christophe Mengin and Francis Mourey. Reserve man is Frédéric Finot.
At Cofidis, Frédéric Bessy and Stéphane Augé are the ones completing the already selected Cédric Vasseur, Sylvain Chavanel, David Moncoutié, Stuart O'Grady, Matt White, Janek Tombak and Thierry Marichal.
As for Pro Continental team Ag2r, the final line-up is as follows: Mikel Astarloza, Sylvain Calzati, Samuel Dumoulin, Simon Gerrans, Stéphane Goubert, Yuriy Krivtsov, Jean-Patrick Nazon, Nicolas Portal and Ludovic Turpin. Cyril Dessel could not be included as he is recovering from an appendicitis surgery, which was performed last week. Aliaksandr Usau will be the team's reserve.
(All rights reserved/Copyright Knapp Communications Pty Limited 2005)