Recently on Cyclingnews.com
Belgian National Road Championships - CN
Saint-Hubert, Belgium, June 26, 2005
2004 Results Results Past winners
Baguet bags it in Belgium
By Jeff Jones
Baguet and Van Impe
Photo ©: Luc Claessen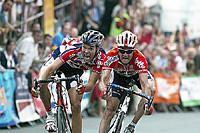 Serge Baguet (Davitamon-Lotto) has won his first ever Belgian Championship at the age of 35, beating his training partner and friend Kevin Van Impe (Chocolade Jacques) in a very close two man sprint. The pair were the final survivors of a very tough championship race in Saint-Hubert, attacking the leading break with 9 km to go to ride away from Nico Sijmens (Landbouwkrediet) and Stijn Devolder (Discovery Channel), who finished third and fourth.
For Baguet, a former roofer from Letterhoutem, it was a very satisfying title. "This was for me the last chance to become champion," he told VTM. "In the last few years, the parcours wasn't hard enough." Baguet also paid tribute to his breakaway partner Kevin Van Impe, who he beat by centimetres. "He rode fantastically. But he still has 10 years to win the title, I don't."
The podium: Van Impe, Baguet and Sijmens
Photo ©: Luc Claessen

"I'm very disappointed and a little bit satisfied," said Van Impe after the finish. "I was so close, but I still think I was the man of the race. In the group of 11 it was a bit too slow. I knew that I was good and was a bit nervous. They had to rein me in from the car.
"I took the last corner on the right hand side so I had to start the sprint. I don't think I made an error, because it was still a photo finish. But the disappointment weighs now."
Third placed Nico Sijmens had no answer when first Van Impe, then Baguet attacked on the final lap. "I'm fairly satisfied," he said. "I wanted to be in the deciding break and I could win the sprint for third place. But it's disappointing that I couldn't follow Baguet any more. It was hard against hard, everyone was riding à bloc."
How it unfolded
The first leaders
Photo ©: Luc Claessen

110 riders started in sunny, 25 degree conditions in Libin in the south eastern part of Belgium. Ahead of them was five laps of an 8.8 km circuit in Libin, then 16 km to Saint-Hubert, and then 14 laps of 12.3 km in the Vallée de Poix for a total of 232 km. Each finishing lap featured a testing climb up to Arville, which had enough in it to deaden the riders' legs.
It didn't take long for the main break of the day to be established, as Kristof Trouvé and Gorik Gardeyn (MrBookmaker), Frederic Amorison, Christophe Brandt (Davitamon-Lotto), Matthew Gilmore, Wouter Van Mechelen and Kevin Van Impe (Chocolade Jacques), Marc Wauters (Rabobank), Kevin Hulsmans, Kevin De Weert (Quick.Step, Staf Scheirlinckx (Cofidis), Tony Bracke and Jurgen Vandewalle (Landbouwkrediet) escaped on the first lap, and despite an attempt by Glenn d'Hollander to bridge the gap, the 13 stayed clear for a long time. Their maximum lead was 4'00 as the small Jartazi team chased them, bringing it back to 2'00 with 95 km to go.
The leaders split on the climb to Arville with Quick.Step's Hulsmans and De Weert going out the back along with Gilmore, Van Mechelen, Trouvé, and Bracke, leaving seven in front: Gardeyn, Amorison, Brandt, Scheirlinckx, Wauters, Vandewalle, and Van Impe. At 80 km to go, the reduced lead group still had 3'00 on the peloton, where Rik Verbrugghe (Quick.Step) countered with Wim Vansevenant (Davitamon-Lotto) in tow, with Iljo Keisse (Chocolade Jacques) joining after a few kilometres. Quick.Step had no riders in front, and although Tom Boonen was looking reasonably good in the peloton, he was heavily outnumbered by Lotto jerseys.
Kevin Van Impe (Chocolade Jacques)
Photo ©: Luc Claessen

At 67 km to go, the gap was down to 1'51 as the peloton slowly disintegrated and joined the three riders chasing seven. Amorison lost contact with the leading group, but at 42 km to go, Davitamon-Lotto really strengthened its chances as Baguet, Mattan, Kuyckx, Leukemans, and Quick.Step's Nuyens joined the leading six. Davitamon now had five riders in the leading 11, and it was obvious that they were going to use their majority to good advantage.
But there were still riders with the legs to chase from what was left of the peloton, including Devolder and Van den Broeck (Discovery), Caethoven and Ghyllebert (Chocolade Jacques), Van Huffel, Vansummeren (Davitamon), Coenen (MrBookmaker), Sijmens (Landbouwkrediet), and there was a gradual regrouping with some 20 riders left at 35 km to go.
Sijmens was keen to make something happen, and launched an attack at 34 km left, being joined by Baguet, Brandt, Leukemans, Nuyens, Van Impe and Devolder on the climb. There were three Davitamon riders now in the leading seven, and the rest of the teams were too tired to chase, so the winning move was created.
The leaders during the final lap
Photo ©: Luc Claessen

At 20 km to go, the attacks started in front with each rider trying their legs, but no-one being able to get clear. Even with Davitamon's strength, they couldn't get a rider away solo, although Baguet tried a few times. At 10 km to go, the seven became four as Baguet, Devolder, Van Impe, and Sijmens dropped Nuyens and the other two Davitamons, who were more concerned with keeping Nuyens in check rather than having two riders up front.
It didn't take long for Van Impe to go it alone, and on the final climb, Baguet dropped the other two and joined the Jacques man, who had been in the break all day. The pair slowly edged away from Devolder and Sijmens, who gave it everything to chase but didn't quite have it. Into the last kilometre, the lead pair could not afford to play games, as the other two were only 10 seconds behind, and Baguet and Van Impe swapped off until 500m to go. Van Impe led into the final right hander, accelerated on the slight downhill, then hit out hard with 200m of uphill to go, but Baguet was quickly on his wheel, then past him with 100m left. It looked like Baguet had it easily but Van Impe came back in the final metres and it took a photo finish to separate the pair, with Baguet just holding on.
Photography
For a thumbnail gallery of these images, click here
Images by Luc Claessen/www.actiefotos.be
Results - 232.2 km
1 Serge Baguet (Davitamon-Lotto)                               6.00.11 (38.680 km/h)

2 Kevin Van Impe (Chocolade Jacques-T Interim)                        
3 Nico Sijmens (Landbouwkrediet-Colnago)                          0.06
4 Stijn Devolder (Discovery Channel)                              0.14
5 Nick Nuyens (Quickstep)                                         0.43
6 Björn Leukemans (Davitamon-Lotto)                                   
7 Christophe Brandt (Davitamon-Lotto)                             0.45
8 Steven Caethoven (Chocolade Jacques-T Interim)                  1.50
9 Johan Coenen (MrBookmaker.com-SportsTech)                           
10 Wim Vanhuffel (Davitamon-Lotto)                                    
11 Steven Kleynen (Chocolade Jacques-T Interim)                       
12 Erwin Thijs (MrBookmaker.com-SportsTech)                       2.00
13 Jan Kuyckx (Davitamon-Lotto)                                       
14 Kevin Van Der Slagmolen (Bodysol- Win for Life-Jong Vlaanderen)    
15 Iljo Keisse (Chocolade Jacques-T Interim)                          
16 Gorik Gardeyn (MrBookmaker.com-SportsTech)                         
17 Johan Van Summeren (Davitamon-Lotto)                               
18 Pieter Ghyllebert (Chocolade Jacques-T Interim)                    
19 Staf Scheirlinckx (Cofidis-Le Crédit par Téléphone)                
20 Bart Dockx (Davitamon-Lotto)                                       
21 Koen Barbé (Chocolade Jacques-T Interim)                           
22 Roy Sentjens (Rabobank)                                            
23 Mario Aerts (Davitamon-Lotto)                                      
24 Jurgen Vandewalle (Landbouwkrediet-Colnago)                        
25 Jurgen Van Goolen (Quickstep)                                      
26 Nico Mattan (Davitamon-Lotto)                                      
27 Thierry Marichal (Cofidis-Le Crédit par Téléphone)                 
28 Preben Van Hecke (Davitamon-Lotto)                                 
29 Marc Wauters (Rabobank)                                        2.23
30 Kurt Van De Wouwer (MrBookmaker.com-SportsTech)                7.22
31 Peter Wuyts (MrBookmaker.com-SportsTech)                           
32 Sven Vanthourenhout (Rabobank Continental)                     9.00
33 James Vanlandschoot (Landbouwkrediet-Colnago)                      
34 Maxime Monfort (Landbouwkrediet-Colnago)                           
35 Geert Verheyen (Landbouwkrediet-Colnago)                           
36 Benny De Schrooder (Chocolade Jacques-T Interim)                   
37 Wilfried Cretskens (Quickstep)                                     
38 Kevin Ista (R.A.G.T Semences)                                      
39 Frederik Willems (Chocolade Jacques-T Interim)                     
40 Arne Daelmans (Chocolade Jacques-T Interim)                        
41 Johan Verstrepen (Landbouwkrediet-Colnago)                         
42 Frederik Veuchelen (Chocolade Jacques-T Interim)                   
43 Bert Scheirlinckx (Flanders)                                  13.21


Starters: 109
Classified: 43
Past winners
2004 Tom Steels (Landbouwkrediet-Colnago)
2003 Geert Omloop (Palmans-Collstrop) 
2002 Tom Steels
2001 Ludovic Capelle
2000 Axel Merckx
1999 Ludo Dierckxsens 
1998 Tom Steels 
1997 Tom Steels