Latest TdF Cycling News for July 1, 2005
Edited by Jeff Jones
Spotted glory: Who will claim the red and white?
He won the polka dots seven times.
Photo ©: Caroline Yang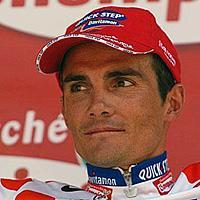 After the departure of Monsieur Virenque, the Tour's Mountain King at the end of 2004, there'll definitely be a new king of the mountains crowned in 2005. Jeff Jones looks at the riders who could take home the maillot à pois.
The polka-dotted mountains jersey (maillot à pois) has a long history in the Tour, with the competition being initiated in 1933, making it 20 years older than the points jersey. It has always carried a good deal of prestige with it, although in recent years, most of the really good climbers have chosen to ignore it and focus on the yellow. With one or two exceptions.
Past winners of the spotty jersey include Fausto Coppi, Federico Bahamontes (six times), Charly Gaul, Eddy Merckx, Lucien Van Impe (six times), Bernard Hinault, Luis Herrera, Claudio Chiappucci, Laurent Jalabert, and Richard Virenque. The latter has claimed the jersey a record seven times, but has now retired and the competition is wide open this year. Like the green jersey, the mountains jersey also requires consistency, but not in the same way. Most of the time, a rider wanting the dots will get in a breakaway on one of the first big mountain stages and win most of the points. The defense of it usually requires another long breakaway, but polka dot contenders don't have to concentrate on every single bonus like the sprinters do, because the big climbs are worth so much more than the small ones.
Armstrong puts extra money into anti-doping
When Lance Armstrong retires at the end of the Tour de France, he will leave behind an impressive legacy as a cyclist, with his six (or seven) Tour de France victories at the top of the list. He will also be well known for his work in the cancer community, exemplified by the millions of LiveStrong wristbands that he has sold to raise money for cancer research. A more infrequently reported fact, although one that is by no means a secret, is that he has helped the UCI over the years in its fight against doping, by donating money to the cause. "I am a huge advocate of WADA, USADA, drug controls, random controls, out of competition controls," said Armstrong in an interview with Cyclingnews last year. "I have donated money to the UCI over the years to increase [drug controls]."
Dutch TV 2 aired a program on Lance Armstrong on Thursday evening hosted by Mart Smeets, who interviewed Hein Verbruggen, who confirmed that Armstrong sponsors UCI anti-doping investigations. One of the last things he did was to pay for the UCI's new Sysmex blood testing machine, which measures the proportion of haemoglobin and reticulocytes in a rider's blood to determine whether they have been artificially manipulating their red cells.
"I know Lance didn't want me to talk about this, but now he his career is coming to an end I said to him that I should make it public," said Verbruggen. "He didn't like that, but I think everybody has to know it."
Lance is the most tested rider in the peloton. "Journalists said Lance used a lot of medicines after his cancer, and that he should have a long list with legal drugs. But he has nothing on a list," Verbruggen noted, also taking offense to any suggestion that the UCI would turn a blind eye if Armstrong ever tested positive. When a journalist asked him about this yesterday, Verbruggen told AD that he responded, "'Get the hell out of here, idiot!', I told him. Luckily I could restrain myself a bit, otherwise I would really let fly. I'm not good with such people. This initiative deserves nothing but praise and respect."
Health checks OK for Tour peloton
All 189 riders in the Tour have been given the green light to start tomorrow in Fromentine, according to the Tour's medical report. Each rider was subjected to medical controls, including complete blood tests, on Thursday between 7:30 and 14:30. None were declared unfit to start.
€2 million in prize money up for grabs
This year's edition of the Tour de France will feature a total prize purse of €2 million, making it the richest event on the cycling calendar. Of this, the overall winner will get €400,000, and the runner-up €170,000. Each stage win is worth €8,000, while the green and polka dot jerseys are worth €25,000 apiece. The winner of the teams classification will earn €35,000.
(All rights reserved/Copyright Knapp Communications Pty Limited 2005)
Recently on Cyclingnews.com