An interview with Lance Armstrong, Murcia, Spain, March 5, 2004
Pedalling circles
Lance Armstrong more motivated than ever in 2004 for TdF win #6
Lance Armstrong is in the first stages of a five-month campaign to make the top step of the Tour podium in Paris for an unprecedented sixth time. But July is a till a long way away, and in the meantime there's plenty of racing in both Europe and the US; an on-going and very public dialogue with the World Anti Doping Agency and a new role as a lead-out man, as he tells Cyclingnews' European Editor Tim Maloney.
Lance Armstrong (USPS-Berry Floor)
Photo ©: AFP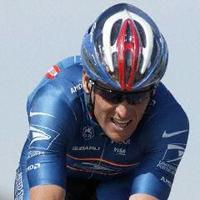 After a hard day in the saddle on stage three of the Vuelta Murcia, Lance Armstrong is relaxing in his hotel room before dinner, listening to Alice In Chains Unplugged and answering emails. The previous day he sent an open letter to the media, in which he strongly criticized Dick Pound, head of the World Anti Doping Agency (WADA) for comments Pound made attacking cycling in the January 28 edition of Le Monde, and in particular for Pound's allegation that "the riders of the Tour de France and the others take banned substances". As well as this letter, Armstrong talked about the 2004 season to date, his impending return to race on US soil in next month's Dodge Tour de Georgia and his lead-up to his pursuit of an unprecedented sixth Tour de France win.
Cyclingnews: With today's win in Murcia, the USPS-Berry Floor team has won seven races so far this season, more than any other team in cycling. [Rabobank won its sixth race of 2004 on Friday.]
Lance Armstrong: Is that right? Great! But more importantly, it's five to two; Johan to Dirk...
Johan Bruyneel: Hey! (expletive deleted)
LA: Haha... hey that's cool!
CN: So you've been back in Europe for a month now and I was wondering if you've made the transition from Krispy Kremes to churros [Spanish donuts] yet?
LA: The Krispy Kreme thing is just brilliant. I don't know the last time I had a Krispy Kreme. Actually, I don't like Krispy Kremes, they don't have apple fritters. That's my favorite. If I was ever going to eat a donut thing, it would be an apple fritter.
CN: When was the last time you actually had an apple fritter?
LA: I don't know; it's been a while.
CN: It's now four months to go before the 2004 Tour de France starts, you've raced eight times so far this season including two time trials, your team's winning, so where is Lance Armstrong? How do you feel?
LA: I feel good. Obviously far from my best. Not too pleased with yesterday's performance [in the Murcia Stage 2 time trial]. [Something] was not necessarily right. My warm-up wasn't done right; I pre-rode the course and kinda got stuck out on the course and didn't get back until just before the start. And I hadn't done any real efforts, so perhaps having not warmed up properly, I started too hard and just kind of buried myself. Anyway that's just an excuse. Again, I feel strong, the training's gone very well, I'm happy with the team's performance and I'm happy in general. I am where I am; the condition's not there yet, I still have to lose a little bit of weight, just like every February or March. But that [weight] always seems to come off...
CN: Today when I watched the final of today's stage in Murcia, I saw you were last man leading out Max Van Heeswijk in the last kilometer.
LA: Yeah; I've never done that [before] in my professional career.
CN: You were right on the front, diving into the corners and gave Max a perfect lead-out, then you were there on the other side of the road punching the air, celebrating the win. I was astounded to see that!
LA: Well, Max is an unbelievably talented guy, and he has more talent in his pinky than most people do in their whole body. But he lacks some confidence. Di Luca and another guy were up the road and Max gave a little sigh, but I said to him, 'you're going to win today; we're going to bring 'em back'. So just the way it all unfolded; we really had a train going. We had Pavel [Padrnos] going 65km an hour, then Michael [Barry], then me and I led through the last two corners. When I saw Max come off my wheel, I knew he was going to win. Easy. I was so fired up. Again, I've never been able to do that; I've never taken the risks to be in the front. I told Johan at the finish 'if I could do that again tomorrow, I would; it was cool'.
CN: Johan, what were you thinking, watching Lance lead out the sprint today?
JB: I thought at first the finish was a lot further, so my first reaction was 'it's too early' since I was told that it was 400 meters to go, but then I saw the finish was closer and there were gaps in the peloton and I was sure that Max was going to win. I saw Lance up there.
LA: You can come in in fiftieth place and stay out of trouble, but that's a lot scarier than where I was today. At 20km to go, Max asked me 'Lance, can I take your wheel in the finish and sprint' and I thought 'oh shoot! [laughs] Nobody's ever asked me that!' I've never in my life done a leadout. Sure, some of my fondest memories of racing early on were when I was originally on the Subaru team with Jonas Carney, we had a great leadout tag-team thing going. I'll never forget the US National Criterium Championships, I gave Jonas a lead out on the last lap and we came out of the last corner and it was just he and I. We got first and second. So today was just like that; it was so cool.
CN: Is Lance Armstrong more motivated than ever in 2004 to win the Tour de France?
LA: I've always been motivated but this year, things seem to be going well. I am still strong, I feel healthy. I'm still sad about my [family] situation last year, but I have a clear conscience. I love my children and miss them deeply; that's the hardest part but I guess if I had to sum it up in cycling terms, I'd have to say I'm pedaling circles. Whereas last year, they weren't circles. It's a direct quote because I do feel more efficient [this year]; perhaps I even had some physical problems last year. But I'm just really chilled out but real excited. And there's a lot of doubters. Which is good for me.
CN: You have always been a fighter; you're a boxer in the new Nike ad campaign and I understand you were a quick study, too.
LA: The guy who trained me that day is still a trainer for top heavyweight fighters. It was really hard; an awesome workout.
CN: If you look at your career, you've always overcome the odds; fighting back against cancer, the day you showed your fighting spirit and won the Tour de France stage in Sestrieres in 1999.
LA: And I had no idea I could do that at Sestrieres. Leading up to that, Dauphiné, Route du Sud, I was going okay on the climbs but never to that level. To borrow something from the Nike ad, when you're on the ropes, some people stay on the ropes and some people come off 'em. Up until now, I've always been able to come off the ropes. Swingin'; come out swingin'.
CN: So what about Jan Ullrich's comments that he thinks you are beatable in the Tour de France?
LA: Everybody's beatable, of course. Just as long as I'm less beatable than everybody else.
CN: Ullrich also thinks that there will be more challengers in the Tour de France this year.
LA: I hope so. Better for us. I think you have Jan as the biggest threat and below that, you have a list of ten guys. All the usual suspects, and they're all climbers. There's some good, explosive climbers that are good for us.
Lance Armstrong & Jan Ullrich
Photo ©: AFP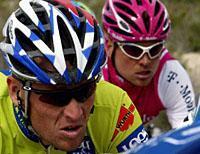 CN: Have you spoken to Jan Ullrich yet? I guess you haven't seen him since last year's Tour.
LA: Actually, I talked to him today, more than I have in a while. I said to him 'man this stuff (media attention) is getting crazy, you know', especially with the German press, because they put so much pressure on him, they're here at Murcia and follow every move he makes and ask him about every result: "why did you get 85th today, blahblahblah".' It absolutely does not matter - who cares? So we agreed that it's crazy. Jan's English is better than my German. But we have a mutual respect. Listen, I have nothing but good things to say about Jan. I really fear him.
CN: How does he look to you?
LA: Big. But I think he looks better than he normally looks this time of year. There's no doubt that (Jan) is seven or eight kilos more than his Tour weight. He's been heavier other years. But Ullrich looks strong, is how he does look. I wouldn't say he looks fat. Jan always gets in shape for the Tour; he's always ready.
CN: Lance, yesterday you sent an open letter to the media challenging some of WADA head Dick Pound's recent statements about cycling. Did you hear from any riders today about this?
LA: The most important reaction to my open letter is that I have complete support on this from my peers, from the teams, from the race organizers, from the fans. I don't know how many guys came up to me today and said 'thank you'. And that's what this open letter was for. It was not a defense of me, but it was a defense of our sport. Mr. Pound, in his response to my open letter said "Lance, I don't know where I ever mentioned you." But the truth of the matter was that he did something a lot worse than that; he did something two hundred times worse than that. Because he mentioned all of the [Tour de France] riders. WADA is an organization of action, it's not a PR organization. I am a huge advocate of WADA, USADA, drug controls, random controls, out of competition controls. I have donated money to the UCI over the years to increase [drug controls].
At the end of the day, I don't care what anybody says, cycling has done more than any sport to fix its doping problem. Show me another sport thats stepped it up like cycling. You won't find one. There are other sports that completely go ignored. I think that sometimes, cycling shoots itself in the foot; we just talk about it so much. When Jean-Marie [Leblanc] presents the Tour (de France) course, he spends 20 minutes talking about doping. Someone told me that in a recent team presentation, a French team's communication guy took eighteen minutes of his twenty minute speech on doping. We've done more than anybody, let's tell that story and then let's get on to talking about our sport. Are there going to be people who mess up, are there going to people who take risks? Are there going to be people who continue to cast a shadow on cycling? Of course! But that's never going to stop and let's not think that it is. So here we are.
CN: You've taken a very strong leadership position with your open letter, which is also kind of a manifesto. Where do you see where this might go from here?
LA: I don't know. Cycling needs to continue to do what we are doing. I commend the UCI and I think they're doing as much as they can and in fact, as I said, more than anybody else (to fight doping). There's nothing else to say now and I felt obliged to defend our sport and not only defend it with an opinion but also back it up with statistics. It's ludicrous to think that every rider in the Tour de France is doped.
CN: Pound is a member of the IOC as well as head of WADA and he must have some idea of the comprehensive medical controls in the Tour. What do you think is his motivation in saying these things about cycling?
LA: I can't comment on that; I have no idea. I have nothing personal against Dick Pound at all, and I respect WADA. If they went away, I would be one really upset guy. But I think WADA needs to instill confidence in the athletes. Athletes need to be confident that WADA's programs are run by equal and fair and straightforward people. Johan and I counted this morning: I raced 45 days and had 22 controls. Pretty tough to get away with anything that way or find anyone who is tested as much.
JB: That was 50 percent of the time...
CN: Next on your program is Milano-San Remo...
LA: La Primavera!
CN: All the Italian media will want to know when you'll ride the Giro.
LA: I'd love to ride the Giro, but probably never will. Time's runnin' out. Then Critérium International and back to the States and the [Tour de] Georgia. I stop on my way home for a meeting of the President's Cancer Panel, then head back to Austin to move to my new ranch west of Austin. It's called Mirasol and it's got the most beautiful sunsets I've ever seen. It's where Deadman's Hole is from [Every Second Counts].
CN: Are you going to jump in?
LA: If I did the leadout today, I can at least go jump in.
JB: Wear shoes!
LA: I always wear shoes!
CN: Have you seen the parcours of the Tour de Georgia yet?
LA: [looking at map] Yeah, but I haven't seen the course map yet.
CN: This will be the first time you raced in Georgia since the 1996 Olympics, and...
LA: That's not true! I raced in the Atlanta Grand Prix in 1998.
CN: How did you do?
LA: Uh... [grins at the memory] I got annihilated. I think Julian Dean won.
CN: Is the fact that the Georgia Cancer Coalition is involved with the race important to you?
LA: Oh yeah. It's funny, a long time ago, I met the lady from the Georgia Cancer Coalition; I think she used to be in the Governor's office, but the I think the Governor has changed since then. So the Georgia Cancer Coalition's involvement was important to me to participate in the Tour de Georgia was the cancer aspect. This is one of ther first times I've involved my cancer work with a race. Because in my mind, a race is a race. A race is business. Typically when I'm supporting cancer advocacy, it's for a ride, like the Ride for the Roses in Austin, or the PanMass in Massachusetts, or the Tour of Hope. So this is the first time the cancer advocacy has been associated with a real race.
CN: There should be a lot of people there and there's always a lot of interest to see Lance Armstrong race on American soil.
LA: As far as the [Tour de Georgia] is concerned, I'm excited and we're all excited on the team to race there. It fits in perfectly to our plan this season; it would have been a real... had Georgia not come together, I would had done Gila, and I was excited about that too, but the level of competition should be better in Georgia, so that's good. [Tour de Georgia] has everything we like to see in races at that time of the year; some hilly stages, a time trial. It's five days, which is similar to other stage races at that time of year like Aragona or Romandie.
CN: Going back eight years to the final edition of the Tour DuPont, with epic stages like Beech Mountain, the mountaintop finish up to Brasstown Bald could be interesting.
LA: I won't be in top shape there so most likely, I'll be down on the other guys there, but you never know. I'll be motivated to race, but I'm not going to the Tour de Georgia with the intention of winning. That time of year, if I look at other years, it's not a bad time of year, but it's not a time of year I do long uphills fast. So it's probably still too early for me to climb well enough to win.
CN: Last season, you were very competitive at both Amstel and Liège.
LA: They are shorter climbs too; I don't know what Brasstown Bald is like but I think it's longer than 2km.
CN: Plenty of Americans who've seen you on TV in the Tour de France will be looking forward to seeing you racing in person at the [Tour de Georgia].
LA: There's no reason why we shouldn't have a high-profile, big [stage race] in the US, well attended by the public, well attended by teams and well attended by the press. There's no reason we shouldn't have that. We have the riders, the depth of riders in the US, but we just haven't - for whatever reason, I don't know. Our sport just hasn't taken in the last five years, it hasn't taken Postal's success in the Tour de France and parlayed that into even success or success in building other new teams. You lose a Saturn, you lose a Prime Alliance and the third team down is a long ways off. But these things are cyclical as we know and the US economy isn't very good.
Our time was up with Lance and he headed down to dinner to celebrate USPS-Berry Floor's third stage in the Vuelta a Murcia with his teammates, ready once again to pedal circles the next day.