Tour de France Cycling News for July 13, 2005
Edited by Jeff Jones and Shane Stokes
Pre-stage 11 quotes
By Hedwig Kr÷ner in Courchevel
Cadel Evans (Davitamon-Lotto)
"Today will be much harder than yesterday. Maybe some will be intimidated by the course or maybe they will make the race even harder than yesterday, I don't know. It's a much harder climb, but then it's not a hilltop finish so we'll see."
What's the plan? "Same as always: not lose any time."
Joseba Beloki (Liberty Seguros)
"I feel tired. Yesterday was a hard day for our team. We didn't perform well so I hope we will get better. We should have been able to stay with Ulle or with Basso, but we couldn't."
David MoncoutiÚ (Cofidis)
"I'm OK. Yesterday was a hard stage with the first Col. Discovery imposed a speed like hell on us from the bottom of the climb, but that's the Tour. It's always fast."
How are you otherwise? "I'm a little handicapped by bronchitis."
An interview with Sheryl Crow
Wildflowers grow in France
Cyclingnews' Tim Maloney had a rare opportunity for an exclusive interview with the Grammy-winning singer & songwriter, Sheryl Crow, at the Tour De France. Crow is from Kennet Square, Missouri, where she sang in the school choir, ran track and got straight A's. She graduated from the University of Missouri with degrees in voice and piano. After a successful TV commercial for McDonald's, she headed west for Los Angeles with the idea to try and make it in show biz. Her first gig was singing back up for Michael Jackson on a world tour.
Standing by her man
Photo ©: AFP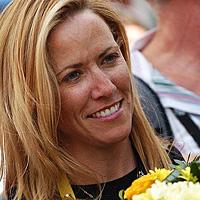 Starting with 1994's "Tuesday Night Music Club", which took almost a year to become a hit (thanks to a great video), Crow burst onto the international music scene with her hit, "All I Wanna Do". Crow won three Grammys in 1994, including best song and best new artist and the album sold 7.5 million copies. Crow's written songs for Celine Dion and Tina Turner, and sang backup for Jimmy Buffet and Don Henley, before establishing herself with a band called Tuesday Night Music Club.
In the last decade, Crow has sold over 20 million albums, won nine Grammys and become one of the most respected musicians in the business, with her unique style of music that combines the roots of classic and progressive rock. Recently, Crow had a collection of songs released by Starbucks under its Artist's Choice label and has a new record coming out in September.
Crow and six-time Tour winner Lance Armstrong have had a relationship since late 2003, and she is in France at her second Tour De France. Cyclingnews sat down with Ms Crow on a rainy night in Blois, France to talk about her new album, Lance and her career. Besides her superb singing voice and guitar playing, Crow is an articulate, intelligent artist who clearly understands her oeuvre. Plus, she has one of the most mellifluous speaking voices we've ever had the pleasure to listen to, as she told us about her new record, her career, Bob Dylan and her adventures on the road with the Disco biker boys.
Click here for the full interview
Rasmussen aims for KOM jersey and podium
Michael Rasmussen (Rabobank)
Photo ©: Sirotti

Confidence boosted by his strong third place yesterday and excellent riding thus far, Danish rider Michael Rasmussen is aiming high in the Tour. His goals are to defend his mountains jersey and also target a place on the final podium of this year's race.
"Now we go for it. I've seen that I am one of the strongest in the peloton today," he wrote in his diary on www.feltet.dk/michaelrasmussen. "At the same time I'm the only rider in the team for the overall, since Menchov lost more than ten minutes today. I'll take it one day at a time. But it's clear that we have seen, that there are a lot of goals ahead that are within reach all of a sudden. Hopefully, I haven't reached the ceiling yet."
Rasmussen is banking on his freshness to make a difference as the race progresses. "I'm hoping that the others are not going to be getting much better," he states, explaining that his sparse early-season racing program should help. "A lot of the others, who had races up till the Tour, are presumably not going to get much better. I've had to get my sharpness during the first week, whereas the others started at 100%. They were at their peak. Nothing is certain, but I think I can take more time to several of the favourites. Not necessarily to Armstrong but to those who are aiming for the podium."
Rasmussen's aim to add a high GC place to his KOH aspirations will lead to a necessary change in tactics. He accumulated those mountains points by riding aggressively, taking out a considerable 70 point lead over second-placed Christophe Moreau. But his aggression will be more metered from this point on.
"You have to choose your battles carefully. The bills have to be paid later on," he reasons. "I'll take it one day at a time. Tour de France is a long race and a hard one; it takes only few bad minutes on a single mountain to ruin the chances in the overall classification."
T-Mobile is a case in point. "They had, for sure, a crisis today. Even though they ride well in the rest of the Tour, they are still four minutes behind. It's easy to lose four minutes, but they are damn hard to win."
Rasmussen will be relying on his Rabobank teammates to help him keep an eye on his challengers for the mountains title. "Right now, I'm in a position, where I can control it. The team is strong. We had quite a few riders present late in the stage today. We can decide who will be allowed to go. If we will not allow somebody to go, because they are a threat, well, then they just will not succeed getting away."
Menchov suffering from sore throat
Rabobank's nominal captain Denis Menchov now looks like he'll be playing second fiddle to Michael Rasmussen after losing 11'51 in the first Alpine stage to winner Alejandro Valverde. Menchov, the winner of the Tour's young rider competition in 2003, is now sitting in 45th overall, 16'16 behind leader Lance Armstrong.
His time loss is being blamed on an inflamed throat, and he is taking antibiotics at the moment for it. "We hope that he will be fully fit by the Pyrenees," said team doctor Leinders to ANP.
Leipheimer encouraged
Levi Leipheimer (Gerolsteiner)
Photo ©: Sirotti

American rider Levi Leipheimer looks on track for his target of a top five placing in this year's Tour after yesterday's first big mountain stage. The Gerolsteiner captain had a gutsy ride on the race to Courchevel, losing contact with the Armstrong group when Popovych turned on the afterburners 11.5 kilometres from the top, but fighting all the way to the line.
He eventually finished sixth, a minute and 15 seconds back. Importantly, Leipheimer took time out of other GC contenders such as Cadel Evans, Andreas Kl÷den, Floyd Landis, Jan Ullrich, Chris Horner, Michael Rogers, Carlos Sastre, Alexandre Vinokourov and Bobby Julich. Winning this year's race is clearly out of the question, but a high placing is very much in sight. He starts today's stage to Brianšon sixth overall, 3 minutes and 58 seconds down on Armstrong.
"Levi rode very convincingly, that was really a strong achievement", said team manager Hans Michael Holczer. "At this point his placing is what we expected."
Georg Totschnig placed 28th yesterday, suffering the effects of stomach problems. He was seen as possible dual leader before the race but Gerolsteiner will focus 100 percent on Leipheimer now.
Valverde highlights his promise
Alejandro Valverde (Illes Balears)
Photo ©: Sirotti

Yesterday's stage victory provided further confirmation of the talent of 25 year old Alejandro Valverde, the only rider able to resist the last-kilometre surge by Lance Armstrong. Winning the mountain-top finish of Courchevel is the best result yet by the Illes Baleares-Banesto rider, who has signposted himself as one of the brightest prospects in cycling with a host of impressive results.
This season Valverde took stages in Paris-Nice and the Tour de Pays Basque, adding to a palmares which already lists many victories. The Spaniard has also taken second in the world road race championships, as well as showing his stage-race promise with third and fourth overall in the Tour of Spain.
Lance Armstrong was suitably impressed by yesterday's demonstration to tip Valverde for a big future. "He's a difficult rider to classify, because he's also very fast and he's also very strong," he said. "A guy like him - and I'm not blowing smoke - could be the future of cycling, because he's a complete rider and he's always been good. Valverde was good from the first day he showed up and he's proven it here. The only thing he would have to work on for this race is his time trial, but I suspect he'll do it [in the future]."
"We will see how far I can go," said Valverde, playing down his chances for 2005. "I think that Armstrong is always too strong. I know my qualities, but also my weaknesses. I am not yet strong enough to win the Tour. Perhaps next year when Armstrong is no longer riding."
(All rights reserved/Copyright Knapp Communications Pty Limited 2005)