92nd Tour de France - July 2-24, 2005
An interview with Sheryl Crow, July 13, 2005
Wildflowers grow in France
Cyclingnews' Tim Maloney had a rare opportunity for an exclusive interview with the Grammy-winning singer & songwriter, Sheryl Crow, at the Tour De France. Crow is from Kennett, Missouri, where she sang in the school choir, ran track and got straight A's. She graduated from the University of Missouri with degrees in voice and piano. After a successful TV commercial for McDonald's, she headed west for Los Angeles with the idea to try and make it in show biz. Her first gig was singing back up for Michael Jackson on a world tour.
Standing by her man
Photo ©: AFP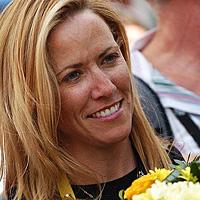 Starting with 1994's "Tuesday Night Music Club", which took almost a year to become a hit (thanks to a great video), Crow burst onto the international music scene with her hit, "All I Wanna Do". Crow won three Grammys in 1994, including best song and best new artist and the album sold 7.5 million copies. Crow's written songs for Celine Dion and Tina Turner, and sang backup for Jimmy Buffet and Don Henley, before establishing herself with a band called Tuesday Night Music Club.
In the last decade, Crow has sold over 20 million albums, won nine Grammys and become one of the most respected musicians in the business, with her unique style of music that combines the roots of classic and progressive rock. Recently, Crow had a collection of songs released by Starbucks under its Artist's Choice label and has a new record coming out in September.
Crow and six-time Tour winner Lance Armstrong have had a relationship since late 2003, and she is in France at her second Tour De France. Cyclingnews sat down with Ms Crow on a rainy night in Blois, France to talk about her new album, Lance and her career. Besides her superb singing voice and guitar playing, Crow is an articulate, intelligent artist who clearly understands her oeuvre. Plus, she has one of the most melifluous speaking voices we've ever had the pleasure to listen to, as she told us about her new record, her career, Bob Dylan and her adventures on the road with the Disco biker boys.
Sheryl Crow: Do you know what my job is with the team?
Cyclingnews: No, please let us know!
SC: I make the warm-up tape for the time trial for Lance. That's where my (music) expertise comes in. I couldn't do it for everybody else. George (Hincapie) likes rap music, so I'm out of my domain there. It's interesting when I jog how much the music makes a difference. On the way to the time trial, Lance was listening to a big favorite last year, "Times like These" by the Foo Fighters. You can pretty much count on the Foo Fighters to get your heart rate up. He [Lance] has a little bit of Linkin Park on his (Tour) playlist, some of the new Coldplay, some U2 and some things I haven't heard of, like POD.
CN: Sheryl, I understand you have a new record coming out of all-new material to follow up on the big success of your greatest hits.
SC: I do, it's coming out the 26th of September.
CN: According to your website, you haven't decided on a title for it yet.
SC: Yes I have!
Looking hyped at the Dauphine Libere,
Photo ©: AFP

CN: Oh that will be a scoop for me!
SC: Exclusive to Cyclingnews - it's called "Wildflower". There's a song on the record called "Wildflower" that was inspired by Lance as well as his three kids. It also ties in to what's going on in the big picture, as far as our relationship, to what's going on in the world. The idea of the song is that no matter how chaotic it is, wildflowers will still spring up in the middle of nowhere. It's kind of a reminder, particularly when you look at his young children, how they gravitate to goodness and to light. After forming that hard shell it's what helps us get through our daily lives.
CN: The first song released from Wildflower is called "Good is Good". Was that also inspired by Lance?
SC: Sort of; it's about how many distractions we have in our daily lives like the Blackberrys (mobile email device - Ed) and email; so many ways to get hold of each other without actually making real contact. Compound that with just how many images we're barraged with every day. One of the things that I wound up loving about being involved with a bike racer was learning how to bike and how that really creates solitary time for you to reflect on things and nobody can get a hold of you. Really, the main theme of the song is just making sure you don't look back on your day not being able to find one or two important things you did that have meaning. Lance, being a cancer survivor, clearly has that idea perfected of waking up everyday knowing 'this day I will never live again'. There's a lot of stuff on Wildflower that was inspired by the last year.
CN: Don't get me wrong - I'm not saying that all your songs were inspired by Lance.
SC: No, but my life definitely changed in that when we got together, I took a year off, mainly because I was thinking of doing that anyway. And we immediately went to Europe together and I was a stranger in a strange land. That definitely influenced the tone of Wildflower.
CN: Was that the first time you had travelled in Europe other than touring?
A big kiss
Photo ©: AFP

SC: It was the first time I had ever done any travelling that wasn't work related. I had free time on my hands, which in the past would have made me feel really guilty. I would have gone into that place of self-loathing because I wasn't being productive. But instead I really tried to embrace it and just enjoy.
CN: Have you firmed up your tour dates to support Wildflower?
SC: We are going to do something different this year, because Wildflower has such big orchestral compositions. We are actually going to do three dates where we perform with Philharmonic orchestras from LA, New York and London. We're going to film it and release it; that's with the band and the orchestras. Then next spring I'll be touring with just the band.
CN: I heard that Lance was going to be on tour with you as your assistant guitar tech.
SC: (Smiles) I'm afraid he'll be way too expensive for us to be able to afford! (laughs)
CN: Does he know how to use the tuner?
SC: I don't know but he can play a few chords. Lance isn't like anybody else in that he has no fear. He will try anything and has an excellent memory, so everything I've shown him on the guitar, he's managed to remember.
Loving the ride
Photo ©: AFP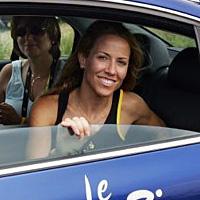 CN: As a recording artist who has toured extensively, you've been on the road with the band for a long time. How would you contrast touring with the rockers versus touring with the bikers?
SC: I think the obvious difference is the hours we keep. I pretty much go to bed now on the bike tour about the time I go on stage on my own tour. After the show, we drive all night long and arrive at the hotel at about six in the morning and sleep part of our day. By the time I get up on my tour, I would have already gotten up and ridden a bike or run. That's the basic difference. That and we don't eat a lot of pasta (on the rock tour).
It's similar in that there are a lot of crowds around on both tours who want some sort of interaction with you - which can be nice, and can also be tiring. With bike racing and probably all sports, the participants are heroes that really give us examples of what we aspire to be like. And I think in music, the actual music has a similar effect - it commands how we feel, dictates what we experience in our feelings. And I think those people who perform music represent experiences in our lives through their music. So it's a similar experience I think for those who come out to see music and those who come to see bike races.
CN: Most musicians who make it are pretty serious.
SC: There are real strong similarities and there's a very strong bond between musicians, like there is with a bike team. There's a very strong camaraderie, a lot of respect; there may be disagreements, because they've got that common goal, you work together and don't hang on to the small stuff. I've definitely noticed with the bike team that there's a lot of support and a lot of encouragement, and a lot of that happens around meal time - like getting back into contact with one another - on a personal level. I find that's really similar between a bike team and a rock band.
I think there's a lot of integrity with musicians; you really still aspire to grow, and be great, to be the best version of yourself you can be, and I found that's similar and true of the bike racing team.
CN: Sheryl, you've been immersed in your new record for the last six months and I'm curious who you've been listening to.
SC: When I'm getting to make a record, I listen to different kinds of music for different reasons. If I'm writing lyrics, I'll always fall back and listen to (Bob) Dylan, because he helps me sort of rearrange the way I think. There's a cadence to his lyric writing that puts my mind in a different sort of space. And there other writers who do that also.
They're my Disco boys
Photo ©: AFP

And there are writers who are actually current that I find that if I listen to when I start writing, with a different rhythm in mind, a different cadence. I listen to a lot of new artists, but not specifically to learn or to get anything from them. I'm really good about going on iTunes and downloading as much new stuff as I can find. I've gotten inspiration from people like Ryan Adams, U2, from writers who aren't so mainstream like Patty Griffin, Ray La Montagna (both of whom Crow shared a stage with at the 2004 Austin City Limits festival). I still get inspiration from Neil Finn - I think he's a great songwriter; the Beatles and the Rolling Stones, depending what I want to write.
This record (Wildflower), I wasn't so concerned with what I wanted to accomplish; I was concerned about getting to the heart of an artistic expression.
CN: Was that why you decided to use an orchestral format?
SC: Well it was interesting following up greatest hits, because the greatest hits in some weird way marks the end of something. And for me (greatest hits) felt like it marked the end of the first half of my career and it gave me the opportunity to switch gears a little bit. And go in a different direction. I definitely didn't want to follow the greatest hits with the same stuff I've been doing. And I didn't want to be thinking about hits. I didn't want to try to get on the radio, something that has been so important in previous years. As my field gets younger, as I become more, ummm ... more seasoned - whatever - I find it's less interesting to try and compete in the pop market. It's also given me a lot of freedom to just write about things that are interesting to me and matter to people my age. So incorporating string arrangements to create that cinematography for (Wildflowers) felt like a good thing.
CN: One of the favourite records at Cyclingnews HQ in Sydney, Australia, is Kings Of Leon. Have you heard of them?
SC: Yeah, recently I downloaded the Kings Of Leon - and paid for it. Kings Of Leon, The Kills, The Killers and Arcade Fire. Of course, Ray La Montagna is also on my playlist. So Kings Of Leon is a big one (at Cyclingnews HQ)?
CN: So I hear.
SC: They're supposed to be amazing live. That's interesting that they're big down in Australia.
CN: The Cyclingnews road music for the Tour de France is Bob Dylan & The Band: The Basement Tapes.
SC: Oh that's a great one. I've been trying to put some Bob Dylan on Lance, but he's not havin' it.
CN: I know that you have toured with Bob Dylan; what was that experience like?
Lance, dinner's ready...
Photo ©: Luc Claessen

SC: I've been really lucky in that (Dylan) embraced me when I was first starting out and invited me to open up for him. He kind of became a mentor in some aspects; he sat me down after having watched a perform of mine and told me what he felt and kind of extended himself to me. He's been a great friend ever since and he's always invited me to play with him. I've had many, many interesting experiences with him and I feel extremely lucky to be able to say he's a friend of mine. In fact, during (2002's C'Mon, C'Mon), I called Dylan in the middle of the record. I was having a terrible time trying to finish the lyrics. I understood that he had experienced writer's block himself, and he said 'Well, no that's not true', and it's so typical, you know (laughs) of Dylan to go completely opposite on you. He's been a great kind of advisor to me.
CN: Did you read his book, "Chronicles"?
SC: I enjoyed it! There were things that I really wanted him to elaborate on, that he kind of stopped short on. I had a funny experience with Dylan. When he was in the middle of the writing process (for Chronicles), we were at a big festival together and we got rained out. He came on my bus and said, 'Hey, let's take a walk', so we walked around the park in Atlanta in the rain with an umbrella and he told me about the book he was writing and what an enjoyable experience it was, because he was able to springboard off all of the interviews he's done, and all the things the interviewers have written about him that were not true. So that's how he started each passage - by trying to clarify. He kept saying, 'you gotta write a book, you gotta write a book of your life', but it's fun to hear him talk about the process because I think in the end it became very intimidating. Now you have to release that honesty out there. You have to remember that most writers who are writing stories like to maintain some sort of anonymity, so you cross that line. For me, making videos was an assault, to the listener, because you really demand that they embrace the visuals with the listening experience.
CN: Sheryl, are you finding any time for cycling at the Tour De France?
SC: Well if I weren't cycling, I'd be doing something in the morning when I get up. Although I haven't been that diligent here at the Tour de France; our lives are kind of crazy. I usually start my day by meditating for about an hour. That's after coffee and Cyclingnews, of course. And then, I exercise and I've been trying to run or ride for as close to an hour as I can get, or ride for a couple of hours.
Looking very fit and healthy
Photo ©: Luc Claessen

CN: Didn't you have your own Tour de France once? My friend Yves Perret of Dauphine' Libere' talked to you about when your first hit broke in France.
SC: Absolutely! That was in 1994, the late summer. They released a song called Run Baby Run and it completely tanked everyplace in the world except France. So for the longest time, we drove around France, trying to play for anybody that would listen to us. And we really covered so much of France, and people were so warm and embracing and that being my first impression has always endeared me so much of the French people. I just love 'em.
CN: Fast forward ten years later to the summer of 2004 and there you are, coming back to another Tour De France to see Lance win his sixth straight.
SC: I know. There are many funny little serendipitous tie-ins to Lance for me and that's one of them.