Tour de France Cycling News for July 12, 2005
Edited by Jeff Jones
Pre-stage 10 comments
By Hedwig Kröner in Grenoble
Jens Voigt (CSC)
Will you attack in the yellow jersey? "Oh no that's not for me. The yellow jersey traditionally rides defensively to save energy and everything else is up to the teams who want to win the race."
Ivan Basso (CSC)
What's the plan? "I feel good but we have to see how it goes later today."
Can Voigt defend his jersey? "It's possible. He's in very good form, so it's possible."
When will you take over the jersey? "I don't know [laughs] I hope I can do a good week next week."
Alexandre Vinokourov (T-Mobile)
"I feel good now that the mountains are starting. I'm in good shape."
Have you got a strategy for today? "What strategy? As usual it will be attacking. Jan feels good, Andreas too, so we are very motivated."
Will you attack on the first climb? "No, it's too far from the finish."
Michael Boogerd (Rabobank)
Can Rasmussen keep the polka-dots? "I think so, I hope so. He's got it now and he's in super shape."
How about the yellow jersey? "He can always try. He's very close, and maybe he can make it. The yellow jersey would be nice, even for one day. It's possible."
Alberto Contador (Liberty Seguros)
Contador was sporting a scraped elbow from his crash on Sunday. "The injuries from Sunday's crash aren't too bad. It could be much worse because Gonzalez de Galdeano abandoned.
"We have to get in breakaways today but the only the bigger ones. At the end of the stage, we will meet again, and to see what the best thing is to do.
"Roberto [Heras] is very focused, has a lot of self confidence and knows his ability. Today's going to be the moment of truth for all and also for Heras. He will be in front for sure and I will be with him to help him in everything."
Michael Rogers (Quick.Step)
"I'd like to finish with the front guys today. I've been climbing well the last couple of days so I want to move up on GC."
Iban Mayo (Euskaltel-Euskadi)
"Today's a very important day. We will see who can stay in front. Everything will happen on the last climb but even the first part of the course will be raced very fast. I feel good, I don't have any health problems so I hope everything goes well for me."
Alejandro Valverde (Illes Balears)
"Today, above all, I have to try to be in front with Paco [Mancebo]. I don't know about what attacks will be going on the first climb, but there will surely be plenty of attacking on the second."
Stuart O'Grady (Cofidis)
"I want to save as much energy as I possibly can for next Friday [Stage 13]. Maybe I can get some kind of result there.
"I'm not obsessed with the green jersey. I'm just taking the race day by day."
High hematocrit for Petrov
Russian rider Evgeni Petrov (Lampre-Caffita) will not start the 10th stage of the Tour, as he was determined to have too high a hematocrit in controls carried out on Tuesday morning. 33 riders in total were tested from Lampre-Caffita, Ag2R, CSC and Discovery Channel this morning. On Monday, 51 riders from Rabobank, Gerolsteiner, Domina Vacanze. Only Petrov was declared unfit to start.
Petrov will be forced to take a two week break from racing for "health reasons" and will also undergo further drug testing to determine whether he has taken EPO or another blood boosting substance. Petrov was sitting in 45th position overall. He is the second Lampre rider in the past five weeks to return a high hematocrit, after Michele Scotto d'Abusco in the Dauphiné Libéré.
Stage 10 shortened
The Tour's 10th stage between Grenoble and Courchevel has been shortened by 11.5 km to avoid a farmers' protest. Instead of officially starting in Grenoble, the riders will start further along the race route in Brignoud after a short delay for the protest. The farmers are protesting about wolves attacking their livestock, and the Tour organisers said that they wished to show their "solidarity with the rural world" by shortening the stage, while at the same time ensuring that it doesn't get interrupted towards the finish in Courchevel.
A visit from the UCI's medical inspectors
By Susan Westemeyer
Gerolsteiner roommates Fabian Wegmann and Robert Förster took advantage of the upcoming rest day to stay up until 1 a.m. watching motorcycle races on TV on Sunday night. "We thought we could sleep in the next morning," wrote Förster in his diary at www.radsport-news.com. "But no! A loud knock on the door at 8:20. Blood control. I couldn't get back to sleep and went to breakfast."
Wegmann experienced it this way: "Finally rest day. Finally a chance to catch up on some sleep? No way. The "Vampires" were in our hotel room at 8 in the morning. No, not a horror film, but the doping commissioners for a blood control. With half-closed eyes you let them take your tired blood. The "Good Morning" sticks in your throat, but then, the guys are only doing their job. However, it's bearable only when the doctor knows what he's doing with the needle and hits the vein on the first try. But when he needs three tries, then I get a little irritated and a little nasty." (www.fabianwegmann.de)
Gerolsteiner's Ronny Scholz also bemoaned the fact that he couldn't sleep as long as wanted because of the visit from the "bloodsuckers" but further noted that all the results were acceptable. (www.ronnyscholz.de)
They also visited Domina Vacanze, and Jörg Ludewig, who strikes a by-now familiar theme: "Finally rest day, a chance to sleep in! Wanna bet? At 7:30 we were nicely, but definitely, awakened: doping controls ... All the teams in our hotel were checked. I have been checked three times so far at this Tour: at the health check before the start, randomly selected after a stage, and then today. And that was probably not the last time. That show how tight the controls are here. Whoever uses banned substances here, is riding hara kiri and certainly deserves to be caught." (www.radsport-news.com)
Life's tough when you're Tom Boonen
By Les Clarke
How can they resist?
Photo ©: Luc Claessen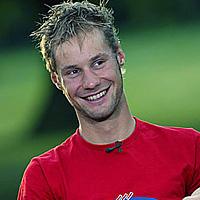 Mixing it up in the sprints is nothing compared to dealing with the demand when you're 24 years old, leading the points competition at the Tour de France and rated as one of the best riders in the world today...oh, and you have a brigade of adoring female fans around the world.
As reported last week, Tom Boonen is definitely hot, both on and off the bike.
His hairstyle has been imitated by cyclists the world over, and although he isn't as recognisable to a general worldwide audience as such, he's certainly a man in demand when it comes to the current crop of pro cyclists - possibly more than any other rider bar Lance Armstrong. During the Tour's first rest day, he took to the golf course for an interview with Belgian TV, which also featured Credit Agricole's Christophe Moreau and fellow Belgian Kevin Hulsmans among its guests.
So Tom, what do you know?
Photo ©: Luc Claessen

The young Belgian was a cycling sensation before 2005; this year, however, he's become a phenomenon only exceeded by Armstrong in terms of marketability and recognition. He has the results, like Armstrong, to back up his popularity - wins in Paris Roubaix and the Tour of Flanders, plus a super start to the Tour de France with wins in stages two and three. His growing list of endorsement deals and sponsorships is a result of his stellar racing performances and his good looks, and as Armstrong has increased the profile of cycling in the mainstream, Boonen may be able to do likewise for more than just his on-bike brilliance.
In terms of the Tour, Boonen currently has a five point lead over Thor Hushovd in the points competition, and although he's carrying a few bruises and a bit of pain, he's set to continue his battle for the green all the way to Paris. And with this, his 2005 may get even better - how sweet it is!
Photography
For a thumbnail gallery of these images, click here
Images by Luc Claessen/www.actiefotos.be
Chess, anyone?
Most of the riders don't think about sex during the Tour - they're so tired they just want to fall into bed alone and go to sleep, reports Birgit Kainer, the girlfriend of Francaise des Jeux sprinter Bernhard Eisel. But on the so-called "rest day"? Kainer planned to visit him at the Tour. "We won't exactly sit around in his rooom and play chess," she wrote at www.sport1.at.
Courtesy of Susan Westemeyer
(All rights reserved/Copyright Knapp Communications Pty Limited 2005)