Tour de France Cycling News for July 7, 2005
Edited by Jeff Jones & Hedwig Kröner, assisted by Sabine Sunderland
Stage 5 wrap up: McEwen's revenge
Robbie McEwen (Davitamon-Lotto)
Photo ©: Roberto Bettini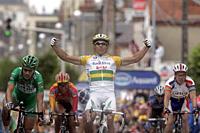 Two days after being relegated for irregular sprinting, Australian champion Robbie McEwen (Davitamon-Lotto) has bounced back with a victory over main rival Tom Boonen in Montargis. In a tough uphill sprint at the end of another super fast stage, McEwen came off Boonen's wheel with 100 metres to go to win the stage by a wheel, with Thor Hushovd (Credit Agricole) coming in for third.
There were no changes to the general classification and Lance Armstrong (Discovery Channel) kept his grip on the yellow jersey, even if he didn't want to wear it today out of respect for David Zabriskie, who crashed out of it yesterday.
The 183 km stage was dominated by a four man break containing Juan Antonio Flecha (Fassa Bortolo), who attacked after 28 km and, after a long chase, was joined by Laszlo Bodrogi (Crédit Agricole), Salvatore Commesso (Lampre), and Kjell Carlstrom (Liquigas) after 93 km. The four never managed to lead by much more than four minutes, and the combined power of Discovery Channel, Quick.Step, and Davitamon-Lotto had them back in the fold at 10 km to go. Francaise des Jeux started the sprint for Bernhard Eisel, but the Austrian didn't have the legs to come off Baden Cooke's lead out, and instead it was Boonen going early before McEwen jumped around him to ultimately win.
Also see:
Stage 5 full results, report & photos
Live report
Complete stage maps & profiles
Start list
Stages
News
Photos
An interview with Robbie McEwen
"I'll show you he's not"
After being soundly beaten by Tom Boonen twice in a row, and then disqualified for irregular sprinting, Davitamon-Lotto's Robbie McEwen had a few scores to settle today in Montargis. In particular, he wanted to put to rest the idea that Tom Boonen was on another level, as Cyclingnews' Anthony Tan reports.
Robbie McEwen (Davitamon-Lotto)
Photo ©: Jon Devich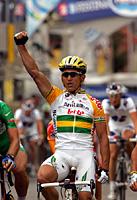 When Cyclingnews spoke with Aussie über-sprinter Robbie McEwen before the start of today's fifth stage, it was a solemn, serious individual in Chambord.
The 33 year-old was still unhappy with his relegation that happened after the finish of Stage 3, where the jury of commissaires ruled he had hindered fellow countryman Stuart O'Grady in the run-in to the line. "I've said it a few times, I've watched the pictures enough times in slow motion, and there's other people who definitely know what they're talking about agree with me," said McEwen in his defence.
"One of them is Sean Kelly, he's not a nobody, he won the green jersey five times; Eddy Merckx won the Tour five times and he agrees with me as well. It's a pretty harsh decision, and it's put a pretty big hole in the green jersey competition - it's not going to be half as interesting as it has been the last couple of years."
Click here for the full interview
Post-race comments
Robbie McEwen (Davitamon-Lotto), stage winner yelling after passing the finish line: "It's in the pocket! I've showed what I can do!!"
Tom Boonen (Quick.Step) second in today's stage: "The sprint was OK; I think I left it a bit too long to go. If you analyse the sprint, I should have gone before the bump there. Robbie probably wouldn't have passed me if I went full speed that bit earlier. But I'm happy with this. We're the two quickest men here and each one of us is getting his share so it's the nicest that way.
"It's no shame to come second behind McEwen, he is one of the fastest men in the peloton. QuickStep and Davitamon-Lotto are the only two teams able to do it in the sprint here. We are the best teams in the sprint and the press shouldn't try and fire things up between us (referring to the mattress ad in the papers today). The riders in both teams get along really well."
Johan Vansummeren (Davitamon-Lotto), 137th in today's stage: "This is a big relief. Robbie was so sure that it was possible. He kept telling us not to panic, that he was good. And he did it. It was a fast race, but it went well. I still feel my legs from yesterday but I wouldn't be the only one."
Marc Sergeant, Davitamon-Lotto directeur sportif: "This is a weight falling off our shoulders. I've come to the Tour with Robbie for three years now and I felt he was at his best this time; but the win didn't come yet. We knew that the finishing straight was dangerous, Robbie knew that too. He waited in Boonen's wheel long enough and came around him nicely. It was urgent for him to have this win and in the next bunch sprint it will be easier for him now. He had been too sure of himself before the Tour, but now he's focused again. We trust Robbie; we take him to the Giro and the Tour and he delivers every time. We gave him the best possible team to help him."
On McEwen's green jersey chances, which the sprinter rates as low, Sergeant said, "Robbie had the green in Paris last year too, after a crash. So, with the Tour being three weeks long anything is possible." Davitamon's DS also commented on the team's GC rider: "Cadel Evans has been very nervous, before the first TT and then again yesterday. It's normal, it being his first Tour. His confidence is growing every day and I think we'll see Cadel very soon."
Zabriskie feeling better
Basso and Zabriskie
Photo ©: Sirotti

"I got through today without too much hassle," said David Zabriskie after stage five of the Tour won by Robbie McEwen. The former race leader is still suffering from the injuries resulting of yesterday's dramatic crash, where he lost the yellow jersey, but his spirit is on the rise.
"I was still quite sore at the beginning, and it still hurts when I breathe heavily. Mentally, however, I feel much better than yesterday, when I was really down. The team has given me a lot of support on top of the crash, and I feel ready to go on," said Zabriskie, who is allergic to normal bandages so the team doctor patched him up only with tiny little plasters on his cuts and wounds.
CSC was again unfortunate today, as Ivan Basso crashed shortly before the feed zone, which resulted in another few kilometres' team time trial to get the GC contender back to the bunch. Luckily the crash was not serious.
"We tried to make some of the breakaways at the beginning, especially Jens Voigt, but it's apparent that the others won't let us get away. The most important though is, that we got through the stage fairly easy and that we have been able to shake off yesterday's disappointment," said the team's director Bjarne Riis.
Zaballa abandons, Marchante crashes
There was bad luck for Saunier Duval-Prodir in the fifth stage of the Tour de France. First, Constantino Zaballa had to abandon - he injured his knee in yesterday's team time trial and was suffering all night. Zaballa was really motivated to take part in the Tour de France and he would have been an important element in the mountain stages. Then, the team's Jose Angel Gomez Marchante crashed. He hit a photographer's motorcycle, spending a lot of energy to rejoin the peloton. It is not yet known whether his injuries are serious. Saunier Duval's management hopes for him to recover quickly for the coming mountains.
Chicken's ready to lay some eggs
By Anthony Tan in Montargis
After falling ill midway through the Giro d'Italia, Michael Rasmussen (Rabobank) has had a less than ideal start to 2005, and the opportunistic man they call 'Chicken' is approaching this year's Tour de France with a little more caution than usual.
In the years past leading up to La Grand Boucle, the 31 year-old Dane showed good form in races such as the Volta a Catalunya and Criterium du Dauphiné Libéré, where he won the mountains classification in 2003 and 2004 respectively as well as the sixth stage of the Dauphiné last year. But this year, things haven't gone Chicken's way.
"I've been suffering like a dog," Rasmussen said to Cyclingnews with a smile when asked how his first four days of the Tour has gone so far. "It's been hard; it's the first time I've raced since I pulled out of the Giro. Obviously, I'm lacking a bit of race fitness, but it's coming back pretty fast."
Although no specialist against the clock, the 31 year-old's lack of race form was evident in the opening time trial, which saw him finish in 174th position, 3'14 behind Dave Zabriskie. Yesterday, his Rabobank team lost another three minutes to Discovery Channel, leaving him well down the classement general, 115th on GC.
"As you could see yesterday, time trialling is certainly not my speciality, and my turns at the front were not the strongest; I was hurting all day, to say the least. I'm glad it's another year before I do the next team time trial!" he chuckled.
Speaking of someone who does like time trialling, does Rasmussen think the race is over for all bar Lance Armstrong after what happened? "Yeah... I think that after the spanking that Lance gave everybody in the first stage, I really can't find any opponents in the peloton."
Referring to his own ambitions for a stage win, Chicken certainly hasn't given up hope, and is quietly optimistic about his chances. After recovering from his illness, Rasmussen spent the past six weeks training as hard and as much as he could, and as he said earlier, his fitness is coming back fast. "I'm not afraid to admit that I train hard!" he said in a raised tone, referring to those riders who like to engage in a bit of 'secret training' on the side.
"This year, there is a lot more opportunity for riders like me; there's like 10 mountain stages or semi-mountain stages, so it's hard to pinpoint any particular one."
Tom Boonen is hot!
By Sabine Sunderland
Ahead of the rest
Photo ©: Sirotti

In his home country, Belgium, 'Tornado Tom' is becoming an icon and a sex symbol in record-time. "During a three week Tour I don't think sex for one moment," Boonen was quoted saying in Belgian weekly Humo. "You are tired and tense, and your body is f***ed after every stage. But that changes as soon as Paris comes into sight. I get so horny!," Boonen apparently continued. The boy's definitely got the X-factor and his cheeky remarks are well received by a growing female fanclub.
According to Philiep Caryn, head of sponsoring at Quick.Step, the team really has the goose laying the golden eggs in their den. "Tom is smarter than Beckham," he told Belgian Newspaper Het Laatste Nieuws. "He's actually got something meaningful to say, and that is a characteristic which makes him especially popular with women. It's difficult to put the publicity generated by those two consecutive wins in figures. But, if you see Tom standing there on the podium, completely fitted out in green, then you know that you're on the right track."
Allain Schamp, Belgian publicity guru agreed. "Tom could sell anything: chewing gum, clothing, soft drinks, you name it. Boonen's publicity value is at least one million euros. If he keeps performing another two to three years in this way he'll easily reach the five million euro mark on the publicity market - very interesting for big companies."
Winning smile
Photo ©: Sirotti

Le Coq Sportif has understood just that. The producer of sports clothing is working intensively with Boonen. "Tom's T-shirt line, presented just before the Tour is selling really well," Peter Linskens confirmed. "In some of our points of sale the stock is diminishing quickly; the T-shirts are getting scarce actually. But that was our intention: the brand "Boonen" has to retain its exclusive feel."
Tom's fanclub, housed in tavern 'Wembley' on the Belgian Coast in Middelkerke, knows how to make the best of Tom's success. They have already brought a bottle of champagne on the market last year, and because of the increasing demand they launched the Tom Boonen champagne again last Tuesday. There's still some discussion about which photo will be used on the label, but more than likely it will depict Tom winning the Tour of Flanders earlier this year. On the back of the bottle containing 12% champagne Marcel Vautrain - a brut premier cru from Epernay of course - there will be a poem to honour the champ, and the capsule will be decorated with another picture. Part of the revenue will go to VZW Pinocchio, which helps the treatment of children with severe burns.
(All rights reserved/Copyright Knapp Communications Pty Limited 2005)