Recently on Cyclingnews.com
PowerNet Tour of Southland - 2.2
New Zealand, November 7-12, 2005
Main Page Results Overall standings Stage Details Previous Stage Next Stage
Stage 7 - November 10: Riversdale-Invercargill, 133 km
Vennell cautious in yellow
By Alan Messenger
Jason Allen (Pro4 CycleOps)
Photo ©: Julie Gill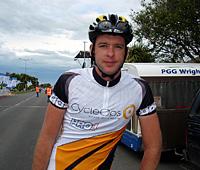 At the end of a drama-filled day in the PowerNet Tour of Southland, Jeremy Vennell (Calder Stewart) holds the leader's yellow jersey with an advantage of 36 seconds over Greg Henderson (Southland Times), with previous leader Glen Mitchell (Southland Times) dropping down to third place at 1 minute and 3 seconds. Vennell made it into the successful break 10 kilometres from the finish and he was content to cross the line on the tail-end of the bunch, led home by stage winner Jason Allen (Pro4 CycleOps), Werner Riebenbauer (Subway) and Karl Menzies (Calder Stewart).
Vennell took the jersey after the morning's time trial stage, where timekeepers had trouble in sorting out the difference in his time and that of Henderson. The official time difference was given as four hundredths of a second.
In the afternoon stage, Vennell and his Calder Stewart team desperately defended the jersey in a series of attacks which began with a break of 10 riders only three kilometres into the stage. Riders John Lieswyn, Jaaron Poad, Geoff Burndred, Karl Murray, Hayden Godfrey, Jason Allen, Andrew Wyper, Stephen Tilford, Joe Chapman, Joseph Cooper, Ryan Cull and Tony Mann took the break out to more than three minutes, but after Godfrey dropped away and Murray was called back to the peloton by his Calder Stewart team, the impetus was lost.
Another break led by Gordon McCauley and Robin Reid with 10 kilometres to go saw a bunch of 12 there for the finish, and among them was the race leader. Vennell told Cyclingnews of his afternoon of drama: "The initial break wasn't coming back for a long time and we only had Eric Wohlberg and Richard England riding as hard as they could on the front of the main peloton," he said. "They just sacrificed themselves to help me. Karl Murray dropped back from the break after everybody had tried to get the message to him."
Tomorrow the riders face what is generally regarded as the toughest Stage of the Tour, the 163k ride from Winton to Te Anau in scenic Fiordland. The 25 year-old tour leader, who has only been cycling for three years, sees Greg Henderson as being his major threat. "Greg has the fastest sprint in the field and he's only got to pick up a couple of stages and the time bonuses. You only have to have one weak moment and that's it," Vennell said.
Results
1 Jason Allen (NZl) Pro4 CycleOps                 2.56.17
2 Werner Riebenbauer (Aut) Subway                        
3 Karl Menzies (Aus) Calder Stewart                      
4 Gordon McCauley (NZl) Trek/Zookeepers Cafe             
5 Joe Chapman (NZl) Creation Signs                       
6 Robin Reid (NZl) Rabobank                              
7 Ryan Cull (NZl) Ascot Park Hotel                       
8 Jeremy Vennell (NZl) Calder Stewart                0.03
9 Geoff Burndred (NZl) Rabobank                          
10 Fraser Macmaster (NZl) Subway                     0.07
11 Jaaron Poad (Aus) Trek/Zookeepers Cafe            0.16
12 Tony Mann (Aus) Team MG XPower                    0.22
13 Philippe Schnyder (Swi) Subway                    0.35
14 Logan Hutchings (NZl) Rabobank                        
15 Clinton Avery (NZl) Pro4 CycleOps                     
16 Michael Northey (NZl) KiwiVelo                        
17 Eugene Moriarty (Irl) Sycamore Print                  
18 Greg Henderson (NZl) Southland Times                  
19 Lex Nederlof (Ned) Share the Road                     
20 Sam Bewley (NZl) Subway                               
21 Hayden Godfrey (NZl) Subway                           
22 Aaron Strong (NZl) Team MG XPower                     
23 Peter Latham (NZl) Southland Times                    
24 Phillip Thaux (Aus) KiwiVelo                          
25 Glen Mitchell (NZl) Southland Times                   
26 John Lieswyn (USA) Southland Times                    
27 Joseph Cooper (NZl) Creation Signs                1.11
28 Stephen Tilford (USA) Hilo Decorating                 
29 Miles Watson (NZl) Jackson::Wills                 2.03
30 Christof Bischof (Swi) Share the Road                 
31 Matt Haydock (NZl) Pro4 CycleOps                      
32 Andrew Wyper (Aus) Sycamore Print                     
33 Ashley Whitehead (NZl) Fulton Hogan                   
34 Anthony Chapman (NZl) Creation Signs                  
35 Karl Murray (NZl) Calder Stewart                      
36 Dayle Cheatley (NZl) Trek/Zookeepers Cafe             
37 Geoff Mackle (NZl) SIT - Zero Fees                2.54
38 Marc Williams (Aus) Team MG XPower                    
39 Steven Hands (NZl) Jackson::Wills                     
40 Marcus Roy (NZl) Fulton Hogan                         
41 Eric Wohlberg (Can) Calder Stewart                    
42 Richard Bowker (NZl) KiwiVelo                         
43 Heath Blackgrove (NZl) Trek/Zookeepers Cafe           
44 Tim Gudsell (NZl) Southland Times                     
46 Travis Kane (NZl) Southwest Helicopters           3.27
47 Scott Wilder (NZl) Winton's Middle Pub                
48 Eliot Crowther (NZl) Rabobank                         
49 Chris Burr (NZl) Riverside Rentals                    
50 Kieran Langley (NZl) Riverside Rentals                
51 Richard Scott (NZl) Ascot Park Hotel                  
52 Josh Akarsu (Aus) Share the Road                      
53 Mick Tolhurst (Aus) Team MG XPower                    
54 William Stolte (USA) Hilo Decorating                  
55 Richard England (Aus) Calder Stewart                  
56 Sergio Hernandez (USA) Hilo Decorating                
57 Logan Hunn (NZl) KiwiVelo                             
58 Gustavo Carrillo (USA) Hilo Decorating                
59 Darren Shea (NZl) Pro4 CycleOps                   3.41
60 Paul Kircher (NZl) Ascot Park Hotel               7.09
61 Jonathan Atkinson (NZl) Team Ultimo                   
62 Neil Wylie (NZl) Rabobank                             
63 Ross Mackintosh (NZl) SIT - Zero Fees                 
64 Jack Bauer (NZl) Fulton Hogan                         
65 Paul Odlin (NZl) Winton's Middle Pub              7.13
66 Andrew Wells (NZl) Jackson::Wills                     
67 Will Alexander (NZl) Jackson::Wills                   
68 Adam Coker (NZl) Share the Road                       
69 Oliver Pearce (NZl) Winton's Middle Pub               
70 Garry Smith (NZl) Ascot Park Hotel                    
71 Scott Hodges (NZl) Southwest Helicopters              
72 Scott Allen (NZl) Creation Signs                      
73 Chris Van Houtte (NZl) Creation Signs                 
74 Paul Gough (NZl) Cycle Surgery                        
75 Ben Oleson (NZl) SIT - Zero Fees                      
76 Marc Ryan (NZl) Trek/Zookeepers Cafe                  
77 Darren Lapthorne (Aus) Team MG XPower                 
78 Andrew McQuaid (Irl) Sycamore Print                   
79 Aaron Rusden (NZl) Sycamore Print                     
45 Philip Dickinson (NZl) SIT - Zero Fees           11.47
80 Craig Padman (NZl) Cycle Surgery                      
81 Ben McKinnon (NZl) Team Ultimo                        
82 Heath Turnbull (NZl) SIT - Zero Fees                  
83 Mathew Gorter (NZl) Riverside Rentals                 
84 Nick Atkinson (NZl) Southwest Helicopters             
85 Brian Fowler (NZl) Winton's Middle Pub                
86 Dave Beadle (NZl) Southwest Helicopters               
87 Sam Horn (NZl) Team Ultimo                            
88 Justin Ralph (NZl) Riverside Rentals                  
89 Matt Gilbert (NZl) KiwiVelo                           
90 David Thomson (NZl) Cycle Surgery                     
91 Craig Scott (NZl) Ascot Park Hotel               12.43
92 David Comerford (NZl) Winton's Middle Pub        18.12
93 Mike Anderson (NZl) Fulton Hogan                 22.44
94 Jon Richardson (NZl) Fulton Hogan                22.46
95 Daryl Cleghorn (NZl) Southwest Helicopters       27.33
96 Ray Dunstan (NZl) Cycle Surgery                  29.34
97 Robert Coble (USA) Hilo Decorating                    
98 Courtney Black (NZl) Sycamore Print                   
99 Tim Pearce (NZl) Jackson::Wills                       
100 Ross Machejefski (NZl) Share the Road                
101 Chris O'Connor (NZl) Cycle Surgery                   
 
General classification after stage 7
 
1 Jeremy Vennell (NZl) Calder Stewart            13.26.36
2 Greg Henderson (NZl) Southland Times               0.36
3 Glen Mitchell (NZl) Southland Times                1.03
4 Werner Riebenbauer (Aut) Subway                    1.12
5 Gordon McCauley (NZl) Trek/Zookeepers Cafe         1.14
6 Karl Menzies (Aus) Calder Stewart                  1.24
7 Robin Reid (NZl) Rabobank                          2.14
8 Fraser Macmaster (NZl) Subway                      2.35
9 Aaron Strong (NZl) Team MG XPower                  2.37
10 Logan Hutchings (NZl) Rabobank                    2.46
11 Tony Mann (Aus) Team MG XPower                    2.53
12 Geoff Burndred (NZl) Rabobank                     3.24
13 Ryan Cull (NZl) Ascot Park Hotel                  4.00
14 Peter Latham (NZl) Southland Times                4.16
15 Phillip Thaux (Aus) KiwiVelo                      4.22
16 Sam Bewley (NZl) Subway                           4.34
17 Philippe Schnyder (Swi) Subway                    5.15
18 Stephen Tilford (USA) Hilo Decorating             5.50
19 Jaaron Poad (Aus) Trek/Zookeepers Cafe            5.55
20 Eugene Moriarty (Irl) Sycamore Print              6.08
21 Joe Chapman (NZl) Creation Signs                  6.21
22 Eric Wohlberg (Can) Calder Stewart                6.22
23 Lex Nederlof (Ned) Share the Road                 6.24
24 Andrew Wyper (Aus) Sycamore Print                 6.38
25 Anthony Chapman (NZl) Creation Signs              6.46
26 Clinton Avery (NZl) Pro4 CycleOps                 6.53
27 Miles Watson (NZl) Jackson::Wills                 7.47
28 Tim Gudsell (NZl) Southland Times                 8.13
29 Christof Bischof (Swi) Share the Road             9.23
30 Marcus Roy (NZl) Fulton Hogan                     9.35
31 Richard Bowker (NZl) KiwiVelo                     9.40
32 John Lieswyn (USA) Southland Times               10.21
33 Darren Lapthorne (Aus) Team MG XPower            10.24
34 Michael Northey (NZl) KiwiVelo                   10.41
35 Matt Haydock (NZl) Pro4 CycleOps                 11.10
36 William Stolte (USA) Hilo Decorating             11.12
37 Heath Blackgrove (NZl) Trek/Zookeepers Cafe      12.05
38 Joseph Cooper (NZl) Creation Signs               12.24
39 Ashley Whitehead (NZl) Fulton Hogan              12.38
40 Geoff Mackle (NZl) SIT - Zero Fees               12.55
41 Kieran Langley (NZl) Riverside Rentals           13.04
42 Chris Burr (NZl) Riverside Rentals               13.05
43 Hayden Godfrey (NZl) Subway                      13.08
44 Steven Hands (NZl) Jackson::Wills                13.15
45 Eliot Crowther (NZl) Rabobank                    13.21
46 Dayle Cheatley (NZl) Trek/Zookeepers Cafe        13.40
47 Marc Ryan (NZl) Trek/Zookeepers Cafe             13.49
48 Logan Hunn (NZl) KiwiVelo                        14.19
49 Josh Akarsu (Aus) Share the Road                 14.23
50 Gustavo Carrillo (USA) Hilo Decorating           14.38
51 Scott Wilder (NZl) Winton's Middle Pub           14.44
52 Travis Kane (NZl) Southwest Helicopters          14.47
53 Sergio Hernandez (USA) Hilo Decorating           15.15
54 Marc Williams (Aus) Team MG XPower               15.30
55 Darren Shea (NZl) Pro4 CycleOps                  15.33
56 Jason Allen (NZl) Pro4 CycleOps                  15.57
57 Paul Odlin (NZl) Winton's Middle Pub             16.18
58 Mick Tolhurst (Aus) Team MG XPower               17.15
59 Will Alexander (NZl) Jackson::Wills              17.49
60 Richard Scott (NZl) Ascot Park Hotel             20.16
61 Chris Van Houtte (NZl) Creation Signs            20.46
62 Brian Fowler (NZl) Winton's Middle Pub           21.16
63 Matt Gilbert (NZl) KiwiVelo                      21.21
64 Jonathan Atkinson (NZl) Team Ultimo              21.48
65 Adam Coker (NZl) Share the Road                  22.20
66 Ross Mackintosh (NZl) SIT - Zero Fees            22.25
67 Neil Wylie (NZl) Rabobank                        22.40
68 Nick Atkinson (NZl) Southwest Helicopters        23.36
69 Andrew Wells (NZl) Jackson::Wills                24.09
70 Paul Gough (NZl) Cycle Surgery                   24.20
71 Philip Dickinson (NZl) SIT - Zero Fees           24.48
72 Garry Smith (NZl) Ascot Park Hotel               25.27
73 Andrew McQuaid (Irl) Sycamore Print              27.50
74 Justin Ralph (NZl) Riverside Rentals             28.55
75 Oliver Pearce (NZl) Winton's Middle Pub          30.12
76 Sam Horn (NZl) Team Ultimo                       30.48
77 Richard England (Aus) Calder Stewart             30.53
78 Scott Allen (NZl) Creation Signs                 31.09
79 Mathew Gorter (NZl) Riverside Rentals            31.23
80 Jack Bauer (NZl) Fulton Hogan                    32.45
80 Scott Hodges (NZl) Southwest Helicopters              
82 Aaron Rusden (NZl) Sycamore Print                33.53
83 Craig Scott (NZl) Ascot Park Hotel               33.57
84 Karl Murray (NZl) Calder Stewart                 36.54
85 Dave Beadle (NZl) Southwest Helicopters          39.39
86 Ross Machejefski (NZl) Share the Road            40.34
87 Paul Kircher (NZl) Ascot Park Hotel              41.45
88 David Comerford (NZl) Winton's Middle Pub        42.37
89 Mike Anderson (NZl) Fulton Hogan                 46.58
90 Ben Oleson (NZl) SIT - Zero Fees                 47.09
91 Heath Turnbull (NZl) SIT - Zero Fees             48.14
92 Robert Coble (USA) Hilo Decorating               52.22
93 Ben McKinnon (NZl) Team Ultimo                   57.01
94 Courtney Black (NZl) Sycamore Print            1.01.43
95 Craig Padman (NZl) Cycle Surgery               1.02.14
96 David Thomson (NZl) Cycle Surgery              1.02.31
97 Daryl Cleghorn (NZl) Southwest Helicopters     1.04.26
98 Chris O'Connor (NZl) Cycle Surgery             1.14.18
99 Jon Richardson (NZl) Fulton Hogan              1.19.38
100 Ray Dunstan (NZl) Cycle Surgery               1.30.11
101 Tim Pearce (NZl) Jackson::Wills               1.48.49
 
Sprints classification
 
1 Hayden Godfrey (NZl) Subway                          57 pts
2 Stephen Tilford (USA) Hilo Decorating                32
3 Jaaron Poad (Aus) Trek/Zookeepers Cafe               23
4 Darren Shea (NZl) Pro4 CycleOps                      23
5 Ryan Cull (NZl) Ascot Park Hotel                     19
6 Paul Odlin (NZl) Winton's Middle Pub                 17
7 John Lieswyn (USA) Southland Times                   13
8 Aaron Rusden (NZl) Sycamore Print                    13
9 Andrew McQuaid (Irl) Sycamore Print                  11
10 Werner Riebenbauer (Aut) Subway                     10
11 Joseph Cooper (NZl) Creation Signs                   9
12 Greg Henderson (NZl) Southland Times                 9
13 Geoff Burndred (NZl) Rabobank                        8
14 Anthony Chapman (NZl) Creation Signs                 8
15 Phillip Thaux (Aus) KiwiVelo                         8
16 Eric Wohlberg (Can) Calder Stewart                   7
17 Aaron Strong (NZl) Team MG XPower                    6
18 Peter Latham (NZl) Southland Times                   6
19 Dave Beadle (NZl) Southwest Helicopters              6
20 Jason Allen (NZl) Pro4 CycleOps                      5
21 Joe Chapman (NZl) Creation Signs                     5
22 Darren Lapthorne (Aus) Team MG XPower                5
23 Marc Ryan (NZl) Trek/Zookeepers Cafe                 5
24 Dayle Cheatley (NZl) Trek/Zookeepers Cafe            5
25 Gordon McCauley (NZl) Trek/Zookeepers Cafe           4
26 Richard Bowker (NZl) KiwiVelo                        4
27 Ben Oleson (NZl) SIT - Zero Fees                     4
28 Andrew Wyper (Aus) Sycamore Print                    3
29 Tony Mann (Aus) Team MG XPower                       3
30 Glen Mitchell (NZl) Southland Times                  3
31 Robin Reid (NZl) Rabobank                            3
32 Heath Blackgrove (NZl) Trek/Zookeepers Cafe          2
33 David Thomson (NZl) Cycle Surgery                    2
34 Sam Bewley (NZl) Subway                              2
35 Fraser Macmaster (NZl) Subway                        2
36 William Stolte (USA) Hilo Decorating                 1
37 Tim Gudsell (NZl) Southland Times                    1
38 Ashley Whitehead (NZl) Fulton Hogan                  1
39 Mick Tolhurst (Aus) Team MG XPower                   1
40 Travis Kane (NZl) Southwest Helicopters              1
 
Mountains classification
 
1 John Lieswyn (USA) Southland Times                   28 pts
2 Joseph Cooper (NZl) Creation Signs                   28
3 Anthony Chapman (NZl) Creation Signs                 16
4 Robin Reid (NZl) Rabobank                            12
5 Tim Gudsell (NZl) Southland Times                    10
6 Andrew McQuaid (Irl) Sycamore Print                   8
7 Werner Riebenbauer (Aut) Subway                       8
8 Joe Chapman (NZl) Creation Signs                      6
9 Gustavo Carrillo (USA) Hilo Decorating                6
10 Fraser Macmaster (NZl) Subway                        6
11 Karl Menzies (Aus) Calder Stewart                    6
12 Christof Bischof (Swi) Share the Road                4
13 Aaron Strong (NZl) Team MG XPower                    4
14 Hayden Godfrey (NZl) Subway                          4
15 Jaaron Poad (Aus) Trek/Zookeepers Cafe               2
16 Heath Blackgrove (NZl) Trek/Zookeepers Cafe          2
17 Logan Hutchings (NZl) Rabobank                       2
18 Glen Mitchell (NZl) Southland Times                  2
19 Jeremy Vennell (NZl) Calder Stewart                  2
 
Teams classification
 
1 Southland Times                                40.25.23
2 Calder Stewart                                     1.32
3 Rabobank                                           2.10
4 Subway                                             2.45
5 Team MG XPower                                     6.10
6 Trek/Zookeepers Cafe                               8.50
7 KiwiVelo                                          14.55
8 Creation Signs                                    17.15
9 Share the Road                                    22.02
10 Pro4 CycleOps                                    23.46
11 Hilo Decorating                                  25.37
12 Jackson::Wills                                   32.10
13 Sycamore Print                                   32.23
14 Winton's Middle Pub                              38.30
15 Ascot Park Hotel                                 41.59
16 Fulton Hogan                                     42.50
17 Riverside Rentals                                47.37
18 SIT - Zero Fees                                  49.59
19 Southwest Helicopters                          1.03.21
20 Team Ultimo                                    1.40.24
21 Cycle Surgery                                  1.46.26