Joseph Sunde Memorial Criteriums
Heffron Park, Maroubra, Australia, January 26, 2005
2004 results 2003 results 2002 results 2001 Results 2000 Results Preview Races List Past winners
Preview
The Joseph Sunde Memorial Criteriums are conducted by the Eastern Suburbs Cycling Club at the popular Heffron Park criterium circuit and are dedicated to the memory of Joseph Sunde, who passed away in 1993 after an 18 month battle with leukemia.
Joseph was the youngest son of John & Christine Sunde (see about Joseph) His father John is a keen cyclist who has been racing at Heffron Park for 20 years and also works in the bicycle industry.
The 45km feature event has been won by four Australian Champions and during its 11 year history no rider has won the event twice. Although 2004 winner Troy Glennan will be in New Zealand for the Trust House Cycle Classic, 2003 winner Graeme Moffett (Clarence St) along with previous winners Stuart Dangerfield, US Pro Jeff Hopkins and of course perennial Heffron Park favourite Anthony Spurgeon are all in the running to record their second win in the event. Jose Rodriguez (Colnago-Caravello) is also expected to be a big threat.
One of the more unique events of the Joseph Sunde Memorial is the 30km graded handicaps for B, C and D grade riders. The event is based on the same format as the popular Tuesday night summer Criterium series, where D grade are given a 1'30" start over C and B grades.
The 30km Masters event opens the days racing and like the elite event, has become one of the prestigious Masters events on the summer calendar. Last year's winner Charlie Topfer will be another big chance this year after he completed a unique double when he won both the masters race and the graded handicap race.
One of the special features of the day is the fundraising efforts of the cycling community for the Childrens Cancer Institute. Joseph underwent treatment at the Sydney Children's Hospital in Randwick, which is where the Institute is based and over $10,000 has been raised through the Memorial Criteriums and other efforts. All fundraising from the day is donated to the Childrens Cancer Institute of Australia .
Donations can be made direct to the Childrens Cancer institute of Australia by clicking here. Simply quote 'Joseph Sunde Memorial' in the comments box.
Past winners
Troy Glennan (St George) showing the work he put in to take out the race Photo ©: Bob Bykerk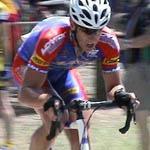 2004
Elite: Troy Glennan (St George)
Masters: Charlie Topfer (Lidcombe Auburn)
Handicap: Charlie Topfer (Lidcombe Auburn)

2003
Elite: Graeme Moffet (Clarence St)
Masters: Laurence Vignes (Parramatta)
Handicap: Will Gray (Randwick Botany)

2002
Elite: Jeff Hopkins (Bankstown Sports)
Masters: Liam Kelly (Easts)
Handicap: Steve Newman (Easts)


2001
Elite: Jens Mouris (Ned) Van Vliet-Weba
Masters: Robert Upton (Harlequin)
Handicap: Steve Newman (Easts)

2001
Elite: Stuart Dangerfield (Parramatta)
Masters: Tony Iannacito (Harlequin)
Handicap: Steve Newman (Easts)
 
Moffet gets the sprint
Photo: © Peter Pagidas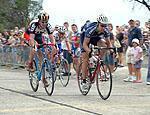 1999
Elite: Brent Dawson (Dubbo)
Masters: Laurence Vignes (Bici Sport)
Handicap: Andrew Hoang (Easts)
 
1998
Elite: Matt White (Amore Vita)
Masters: Robert Upton (Harlequin)
Handicap: Arthur Driver (Penrith)

 
1997
Elite: Anthony Spurgeon (Caravello)
Masters: Gary Burgett (Penrith)
Handicap: D Mackay (Randwick Botany)
 
1996
Elite: Christian Back (Penrith)
Masters: G Bennett (Penrith)
Handicap: T Mulligan (Randwick Botany)
 

Jeff Hopkins
Photo: © JJ/CN

1995
Elite: Tony Gaudry (Caravello)
 
1994
Elite: Andrew McGee (Parramatta)
Masters:Dick Conway (Easts)
Handicap: Tim Francis (Easts)