Jayco Bay Classic - NE
Australia, January 5-9, 2005
Main Page Results Previous Round Next Round
Round 4 - January 8: Geelong Botanic Gardens
McEwen on song
By Rod Morris in Geelong
Robbie McEwen (Drapac-Porsche Cycling Team)
Photo ©: Shane Goss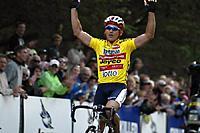 The Jayco Bay Cycling Classic has become Robbie McEwen's signature event, despite what happens in today's final round. McEwen has put his name forward as Australia's No. 1 road rider with his performances on a world scale over the last decade, particularly in the Tour de France. On home soil, McEwen has dominated the Bay Cycling Classic and tomorrow around Melbourne Docklands will be crowned champion for a record sixth time.
McEwen won today's penultimate round at Geelong's Botanic Gardens and will carry an unassailable 13 point lead into the final stage. The Bay Crit series originated in 1989 and McEwen has developed a love affair with the event after winning his first title in 1997.
"This race means a lot to me." McEwen said. "Because it is held in January, it is early in the season for all of the world circuit riders and not all compete, but for me it is important to get some good form."
McEwen is all class and the absolute professional. "Every time I race I want to win, that's not being cocky or being mean to other riders, that's just my make up."
The break is on
Photo ©: Shane Goss

Sensing he could wrap up the title with a day to spare, McEwen forged a relationship with Canberra rider Rory Sutherland (Victorian State Home Loans) and newly crowned Australian Criterium Champion, David McPartland (Jayco VIS).
That trio remained together for more than 30 laps, sharing points in all three of the intermediate sprints and in the process, embarrassing the chasing group, which fell increasingly further behind. Over the closing laps, McEwen became cautious, watching with intent what Sutherland and McPartland were attempting. But when the bell sounded, signalling just one lap to race, McEwen made his move, outsprinting his two protagonists.
McEwen's sound record with this race has probably never been more evident than this week, as he has registered two wins, one second placing and a fourth. "It probably allows me to have a relaxing day in Melbourne on Sunday," McEwen said.
Tasmanian Bernard Sulzberger (Skilled TIS) led the bunch home in the sprint for fourth place, ahead of Victorian young gun William Walker (Jayco VIS) and "The Big Unit" Karl Menzies from Tasmania, who continues to amaze Australian cycling purists with his expertise on the road bike.
MacPherson wins, but Wood unbeatable now
Jenny McPherson
Photo ©: Shane Goss

In the women's series, Oenone Wood who won the Australian Criterium Championship on Friday, is in a similar position to McEwen...she can't be beaten in this year's Bay Crit series. Although beaten by Jenny MacPherson today, Wood will take a dominant 13 point lead into the final round in Melbourne.
MacPherson, Wood and other riders, Belinda Goss, Emma Rickards and Amanda Spratt sprinted away from the rest of the field early today and were never headed, eventually opening up a gap of almost 50 seconds. MacPherson found something extra when it counted to pip Wood on the line. The chasing bunch was led home by NSW rider Rochelle Gilmore.
Victorian Alistair Farley won his second successive race in the Men's Support race and will hold a 5-point lead over Tasmanian Wesley Sulzberger into tomorrow's final stage.
Photography
For a thumbnail gallery of these images, click here
Images by Shane Goss/www.licoricegallery.com
Results
 
Elite Men
 
1 Robbie McEwen (Drapac-Porsche Cycling Team)                    
2 Rory Sutherland (Victorian State Home Loans)                   
3 David McPartland (Jayco VIS)                                   
4 Bernard Sulzberger (Skilled Tasmanian IS)                      
5 William Walker (Jayco VIS)                                     
6 Karl Menzies (Skilled Tasmanian IS)                            
7 Simon Clarke (Carnegie Caulfield/Billa Bridge)                 
8 Matt Goss (Skilled Tasmanian IS)                               
9 Hilton Clarke (McKnight Retravision/Fisher & Paykel)           
10 Mathew Rex (Bicycle Superstore/HLP)                           
 
Elite Women
 
1 Jenny MacPherson (Jayco VIS)                                   
2 Oenone Wood (Mercure Grand Hotel on Swanston)                  
3 Belinda Goss (Drapac-Porsche Cycling Team)                     
4 Emma Rickard (Jayco VIS)                                       
5 Amanda Spratt (NSW IS)                                         
6 Rochelle Gilmore (NSW IS)                                      
7 Kate Nichols (NSW IS)                                          
8 Claire Baxter (Siemens)                                        
9 Bridget Evans (Mercure Geelong)                                
10 Christine Riakos (NSW IS)                                     
 
Support
 
1 Alistair Farley (Vic)                                          
2 Chris Wilding (Tas)                                            
3 Ben Isaksen (NSW)                                              
4 Wesley Sulzberger (Tas)                                        
5 Mitchell Pearson (NSW)                                         
6 Fabio Calabria (ACT)                                           
7 Jason Hegert (Vic)                                             
8 Stephen Rossendell (Tas)                                       
9 Keith Evans (WA)                                               
10 Sam Bach (Vic)                                                
 
Overall standings after round 4
 
Elite Men
 
1 Robbie McEwen (Drapac-Porsche Cycling Team)                  41 pts
2 David McPartland (Jayco VIS)                                 28
3 Rory Sutherland (Victorian State Home Loans)                 26
4 Hilton Clarke (McKnight Retravision/Fisher & Paykel)         22
5 David McKenzie (Bicycle Superstore/HLP)                      20
6 Bernard Sulzberger (Skilled Tasmanian IS)                    18
7 Jaaron Poad (Colnago/Caravello)                              17
8 Simon Clarke (Carnegie Caulfield/Billa Bridge)               12
9 William Walker (Jayco VIS)                                   11
10 Karl Menzies (Skilled Tasmanian IS)                          8
11 Mathew Rex (Bicycle Superstore/HLP)                          8
12 David Harrigan (MAB/Melbourne Docklands/Carroll McKeddie)    5
13 Henk Vogels (Bicycle Superstore/HLP)                         5
14 Dean Windsor (FDJ NSW IS)                                    4
15 Matt Goss (Skilled Tasmanian IS)                             3
16 Jonathon Clarke (Jayco VIS)                                  2
17 Stuart Shaw (MGZT)                                           1
18 Robbie Crowe (Bicycle Superstore/HLP)                        1
 
Elite Women
 
1 Oenone Wood (Mercure Grand Hotel on Swanston)                44 pts
2 Jenny MacPherson (Jayco VIS)                                 31
3 Rochelle Gilmore (NSW IS)                                    28
4 Kate Nichols (NSW IS)                                        27
5 Sky-Lee Armstong (Mercure Grand Hotel on Swanston)           19
6 Emma Rickard (Jayco VIS)                                     17
7 Bridget Evans (Mercure Geelong)                              11
8 Amanda Spratt (NSW IS)                                       10
9 Bianca Rogers (Siemens)                                      10
10 Belinda Goss (Drapac-Porsche Cycling Team)                   9
11 Haley Rutherford (Mercure Geelong)                           7
12 Emma James (Mercure Geelong)                                 7
13 Katie Brown (NSW IS)                                         4
14 Claire Baxter (Siemens)                                      3
15 Therese Cliff-Ryan (ACT)                                     2
16 Christine Riakos (NSW IS)                                    1
17 Kirsty Bortolin (Drapac-Porsche Cycling Team)                1
18 Tiffany Cromwell (Mercure Geelong)                           1
 
Support
 
1 Alistair Farley (Vic)                                        36 pts
2 Wesley Sulzberger (Tas)                                      31
3 Chris Wilding (Tas)                                          28
4 Ben Isaksen (NSW)                                            28
5 Stephen Rossendell (Tas)                                     28
6 Mitchell Pearson (NSW)                                       25
7 Fabio Calabria (ACT)                                         10
8 Tim Walker (Tas)                                             10
9 Shaun Lewis (NSW)                                             6
10 Cameron Streistermanis (Vic)                                 5
11 Jason Hegert (Vic)                                           4
12 Russell Collett (Vic)                                        4
13 Lincoln Brown (Vic)                                          4
14 Keith Evans (WA)                                             3
15 Shaun Lewis (WA)                                             3
16 Daniel Furmston (Tas)                                        3
17 Scott Peoples (Vic)                                          3
18 Sam Bach (Vic)                                               1
 
Sprint Championship
 
Elite Men
 
1 David McPartland (Jayco VIS)                                 11 pts
2 Mathew Rex (Bicycle Superstore/HLP)                          11
3 Jaaron Poad (Colnago/Caravello)                              11
4 Robbie McEwen (Drapac-Porsche Cycling Team)                   7
5 William Walker (Jayco VIS)                                    5
6 Ben Johnson (Drapac-Porsche Cycling Team)                     5
7 Rory Sutherland (Victorian State Home Loans)                  4
8 Stuart Shaw (MGZT)                                            3
9 Bernard Sulzberger (Skilled Tasmanian IS)                     3
10 Hilton Clarke (McKnight's Retravision/Fisher & Paykell)      3
11 Karl Menzies (Skilled Tasmanian IS)                          3
12 Robert Tighello (McKnight's Retravision/Fisher & Paykell)    2
13 Simon Clarke (Carnegie Caulfield/Billa Bridge)               1
14 David McKenzie (Bicycle Superstore/HLP)                      1
15 Peter McDonald (Colnago/Caravello)                           1
16 Henk Vogels (Bicycle Superstore/HLP)                         1
 
Elite Women
 
1 Oenone Wood (Mercure Grand Hotel on Swanston)                17 pts
2 Sky-Lee Armstong (Mercure Grand Hotel on Swanston)           13
3 Kate Nichols (NSW IS)                                         6
4 Jenny MacPherson (Jayco VIS)                                  4
5 Bianca Rogers (Siemens)                                       3
6 Amanda Spratt (NSW IS)                                        2
7 Katie Brown (NSW IS)                                          2
8 Rochelle Gilmore (NSW IS)                                     1
 
Teams Championships
 
1 Drapac-Porsche Cycling Team                                  41 pts
2 Jayco VIS                                                    41
3 Bicycle Superstore/HLP                                       34
4 Skilled Tasmanian IS                                         29
5 Victorian State Home Loans                                   26
6 McKnight Retravision/Fisher & Paykel                         22
7 Colnago/Caravello                                            17
8 Carnegie Caulfield/Billa Bridge                              12
9 MAB/Melbourne Docklands/Carroll McKenzie                      5
10 FDJ NSW IS                                                   4
11 MGZT                                                         1
 
Elite Women
 
1 NSW IS                                                       69 pts
2 Mercure Grand Hotel on Swanston                              63
3 Jayco VIS                                                    48
4 Mercure Geelong                                              26
5 Siemens                                                      13
6 Drapac-Porsche Cycling Team                                  10