Jayco Bay Classic - NE
Australia, January 5-9, 2005
Main Page Results Previous Round
Round 5 - January 9: Docklands
Clarke's day in the sun
By Rod Morris in Melbourne
Robbie McEwen
Photo ©: Shane Goss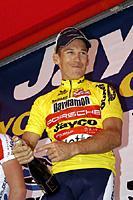 Victorian Hilton Clarke extracted some minor revenge on Robbie McEwen in today's final round of the Jayco Bay Cycling Classic series on Melbourne's Docklands course. Clarke had been a regular top 10 finisher all week, but missed out on stepping up to the podium after two fourths, a fifth and a ninth in the early rounds. But on a flat and electrifying fast Docklands circuit, Clarke - riding for McKnight's Retravision/Fisher & Paykel - gained the upper hand, winning from Simon Clarke (Carnegie Caulfield/Billa Bridge) and Victorian young gun William Walker (Jayco VIS).
McEwen was left in Clarke's wake in the chasing peloton, which was humbled by the first seven breakaways. McEwen however had already wrapped up his sixth Jayco Bay Crit series after winning at Williamstown in Round 1 and at Geelong in Saturday's fourth round. Earlier, McEwen had also ridden fourth behind David McKenzie at Portarlington and second to David McPartland in Friday's round of the Australian Criterium Championship.
The two Clarkes - Hilton and Simon - Walker and four other riders, Mark Jamieson (Drapac Porsche), Mitchell Docker (Drapac-Porsche), Peter McDonald (Colnago/Caravello) and comeback Victorian Robert Tighello (McKnight's Retravision/Fisher & Paykel) had formed a solid breakaway group with about 8 laps of the one hour race remaining. They set a pace that the peloton found tough to match and very soon the entire field started to break up.
McEwen - after missing the break - sat up and waved the white flag, allowing the escapees to have their day in the sun. Clarke admitted it was nice to get a win over McEwen, but quickly added, "Robbie still won the Series however and that's what really counted."
Hilton Clarke (McKnight's Retravision)
Photo ©: Shane Goss

"It was nice to get a win after a week of going close with some fourths and fifths, but missing out on the podium. I still don't know how to beat Robbie (McEwen) as he is without doubt the fastest cyclist in the world."
A big call, but McEwen has indeed produced a career record that suggests Clarke might just be right. McEwen first won the Bay Crit series in 1997 and has now won the event six times. "It is a great concept and a series that I enjoy racing in," McEwen said. "Its early season for everyone, so its good to get a score on the board."
Clarke's last round win elevated him to second overall, relegating newly crowned Australian Criterium champion David McPartland back to third.
The Sprint Championship was an intriguing contest in the final round with McPartland, Jaaron Poad (Colnago/Caravello) and Mathew Rex (Bicycle Superstore/HLP) starting the day level on points. Rex showed he meant business by winning the first two sprints to edge clear of Poad, who had contested the minor positions. Poad won the last sprint, but Rex claimed the title with a third placing to earn the vital one point.
Wood makes it three
Oenone Wood (Mercure Grand Hotel on Swanston)
Photo ©: Shane Goss
Oenone Wood stamped her authority on the women's championship with her third win of the week. Wood entered the final stage with an unassailable 13-point lead, but showed her class, by winning from her nearest challenger Jenny MacPherson in a sprint finish. Tasmanian Belinda Goss claimed her second successive third placing to jump into seventh place overall. Goss would have finished higher had she not fallen in the home straight of last Friday's Australian Criterium round, which was won by Wood.
Wood also finished runner-up in the two stages she did not win.
MacPherson was a model of consistency all week, finishing no lower than sixth in any round to claim second spot behind Wood in the overall championship. NSW rider Rochelle Gilmore finished third.
Wood's Mercure Grand Hotel on Swanston teammate Sky-Lee Armstrong had an enjoyable last round, overcoming a four point deficit to win the Sprint Championship.
The men's support race saw Victorian Alistair Farley hold onto his overnight lead to win from NSW's Ben Isaksen and Tasmanian Wesley Sulzberger. However, Isaksen won the final ahead of Ben Price (Tasmania) and Farley.
Photography
For a thumbnail gallery of these images, click here
Images by Shane Goss/www.licoricegallery.com
Results
1 Hilton Clarke (McKnight Retravision/Fisher & Paykel)           
2 Simon Clarke (Carnegie Caulfield/Billa Bridge)                 
3 William Walker (Jayco VIS)                                     
4 Mark Jamieson (Drapac-Porsche Cycling Team)                    
5 Mitchell Docker (Drapac-Porsche Cycling Team)                  
6 Peter McDonald (Colnago/Caravello)                             
7 Robert Tighello (McKnight Retravision/Fisher & Paykel)         
8 Robbie Crowe (Bicycle Superstore/HLP)                          
9 Cadel Evans (UNO Clothing)                                     
10 Nick Gates (Drapac-Porsche Cycling Team)                      
 
Elite Women
 
1 Oenone Wood (Mercure Grand Hotel on Swanston)                  
2 Jenny MacPherson (Jayco VIS)                                   
3 Belinda Goss (Drapac-Porsche Cycling Team)                     
4 Rochelle Gilmore (NSW IS)                                      
5 Kate Nichols (NSW IS)                                          
6 Bianca Rogers (Siemens)                                        
7 Emma Rickard (Jayco VIS)                                       
8 Bridget Evans (Mercure Geelong)                                
9 Therese Cliff-Ryan (ACT)                                       
10 Claire Baxter (Siemens)                                       
 
Support
 
1 Ben Isaksen (NSW)                                              
2 Ben Price (Tas)                                                
3 Alistair Farley (Vic)                                          
4 Luke Cridland (NSW)                                            
5 Fabio Calabria (ACT)                                           
6 Chris Wilding (Tas)                                            
7 Wesley Sulzberger (Tas)                                        
8 Mitchell Pearson (NSW)                                         
9 Daniel Thorsen (Vic)                                           
10 Keith Evans (WA)                                              
 
Final classification after round 5
 
Elite Men
 
1 Robbie McEwen (Drapac-Porsche Cycling Team)                  41 pts
2 Hilton Clarke (McKnight Retravision/Fisher & Paykel)         34
3 David McPartland (Jayco VIS)                                 28
4 Rory Sutherland (Victorian State Home Loans)                 26
5 Simon Clarke (Carnegie Caulfield/Billa Bridge)               22
6 David McKenzie (Bicycle Superstore/HLP)                      20
7 William Walker (Jayco VIS)                                   19
8 Bernard Sulzberger (Skilled Tasmanian IS)                    18
9 Jaaron Poad (Colnago/Caravello)                              17
10 Karl Menzies (Skilled Tasmanian IS)                          8
11 Mathew Rex (Bicycle Superstore/HLP)                          8
12 Mark Jamieson (Drapac-Porsche Cycling Team)                  7
13 Mitchell Docker (Drapac-Porsche Cycling Team)                6
14 Peter McDonald (Colnago/Caravello)                           5
15 David Harrigan (MAB/Melbourne Docklands/Carroll McKeddie)    5
16 Henk Vogels (Bicycle Superstore/HLP)                         5
17 Robert Tighello (McKnight Retravision/Fisher & Paykel)       4
18 Robbie Crowe (Bicycle Superstore/HLP)                        4
19 Dean Windsor (FDJ NSW IS)                                    4
20 Matt Goss (Skilled Tasmanian IS)                             3
21 Cadel Evans (UNO Clothing)                                   2
22 Jonathon Clarke (Jayco VIS)                                  2
23 Nick Gates (Drapac-Porsche Cycling Team)                     1
24 Stuart Shaw (MGZT)                                           1
 
Elite Women
 
1 Oenone Wood (Mercure Grand Hotel on Swanston)                56 pts
2 Jenny MacPherson (Jayco VIS)                                 41
3 Rochelle Gilmore (NSW IS)                                    35
4 Kate Nichols (NSW IS)                                        33
5 Emma Rickard (Jayco VIS)                                     21
6 Sky-Lee Armstong (Mercure Grand Hotel on Swanston)           19
7 Belinda Goss (Drapac-Porsche Cycling Team)                   17
8 Bianca Rogers (Siemens)                                      15
9 Bridget Evans (Mercure Geelong)                              14
10 Amanda Spratt (NSW IS)                                      10
11 Haley Rutherford (Mercure Geelong)                           7
12 Emma James (Mercure Geelong)                                 7
13 Therese Cliff-Ryan (ACT)                                     4
14 Claire Baxter (Siemens)                                      4
15 Katie Brown (NSW IS)                                         4
16 Christine Riakos (NSW IS)                                    1
17 Kirsty Bortolin (Drapac-Porsche Cycling Team)                1
18 Tiffany Cromwell (Mercure Geelong)                           1
 
Support
 
1 Alistair Farley (Vic)                                        44 pts
2 Ben Isaksen (NSW)                                            40
3 Wesley Sulzberger (Tas)                                      35
4 Chris Wilding (Tas)                                          33
5 Mitchell Pearson (NSW)                                       28
6 Stephen Rossendell (Tas)                                     28
7 Fabio Calabria (ACT)                                         16
8 Ben Price (Tas)                                              10
9 Tim Walker (Tas)                                             10
10 Shaun Lewis (NSW)                                            9
11 Luke Cridland (NSW)                                          7
12 Cameron Streistermanis (Vic)                                 5
13 Keith Evans (WA)                                             4
14 Jason Hegert (Vic)                                           4
15 Russell Collett (Vic)                                        4
16 Lincoln Brown (Vic)                                          4
17 Daniel Furmston (Tas)                                        3
18 Scott Peoples (Vic)                                          3
19 Daniel Thorsen (Vic)                                         2
20 Sam Bach (Vic)                                               1
 
Sprint championship
 
Elite Men
 
1 Mathew Rex (Bicycle Superstore/HLP)                          18 pts
2 Jaaron Poad (Colnago/Caravello)                              17
3 David McPartland (Jayco VIS)                                 11
4 Ben Johnson (Drapac-Porsche Cycling Team)                     7
5 Robbie McEwen (Drapac-Porsche Cycling Team)                   7
6 William Walker (Jayco VIS)                                    6
7 Rory Sutherland (Victorian State Home Loans)                  4
8 David McKenzie (Bicycle Superstore/HLP)                       3
9 Stuart Shaw (MGZT)                                            3
10 Bernard Sulzberger (Skilled Tasmanian IS)                    3
11 Hilton Clarke (McKnight's Retravision/Fisher & Paykell)      3
12 Karl Menzies (Skilled Tasmanian IS)                          3
13 Robert Tighello (McKnight's Retravision/Fisher & Paykell)    2
14 Simon Clarke (Carnegie Caulfield/Billa Bridge)               1
15 Peter McDonald (Colnago/Caravello)                           1
16 Henk Vogels (Bicycle Superstore/HLP)                         1
 
Elite Women
 
1 Sky-Lee Armstong (Mercure Grand Hotel on Swanston)           18 pts
2 Oenone Wood (Mercure Grand Hotel on Swanston)                17
3 Kate Nichols (NSW IS)                                         7
4 Bianca Rogers (Siemens)                                       4
5 Jenny MacPherson (Jayco VIS)                                  4
6 Caroline Jackson (Mercure Geelong)                            3
7 Claire Baxter (Siemens)                                       2
8 Amanda Spratt (NSW IS)                                        2
9 Katie Brown (NSW IS)                                          2
10 Rochelle Gilmore (NSW IS)                                    1
 
Teams
 
Elite Men
 
1 Drapac-Porsche Cycling Team                                  55 pts
2 Jayco VIS                                                    49
3 McKnight Retravision/Fisher & Paykel                         38
4 Bicycle Superstore/HLP                                       37
5 Skilled Tasmanian IS                                         29
6 Victorian State Home Loans                                   26
7 Carnegie Caulfield/Billa Bridge                              22
8 Colnago/Caravello                                            22
9 MAB/Melbourne Docklands/Carroll McKenzie                      5
10 FDJ NSW IS                                                   4
11 UNO Clothing                                                 2
12 MGZT                                                         1
 
Elite Women
 
1 NSW IS                                                       82 pts
2 Mercure Grand Hotel on Swanston                              75
3 Jayco VIS                                                    62
4 Mercure Geelong                                              29
5 Siemens                                                      19
6 Drapac-Porsche Cycling Team                                  18
7 ACT                                                           4