Jayco Bay Classic - NE
Australia, January 5-9, 2005
Main Page Results Previous Round Next Round
Round 3 - January 7: Geelong - Ritchie Boulevard (Australian Criterium Championships)
McPartland upstages McEwen
By Rod Morris in Geelong
The podium (L-R)
Photo ©: Shane Goss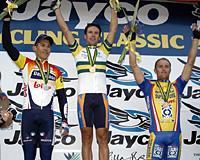 24 year-old Victorian David McPartland is the newly crowned Australian Criterium Champion after winning today's third round of the Jayco Bay Cycling Classic. McPartland headed a trifecta of "Big Macs" in an exciting race, beating home Tour de France star Robbie McEwen and durable Victorian David McKenzie.
McPartland won the Sid Patterson Young Rider award back in 2000 and last year claimed the second stage of the Tour Down Under, but described his latest win as his most important yet. "I was confident that I had the form and nous to win the bike race, it was just a matter of staying out of harm's way and towards the front of the race," he said. "To beat such a quality field is really important to me and its a win that I will cherish for some time."
McPartland was a key rider in Thursday's second round at Portarlington where he finished third, but was even more impressive in his national title. The win also keeps in him contention to win this year's Bay Classic, as he has moved into a share of second place with McKenzie and Hilton Clarke, but an improbable 9 points behind the leader, McEwen.
"It won't be easy pegging 9 points back on a guy like McEwen, but anything's possible if everything works in your favour," McPartland said.
David Mckenzie (Bicycle Superstore-HLP)
Photo ©: Shane Goss

The race at Eastern Beach in Geelong was paced at explosive speed, with riders averaging 51 seconds over 72 laps of the 700 m circuit. Needless to say, less than half of the original field were able to complete the journey. McPartland, riding for the Jayco VIS team, hit out with FDJ NSW IS rider Dean Windsor at about five laps to go and the pair put pressure into the peloton. McPartland and Windsor worked well together before the bunch increased the tempo as the finish line loomed closer.
At two to go, McPartland found another gear and edged away from Windsor and the latter was eventually swallowed up by the bunch, although he did hold on for seventh place. McPartland had just seconds to spare before the fast finishing McEwen and McKenzie sprinted for the minor placings.
With two rounds of the Bay Classic remaining, any one of nine different bike riders can still claim the 2005 title, but five time winner Robbie McEwen has a stranglehold on a sixth.
Wood continues winning run
Oenone Wood (Mercure Grand Hotel on Swanston)
Photo ©: Shane Goss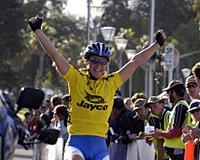 Oenone Wood completed an amazing 12 months of National Road Championships when she won the Women's Criterium title in Geelong. Last year Wood won both the Road and Time Trial titles and has now completed the set. Wood showed exactly why she is considered the No. 1 rider in the country with a dominant performance, beating home Rochelle Gilmore and Emma Rickard reasonably easily.
Wood holds an 11 point lead over Gilmore and Kate Nichols, with rounds at Geelong and Melbourne Docklands remaining.
In the Men's B Grade support race, Tasmanian Stephen Rossendell holds a slender 1 point lead over fellow Apple Islander Wesley Sulzberger and Victorian rider Alister Farley, who won today's third round.
Photography
For a thumbnail gallery of these images, click here
Images by Shane Goss/www.licoricegallery.com
Results
Elite Men
 
1 David McPartland (Jayco VIS)                                   
2 Robbie McEwen (Drapac-Porsche Cycling Team)                    
3 David McKenzie (Bicycle Superstore/HLP)                        
4 Hilton Clarke (McKnight Retravision/Fisher & Paykel)           
5 Simon Clarke (Carnegie Caulfield/Billa Bridge)                 
6 David Harrigan (MAB/Melbourne Docklands/Carroll McKeddie)      
7 Dean Windsor (FDJ NSW IS)                                      
8 Jaaron Poad (Colnago/Caravello)                                
9 Rory Sutherland (Victorian State Home Loans)                   
10 Mathew Rex (Bicycle Superstore/HLP)                           
 
Elite Women
 
1 Oenone Wood (Mercure Grand Hotel on Swanston)                  
2 Rochelle Gilmore (NSW IS)                                      
3 Emma Rickard (Jayco VIS)                                        
4 Bianca Rogers (Siemens)                                        
5 Jenny MacPherson (Jayco VIS)                                   
6 Kate Nichols (NSW IS)                                          
7 Katie Brown (NSW IS)                                           
8 Haley Rutherford (Mercure Geelong)                             
9 Sky-Lee Armstong (Mercure Grand Hotel on Swanston)             
10 Kirsty Bortolin (Drapac-Porsche Cycling Team)                 
 
Support Men
 
1 Alistair Farley (Vic)                                          
2 Tim Wilding (Tas)                                              
3 Stephen Rossendell (Tas)                                       
4 Ben Isaksen (NSW)                                              
5 Wesley Sulzberger (Tas)                                        
6 Mitchell Pearson (NSW)                                         
7 Russell Collett (Vic)                                          
8 Shaun Lewis (WA)                                               
9 Fabio Calabria (ACT)                                           
10 Keith Evans (WA)                                              
 
Overall standings after race 3
 
Elite Men
 
1 Robbie McEwen (Drapac-Porsche Cycling Team)                  29 pts
2 David McPartland (Jayco VIS)                                 20
3 David McKenzie (Bicycle Superstore/HLP)                      20
4 Hilton Clarke (McKnight Retravision/Fisher & Paykel)         20
5 Jaaron Poad (Colnago/Caravello)                              17
6 Rory Sutherland (Victorian State Home Loans)                 16
7 Bernard Sulzberger (Skilled Tasmanian IS)                    11
8 Simon Clarke (Carnegie Caulfield/Billa Bridge)                8
9 Mathew Rex (Bicycle Superstore/HLP)                           7
10 David Harrigan (MAB/Melbourne Docklands/Carroll McKeddie)    5
11 William Walker (Jayco VIS)                                   5
12 Henk Vogels (Bicycle Superstore/HLP)                         5
13 Dean Windsor (FDJ NSW IS)                                    4
14 Karl Menzies (Skilled Tasmanian IS)                          3
15 Jonathon Clarke (Jayco VIS)                                  2
16 Stuart Shaw (MGZT)                                           1
17 Robbie Crowe (Bicycle Superstore/HLP)                        1
 
Elite Women
 
1 Oenone Wood (Mercure Grand Hotel on Swanston)                34 pts
2 Rochelle Gilmore (NSW IS)                                    23
3 Kate Nichols (NSW IS)                                        23
4 Jenny MacPherson (Jayco VIS)                                 19
5 Sky-Lee Armstong (Mercure Grand Hotel on Swanston)           19
6 Emma Rickard (Jayco VIS)                                     10
7 Bianca Rogers (Siemens)                                      10
8 Bridget Evans (Mercure Geelong)                               9
9 Haley Rutherford (Mercure Geelong)                            7
10 Emma James (Mercure Geelong)                                 7
11 Katie Brown (NSW IS)                                         4
12 Amanda Spratt (NSW IS)                                       4
13 Therese Cliff-Ryan (ACT)                                     2
14 Kirsty Bortolin (Drapac-Porsche Cycling Team)                1
15 Tiffany Cromwell (Mercure Geelong)                           1
16 Belinda Goss (Drapac-Porsche Cycling Team)                   1
 
Support Men
 
1 Stephen Rossendell (Tas)                                     25 pts
2 Alistair Farley (Vic)                                        24
3 Wesley Sulzberger (Tas)                                      24
4 Ben Isaksen (NSW)                                            20
5 Mitchell Pearson (NSW)                                       19
6 Tim Wilding (Tas)                                            18
7 Tim Walker (Tas)                                             10
8 Shaun Lewis (NSW)                                             6
9 Fabio Calabria (ACT)                                          5
10 Cameron Streistermanis (Vic)                                 5
11 Russell Collett (Vic)                                        4
12 Lincoln Brown (Vic)                                          4
13 Shaun Lewis (WA)                                             3
14 Daniel Furmston (Tas)                                        3
15 Scott Peoples (Vic)                                          3
16 Keith Evans (WA)                                             1
 
Sprint championship
 
Elite Men
 
1 Mathew Rex (Bicycle Superstore/HLP)                          11 pts
2 Jaaron Poad (Colnago/Caravello)                              11
3 William Walker (Jayco VIS)                                    5
4 Ben Johnson (Drapac-Porsche Cycling Team)                     5
5 Stuart Shaw (MGZT)                                            3
6 Bernard Sulzberger (Skilled Tasmanian IS)                     3
7 Hilton Clarke (McKnight's Retravision/Fisher & Paykell)       3
8 Karl Menzies (Skilled Tasmanian IS)                           3
9 David McPartland (Jayco VIS)                                  3
10 Robert Tighello (McKnight's Retravision/Fisher & Paykell)    2
11 Simon Clarke (Carnegie Caulfield/Billa Bridge)               1
12 Robbie McEwen (Drapac-Porsche Cycling Team)                  1
13 David McKenzie (Bicycle Superstore/HLP)                      1
14 Peter McDonald (Colnago/Caravello)                           1
15 Henk Vogels (Bicycle Superstore/HLP)                         1
 
Elite Women
 
1 Oenone Wood (Mercure Grand Hotel on Swanston)                13 pts
2 Sky-Lee Armstong (Mercure Grand Hotel on Swanston)           10
3 Kate Nichols (NSW IS)                                         6
4 Bianca Rogers (Siemens)                                       3
5 Katie Brown (NSW IS)                                          2
6 Rochelle Gilmore (NSW IS)                                     1
7 Jenny MacPherson (Jayco VIS)                                  1
 
Teams championship
 
Elite Men

1 Bicycle Superstore/HLP                                       33 pts
2 Drapac-Porsche Cycling Team                                  29
3 Jayco VIS                                                    27
4 McKnight Retravision/Fisher & Paykel                         20
5 Colnago/Caravello                                            17
6 Victorian State Home Loans                                   16
7 Skilled Tasmanian IS                                         14
8 Carnegie Caulfield/Billa Bridge                               8
9 MAB/Melbourne Docklands/Carroll McKenzie                      5
10 FDJ NSW IS                                                   4
11 MGZT                                                         1
 
Elite Women
 
1 NSW IS                                                       54 pts
2 Mercure Grand Hotel on Swanston                              53
3 Jayco VIS                                                    29
4 Mercure Geelong                                              24
5 Siemens                                                      10
6 Drapac-Porsche Cycling Team                                   2
7 ACT                                                           2