Jayco Bay Classic - NE
Australia, January 5-9, 2005
Main Page Results Previous Round Next Round
Round 2 - January 6: Portarlington
McEwen extends lead but McKenzie wins round 2
By Rod Morris in Portarlington
The chasing group
Photo ©: Shane Goss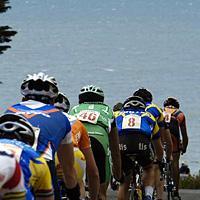 David McKenzie's reputation in Australian cycling is already well established, but his performance in today's second round of Jayco Bay Cycling Classic only enhanced his status even further. McKenzie (30) won the Portarlington Round to move into fifth place on general classification with three races remaining. McKenzie was part of a nine man breakaway that completely demoralised the majority of the field, forcing no less than 43 riders to withdraw from the Round.
In a comfortable sprint to the line, McKenzie - riding for Bicycle Superstore/HLP won from Canberra's Rory Sutherland (Victorian State Home Loans) and Victorian David McPartland (Jayco VIS). If cycling awarded a man-of-the-match trophy, then surely McPartland would have won the votes, as his performance was the catalyst behind so many attacks and race withdrawals.
Series leader and Round 1 winner Robbie McEwen was part of the nine man break, but only after he sensed danger at around the halfway mark and worked hard to bridge the gap between the escapees and the peloton. But McEwen had little left when McKenzie, Sutherland and McPartland hit out again at four laps to go.
McEwen did, however, lead the chasers home to snatch fourth spot and retain his grip on the leader's yellow jersey. In fact McEwen increased his lead from two to five points with Sutherland and Jaaron Poad sharing second. Hilton Clarke has thrown his hat into the ring, following his opening day's fourth placing with a credible sixth today. The day certainly belonged to McKenzie. "I know some people regard me as being in the twilight of my career, but whilst I'm still enjoying my racing, I'm going to keep going," McKenzie said. "I have just signed with a new second division team from Asia, which will allow me to remain based in Australia and that also lead to sharing more time with my wife and children."
McKenzie has been a stalwart of Australian road racing for more than 10 years and has enjoyed a solid record at Portarlington. "This course has been kind to me and I supposed it helped by knowing the area pretty well."
The men's podium
Photo ©: Shane Goss

McEwen said he was disappointed to have missed the final break, but admitted that chasing the first break down had taken its toll. "It wasn't easy out there by any means, but I didn't lose any ground to the riders behind me on points, so from that aspect the day wasn't so bad," he said.
Poad is the new leader of the Sprint Championship, edging past overnight leader Mathew Rex, who failed to fire a shot today.
Tomorrow's third round of the Jayco Bay Cycling Classic series will coincide with the Australian Criterium Championships and will be held on Geelong's picturesque Eastern Beach. Racing is scheduled to start at 5 p.m. with the Elite Men's title at 8 p.m.
Wood destroys
Oenone Wood (Mercure Grand Hotel on Swanston)
Photo ©: Shane Goss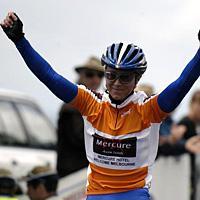 In the women's series, Australian champion Oenone Wood (Mercure Grand Hotel on Swanston) produced an amazing solo effort to win by 1'54 minutes from Kate Nichols (NSW IS) with all other minor placings actually decided before the first two had finished. Race commissaires sensed the Wood was going to lap the peloton, so they ordered the bunch to sprint for third place whilst the leaders still had two laps remaining.
Wood also won both intermediate sprints to take over the Sprint Championship and her team is leading that championship also as she heads for a clean sweep of all trophies. Tasmanian riders dominated the B Grade support race with Wesley Sulzberger, Tim Walker, Chris Wilding and Stephen Rossendell filling the first four placings. Sulzberger also took on the overall lead, just 1-point ahead of Rossendell.
Photography
For a thumbnail gallery of these images, click here
Images by Shane Goss/www.licoricegallery.com
Results
Elite Men 
 
1 David McKenzie (Bicycle Superstore/HLP)
2 Rory Sutherland (Victorian State Home Loans)
3 David McPartland (Jayco VIS)
4 Robbie McEwen (Drapac-Porsche Cycling Team)
5 Hilton Clarke (McKnight Retravision/Fisher & Paykel)
6 William Walker (Jayco VIS)
7 Jaaron Poad (Colnago/Caravello)
8 Bernard Sulzberger (Skilled Tasmanian IS)
9 Jonathon Clarke (Jayco VIS)
10 Stuart Shaw (MGZT)
 
Elite Women 
 
1 Oenone Wood (Mercure Grand Hotel on Swanston)
2 Kate Nichols (NSW IS)
3 Jenny MacPherson (Jayco VIS)
4 Rochelle Gilmore (NSW IS)
5 Bridget Evans (Mercure Geelong)
6 Sky-Lee Armstong (Mercure Grand Hotel on Swanston)
7 Amanda Spratt (NSW IS)
8 Bianca Rogers (Siemens)
9 Emma Ricard (Jayco VIS)
10 Tiffany Cromwell (Mercure Geelong)
 
Support race 
 
1 Wesley Sulzberger (Tas)
2 Tim Walker (Tas)
3 Chris Wilding (Tas)
4 Stephen Rossendell (Tas)
5 Ben Isaksen (NSW)
6 Shaun Lewis (NSW)
7 Alistair Farley (Vic)
8 Daniel Furmston (Tas)
9 Mitchell Pearson (NSW)
10 Fabio Calabria (ACT)
 
General classification after round 2 

Elite Men
 
1 Robbie McEwen (Drapac-Porsche Cycling Team)             19 pts
2 Rory Sutherland (Victorian State Home Loans)            14
3 Jaaron Poad (Colnago/Caravello)                         14
4 Hilton Clarke (McKnight Retravision/Fisher & Paykel)    13
5 David McKenzie (Bicycle Superstore/HLP)                 12
6 Bernard Sulzberger (Skilled Tasmanian IS)               11
7 David McPartland (Jayco VIS)                             8
8 Mathew Rex (Bicycle Superstore/HLP)                      6
9 William Walker (Jayco VIS)                               5
10 Henk Vogels (Bicycle Superstore/HLP)                    5
11 Karl Menzies (Skilled Tasmanian IS)                     3
12 Jonathon Clarke (Jayco VIS)                             2
13 Simon Clarke (Carnegie Caulfield/Billa Bridge)          2
14 Stuart Shaw (MGZT)                                      1
15 Robbie Crowe (Bicycle Superstore/HLP)                   1
 
Elite Women
 
1 Oenone Wood (Mercure Grand Hotel on Swanston)           22 pts
2 Kate Nichols (NSW IS)                                   18
3 Sky-Lee Armstong (Mercure Grand Hotel on Swanston)      17
4 Jenny MacPherson (Jayco VIS)                            13
5 Rochelle Gilmore (NSW IS)                               13
6 Bridget Evans (Mercure Geelong)                          9
7 Emma James (Mercure Geelong)                             7
8 Amanda Spratt (NSW IS)                                   4
9 Haley Rutherford (Mercure Geelong)                       4
10 Bianca Rogers (Siemens)                                 3
11 Emma Ricard (Jayco VIS)                                 2
12 Therese Cliff-Ryan (ACT)                                2
13 Tiffany Cromwell (Mercure Geelong)                      1
14 Belinda Goss (Drapac-Porsche Cycling Team)              1
 
Support
 
1 Wesley Sulzberger (Tas)                                 18 pts
2 Stephen Rossendell (Tas)                                17
3 Mitchell Pearson (NSW)                                  14
4 Ben Isaksen (NSW)                                       13
5 Alistair Farley (Vic)                                   12
6 Tim Walker (Tas)                                        10
7 Chris Wilding (Tas)                                      8
8 Shaun Lewis (NSW)                                        6
9 Cameron Streistermanis (Vic)                             5
10 Lincoln Brown (Vic)                                     4
11 Daniel Furmston (Tas)                                   3
12 Fabio Calabria (ACT)                                    3
13 Scott Peoples (Vic)                                     3
 
Teams classification
 
Elite Men
 
1 Bicycle Superstore/HLP                                  24 pts
2 Drapac-Porsche Cycling Team                             19
3 Jayco VIS                                               15
4 Victorian State Home Loans                              14
5 Colnago/Caravello                                       14
6 Skilled Tasmanian IS                                    14
7 McKnight Retravision/Fisher & Paykel                    13
8 Carnegie Caulfield/Billa Bridge                          2
9 MGZT                                                     1
 
Elite Women
 
1 Mercure Grand Hotel on Swanston                         39 pts
2 NSW IS                                                  35
3 Mercure Geelong                                         21
4 Jayco VIS                                               15
5 Siemens                                                  3
6 ACT                                                      2
7 Drapac-Porsche Cycling Team                              1
 
Sprint Championship
 
Elite Men

1 Jaaron Poad (Colnago/Caravello)                          9 pts
2 Mathew Rex (Bicycle Superstore/HLP)                      5
3 William Walker (Jayco VIS)                               5
4 Ben Johnson (Drapac-Porsche Cycling Team)                4
5 Bernard Sulzberger (Skilled Tasmanian IS)                3
6 Karl Menzies (Skilled Tasmanian IS)                      3
7 David McPartland (Jayco VIS)                             3
8 Robbie McEwen (Drapac-Porsche Cycling Team)              1
9 David McKenzie (Bicycle Superstore/HLP)                  1
10 Peter McDonald (Colnago/Caravello)                      1
11 Henk Vogels (Bicycle Superstore/HLP)                    1
 
Elite Women
 
1 Sky-Lee Armstong (Mercure Grand Hotel on Swanston)       7 pts
2 Oenone Wood (Mercure Grand Hotel on Swanston)            8
3 Kate Nichols (NSW IS)                                    6
4 Katie Brown (NSW IS)                                     2
5 Jenny MacPherson (Jayco VIS)                             1