2004 Jayco Bay Cycling Classic
Victoria, Australia, January 7-11, 2004
Diary index Main Start Lists Previous Entry Next Entry
Carnegie Caulfield-Billa Bridge Wines Diary
Regular Cyclingnews correspondent Mal Sawford is directing the Carnegie Caulfield-Billa Bridge Wines team at this year's Bay Classic. The team consists of Michael Ford, Simon Clarke, Cam Wise, Nathan Wise and Trent Lowe, and Mal reports on their progress in the five race series in this special diary.
Victory!
Round 3 - January 7: Geelong Waterfront
Australian Under 23 Criterium Champion
Photo ©: Mal Sawford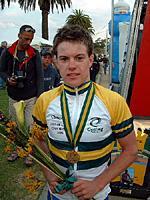 Simon Clarke took out the Australian Under 23 Criterium Championship last night! On the fast hotdog circuit on the beach in Geelong he rode a fantastic race, always in the top ten riders and had no trouble with the tight corners that the saw the Support race turn into a smash up derby.
All the guys rode well, performing well in front of team sponsors Neil Robb (Billa Bridge), Vlad Ibeson (Ventoux Clothing) and Marcus Hall (Inexa-Team Alex Australia). Michael's legs finally unblocked after the heavy work load of the Tassie Christmas Carnivals, and he was in contention until the half way mark, while Trent never looked under pressure and finished not far out of the places in the sprint - not bad for a 60kg mountain biker!
Obviously Simon was our star, chasing moves, and launching plenty of his own. He started a break of five in the final ten minutes that looked threatening, but when it was reeled in FDJ NSWIS rider Dean Windsor launched a counter attack which stuck. Dave McPartland (Jayco VIS) bridged, and the pair held off the bunch for the final five laps, before McPartland jumped Windsor and soloed in to take an impressive win. Simon was very well positioned, behind Robbie McEwen and Hilton Clarke (McKnight's Retravision/Fisher & Paykel), and narrowly missed the podium, finishing fifth, inches ahead of Windsor, who is also an espoir.
As the leading Under 23 rider, Simon was called to the podium to receive his National Champion's Jersey from Cycling Australia's Barry Langley - his first individual title after a string of wins in Team's Pursuits. As Simon said, the Jersey hadn't crossed his mind during the race "I was just trying to win the race!"
A bronze medal
Photo ©: Mal Sawford

Well done also to Carnegie Caulfield rider Emma Rickards, who took out the bronze medal in the Women's race, riding for the Jayco VIS team - made up entirely of CCCC members. The pressure is now on Helen Kelly and Apryl Eppinger to match the podium finishes of Emma and Jenny Macpherson!
Tomorrow's stage through the Botanical Gardens is another tough one, with a steep climb up the finishing straight. Trent excelled on the circuit last year, and should be one to watch tonight.
Photography
For a thumbnail gallery of these images, click here
Images by Mal Sawford