Australian Open Road Championships - CN
Australia, January 12-15, 2005
Main Page Results Race Details Previous Race
Race 6 - January 15: Elite Men's Road Race, 182km
McEwen brings it home again
By Jeff Jones in Echunga
Robbie McEwen (Lotto)
Photo ©: CN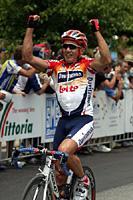 For the second time in his career, 32 year-old Queenslander Robbie McEwen (Davitamon-Lotto) will wear the Australian National Road Champion's jersey for the forthcoming season after winning a four man sprint at the end of a gruelling 182 km race in Echunga today. On the downhill run past Echunga's Duke of Edinburgh pub, McEwen hit out with 200m to go to comfortably beat Robert McLachlan (Caravello) and Paul Crake (Corratec). McEwen's teammate Cadel Evans finished fourth after burying himself to ensure the break stayed away over the final 60 km.
"We rode a superb race together and worked just perfectly," said McEwen moments after finishing. "That enabled me to win the race. Now I get another year in the national champion's jersey and that makes me really, really happy.
"I just reckon it's the best looking jersey in the bunch maybe bar the World Champion's jersey. I have really good memories from when I was champion in 2002 and I just loved riding around in that jersey. Oh well, a new paint job for the bike, a new jersey, paint job on the helmet - everything in Aussie colours, I love it!"
The sprint
Photo ©: CN

McEwen had ridden an aggressive race from the beginning, even attacking solo on lap 3 before bridging up to a dangerously large breakaway during the next lap. "In the beginning I made a bit of a mistake attacking myself and I missed a group. And I just had to gamble that it would come back, and it did. Then I rode across to that group and I just got better as the race went on - until 65 km to go when Simon Gerrans opened it up and started attacking. I countered that move on my own but then McLachlan, Crake and most importantly Cadel Evans came across and just did a heap of work. I was feeling pretty good, but at the end I was starting to cramp a bit. It's pretty hard to do 180 km in January."
The winning move with McEwen, Evans, McLachlan and Crake came with around 50 km to go when the four split off the front of a 16 man move, which contained Allan Davis, Simon Gerrans, Stuart O'Grady and Matt White, among others. "Simon Gerrans opened it up and straight away I countered. Cadel Evans was just doing as much work as he could to get us to the finish. We never really had more than 25 seconds...I was always wary of guys jumping across that gap and we just had to work really hard together. Nobody was missing turns all the way to the finish.
"Once we came into that last couple of hundred metres I was confident I could win the sprint, but after 180 km in January you never know. I was a little bit crampy and obviously tired, but so were the others and I was able to use my sprint to good advantage."
Robert McLachlan (MG Xpower)
Photo ©: CN

For 33 year old "comeback kid" Rob McLachlan, who represented Australia at the Barcelona Olympics in 1992, today's second place was very satisfying and comparable to the Olympics, he said. "With a course like that, which was up and down all day, and with quality riders like Robbie...they're the highlights of my career. I don't know if you could put one above the other. I loved going to the Olympics; I love getting results like this as well - they're all rewarding."
McLachlan described the first part of the race, which played a decisive role in splitting the peloton. "I couldn't believe how fast it was, that first 40 or 50 km, it was just on. One after the other, a fight to be at the front. It felt like you were racing in Europe, it didn't feel like you were racing in Australia. The quality of cyclists in Australia now is just unbelievable. There's so many good bike riders that just made it a good race."
Paul Crake (ACT)
Photo ©: CN

For former stair climbing champion turned pro, Paul Crake was a little surprised with his third place today in Echunga. "It's a bit of a turnup for the books," the ACT rider told Cyclingnews. "I've learned over the last few years that with the national championships, anything can happen. If you get in the right move and have a lucky day, then things can turn out well. I was unfortunate last year to just miss the podium so to come out and do it this year is really satisfying. I couldn't ask for more."
Crake knew that he would have to get away to win, but didn't have enough gas in the tank to escape the clutches of McEwen and Evans. "Robbie is always going to beat someone like me in a sprint, since I've got no sprint whatsoever - I'm primarily a hill climber. And also up against Rob [McLachlan]. I do a bit of training in Canberra with him and I'm lucky if I get halfway off his back wheel in a sprint!"
Matt White (Cofidis)
Photo ©: CN

Fifth placed Matt White had worked strongly for teammate O'Grady all day, but the latter simply didn't have an answer to McEwen's attack with 50 km to go. White made a strong move from the chasing group late in the race to try and rejoin the leaders, who were 30 seconds up the road. But he couldn't get closer than 200m by the finish. "There's always next year and I can't be faulted the way I rode today," he said philosophically. "I gave it 100 percent but that's just bike riding."
How it unfolded
The peloton
Photo ©: CN

A large combined Elite and U23 field of 140 riders lined up in Echunga's main street for 14 laps of the tough 13 km circuit. The conditions were similar to the women's race yesterday - sunny but cool with little wind. But the style of the race was markedly different, with the men riding hard from the gun in order to make the race as selective as possible early on. There were constant attacks and counter-attacks, with the peloton averaging over 45 km/h despite the dead roads and the constant undulations.
On the third lap, a large group split off the front including Stuart O'Grady and Matt White (Cofidis), Henk Vogels, Cadel Evans and Robbie McEwen (Davitamon-Lotto), Graeme Brown (Panaria), Aaron Kemps and Allan Davis (Liberty Seguros), Scott Davis (Coral Isle Cyclists), Russell Van Hout and Trent Wilson (Colombia-Selle Italia), Peter McDonald (Colnago-Caravello), Robert McLachlan (Caravello), Chris Sutton (FDJ-NSWIS), Simon Gerrans (Ag2r), Matthew Hayman (Rabobank), David McPartland (Tenax), Gene Bates (Adelaide), David McPartland (Tenax), Mark Renshaw (FDJeux.com), Paul Crake (Corratec) and several more - notable absentees being Nathan O'Neill (Navigators) and Mick Rogers (Quick.Step).
Henk Vogels (Davitamon Lotto)
Photo ©: CN

Over the next two laps, the group maintained a slender advantage over the peloton, but the early pace had taken its toll and by the eighth of 14 laps, the main bunch was at 4'00 and essentially out of the race. In between the leading group of 16 (which had lost riders like Vogels, Kemps and Brown) and the peloton, there was a group of approximately 25 that included Rory Sutherland and William Walker (Rabobank), O'Neill, Cameron Jennings, Cody Stevenson (Cyclingnews.com) and Matthew Rex (SASI). This group could never make contact with the leaders, despite a solo attempt by Nathan O'Neill late in the race.
With the break well established in front, it was down to who had the legs in the last four laps. Matt White was, as usual, working extremely hard for his teammate Stuart O'Grady, who wanted to regain the champion's jersey that he won in 2003. But McEwen was looking good as well, having a strong teammate in Cadel Evans and also very desirous of reclaiming the jersey that he had won in 2002. On the 11th lap, McEwen attacked and took Evans, Crake and McLachlan with him. The quartet worked hard and well together, realising that everyone needed to cooperate to stop White, O'Grady et al from coming back.
Allan Davis (Liberty)
Photo ©: CN

On the 12th climb with under 40 km to go, the chase group consisted of O'Grady, White, Gerrans, Allan Davis, Bates, McPartland, McDonald and Sutton, with Trent Wilson and Matt Hayman a little further back. The gap between the two leading groups hovered at 20 seconds, but the chasers could not close it thanks to the close cooperation of the four front riders. On lap 13, McDonald and Sutton had lost contact with the chasers, while O'Grady and McPartland were looking a little shaky. The four leaders extended their advantage out to 30 seconds and the race was seemingly decided.
With Evans working so hard for McEwen in front, neither McLachlan nor Crake were able to attack on the final lap, which set things up perfectly for McEwen in the downhill sprint. A late attempt by Matt White to bridge the gap from behind fell 14 seconds short as McEwen made short work of McLachlan and Crake in the sprint to win his second national road title, pumping his fists in triumph as he crossed the line in Echunga.
McEwen will now wear the green and gold stripes in the Jacob's Creek Tour Down Under, which starts next Tuesday in Adelaide and finishes the following Sunday.
Photography
For a thumbnail gallery of these images, click here
Images by Mark Gunter/Cyclingnews.com
Results
1 Robbie McEwen (Qld) C.A.T.S./Davitamon-Lotto               4.10.13 (43.6 km/h)
2 Robert Mclachlan (NSW) MG XPower - BigPond
3 Paul Crake (ACT) Canberra Cycling Club/Corratec                   
4 Cadel Evans (Vic) Northcote CC/Davitamon-Lotto                    
5 Matthew White (NSW) St George CC/Cofidis                      0.14
6 Allan Davis (Qld) Coral Isle Cyclists Inc./Liberty Segurus    0.33
7 Stuart O'Grady (SA) Port Adelaide C.C./Cofidis                    
8 Simon Gerrans (Vic) Carnegie Caulfield CC/Ag2r                    
9 Gene Bates (SA) Adelaide CC                                   2.14
10 David McPartland (Vic) Albury-Wodonga CC/Tenax                   
11 Trent Wilson (NSW) Parramatta CC/Colombia-Selle Italia       3.47
12 Peter Mcdonald (NSW) Colnago Caravello                       6.04
13 Mathew Hayman (ACT) Canberra Cycling Club/Rabobank           6.07
14 Mark Renshaw (NSW) Bathurst CC/FDJeux.com                    8.56
15 Cameron Jennings (Qld) Rockhampton Cycle Club/Cyclingnews.com    
16 Klayten Smith (NSW) Clarence St CCC                              
17 Stephen Cunningham (SA) Norwood C.C.                             
18 Rory Sutherland (ACT) Canberra Cycling Club/Rabobank             
19 David Betts (Qld) Lifecycle Cycling Club                         
20 Nathan Jones (WA) Spokes CC                                  9.04
21 Nathan O'Neill (Qld) Toowoomba CC/Navigators                 9.07
22 Karl Menzies (Tas) Lifecycle Cycling Club                   13.32
23 Peter Herzig (Qld) Uni Cycle Club                                
24 Aaron Strong (NZL) NZ Cycling Federation                         
25 Cody Stevenson (NSW) Penrith Panthers CC/Cyclingnews.com         
26 Andrew Naylor (Vic) St Kilda Cycling Club Inc                    
27 Adrian Booth (Qld) Victor Cycle Club                             
DNF Stephen Blair (ACT) Canberra Cycling Club                       
DNF Michael Cupitt (ACT) Canberra Cycling Club                      
DNF Christopher Green (ACT) Tuggeranong Vikings CC                  
DNF Michael Rogers (ACT) Canberra Cycling Club/Quick.Step           
DNF Stuart Shaw (ACT) Canberra Cycling Club                         
DNF Daniel Brickell (NSW) Sutherland Shire CC                       
DNF Graeme Brown (NSW) Clarence St CCC/Panaria                      
DNF Kieren Cameron (NSW) Bankstown Sports CC                        
DNF David Evans (NSW) Eastern Suburbs CC                            
DNF Troy Glennan (NSW) Sutherland CC/MG Xpower-Bigpond              
DNF Cameron Hughes (NSW) Bicisport                                  
DNF Ashley Humbert (NSW) Tolland CC                                 
DNF Tony Mann (NSW) Colnago-Caravello CC                            
DNF Brad McCreadie (NSW) Peloton Sports Inc.                        
DNF Glenn Stojanow (NSW) Clarence St CCC                            
DNF Phillip Thuaux (NSW) Central Coast CC/Wismiliak                 
DNF John Tzinberg (NSW) Peloton Sports Inc.                         
DNF Mark Wall (NSW) Sutherland Shire CC                             
DNF Graeme Stone (NZL) NZ Cycling Federation                        
DNF Jonathan Coulter (Qld) Victor Cycle Club                        
DNF Scott Davis (Qld) Coral Isle Cyclists Inc.                      
DNF Robert Driver (Qld) C.A.T.S.                                    
DNF Kurt Dutton (Qld) Victor Cycle Club                             
DNF Nicholas Gates (Qld) C.A.T.S./Davitamon-Lotto                   
DNF Brendan Hill (Qld) Lifecycle Cycling Club                       
DNF Aaron Kemps (Qld) Coral Isle Cyclists Inc./Liberty Seguros      
DNF Matthew Newlands (Qld) Victor Cycle Club                        
DNF Kane Oakley (Qld) C.A.T.S.                                      
DNF Jaaron Poad (Qld) Ffast Cycle Club                              
DNF Matthew Smith (Qld) Ffast Cycle Club                            
DNF Ben Vanderkamp (Qld) Ffast Cycle Club                           
DNF Ross Bate (SA) Norwood C.C.                                     
DNF Patrick Bruse (SA) Norwood C.C.                                 
DNF James Kelly (SA) Norwood C.C.                                   
DNF James Sampson (SA) Norwood C.C.                                 
DNF Josh Smith (SA) Adelaide CC                                     
DNF Corey Sweet (SA) Norwood C.C.                                   
DNF Russell Van Hout (SA) Adelaide CC/Colombia-Selle Italia         
DNF Elliott Watters (SA) Norwood C.C.                               
DNF Nicholas Wood (SA) Norwood C.C.                                 
DNF Sean Sullivan (Tas) Northern Districts CC/Barloworld            
DNF Christopher Bradford (Vic) Carnegie Caulfield CC                
DNF Hilton Clarke (Vic) Carnegie Caulfield CC                       
DNF Christopher Fry (Vic) Geelong Cycle Club                        
DNF Mark Hooper (Vic) Geelong Cycle Club                            
DNF David Mckenzie (Vic) Italo Australian C C                       
DNF Jarrod Moroni (Vic) Bendigo & District CC                       
DNF Nicholas Shipp (Vic) Bendigo & District CC                      
DNF Rhys Smith (Vic) Footscray Cycling Club Inc                     
DNF Robert Tighello (Vic) Carnegie Caulfield CC                     
DNF Nic Brown (WA) Melville Fremantle CC                            
DNF Brad Hall (WA) Southern Districts CC                            
DNF Steven Mouritz (WA) Northern Districts                          
DNF Jason Rigg (WA) Northern Districts                              
DNF Leon Vogels (WA) Southern Districts CC                          
DNF Hendricus Vogels (WA) Southern Districts CC/Davitamon Lotto     
DNF Tim Hucker (Vic) Bendigo & District CC                          
DNF Chris Jongewaard (SA) KilkennyCC                                
DNS Ben Brooks (NSW) St George CC                                   
DNS Phillip Chapman (NSW) Northern Sydney CC                        
DNS Dean Jones (NSW) Kooragang Open CC                              
DNS Andrew Kitchen (NSW) Bicisport                                  
DNS Peter Milostic (NSW) Penrith Panthers CC                        
DNS Nicholas Formosa (Qld) Ffast Cycle Club                         
DNS Chris Selden (Qld) Gold Coast Goldstars C C                     
DNS Christopher Lee (Vic) St Kilda Cycling Club Inc                 
DNS Costa Litras (Vic) St Kilda Cycling Club Inc                    
DNS Damien Turner (Vic) Ballarat/Sebastopol C C                     
DNS Stefan Cecconi (WA) Midland CC                                  
DNS Shaun O'neill (WA) Midland CC                                   
DNS Jose Rodgiguez (NSW) Eastern Suburbs CC                         
DNS Baden Cooke (Vic) Carnegie Caulfield CC/FDjeux.com              
DNS Michael Delage (France)                                         
DNS Fredric Finot (France)                                          
DNS Arnaud Gerrard (France)                                         
DNS Ian Mcleod (France)                                             
DNS Cyrille Nonnerais (France)                                      
DNS Matt Wilson (Vic) Chelsea Peninsula/FDJeux.com                  
DNS Paul Sheppard (GBr)