Australian Open Road Championships - CN
Australia, January 12-15, 2005
Main Page Results Race Details Previous Race Next Race
Race 4 - January 14: Women's Road Race, 104km
Graham leads Queensland trifecta
By Jeff Jones in Echunga
Lorian Graham
Photo ©: CN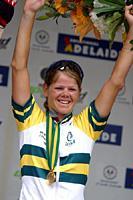 27 year-old Rockhampton-born Lorian Graham (Ffast Cycle Club) has taken out the 2005 Australian Women's Road Championship in a perfect display of teamwork by the Queensland Academy of Sport. Graham attacked alone with approximately 4 km to go, and no-one had the strength to bring her back. She crossed the line with 31 seconds advantage over her teammate Sara Carrigan who won the bunch sprint, with another Queenslander, Bridget Evans, taking third.
It was Graham's biggest win since she started cycling in 2000, a convert from running and triathlon. "It's unbelievable. I only started riding in 2000 so I've just progressed through the years and to finally win a national title is definitely one of my goals come true...I'm lost for words, I had goosebumps when I crossed the line because I thought 'my time has finally come'. It doesn't get much better than that."
Graham described her tactics in the finale, which resulted from a concerted effort by the QAS team to break up the race. "I didn't want it to be a sprint, that's why I attacked myself to get away. I got a gap and it was just 'head down, don't look back, just use the 11 all the way to the finish'. I thought, 'Try not to panic, keep a good rhythm and don't look back, because it was going to be a waste of energy.' That was the main plan."
Lorian Graham (QAS)
Photo ©: CN

Coming into the race, Graham gave herself "a very good chance. [Australian coach] Warren McDonald has given me a new program and new ideas to come into the season with and I've done a lot of strength endurance training up the climbs. I felt really strong and I think this course suited me because you were either going up or going down."
No less delighted was Graham's ever smiling teammate Sara Carrigan, who has made a strong comeback to racing after her Olympic triumph with two silver medals in this week's National's. "I actually feel like I won the race," Carrigan grinned afterwards. "The plan turned out perfectly, as it did in the Olympics. We had the numbers there today and we played it perfectly. Hannah Banks was the younger of the girls, a first year senior, and she rode an awesome race out the front, making it hard, making Oenone, Olivia, and all those other teams chase, and when she came back, 'bang!' we had another Queenslander up the road.
"We had the other teams chasing all day and that meant that when it was crunch time we had the power there to go. When Lorian went everyone was just 'Oh no not another Queenslander' so when she went it was perfect. I could sit there, second wheel, Amy was on the front driving it and I could hear Oenone behind panting - she was gone, she was wrecked. So everything played into our hands and I won the bunch kick for second. I'm over the moon. It's fantastic."
Oenone Wood (ACT/Nurnberger)
Photo ©: CN

Was there a specific plan to stop Oenone Wood and Olivia Gollan from dictating the race? "It wasn't a matter of stopping them, it was about making them work, and us being so active rather than being defensive...Oenone is strong - she proved that in the time trial on Wednesday. From the time trial results you could see that Liv was perhaps not so strong and I don't think she finished the race but she certainly played her part helping Oenone today."
Third placed Bridget Evans wasn't actually part of the powerful QAS armada, and essentially rode her own race. "I'm just an individual who had some good luck," she told Cyclingnews while admitting that she was "delightfully surprised" with her bronze medal. "I did feel strong. I suppose during the last year and a half I've come back from a pretty serious illness. It's not knowing where I sat within the top echelon of Australia, which was always a bit of a question mark. I'm 32, I'm not 22 and the youngies coming through have got great talent and great speed. I've worked really hard to be at this top level."
The medallists
Photo ©: CN

Evans paid tribute to Oenone Wood, who seemed to have the main moves covered but couldn't match everything. "There was probably a little bit of pressure on her being the reigning champion and having just won the Bay Crits," said Evans. "She rode a really aggressive race, she closed things down, I thought she was absolutely fantastic. She's a great worker and she's a great winner. Maybe she didn't have the legs at the end."
Wood, who was the defending champion and big favourite coming into the race, was well aware that she would have her work cut out with just her Nürnberger teammate Olivia Gollan to work for her today. "Queensland rode a really good race, as did some of the New South Wales girls," Wood told Cyclingnews. "They made me work pretty hard having to chase down a lot of attacks and that was it. You'd expect them to. They've certainly got the strength in numbers and if they hadn't done that they would have certainly missed a big opportunity. So they rode really well today."
Wood was often up the front and on the penultimate climb of Church Hill road she had a small gap with Carrigan and Kate Nichols. But she said that the descent following the climb was enough for a regrouping and, "Most of the moves were made around the back half of the race."
Wood had not planned to ride the women's criterium series that runs in conjunction with the JCTDU next week, and instead will return home to Canberra. "Now I just have to go back home, start training again and wait for the World Cup."
How it unfolded
The signs were encouraging
Photo ©: CN

Conditions for the eight lap/104 km women's road race were nearly ideal as 45 riders rolled out past Echunga's pub for the start of their journey. There was little wind and the sun was replaced by grey clouds towards the finish, although only a few spots of rain fell. The main climb on the undulating 13 km course came right at the start, a nasty 1 km pinch straight up Church Hill road, which steepened to 9% in the second half.
The peloton remained together for the first three laps and it wasn't until the lap 4 climb that the first serious break was established. Young Queenslander Hannah Banks charged off the front with NSW rider Christine Riakos bridging up to her on the climb. Over the top the pair had a 10 second gap, but this expanded to 1'15 over the course of the next lap.
The first escape
Photo ©: CN

The fifth climb was telling, as the bunch started to split up. Oenone Wood (ACT/Nurnberger) and Kate Nichols (NSW) were always with the front riders, while strong South Australian Amy Gillett and Wood's teammate Olivia Gollan (NSW) were clearly starting to struggle. On lap 6, Wood and Nichols forced the pace on the hill and Banks and Riakos came back to the bunch, which was now down to around 10 riders including Wood, Nichols, Graham, Carrigan and Emma James.
The QAS team kept piling on the pressure, with Graham putting in a strong counter-attack, which was later caught. Wood had lost Gollan for good now, and was isolated among a hungry pack of Queensland jerseys. She still looked strong, however, and on the seventh lap she led a trio with Sara Carrigan and Kate Nichols over the top of the climb, with Graham, Bridget Evans (Qld), Jenny Manefield and Natalie Bates (NSW) in hot pursuit. But on the descent, the bunch regrouped and there were still 20 riders in contention as they came past the pub for the bell lap.
Lorian Graham (QAS)
Photo ©: CN

The last time up the climb did not prove decisive, and the Queensland squad used this to its advantage in the second half of the lap. Carrigan and Sullivan both launched attacks, as did NSW's Nat Bates, but in the end it was Lorian Graham's move just before the final descent with 4 km to go that sealed the race. Once away, she did not look back and crossed the line in Echunga delighted with her triumph. Behind her, Carrigan and Evans completed the Queensland whitewash while the exhausted Wood sat up in the sprint and came in 11th.
Photography
For a thumbnail gallery of these images, click here
Images by Mark Gunter/Cyclingnews.com
Results
1 Lorian Graham (Qld) Ffast Cycle Club              2.53.47 (35.9 km/h)
2 Sara Carrigan (Qld) C.A.T.S.                         0.31
3 Bridget Evans (Qld) Ffast Cycle Club                     
4 Jennifer Manefield (NSW) Parramatta CC                   
5 Emma James (NSW) Randwick Botany                             
6 Kate Nichols (NSW) St George CC                          
7 Candice Sullivan (Qld) C.A.T.S.                          
8 Louise Yaxley (Tas) Launceston City CC                   
9 Helen Kelly (Vic) Carnegie Caulfield CC                  
10 Toni Bradshaw (NZL) NZ Cycling Federation               
11 Oenone Wood (ACT) Canberra Cycling Club/Nurnberger
12 Amy Gillett (SA) Norwood C.C.                           
13 Natalie Bates (NSW) Parramatta CC                       
14 Emma Rickards (Vic) Carnegie Caulfield CC               
15 Kathryn Watt (Vic) Blackburn Cycling Club Inc           
16 Jemma O'Brien (NSW) St George CC                    2.39
17 Hannah Banks (Qld) Uni Cycle Club                   2.57
18 Emma Mackie (Vic) Albury-Wodonga CC                     
19 Christine Riakos (NSW) St George CC                     
20 Claire Baxter (Vic) Hawthorn Citizens Youth Club    5.17
21 Kirsty Bortolin (Vic) Blackburn Cycling Club Inc    7.49
22 Rachel O'Connell (NSW) Peloton Sports Inc.              
23 Vicki Eustace (ACT) Tuggeranong Vikings CC              
24 Judith May (ACT) Canberra Cycling Club              7.54
25 Jenny Macpherson (Vic) Carnegie Caulfield CC        9.37
26 Kerryn Charman (Vic) Geelong Cycle Club            11.08
27 Patti Whyte (NSW) Hunter Valley Vets CC                 
28 Lisa Payne (Qld) Cairns Cycle Club                  8.33
29 Cristine Foster (Vic) St Kilda Cycling Club Inc    12.33
30 Laura Bortolozzi (NSW) Randwick Botany             12.38
31 Toireasa Gallagher (NSW) Bathurst CC               14.13
32 Sarah White (NSW) Bicisport                        16.39
33 Linda Cappello (ACT) Canberra Cycling Club              
34 Jessie Maclean (ACT) Canberra Cycling Club         17.18
DNF Katie Brown (NSW) St George CC                         
DNF Rochelle Gilmore (NSW) Bankstown Sports CC             
DNF Olivia Gollan (NSW) Kooragang Open CC/Nurnberger                  
DNF Sally Cowman (Qld) Victor Cycle Club                   
DNF Carly Hibberd (Qld) Victor Cycle Club                  
DNF Genna Crean (SA) Noarlunga South Coast C.C.            
DNF Genevieve Warriner (WA) Melville Fremantle CC          
DNS Claire Stevens (SA) Sturt Holdfast Marion C.C.         
DNS Gemma Goyne (Vic) Carnegie Caulfield CC                
DNS Angela Wade (Vic) Melton Cycling Club Inc              
DNS Amy Kirk (WA) Midland CC