Australian Open Road Championships - CN
Australia, January 12-15, 2005
Main Page Results Race Details Previous Race Next Race
Race 3 - January 12: Elite Men's TT, 40km
Sixth title for O'Neill
By Jeff Jones in Echunga
Nathan O'Neill (Qld/Navigators)
Photo ©: CN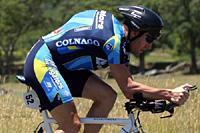 Riding in his brand-new Navigators Insurance colours, Queenslander Nathan O'Neill became the third rider to successfully defend his title on the first day of the Australian Open Road Championships in Echunga. On a sunny day with little wind, O'Neill surprised himself by going under 48 minutes on the fast, non-technical course, doing a time of 47'41 to put a lot of daylight between him and second placed Rory Sutherland (ACT/Rabobank), who finished in 49'19, while local boy Russell Van Hout (SA/Colombia-Selle Italia) was third in 50'28. It was O'Neill's sixth Australian time trial title, having won them previously in 1994, 1996, 1998, 2002, 2004.
After riding the course on a windy day yesterday, O'Neill was very surprised at his time, saying that he didn't expect it at all. "I started the race today in my usual fashion, just steady and got into a rhythm straight away. I got to the turnaround and looked at the clock and I knew I was going pretty quick. By the time I got to the halfway mark, I went through in around 23 minutes and I knew I would have to slow down a lot to go under 50 minutes. Then I just concentrated on maintaining the tempo. I thought if anyone is going to beat me then they were going to have to go pretty quick."
"I pretty much rode even tempo the whole way. I never once really found myself under any pressure. I admit I did start to feel the pinch on the return leg on the last lap but I think everybody had their backs to the wall at that point. But at that point the race was done, it was over, and it was a matter of maintaining what you had left in the tank at that stage."
Nathan O'Neill (Qld/Navigators)
Photo ©: CN

O'Neill has been dogged by crashes and injuries throughout his career, and he rattled them off in quick succession: "Broken neck, collarbone, pelvis, knee surgery, separated shoulder - it's been fairly awful," he said. "It hasn't been a smooth run for the last year and a half but hopefully we're on the way through that now." As if to continue the theme, O'Neill's medal clasp broke on the podium...but fortunately U23 winner Mark Jamieson donated his gold medal to the cause and O'Neill was able to pose for the necessary photographs.
Despite having won six titles, O'Neill isn't tired of getting them. "It's a jersey and it's always an honour wearing the jersey. With me going a new team now racing in Europe, it'll be even more exciting to be able to line up in some of the bigger one day time-trials towards the end of the season for the Navigators Insurance team and display the jersey."
Rory Sutherland (ACT/Rabobank)
Photo ©: CN

Another surprise - at least to himself - was 22 year old ACT rider Rory Sutherland (Rabobank). Sutherland started two minutes ahead of O'Neill, and his biggest fear was being caught by him. "Nathan is a classy bike rider, he always has been," said Sutherland. "You have to expect him as the man to beat. The fact that I could stay ahead of him [and not get caught] makes me pretty happy I guess. I was probably a little bit scared actually. On a circuit like this where you get to do the turnaround and see where people are is sometimes a good thing, but other times it can be a bad thing as well if you're not having a great day. But I felt good out there today and it's the first time I've enjoyed a time trial for five years."
Rory said that he wasn't disappointed with another second place, after recording a few last week at the Bay Crits. "I didn't have many expectations at all. I was still fiddling with my bike 45 minutes before the start, thinking I should be warming up. It's definitely a shock so I'm pretty happy, I must admit...[Coming second] has happened quite a few times, but I prefer to get second than nothing at all. Second is not winning but it's not always about winning."
Finally, South Australian Russell Van Hout (Colombia-Selle Italia) had his fan club out in full force but wasn't able to get to the top step of the podium. "My goal was the podium," he said. "I knew O'Neill was going to be the man but I'm not up at that level yet. I'm happy with my form because I didn't prepare for this event as much as other years, so to come out and podium while being more relaxed is better."
Russell Van Hout (SA/Colombia-Selle Italia)
Photo ©: CN
Van Hout, who recorded a top 10 in a Giro d'Italia time trial last year, conceded that he hadn't done anything specific for this race. "I've just been comfortable just doing the slow road kay's, building up the miles in my legs. I haven't felt right to start the intensity. So hopefully I'll start these races coming up, that'll be my intensity for later on in the year. I'm happy with my preparation up until now, I think it's going to be better for me in a couple of months time."
All three place getters were looking forward to Saturday's 182 km road race, which is shaping up to be a challenging affair with the riders covering 14 laps of a testing 13 km circuit.
Photography
For a thumbnail gallery of these images, click here
Images by Mark Gunter/Cyclingnews.com
Results
1 Nathan O'Neill (Qld) Toowoomba Cycling Club Inc./Navigators 47.41.98 (50.31 km/h)
2 Rory Sutherland (ACT) Canberra Cycling Club/Rabobank         1.37.38
3 Russell Van Hout (SA) Adelaide CC/Selle Italia               2.46.80
4 Troy Glennan (NSW) Sutherland                                4.03.57
5 Peter Herzig (Qld) Uni Cycle Club                            4.04.72
6 Daniel Brickell (NSW) Sutherland Shire CC                    4.38.33
7 Phillip Thuaux (NSW) Central Coast CC                        4.40.34
8 Christopher Bradford (Vic) Carnegie Caulfield CC             5.16.48
9 Andrew Naylor (Vic) St Kilda Cycling Club Inc                5.45.94
10 Mark Hooper (Vic) Geelong Cycle Club                        6.54.25
11 Allan Sieper (ACT) Canberra Cycling Club                    6.55.38
12 Adrian Booth (Qld) Victor Cycle Club                        7.33.77
13 Harry Fricke (Vic) Hawthorn Citizens Youth Club             7.50.03
14 Damien Turner (Vic) Ballarat/Sebastopol C C                 8.12.13
15 Nicholas Shipp (Vic) Bendigo & District CC                  8.15.38
16 Mark Wall (NSW) Sutherland Shire CC                         9.00.40
17 Stephen Blair (ACT) Canberra Cycling Club                  11.41.71
18 Jamie Simchick (SA/USA) Norwood C.C.                       20.36.72
DNF Dean Jones (NSW) Kooragang Open CC
DNF Peter Milostic (NSW) Penrith Panthers