Australian Open Road Championships - CN
Australia, January 12-15, 2005
Main Page Results Race Details Next Race
Race 1 - January 12: Elite Women's TT, 30km
The Oenone steamroller paves the way
By Jeff Jones in Echunga
Oenone Wood (ACT/Nurnberger)
Photo ©: CN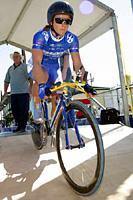 Canberra's Oenone Wood (Nürnberger) sparked off a day where defending champions reigned as she claimed the Australian Elite Women's Time Trial Championship for the second year in a row. Wood, starting last as the strong favourite, accounted for Olympic gold medalist Sara Carrigan (Qld) and South Australian Amy Gillette (nee Safe) in a time of 41'17 on a fast, undulating 30 km parcours. The out of form Carrigan did well to concede just 40 seconds to Wood, while Gillette was a minute behind.
"I got exactly what I wanted today," said a very satisfied Wood after the race. "I wanted to come out here and have a solid ride and get the win. With selection for the World's this year there's a lot of girls who want to get those couple of places that we have, and if you set yourself up with a good ride early on it takes the pressure off later...I rode fairly well and I felt comfortable out there and I think I'm where I need to be.
"I could see [Sara Carrigan] and it was handy at the turnaround I could gauge that I was gaining on her. I didn't know the exact times so I couldn't judge if she was 100 metres up the road, how many seconds that was - you don't know that. It's definitely an advantage to go off last behind strong riders like Sara."
Oenone Wood (ACT/Nurnberger)
Photo ©: CN

For Wood, it was her second Australian title in 2005 after she won the Australian Criterium Championship last week in Geelong. And the diminutive 24 year-old is on track to claim the triple, as she is the one to beat in Friday's road race. "Everybody that's racing overseas and even the girls racing here domestically in Australia wants that jersey," she said. "It's not going to be an easy race to win. The wind here yesterday was so strong and that could easily happen again on Friday; it could be a really tough race.
"I need to sit down with Liv (her Nürnberger teammate Olivia Gollan) and go over the team tactics, see what we're going to do. It should be a good race, I've only seen the hill so far; I haven't seen the back half of the course. The hill looks pretty nasty, particularly after the eighth time up there.
When asked about having 2003 Australian champion Olivia Gollan by her side on Friday, Wood replied, "That's a massive advantage...Olivia is such a strong rider and you saw two years ago at the National Championships, there was a break of three, Olivia bridged across to it solo and then attacked us and won the race. She could easily do something like that on Friday and if she did I'd be very happy."
Sara Carrigan (Qld)
Photo ©: CN

One of Wood's main rivals on Friday is likely to be Sara Carrigan, who despite being a past winner of the Australian time trial title was perfectly happy with her ride today. Two months into her training, it was Carrigan's first real race since winning the Olympic gold five months ago. "The legs are a bit shaky now I can tell you," said the smiling silver medalist. "It made it a little bit easier today without the wind that was blowing yesterday. Learning to hurt yourself again after five months away from competition is a bit of a challenge but I'm really happy to be back into the racing and I'm happy to be on the podium."
"I would have loved to won back my title again but I guess I knew coming into the race I was perhaps 70-80 percent fit so I'm pretty happy. I'm looking forward to the road race now. With a time trial you do have to be fit. It's 30 km, which is a fair distance if you're not 100 percent on top of your form, whereas doing a road race you can perhaps hide in the bunch a little bit and save it and use your energy when the time is right and everyone is hurting.
Carrigan had a 10 weeks off the bike after the Games, which is the longest break she's had since she started cycling. So far, she has concentrated on base work with very little intensity. "I've really enjoyed it - a slow, relaxed beginning. It's such a complete contrast to last year when we had to be in top form at this time of year because it was selection for the Games. I would have loved to have taken back my title but we'll have to wait until next year."
Amy Gillett (SA)
Photo ©: CN

Finally, the just-turned 29 year-old Amy Gillette improved several positions from last year, from eighth to third. Despite cracking her sacrum and coccyx bones in a training accident last week, she did a solid time of 42'17. "I prepared reasonably well for the time trial; it's something I should be able to do fairly well," commented Gillette. "It's definitely a better result for me than this time last year so I'm happy to be moving in the right direction. I've made a few changes in terms of training, I'm living with my husband finally which is paying off big time, so I'm very happy, which is always a good thing. I came here with my sights set on winning the race, as all the girls would have, but this was as good as I was today, so to be beaten by the likes of Oenone and Sara - I can't really be too devastated."
Photography
For a thumbnail gallery of these images, click here
Images by Mark Gunter/Cyclingnews.com
Results - 30 km
1 Oenone Wood (ACT) Canberra Cycling Club/Nürnberger          41.18.58 (43.57 km/h)
2 Sara Carrigan (Qld) C.A.T.S.                                 0.40.64
3 Amy Gillett (SA) Norwood C.C.                                0.59.37
4 Natalie Bates (NSW) Parramatta CC/Ton Van Bemmelen           1.17.37
5 Kathryn Watt (Vic) Blackburn Cycling Club Inc                1.17.75
6 Louise Yaxley (Tas) Launceston City CC/TIS/Cyclingnews       1.51.30
7 Olivia Gollan (NSW) Kooragang Open CC/Nürnberger             2.15.19
8 Candice Sullivan (Qld) C.A.T.S.                              2.41.48
9 Emma James (NSW) Randwick Botany/FRF                         3.41.35
10 Claire Baxter (Vic) Hawthorn Citizens Youth Club            3.42.91
11 Toireasa Gallagher (NSW) Bathurst CC                        3.49.26
12 Kate Nichols (NSW) St George CC                             4.01.56
13 Lisa Payne (Qld) Cairns Cycle Club                          4.36.75
14 Jessie Maclean (ACT) Canberra Cycling Club                  4.44.70
15 Judith May (ACT) Canberra Cycling Club                      4.46.98
16 Laura Bortolozzi (NSW) St George CC                         5.25.45
17 Genna Crean (SA) Noarlunga South Coast C.C.                 6.26.88
18 Genevieve Warriner (WA) Melville Fremantle CC               6.37.56
19 Rachel O'Connell (NSW) Peloton Sports Inc.                  9.39.06
20 Sarah White (NSW) Bicisport                                10.08.19