77th Giro del Veneto - 1.HC
Italy, August 20, 2005
2004 Results Results Past winners
Mazzoleni and Commesso dominate for Lampre
Eddy Mazzoleni (Lampre)
Photo ©: Sirotti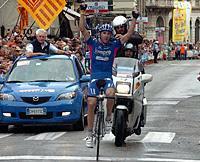 Eddy Mazzoleni and Salvatore Commesso provided Lampre-Caffita with a perfect result in the Giro del Veneto, finishing first and second in this prestigious Italian classic. The pair benefited from some excellent teamwork from Damiano Cunego, who also made the front group and finished 7th. Third across the line, beaten by Commesso in the sprint, was Serguei Gonchar (Domina Vacanze).
"I feel very good and I'm happy because this win sounds like the prize for all the work I've done," said Mazzoleni after the finish. "I dedicate this win to the mother of my wife Elisa (Ivan Basso's sister) who died a few months ago."
Team DS Giuseppe Martinelli added, "Today, finally we had the result of what we did in the last races in Italy: we were racing with a very competitive team but couldn't win. Eddy, Damiano and Salvatore were all able to win today and it is a good satisfaction for Eddy, who is a great teammate. Damiano wanted to win near home but he is happy for Eddy. The most important it is that he is in good condition and that the win will probably come soon."
Lampre
Photo ©: Sirotti

After a moderately fast start (42.1 km/h in the first hour), the peloton settled down and left it up to the climbs to make the selection. Five Lampres were left in the group of 50 or so after the climbs, and continued to ride strongly as the weather worsened into rain storms. Damiano Cunego attacked with some 40 km to go, then Commesso went on the Cā Vecchia climb to force a final selection of 15 riders with 20 km to go. Commesso, Cunego, and Mazzoleni were there for Lampre, as were Gonchar, Visconti, and Valoti for Domina Vacanze. Nocentini (Acqua e Sapone), Pellizotti (Liquigas - Bianchi), Giunti (Fassa Bortolo), and Masolino (LPR) were represented as well.
Mazzoleni attacked twice inside the final 15 km, and the second time he rode away on the climb. He had nearly a minute with 3 km to go and finished with 42 seconds of that intact over Commesso and Gonchar, who headed the rest of the group home by a few seconds.
Photography
For a thumbnail gallery of these images, click here
Images by Fotoreporter Sirotti
Results - 198.5 km
1 Eddy Mazzoleni (Ita) Lampre-Caffita              5.03.13 (39.279 km/h)
2 Salvatore Commesso (Ita) Lampre-Caffita             0.42
3 Serguei Gonchar (Ukr) Domina Vacanze                    
4 Giovanni Visconti (Ita) Domina Vacanze              0.50
5 Paolo Valoti (Ita) Domina Vacanze                       
6 Rinaldo Nocentini (Ita) Acqua&Sapone-Adria Mobil        
7 Damiano Cunego (Ita) Lampre-Caffita                     
8 Franco Pellizotti (Ita) Liquigas-Bianchi                
9 Massimo Giunti (Ita) Fassa Bortolo                      
10 Daniele Masolino (Ita) Team Lpr                    1.30
11 Filippo Simeoni (Ita) Naturino-Sapore di Mare          
12 Kjell Carlstom (Fin) Liquigas-Bianchi              2.45
13 Alessandro Bertuola (Ita) Naturino-Sapore di Mare      
14 Igor Astarloa (Spa) Team Barloworld                    
15 Luis Felipe Laverde (Col) Ceramica Panaria-Navigare    
16 Philip Deignan (Irl) AG2R Prevoyance               4.10
17 Kanstantin Siutsou (Blr) Fassa Bortolo                 
18 Antonio D'Aniello (Ita) Miche                      6.00
19 Fabio Baldato (Ita) Fassa Bortolo                      
20 Paolo Bossoni (Ita) Fassa Bortolo                  

Courtesy of Guy Dedieu    


Past winners
2004 1 Gilberto Simoni (Ita) Saeco   
2003 Cristian Moreni (Ita) Alessio
2002 Danilo Di Luca (Ita) Saeco-Longoni Sport
2001 Giuliano Figueras (Ita) Ceramiche Panaria-Fiordo        
2000 Davide Rebellin (Ita) Liquigas-Pata
1999 Davide Rebellin (Ita) Team Polti
1998 Davide Rebellin (Ita) Team Polti
1997 no event
1996 Michele Bartoli (Ita)
1995 Flavio Vanzella (Ita)
1994 Gianluca Bortolami (Ita)
1993 Maximilian Sciandri (Ita)
1992 Massimo Ghirotto (Ita)
1991 Roberto Pagnin (Ita)
1990 Massimo Ghirotto (Ita)
1989 Roberto Pagnin (Ita)
1988 Moreno Argentin (Ita)
1987 Gerhard Zadrobilek (Aut)
1986 Maurizio Rossi (Ita)
1985 Claudio Corti (Ita)
1984 Moreno Argentin (Ita)
1983 Jesper Worre (Den)
1982 Pierino Gavazzi (Ita)
1981 Giovanni Mantovani (Ita)
1980 Carmelo Barone (Ita)
1979 Francesco Moser (Ita)
1978 Valerio Lualdi (Ita)
1977 Giuseppe Saronni (Ita)
1976 Alfio Vandi (Ita)
1975 Roland Salm (Swi)
1974 Roger De Vlaeminck (Bel)
1973 Franco Bitosssi (Ita)
1972 Enrico Paolini (Ita)
1971 Giancarlo Polidori (Ita)
1970 Franco Bitossi (Ita)
1969 Mino Denti (Ita)
1968 Alberto Della-Torre (Ita)
1967 Luciano Galbo (Ita)
1966 Michele Dancelli (Ita)
1965 Michele Dancelli (Ita)
1964 Italo Zilioli (Ita)
1963 Italo Zilioli (Ita)
1962 Angelino Soler (Spa)
1961 Nino Defilippis (Ita)
1960 Diego Ronchini (Ita)
1959 Rino Benedetti (Ita)
1958 Adriano Zamboni (Ita)
1957 Angelo Conterno (Ita)
1956 Giorgio Albani (Ita)
1955 Adolfo Grosso (Ita)
1954 Luciano Maggini (Ita)
1953 Fiorenzo Magni (Ita)
1952 Adolfo Grosso (Ita)
1951 Antonio Bevilacqua (Ita)
1950 Luigi Casola (Ita)
1949 Fausto Coppi (Ita)
1948 Luciano Maggini (Ita)
1947 Fausto Coppi (Ita)
1945 Luigi Casola (Ita)
1942 Pierino Favalli (Ita)
1941 Fausto Coppi (Ita)
1939 Adolfo Leoni (Ita)
1938 Secondo Magni (Ita)
1936 Renato Scorticati (Ita)
1935 Vasco Bergamaschi (Ita)
1934 Aldo Canazza (Ita)
1931 Aldo Canazza (Ita)
1930 Aldo Canazza (Ita)
1928 Alfredo Binda (Ita)
1927 Alfonso Piccin (Ita)
1926 Costante Girardengo (Ita)
1925 Costante Girardengo (Ita)
1924 Costante Girardengo (Ita)
1923 Costante Girardengo (Ita)
1922 Alfredo Sivocci (Ita)
1912 Giovanni Roncon (Ita)
1911 no event
1910 no event
1909 Pogliani (Ita)


The first edition of this race was in 1909. There was no race in the years 
  1910-11, 1913-21, 1929, 1932-33, 1937, 1940, 1943-44, 1946, and 1997. 



Past winners by Mario Stiehl, www.world-of-cycling.com