8th Women's Flèche Wallonne - CDM
Belgium, April 20, 2005
Main Page Results World Cup standings
Wood Cooke'd
By Hedwig Kröner in Huy
Nicole Cooke (Safi)
Photo ©: Luc Claessen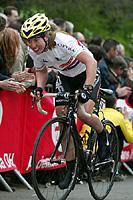 Nicole Cooke (Safi-Pasta Zara-Manhattan) was victorious in the Women's Flèche Wallonne today, beating her main rival Oenone Wood (Equipe Nürnberger) in a thrilling finish up the Mur de Huy after 105.5 km of hard racing. With her win, Cooke moved herself the World Cup rankings into third behind new leader Wood and Mirjam Melchers (Buitenpoort-Flexpoint).
"I'm very happy to have won here today," Cooke said after the race. "This year, I've had two wins: one in Italy and one here in Belgium on Sunday, but this race is the biggest amongst them. Last year, I couldn't race because I had knee problems at the time. Two years ago, I knew that there was a very good chance of winning here because I won the Amstel Gold Race before. I didn't want to ruin it by doing something wrong. And today, I knew I was probably going to have to save whatever energy I had for the end. With a race like Flèche Wallonne or San Francisco with a lot of steep hills, I knew it was going to be hard, but it just needed to be done."
How it unfolded
The women's podium (L to R):
Photo ©: Luc Claessen

The early players of the Flèche Wallonne women's race were Béatrice Thomas and Natalie Bates, who embarked on a breakaway after only 15 km after the Frenchwoman initiated it. The bunch let them go, as well as a counter-attack at km 55, where Anke Wichmann followed by Sabrina Emmasi and Katia Longhin managed to catch up with the leading riders. Eventually, only two could hold up the fast pace, dropping the others: Bates and Emmasi.
At the Côte de Bellaire after 65 km, Tatiana Shishkova made a move a caught the two leading women. But their lead couldn't last, as the team led by Mirjam Melchers-Van Poppel drove an even higher pace and caught the break with 30 km to go at the Côte de Bohissau. One last break attempt was made by, Karin Thürig and Adrie Visser, but the bunch of about 40 riders didn't allow them to take it to the end: halfway up the penultimate climb, they were caught. The pack was together at the bottom of the final climb up the Mur de Huy, and the next events are best described by the winner's words, Nicole Cooke.
Judith Arndt (Nurnberger)
Photo ©: Luc Claessen

"We came with about thirty riders to the bottom of the climb. At that moment, even though I didn't want to make my final move I think it was best to be at the front where I wouldn't get closed in or get pushed to the back. So I took the front line with Melchers, Wood and another rider, even though we weren't going flat out. But then Melchers really started her effort and I just stayed behind, knowing that there was no need to go too soon . But as we got to the two hairpins I started to go flat out, and afterwards Oenone Wood came past me, then I went past her, she came back past me.[laughs] But then, with the last 200 metres to go, I made my move and gave it absolutely everything to the line."
Cooke, who will not make the World Cup her objective although she is in third place, is looking forward to riding the Giro d'Italia and to possibly defend her title there. "I want to do well at the Tour if Italy," she said after the race. "I will go to Italy soon to prepare for that. But when the World Cup starts again in August and September I really want to do well at the event in Great Britain. And maybe not being a contender for the overall might be in my favour - I'll be given a bit of freedom."
Photography
For a thumbnail gallery of these images, click here
Images by AFP Photo
Images by Luc Claessen/www.actiefotos.be
Results - 105.5 km
1 Nicole Cooke (GBr) Safi-Pasta Zara Manhattan                       2.56.58 (35.77 km/h)
2 Oenone Wood (Aus) Equipe Nürnberger Versicherung                      0.04
3 Judith Arndt (Ger) Equipe Nürnberger Versicherung                     0.05
4 Mirjam Melchers-Van Poppel (Ned) Buitenpoort-Flexpoint Team           0.10
5 Theresa Senff (Ger) Van Bemmelen-AA Drink                             0.13
6 Andréa Graus (Aut) Elk Haus-Tirol Noe                                 0.14
7 Nicole Brändli (Swi) Team Bigla                                           
8 Susanne Ljungskog (Swe) Buitenpoort-Flexpoint Team                        
9 Amber Neben (USA) Buitenpoort-Flexpoint Team                          0.19
10 Edita Pucinskaite (Ltu) Nobili Rubinetterie-Menikini Cogeas          0.21
11 Gunn-Rita Dahle (Nor) Safi-Pasta Zara Manhattan                      0.28
12 Trixi Worrack (Ger) Equipe Nürnberger Versicherung                   0.30
13 Trine Hansen (Den) Team S.A.T.S                                          
14 Loes Gunnewijk (Ned) Vrienden Van Het Platteland                     0.33
15 Fabiana Luperini (Ita) A.S. Team F.R.W                                   
16 Modesta Vzesniauskaite (Ltu) Nobili Rubinetterie-Menikini Cogeas         
17 Edwige Pitel (Fra) Univega Pro Cycling Team                              
18 Marianna Lorenzoni (Ita) A.S. Team F.R.W                             0.36
19 Anna Zugno (Ita) Safi-Pasta Zara Manhattan                           0.37
20 Joanne Kiesanowski (NZl) Nobili Rubinetterie-Menikini Cogeas         0.42
21 Anette Beutler (Swi) Swiss National Team                                 
22 Magali Le Floch (Fra) French National Team                               
23 Suzanne De Goede (Ned) Van Bemmelen-AA Drink                             
24 Dorte Lohse Rasmussen (Den) Team S.A.T.S                             0.45
25 Alexandra Le Henaff (Fra) Team Pruneaux D'agen                       0.46
26 Sarah Grab (Swi) Univega Pro Cycling Team                            0.50
27 Sofie Goor (Bel) Vlaanderen-Capri Sonne-T Interim                        
28 Sabrina Emmasi (Swi) Team Bigla                                      0.57
29 Cindy Pieters (Bel) Vlaanderen-Capri Sonne-T Interim                     
30 Luise Keller (Ger) German National Team                                  
31 Tatiana Guderzo (Ita) Top Girls Fassa Bortolo Hausbrandt Caffe'      1.00
32 Sigrid Corneo (Ita) Nobili Rubinetterie-Menikini Cogeas                  
33 Amy Gillett (Aus) Australian National Team                               
34 Ioulia Martissova (Rus) P.M.B. Fenixs                                    
35 Sandrine Marcuz (Fra) Team S.A.T.S                                   1.03
36 Teodora Ruano Sanchon (Spa) Spanish National Team                    1.05
37 Luisa Tamanini (Ita) Team Bianchi-Aliverti                           1.07
38 Madeleine Sandig (Ger) German National Team                              
39 Sara Carrigan (Aus) Van Bemmelen-AA Drink                            1.09
40 Miyoko Karami (Jpn) Safi-Pasta Zara Manhattan                        1.11
41 Monika Schachl (Aut) Elk Haus-Tirol Noe                              1.15
42 Katherine Bates (Aus) Van Bemmelen-AA Drink                          1.19
43 Sonia Huguet (Fra) French National Team                                  
44 Karin Thürig (Swi) Univega Pro Cycling Team                          2.06
45 Priska Doppmann (Swi) Univega Pro Cycling Team                       2.21
46 Bianca Knopfle (Ger) German National Team                            2.26
47 Evy Van Damme (Bel) Vlaanderen-Capri Sonne-T Interim                 2.28
48 Emma Rickards (Aus) Australian National Team                         2.29
49 Claudia Häusler (Ger) Elk Haus-Tirol Noe                             2.31
50 Maja Adamsen (Den) S.C. Michela Fanini Record Rox                    2.34
51 Tina Liebig (Ger) Equipe Nürnberger Versicherung                     2.37
52 Katia Longhin (Ita) S.C. Michela Fanini Record Rox                   2.38
53 Patricia Schwager (Swi) Swiss National Team                          2.41
54 Elisabeth Chevanne-Brunel (Fra) Team Pruneaux D'agen                 2.47
55 Adrie Visser (Ned) Van Bemmelen-AA Drink                             2.55
56 Lorian Graham (Aus) Australian National Team                         3.00
57 Tatiana Shishkova (Mda) P.M.B. Fenixs                                3.11
58 Lada Kozlikova (Cze) Buitenpoort-Flexpoint Team                      4.15
59 Sara Peeters (Bel) Belgian National Team                             4.24
60 Linda Serup (Den) Buitenpoort-Flexpoint Team                             
61 Karine Gautard (Fra) Team Pruneaux D'agen                            4.28
62 Eva Lutz (Ger) German National Team                                  4.32
63 Monica Holler (Swe) Elk Haus-Tirol Noe                               4.35
64 Elena Andreeva (Rus) Russian National Team                           4.38
65 Olivia Gollan (Aus) Equipe Nürnberger Versicherung                       
66 Meredith Miller (USA) Team S.A.T.S                                   4.40
67 Emma Davies (GBr) Vlaanderen-Capri Sonne-T Interim                   4.43
68 Elodie Touffet (Fra) Team Pruneaux D'agen                            4.45
69 Sylvie Riedle (Fra) Team Pruneaux D'agen                             4.47
70 Mercedes Cagigas Amedo (Spa) Spanish National Team                   4.48
71 Arenda Grimberg (Ned) Therme Skin Care                                   
72 An Van Rie (Bel) Belgian National Team                                   
73 Nathalie Bates (Aus) Van Bemmelen-AA Drink                           4.50
74 Alexis Rhodes (Aus) Australian National Team                         4.54
75 Malgorzata Wysocka (Pol) S.C. Michela Fanini Record Rox              5.00
76 Daniela Fusar Poli (Ita) Nobili Rubinetterie-Menikini Cogeas         5.03
77 Anke Wichmann (Ger) Equipe Nürnberger Versicherung                       
78 Martina Corazza (Ita) A.S. Team F.R.W                                    
79 Francis Linthorst (Ned) Therme Skin Care                             5.07
80 Ine Wannijn (Bel) Vlaanderen-Capri Sonne-T Interim                       
81 Tanja Schmidt-Hennes (Ger) Buitenpoort-Flexpoint Team                    
82 Janildes Silva (Bra) Team Bigla                                      5.12
83 Magalie Finot-Laivier (Fra) French National Team                         
84 Laure Werner (Bel) Vlaanderen-Capri Sonne-T Interim                  5.14
85 Claudia Stumpf (Ger) German National Team                                
86 Iosune Murillo (Spa) Bizkaia-Panda Software-Durango                  5.31
87 Lidia Arcangeli (Ita) Team Bigla                                     5.35
88 Tania Belvederesi (Ita) Top Girls Fassa Bortolo Hausbrandt Caffe'    5.43
89 Zita Urbonaite (Ltu) Safi-Pasta Zara Manhattan                           
90 Kim Schoonbaert (Bel) Belgian National Team                          5.52
91 Sereina Trachsel (Swi) Univega Pro Cycling Team                     10.26
92 Lise Christensen (Den) Team S.A.T.S                                 11.01
93 Jenny Macpherson (Aus) Australian National Team                     11.11
94 Magali Mocquery (Fra) French National Team                               
95 Svetlana Pauliukaite (Ltu) Team Bianchi-Aliverti                    11.15
96 Giuseppina Grassi (Ita) Safi-Pasta Zara Manhattan                   11.17
97 Kelly Van Eyken (Bel) Belgian National Team                         11.18
98 Minke Van Dongen (Ned) Vrienden Van Het Platteland                  11.20
99 Iris Slappendel (Ned) Vrienden Van Het Platteland                   11.30
100 Rachel Heal (GBr) Team S.A.T.S                                     11.32
101 Sharon Van Essen (Ned) Vrienden Van Het Platteland                 11.42
102 Irina Zemlyanskaya (Rus) Russian National Team                          
103 Alessandra Borchi (Ita) S.C. Michela Fanini Record Rox                  
104 Tiina Nieminen (Fin) Team Pruneaux D'agen                          11.50
105 Cristina Alcalde (Spa) Bizkaia-Panda Software-Durango                   
106 Maribel Moreno (Spa) Spanish National Team                              
107 Béatrice Thomas (Fra) French National Team                         12.42
108 Alna Burato (Fra) French National Team                             13.43
109 Irene Van Den Broek (Ned) Therme Skin Care                         14.01
110 Lisbeth De Vocht (Bel) Belgian National Team                       14.05
111 Ludivine Henrion (Bel) Therme Skin Care                            14.10
112 Arantzazu Azpiroz (Spa) Spanish National Team                      14.14
113 Kelly Campbell Rook (USA) S.C. Michela Fanini Record Rox           14.18
114 Apollinaria Bakova (Rus) Russian National Team                     14.43
115 Iris Zwahlen (Swi) Swiss National Team                             15.16
116 Bettina Kuhn (Swi) Swiss National Team                             15.54
117 Katie Brown (Aus) Australian National Team                         16.41

World Cup standings
 
1 Oenone Wood (Aus) Nurnberger Versicherung                              165 pts
2 Mirjam Melchers-Van Poppel (Ned) Buitenpoort - Flexpoint Team          156
3 Nicole Cooke (GBr) Safi - Pasta Zara Manhattan                         125
4 Susanne Ljungskog (Swe) Buitenpoort - Flexpoint Team                   121
5 Suzanne De Goede (Ned) Van Bemmelen - Aa Drink                          99
6 Trixi Worrack (Ger) Nurnberger Versicherung                             89
7 Rochelle Gilmore (Aus) Safi - Pasta Zara Manhattan                      75
8 Linda Serup (Den) Buitenpoort - Flexpoint Team                          52
9 Miho Oki (Jpn) Usc                                                      50
10 Joanne Kiesanowski (NZl) Nobili Rubinetterie - Menikini Cogeas         49
11 Katherine Bates (Aus) Van Bemmelen - Aa Drink                          46
12 Nicole Brändli (Swi) Team Bigla                                        42
13 Tina Mayolo Pic (USA)                                                  41
14 Judith Arndt (Ger) Nurnberger Versicherung                             38
15 Andréa Graus (Aut) Elk Haus - Tirol Noe                                36
16 Monia Baccaille (Ita)                                                  35
17 Monica Holler (Swe) Elk Haus - Tirol Noe                               30
18 Regina Schleicher (Ger) Nurnberger Versicherung                        30
19 Modesta Vzesniauskaite (Ltu) Nobili Rubinetterie - Menikini Cogeas     29
20 Theresa Senff (Ger) Van Bemmelen - Aa Drink                            27
21 Sara Carrigan (Aus) Van Bemmelen - Aa Drink                            27
22 Jenny Macpherson (Aus) Australie                                       27
23 Giorgia Bronzini (Ita)                                                 27
24 Magali Le Floch (Fra) France                                           24
25 Melissa Holt (NZl) Team Sats                                           24
26 Luisa Tamanini (Ita) Team Bianchi - Aliverti                           23
27 Madeleine Sandig (Ger) Allemagne                                       19
28 Sabrina Emmasi (Swi) Team Bigla                                        18
29 Sigrid Corneo (Ita) Nobili Rubinetterie - Menikini Cogeas              18
30 Anita Valen (Nor) Vlaanderen - Capri Sonne - T Interim                 18
31 Barbara Lancioni (Ita) Lct                                             17
32 Amber Neben (USA) Buitenpoort - Flexpoint Team                         15
33 Elisabeth Chevanne-Brunel (Fra) Team Pruneaux D'agen                   15
34 Tanja Schmidt-Hennes (Ger) Buitenpoort - Flexpoint Team                15
35 Katie Brown (Aus) Australie                                            13
36 Edita Pucinskaite (Ltu) Nobili Rubinetterie - Menikini Cogeas          11
37 Gunn-Rita Dahle (Nor) Safi - Pasta Zara Manhattan                      10
38 Edwige Pitel (Fra) Univega Pro Cycling Team                            10
39 Tatiana Shishkova (Mda) P.M.B. Fenixs                                  10
40 Kate Nichols (Aus)                                                     10
41 Dorte Lohse Rasmussen (Den) Team Sats                                   9
42 Sarah Grab (Swi) Univega Pro Cycling Team                               9
43 Verena Joos (Ger)                                                       9
44 Trine Hansen (Den) Team Sats                                            8
45 Tammara Boyd (NZl)                                                      8
46 Lynn Gaggioli (USA)                                                     8
47 Loes Gunnewijk (Ned) Vrienden Van Het Platteland                        7
48 Veerle Ingels (Bel) Vlaanderen - Capri Sonne - T Interim                7
49 Sarah Düster (Ger) Therme Skin Care                                     7
50 Fabiana Luperini (Ita) A.S Team F.R.W.                                  6
51 Anna Zugno (Ita) Safi - Pasta Zara Manhattan                            6
52 Evy Van Damme (Bel) Vlaanderen - Capri Sonne - T Interim                5
53 Lada Kozlikova (Cze) Buitenpoort - Flexpoint Team                       5
54 Olga Slyussareva (Rus) Nobili Rubinetterie - Menikini Cogeas            5
55 Nathalie Bates (Aus) Van Bemmelen - Aa Drink                            4
56 Alessandra D'ettorre (Ita)                                              4
57 Marianna Lorenzoni (Ita) A.S Team F.R.W.                                3
58 Josephine Groenveld (Ned) Van Bemmelen - Aa Drink                       3
59 Tatiana Guderzo (Ita) Top Girls Fassa Bortolo                           2
60 Emma Rickards (Aus) Australie                                           1
61 Sofie Creux (Fra)                                                       1
62 Natalyna Kachalka (Ukr) A.S Team F.R.W.                                 1
63 Helen Kelly (Aus)                                                       1